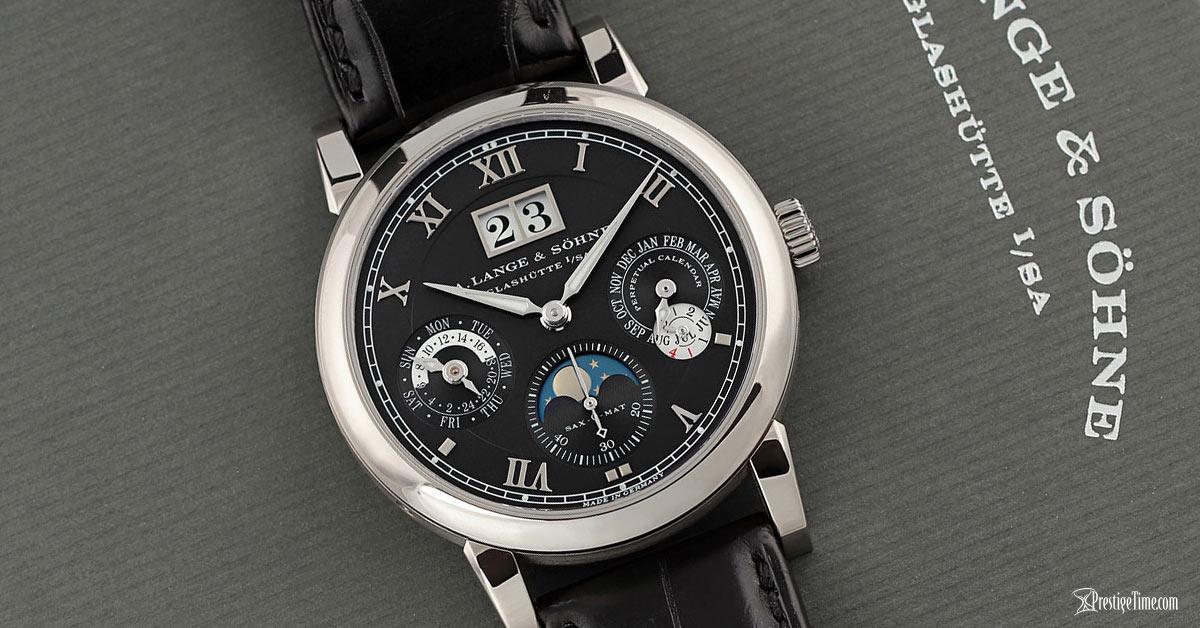 A Lange & Sohne Langematik Perpetual Review
Let us analyze a stunning watch by one of the world's foremost luxury watchmakers.
Today we have a treat for you. An up-close and personal look at a stunning new Langematik perpetual calendar watch by A. Lange & Söhne, one of the world's watchmaking frontrunners and certain the best from the watchmaking town of Glashutte in the Saxon region of Germany.
The Langeamtik collection has a history of giving birth to many impressive watches and this is to be expected from a top-shelf watchmaker like Lange. The exact model from this collection that we will be looking at today is reference 310.026 that is an 18kt white gold model that comes on a black leather strap. Let us dissect this watch piece by piece to get as granular as possible and not leave any stone unturned.
DIAL
The watch features a matte black dial with a step-down center circle that passes through three sub-dials. The functions of these sub-dials will be explained after we cover the main dial that tells the time.
The main dial has a printed railroad-style seconds track that runs around the perimeter of the dial. Inside the second's track are luminous dots at each hour marker/five-minute interval with a double luminous dot is at the twelve o'clock position.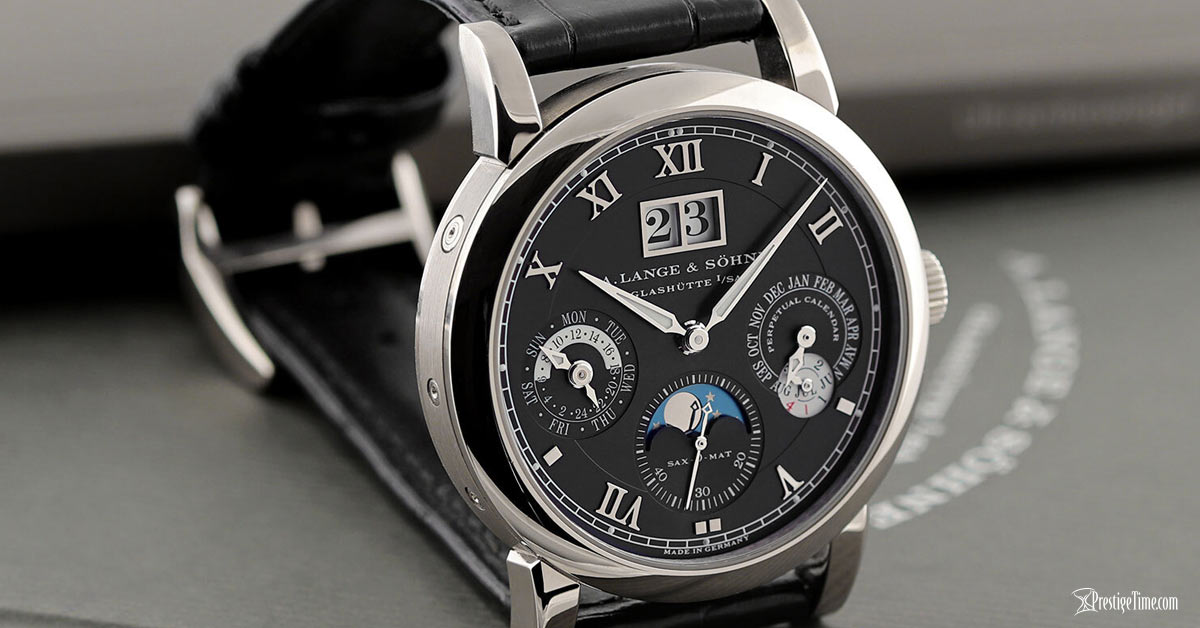 A combination of styles was used for the applied and polished hour markers: Roman numerals are used for 10, 11, 12, 1, 2, 5, and 7 o'clock positions and index-style hour markers are used for the 4 o'clock (singe index), 6 o'clock (double-index) and 8 o'clock (single-index) positions.  The 3 and 9 o'clock positions do not use any applied hour markers since that area is occupied by the sub-dials on the right-hand and left-hand side of the dial.
Located at the top of the dial, just beneath the 12 o'clock hour marker, is a large double-window big date aperture that displays the day of the month with a large serif-style typeface. Directly beneath the big date window is the A. Lange & Söhne branding just above the center pin of the hour and minute hands.
SUB-DIALS
A remarkable mechanical feature of the sub-dials is that each of the three sub-registers has a double function. Let us get a bit more granular about each of the functions found within each of these smaller dials.
3 o'clock position: The sub-register on the right essentially has two sub-dials to it. One shows which month it is with a small, polished hand. It also has a smaller "sub-sub" dial in a contrasting color that shows which year in the 4-year cycle for the leap year we are holding in. The advantage of a perpetual calendar is that the date does not need to be reset every four years the way an annual calendar watch would. In the negative space located at the upper center of this sub-dial the words 'perpetual calendar' are printed.
The 6 o'clock position: This sub-register is a window for a moon phase disc and has an integrated small running second's dial that uses a combination of Arabic style numerals for the 20-second, 30-second, and 40-second positions and fine-printed indices on the second's track, indicated with a slender polished hand. The word SAX-O-MAT, referring to the movement, is printed in the negative space of this sub-dial.
The 9 o'clock position: This sub-dial has two polished hands. One points to the day of the week printed in a serif-style font along the outside of this dial. The center area of this sub-dial features a day-night indicator showing the lower half of this area is split with inverted background and numeral colors indicating the daytime and night hours with a small hand.
HANDS
The large central hands tell the current time and are made of 18kt white gold. The hour, minute, date, month hands all have a smooth polished finish and are filled with luminous material for excellent visibility in low-light conditions.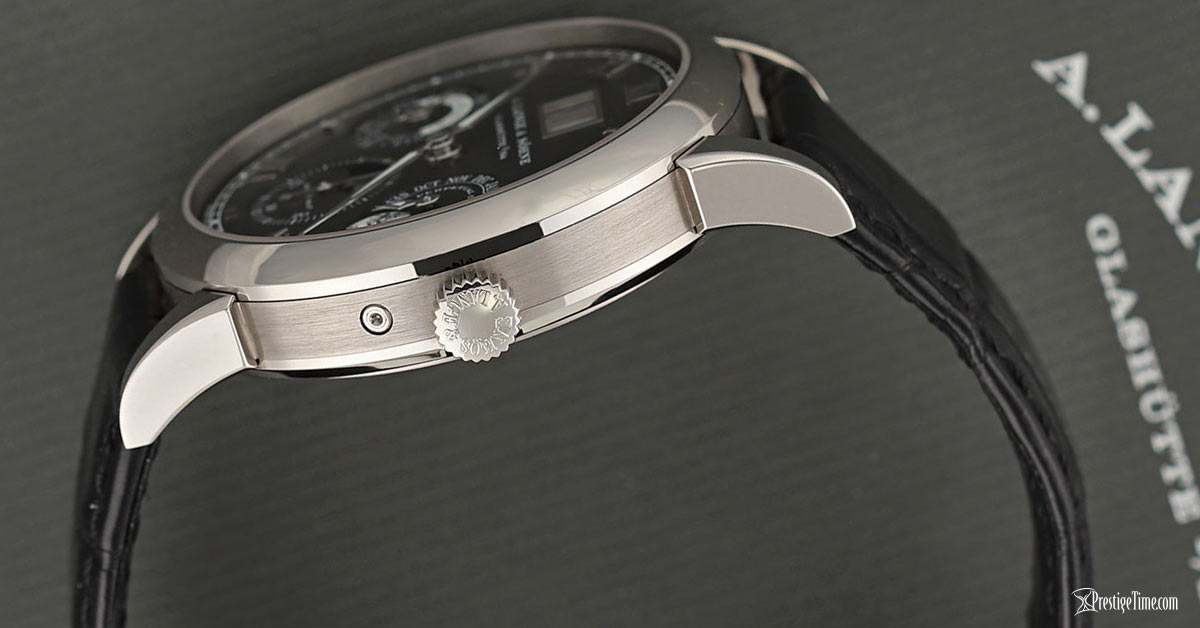 CASE
The solid 18kt white gold case measures a diameter of 38.5mm with a thickness of 10.2mm. It has a polished fixed-position (non-rotating) bezel ring with a chamfered edge that meets the brushed center case giving the appearance of a brushed stripe on the side of it. Rounded polished horn-shaped lugs bend towards the polished case back to elevate the back off of a surface when resting on its back.
The left and right sides feature recessed pushers and a winding crown, and these are used for calendar and precise time setting.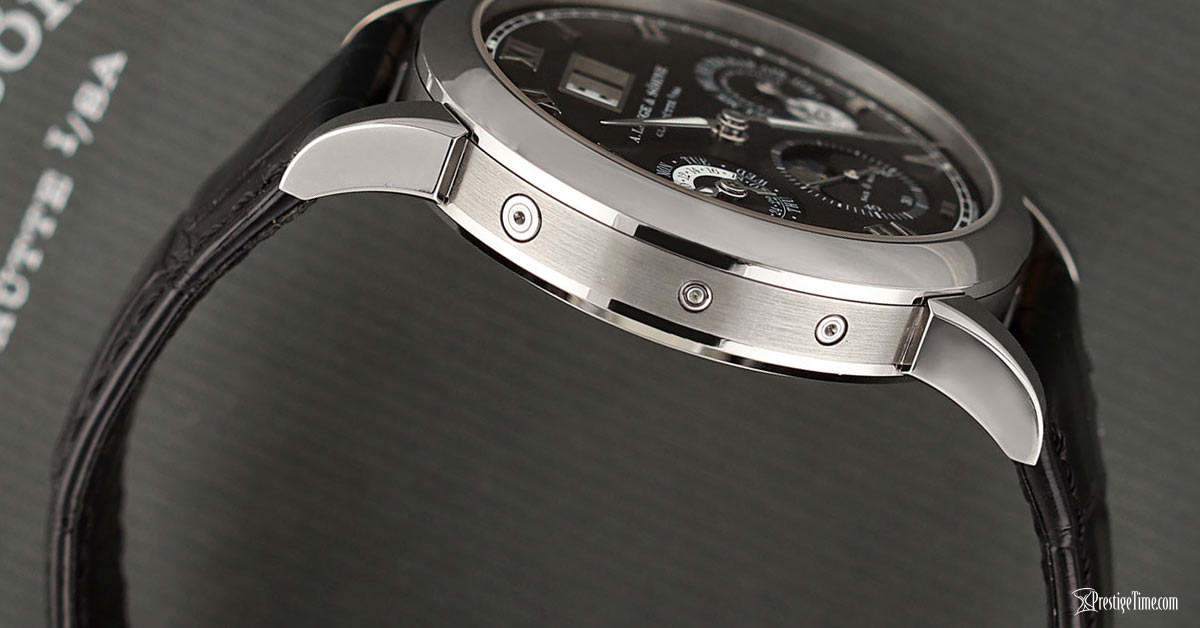 CASE BACK
Sealed with 6 screws, the case back has a scratch-resistant transparent sapphire crystal allowing you to see the impressive movement in action.
MOVEMENT
This watch is powered by an in-house automatic movement; the A. Lange & Söhne calibre L922.1 SAX-O-MAT movement. It oscillates at a beat of 21,600 vibrations per hour (or 3Hz) and features a solid 21kt gold weighted self-winding micro-rotor.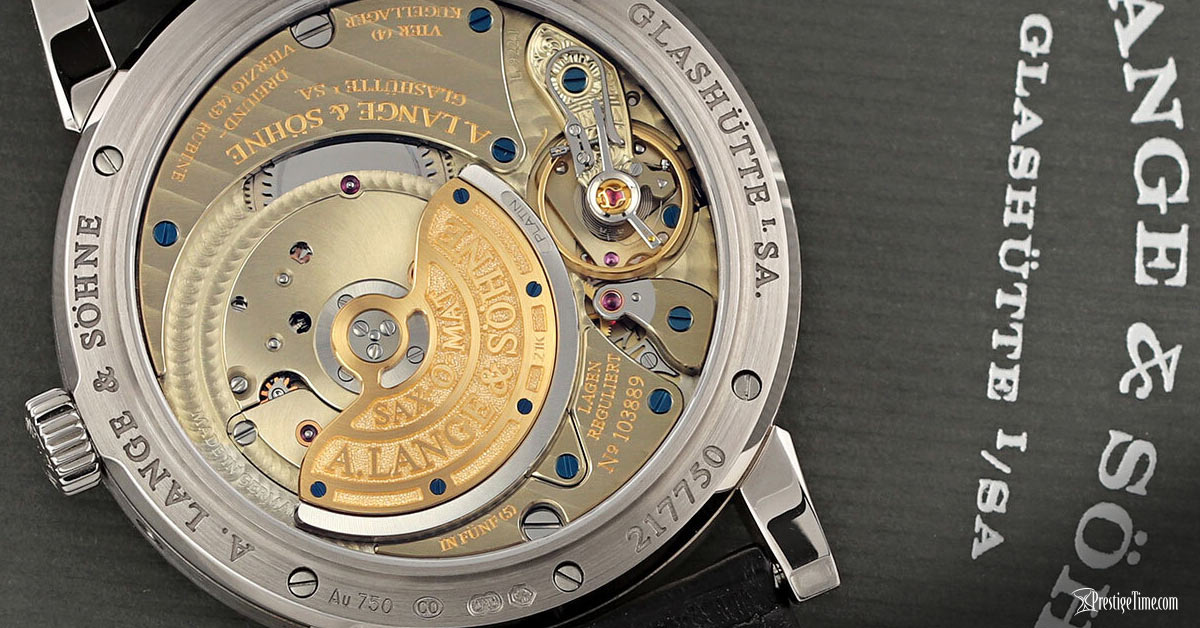 FINISHING
One of the most marvelous things to behold about a Lange watch is how the various plates are meticulously finished and decorated. Their watchmakers tirelessly use a combination of Glashütte ribbing (very similar to Côtes de Genève/Geneva stripes), Perlage (a pattern of concentric overlapping circular shapes with a radial brushed finish), polished beveling, linear brushing, and contour grinding. The balance cock is also ornately engraved, by hand, and various other inscriptions are either engraved or embossed on the many components and plates. The results? A stunning masterpiece!
The combination of all these different finishing techniques causes the movement to look absolutely brilliant, and because of the hand-engraving, it is as much of a unique work of art as anything you would find in a museum. Many of these finishing techniques are in fact so intricate, that you would not be able to even fully appreciate the detail that goes into it without the use of a loop or some excellent high-end macro photography equipment.
Blued screws and pink watch jewels add a dash of vibrant color to the many plates and components on the caliber L922.1. It contains 478 components and has a power reserve of approximately 46 hours.
The movement has a fun "zero-reset" feature wherein which the second's hand can quickly be reset to the zero position. The way this feature operates is reminiscent of the way a flyback chronograph works and is a next-level method to engage "hacking seconds" for ultra-precise mechanical time-setting.
AL&S has featured this function on another watch earlier this year with the 1815 Tourbillon. So, while this is an impressive feature where this is not happening on a chronograph but rather with regular time-setting, it is not the first time they showed this neat zero-reset trick of theirs.
WATER RESISTANCE
It features a water resistance rating of only 30m/100ft and that is only around enough to safely make some contact with water such as washing your hands or contact with rain.
BELLS & WHISTLES
Clearly for a watch, this special, one of the world's most revered watchmakers would not just leave it at that. The watch arrives with a special presentation box that has a built-in watch winder to keep the watch moving. Watch winders are important, especially for perpetual calendar watches that are more difficult to set if the watch was not worn for a while and became fully unwound.
The watch also comes with a special tool used to set the watch using the various recessed pushers found on the side of the case. To inquire about this watch This email address is being protected from spambots. You need JavaScript enabled to view it. or click on the button below to get more details or to view special discounted pricing.