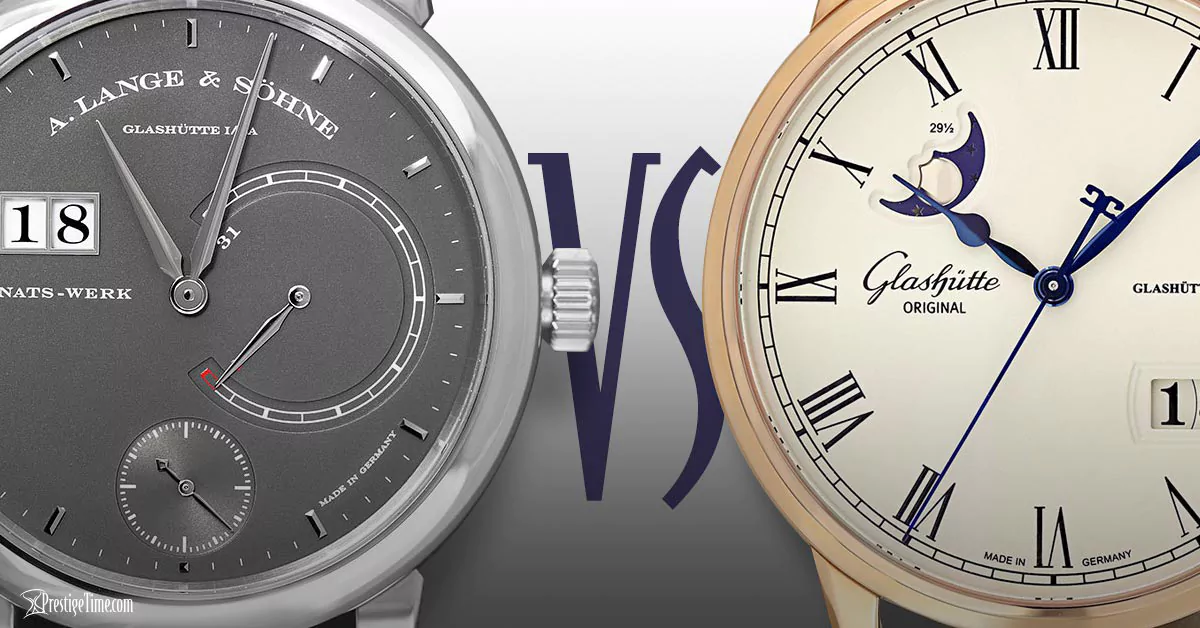 A Lange & Sohne VS Glashutte Original
As soon as you venture slightly outside of Switzerland you'll find out that there are quite a few incredible watchmakers that are not Swiss. Which of these two would you choose?
The Saxony region of Germany is the fountainhead of precision German watchmaking and the heart of the action is in a small hamlet called Glashütte in Sächsische Schweiz-Osterzgebirge. While this area is only home to about 7,000 people, the amount of fine luxury watches that are produced there is more difficult to calculate. Today we'll compare the two most respected brands from this region.
Accuracy  |  Brand  |  Value  |  Craftsmanship  |  History  |  Horology  |  Price  |  Resale Value
Brand
For starters, these two brands are in completely different leagues. Glashutte Original is considered upper-mid luxury whereas A Lange & Sohne is more of a high-end legendary brand up there with the likes of Patek, Vacheron, and AP each capable of producing grand complications watches.
So, with that said, to conduct a fair comparison between these two brands we would have to first take into consideration the value of what Glashutte Original watches bring to the table at their price point, and leverage that against what you get from a Lange watch at a much higher price point.
Value
Many watch connoisseurs would say that a GO is possibly one of the greatest bang-for-your-buck watch brands just based on the level of craftsmanship and precision that you receive with any of their watches.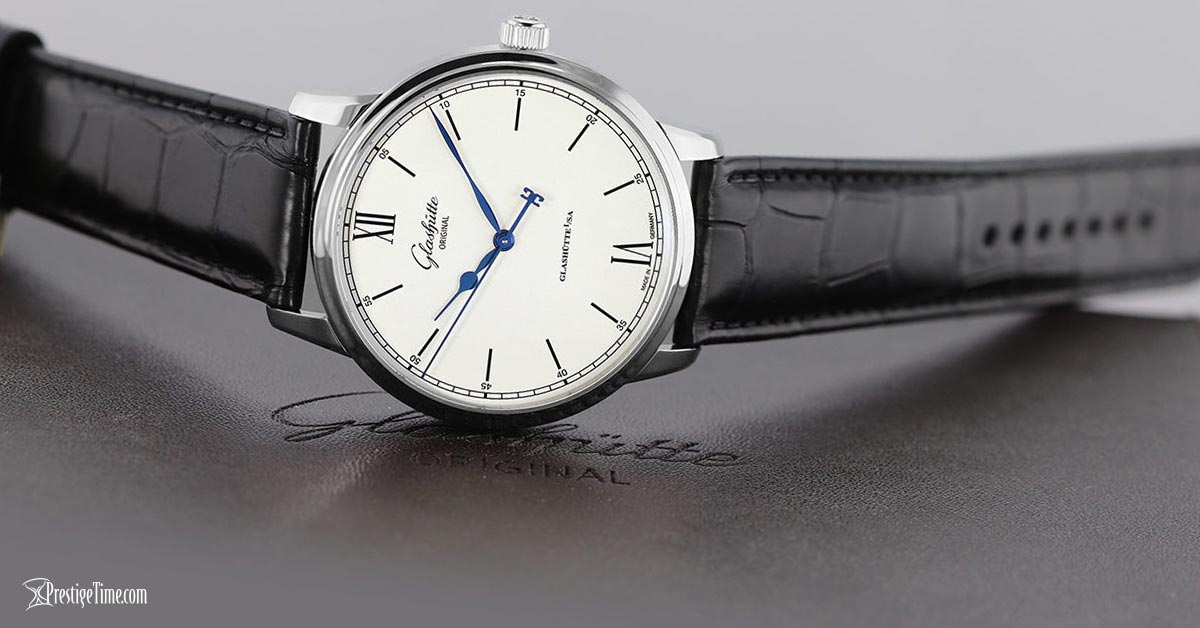 A Lange & Sohne, on the other hand, is held by many as arguably the world's finest watch brand. Many even dare to say that if the Holy Trinity watches was not an exclusive club for Swiss watchmakers, A Lange & Sohne would be at the top, or at the very least on par with Patek Philippe.
Of course, with such prestige, prices are significantly higher and they are also more of an heirloom piece than a Glashutte Original ever will be.
That said, there are very noticeable differences between the two German watchmakers. While both are considered Haute Horlogerie (high horology) brands capable of producing highly complicated and immaculately finished watches, A Lange & Sohne is a cut above not only Glashutte Original, but possibly any other watchmaker.
Accuracy
Glashutte Original has given great consideration in maximizing the accuracy of their timepieces. While Swiss watchmakers turn to third-party testing institutes such as COSC for a chronometer certificate which is subject to ISO 3159 standards and most recently, Omega has turned to both COSC and another third-party lab called METAS to test their watches even further.
German watchmakers need to go a different route and use a German facility called Wempe which tests according to DIN 8319 standards which are the same as COSC's -4/+6 seconds per day precision.
Glashutte Original's caliber 36, for example, exceeds COSC chronometer standards in two ways:
In average daily rate where they test over 12 days versus COSC's ten days.
In positions tested where GO tests and adjusts in six positions versus COSC's five positions.
A Lange & Sohne has some watches with incredible accuracy. In fact, I've heard of a Saxonia model that had a total deviation of only +3 seconds in 7 days. One thing that German engineers are known for is their precision so there should be no surprise there. Other models such as the Lange 1 are known to, hold their precision to about +2/-2 seconds per day which is double the accuracy of COSC specs, even after many years of wearing it. But Lange's official position is that their watches are accurate within a minimum of +/- 3 seconds per day which is still higher precision than a COSC certified chronometer.
Craftsmanship
German made watches, especially those from the town of Glashutte have beautifully finished movements. Even the more affordable brands such as Nomos have beautifully finished calibers. However, let's discuss the differences between Glashutte Original and A Lange & Sohne.
Both high horology brands have immaculately finished calibers. If you want to compare the differences between them, have a look at the image below to see the differences. You'll notice that AL&S has an unmistakably more beautiful finish combining several finishing techniques which are often done by hand. Most have artistically hand-engraved bridges which make each watch unique and this is something you won't find as often on a Glashutte Original.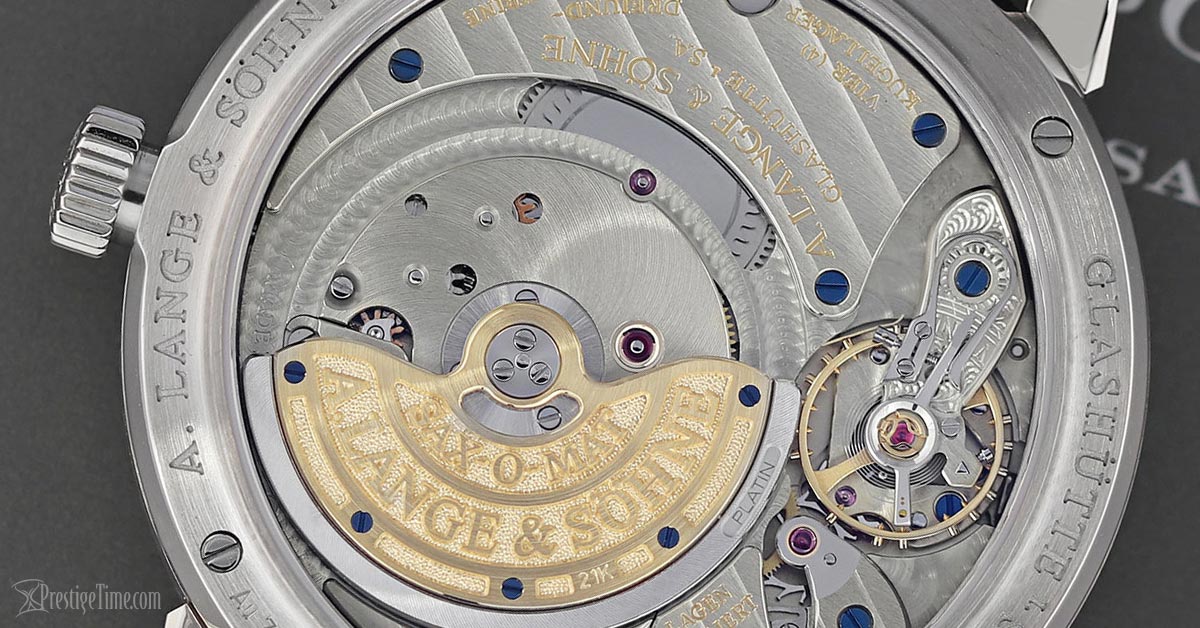 Horology
Both Lange & Glashutte produce watches with high complications such as tourbillons, perpetual calendars and such but A Lange & Sohne is the only of these two that has demonstrated it's true capabilities with bespoke Grand Complications watch such as the one announced at the 2013 SIHH with a price tag of $2,600,000. It featured complications such as a split-seconds chronograph with flying seconds, a perpetual calendar, minute repeater, grand sonnerie, and petite sonnerie.
This was a statement piece that basically said: "Move over Holy Trinity, make room for one more."  So in terms of horology, there's no question that A. Lange & Sohne is the stronger of the two watchmakers.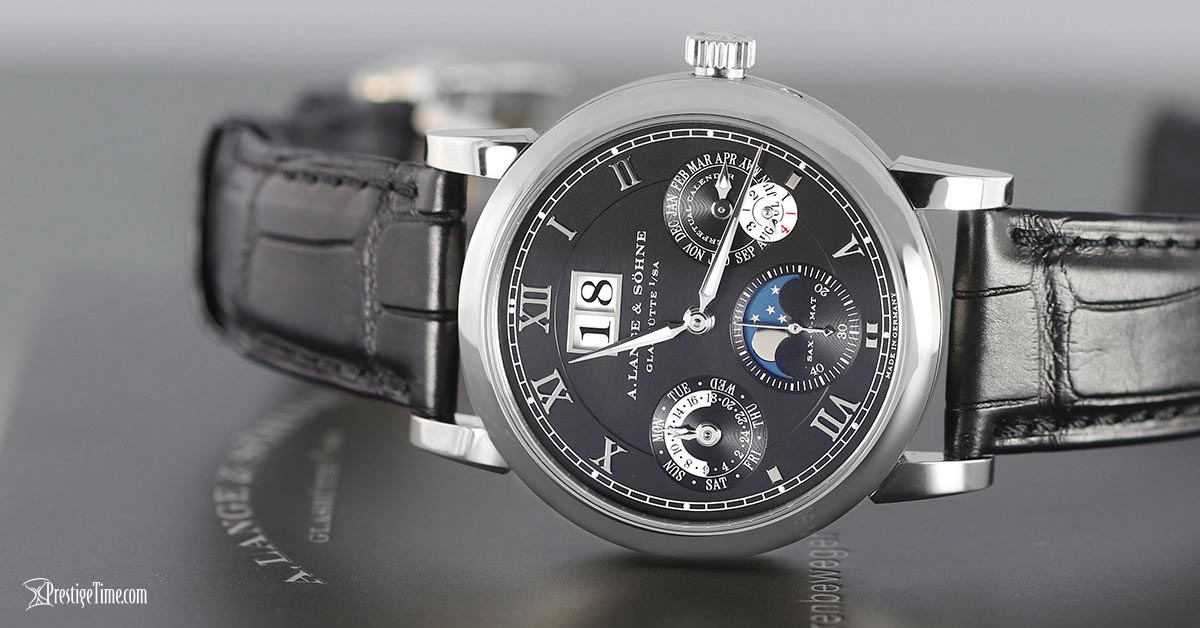 History
Ironically, both brands can trace their roots back to Ferdinand Adolph Lange who was a master watchmaker 165 years ago in the year 1845 when the town of Glashutte in the Saxony region was first settled by a master watchmaker with a dream to turn his hamlet into the thriving watchmaking industry powerhouse that it is today. Click on the button below to see the videos.
Resale Value
It should be no surprise that a pre-owned A. Lange & Sohne watch would hold more of its original value than a Glashutte Original. It's just the type of watch that people would usually hold on to and save as a family heirloom.
Glashutte Originals tend to sell rather quickly on the pre-owned market and because of the lower price point, it is a more attainable watch especially if buying one pre-owned. Perhaps it's because the value they bring to the table, to begin with, is so great, it, therefore, makes a pre-owned Glashutte Original watch that much more appealing.
Price
While we touched on which brand is more expensive earlier in this article, we didn't mention specifics. An entry-level Glashutte Original watch for men comes at a list price of around $5,500. Of course, you can get a significant discount here but we're just stating the MSRP for a baseline to compare against A Lange and Sohne. An entry-level lady's model starts at a retail price of $4,200.
An entry-level A. Lang & Sohne watch such as the Saxonia Thin Manual Wind will cost close to 300% more than an entry level Glashutte Original for men. They don't have too many women's watches though but the ones that I've seen start at a list price of about $15,500.
To browse both brands click on any of the buttons below.