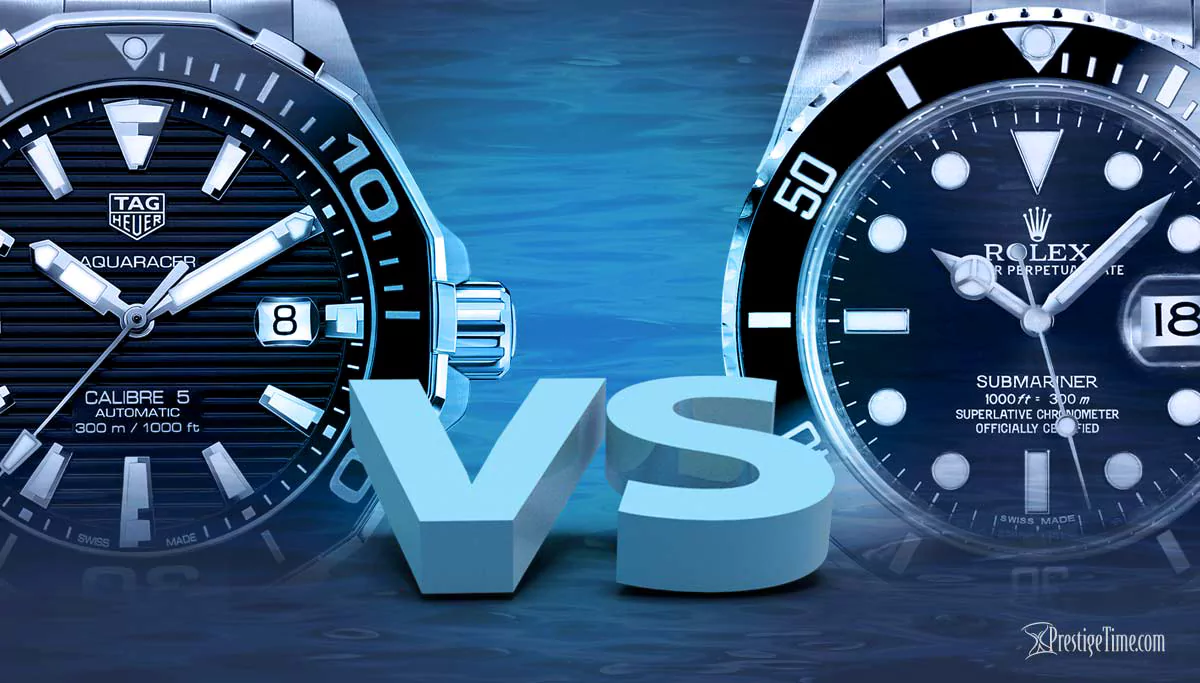 TAG Heuer Aquaracer VS Rolex Submariner
Which of these two famous diver's watches is best and which the right one for you and your unique driving needs?
Today we will compare two of the most popular diving watches; the TAG Heuer Aquaracer and the Rolex Submariner. Why did we choose these two? Well, frankly, we spend lots of time on the phone trying to answer questions on the fly. Questions like:
"Is an Aquaracer better than a Submariner?"
This can be asked from quite a few angles and can mean different things depending on the context of the question. Therefore, we figured that it would wind up saving everyone lots of time if we created a thorough and insightful article that compares the Rolex Submariner and the TAG Aquarace on all these levels and in all these different contexts.
Water Resistance | Accuracy | Durability | Selection | Warranty | Brand Recognition | Price
There is no shortage of diver's watches out there. In fact, just about every brand has its own version. Rolex has several dive watches including but not limited to the Submariner. They have the Rolex Deepsea, the Rolex Sea-Dweller, each with different levels of water-resistance and durability to suit the most amateur to the most avid diver.
Let's start off by saying that not all diving watches are created equal. In a perfect world, they would be but that's not the case. Just as not all drivers were created equal. Most people that are looking for a diving watch are not Jacques Cousteau and therefore don't need a watch that can tell the perfect time on the floor of the deepest sea.
AQUARACER
PROS
Water-resistance 

Has up to 1650ft / 500m on certain models 

Extra features 

Helium escape valve on certain models 

Price 

More affordable than a Submariner 

Selection

Much larger selection of watches 

Strap options 

Comes on a variety of bands such as fabric (NATO) & rubber straps & stainless steel bracelets 
CONS
Resale value 

Rolex watches have a higher resale value than TAG Heuer 

Durability 

Submariner is a more heavy-duty watch 

Visibility 

Rolex has brighter and longer-lasting luminous material  
ROLEX
PROS
Resale value 

Rolex watches have a higher resale value than TAG Heuer 

Durability 

Submariner is a more heavy-duty watch 

Visibility 

Rolex has brighter and longer-lasting luminous material 

Material options 

Available in stainless steel and precious metals such as 18kt Yellow or White Gold & some two-toned options 
CONS
Water-resistance 

Only has up to 1000ft / 300m 

Extra features 

Certain models of the Aquaracer have a Helium escape valve on which is not available on the Submariner 

Price 

More expensive than an Aquaracer 

Selection 

Much smaller selection of watches 
Most divers look towards diving as a fun activity to do on vacation or as a hobby that lets them explore a hidden universe of ocean life. The majority never venture too deep underwater and tend to play it safe. These are the types of divers that could use a Rolex Submariner or a TAG Heuer Aquaracer.
Why? Because most TAG Heuer Aquaracer watches and all Rolex Submariner watches have at the very least 300 meters (approximately 1000 feet) of water resistance. Rolex can attribute the superior waterproofness of their dive watch cases to their patented Oyster Perpetual cases which screw down the bezel, case back, and screw-down winding crown. Just because it says a water-resistance of a thousand feet on the dial doesn't mean you can venture that deep while wearing the watch without any worries. The actual water resistance is always less than what it says. For more information on precisely what this rating system means in practical terms, please read our article on the watch water resistance.
For those that are looking to discover never seen before ocean life on the floor of the deep blue sea, you'll need a model with great water-resistance that is more geared towards the needs of professional divers and Rolex has a few of these high-quality, top-shelf Swiss-made diver's watches in their arsenal. For everyone else, the Aquaracer or the Submariner could very well be an excellent option for day to day wear as well as some scuba diving.

That said, not all TAG Heuer Aquaracer watches are equal either. In fact, there are a few models that offer a higher water resistance than the Rolex Submariner. There are even a few models that may be suitable for more than some light surface diving such as scuba diving.
An excellent example of the latter is the TAG Heuer Aquaracer Automatic 500m model # wak2180.ft6027 and the Aquaracer 500m Calibre 72 model # cak211a.ft8019.
What makes these two models different from the rest? You'll notice a feature that is not available on most Aquaracer watches. You will find it at the 10 o'clock position on the left side of the case, and this is a Helium escape valve.
One uses a Helium escape valve when one uses a diving bell which generates lots of pressure causing tiny helium molecules found underwater to accumulate in the case. The valve allows a diver to purge the helium from inside the watch using this release valve once they return above-water.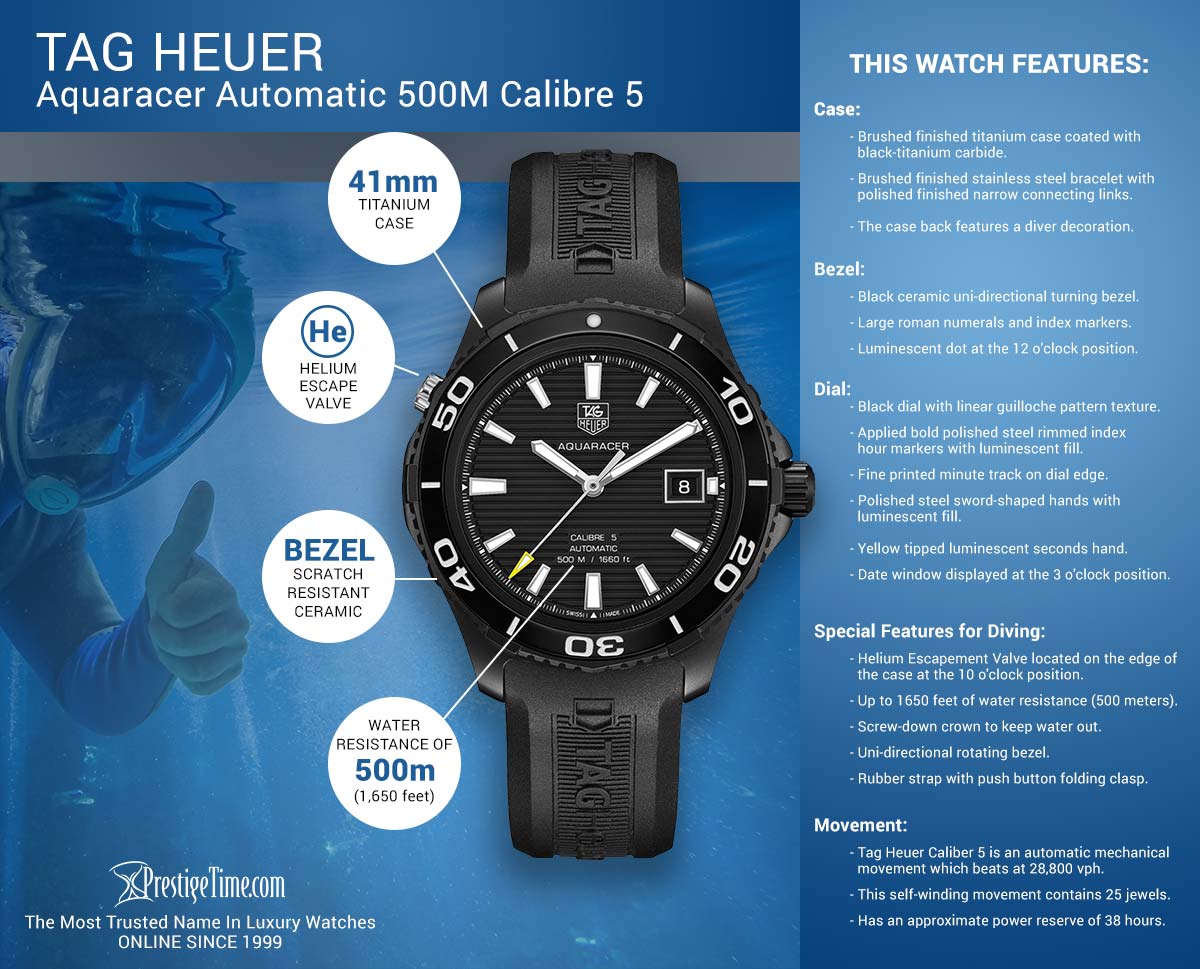 Let's preface this answer by getting this out of the way immediately. Quartz watches have a battery that powers them by sending an electric current to a quartz crystal which causes the crystal to resonate at a very high frequency. If you want to get technical about it, read this article on watch precision, but in plain English, a quartz movement will always outperform even the most expensive mechanical watch.  
A mechanical watch receives its power from a tightly wound spring and its tension is incrementally released and regulated through a series of gears and other mechanical components.
Today, Rolex does not manufacture any quartz watches at all, whereas Tag Heuer does. So you can find quite a few TAG Heuer Aquaracers that are in fact more accurate than Rolex Submariners. The Quartz models of the Aquaracer, to be specific.
On the other hand, Rolex has mechanical diving watches such as the Submariner that offer much higher accuracy than a TAG Heuer. In fact, every Rolex diver's watch is a mechanical watch and with regards to accuracy can outperform any mechanical TAG Aquaracer such as the TAG Heuer Aquaracer Automatic.
Most users will say their Rolex 'Sub' is heavy-duty and can take just about anything you throw its way. However, it is not advisable to abuse any mechanical watch by exposing it to shock and unnecessary pressure because the caliber (AKA movement) that powers a mechanical watch such as a Rolex is comprised of many tiny and often fragile parts.
Rolex writes on many of their ads that no human can survive the types of tests that their watches have to go through…however, they still do it.
TAG Heuer, has their version of the above which is "Don't Crack Under Pressure."
So, is it all marketing and hype? No, they are built very solid. So is a Hummer. Tough as they may be though, a head-on collision can still damage one. The best thing is always to be careful with your watch because repairing a damaged movement can be a lot more work and possibly more costly than fixing a fender bender.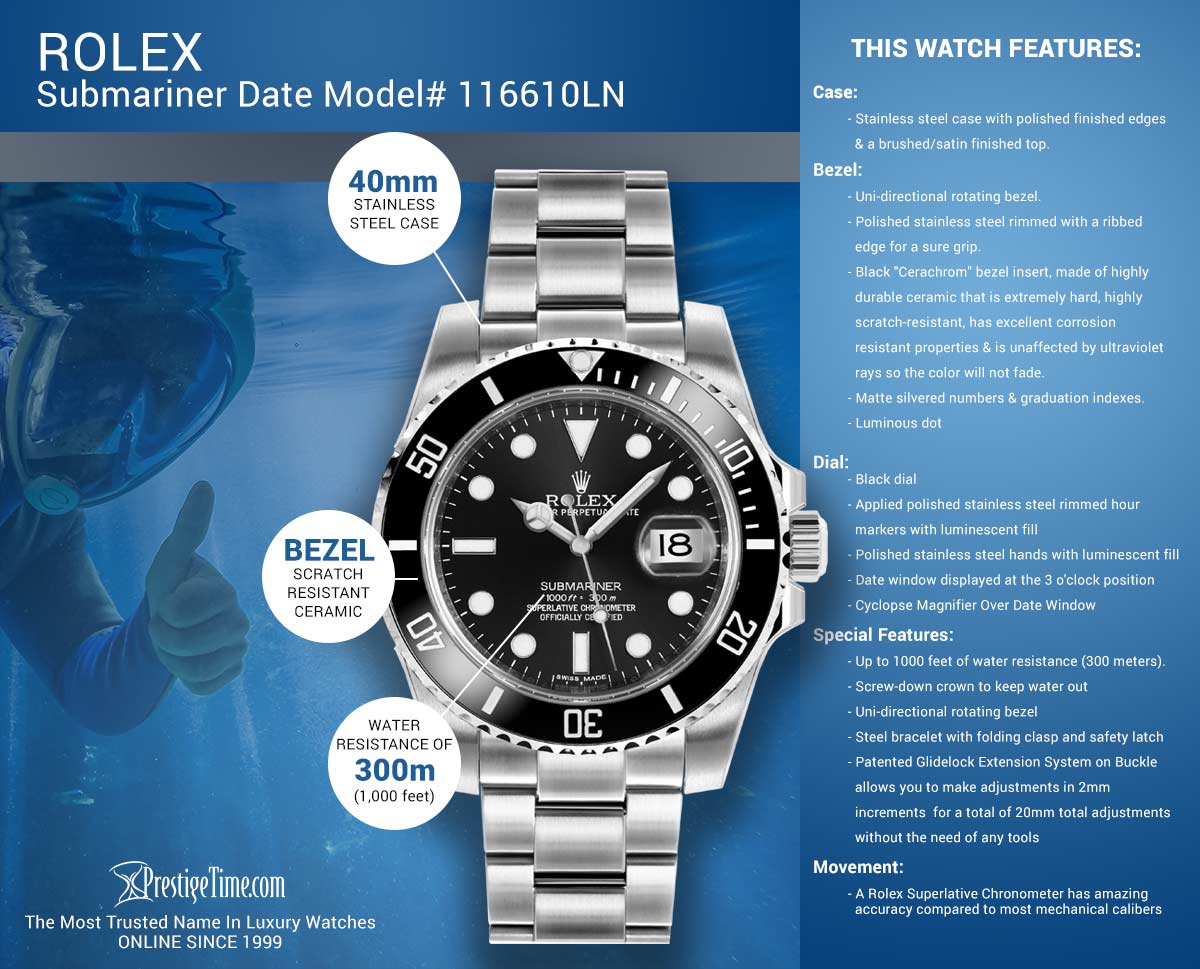 The TAG Heuer Aquaracer has over 80 watches total with about 40 watches for each gender from which to choose which is ten times the selection as the Rolex Submariner watches available.
However, if you are looking for a diving watch made out of solid 18kt gold, get a Submariner. You won't find any precious metal options with TAG.  On another note, there are no ladies models of the Rolex Submariner, but there are plenty of ladies TAG Heuer Aquaracers.
Rolex does. A significantly better one. TAG Heuer has a two year warranty period, and Rolex has a five year warranty period.
In case it's not that obvious, a Rolex Submariner will cost more than a TAG Heuer Aquaracer. The Rolex brand is just at a different price point than TAG. They are considered to be a more up-market brand and therefore come with a higher price tag.
Rolex is a more recognized and prestigious brand than TAG Heuer. For more information on how these two brands compare at a corporate and brand level, please read our brand comparison article for these two brands.