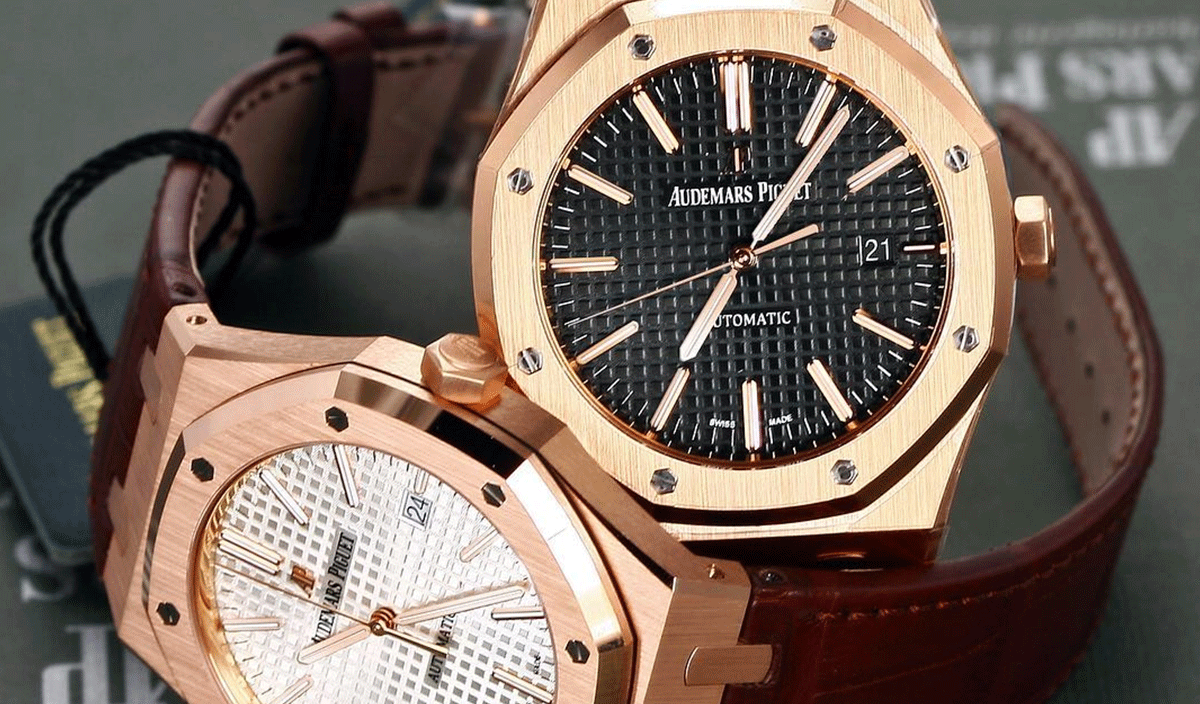 Rose Gold Audemars Piguet Royal Oak Review
How to give your wrist the royal treatment. Let us get a  good look at the iconic AP watch that started it all. 
The Royal Oak has become the most recognizable watch from this prestigious watchmaker and for good reason. Today we will look at a few of the more striking models. Let's begin.
Rose Gold Audemars Piguet Royal Oak Review
Audemars Piguet is known as one of the big three, also commonly referred to as the "Holy Trinity" of watchmaking. They have demonstrated incredible skill in horology over the years. The Grande Tapisserie (french for Grand Tapestry) dial is the signature mark of the Audemars Piguet Royal Oak dials. It has a very distinct and unique waffle pattern to it. Add an 18kt rose gold case and a leather strap and let your wrist look like royalty. The AP Royal Oak watch is favored among celebrities such as Jay-Z, Tom Brady, Niel Patrick Harris (who owns two of them that we know of), and many more. Additionally, it can be seen on the wrists of titans of industry, heads of state, and royalty.
What made this such a popular watch? Or, rather, who made it such an iconic model for this top watchmaker? AP can thank legendary watch designer Gerald Genta. He is a watch designer of the highest caliber who had designed some of the world's most iconic luxury watches during his illustrious career. The interesting thing about his designs was that some of his most famous creations had unconventional geometry and often had octagonal or polygonal-shaped cases. Many watchmakers have created watches that have a Gerald Genta-inspired design but these shows here are the real deal. 
This collection has models that come in a few design variations. There are currently only a few AP Royal Oak 41mm models that come with an 18kt rose gold case. Ironically, many of the stainless steel models on the market are selling at a substantially higher price than the 18kt rose gold models, and that's just because of how popular they are.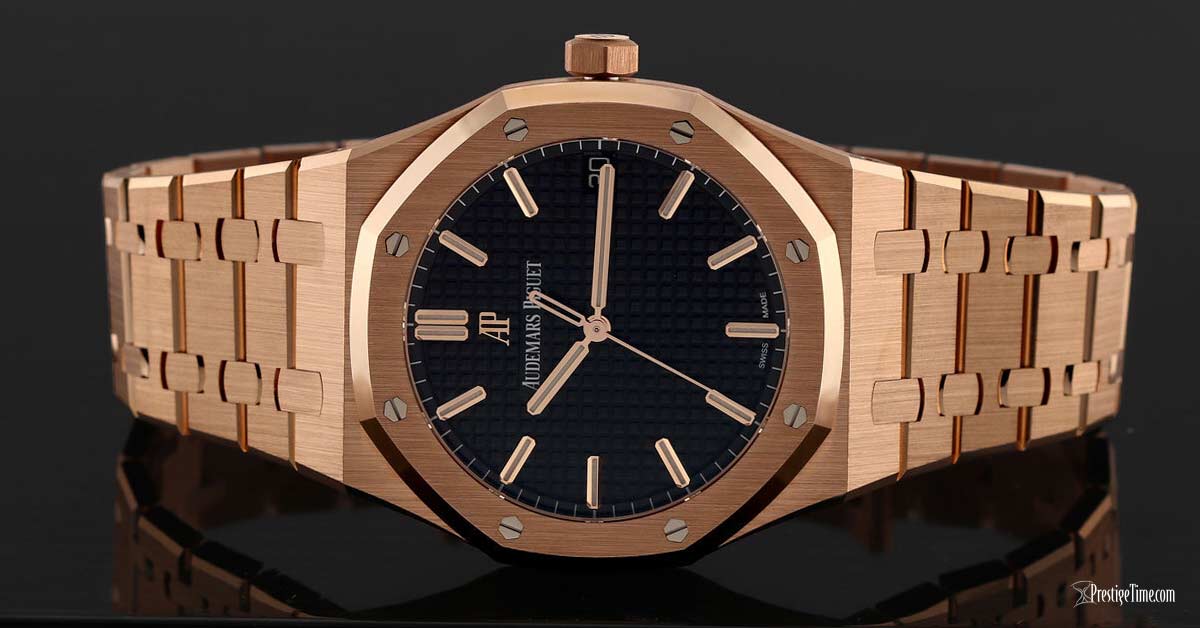 Supply and demand working at their best. Audemars Piguet was one of the first watchmakers to charge a pretty penny for a stainless steel watch. In the watchmaking business, this was a pivotal point where the value was found inside the watch case instead of the raw materials used in its construction. No longer was the age-old craft undervalued and under-appreciated. If people wanted a high-end watch from a top-watchmaker, they would start paying top-dollar even if the case was made of steel and not a precious metal like gold or platinum. 
While stainless steel is a popular material often found in some of the most trending sporty watches, the 18kt rose gold case has an exquisite brushed finish with polished beveled edges and provides a more versatile look that can be worn in a formal, semi-formal, or casual dress. This watch is available in two different leather bands. One is a black alligator/crocodile leather band and the other is on a brown alligator strap.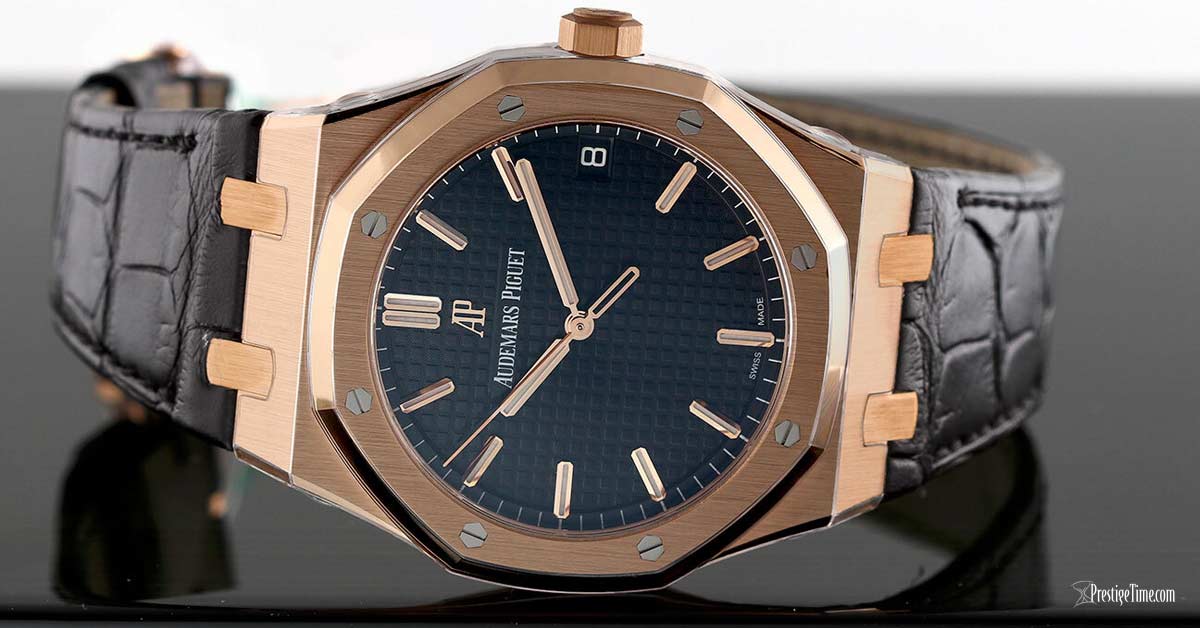 The Audemars Piguet Royal Oaks has a signature style with an octagonal shaped bezel with eight visible screws around the bezel, a checkered textured dial known as the Grande Tapisserie dial. Audemars Piguet used to use self-deprecating sarcasm in their ads to show that they understand the value of looking unique.
An old Audemars Piguet Royal Oak ad from 1977 used the following headline:
"You'd think." he taunted, "that for $5,800 they'd have concealed the bolts."

- Audemars Piguet Royal Oak ad from 1977 -
There's no shame in being unique and since the 1970s the newer models of Audemars Piguet Royal Oak watches have been introduced with much higher price tags than $5,800. Clearly, the visible bolts were a hit!
The Royal Oak Automatic watches produced today have a 41mm model that comes on a black leather strap and pictured above is a good example of model number 15500.or.oo.d002cr.01. It has a black grande tapisserie dial with applied 18kt rose gold hour markers filled with luminous material for high-visibility in low-light conditions. It has a finely-printed seconds track around the edge of the dial and a date window at the 3 o'clock position. The octagonal-shaped winding crown has the AP logo on the cap of the crown. This crown is used for winding up the watch and time-setting and date-setting functions. 
The dial is protected by a scratch-resistant sapphire crystal and the case-back has a transparent sapphire crystal protecting the movement that is visible through the back of the case. This watch is powered by an in-house AP Caliber 4302 automatic movement that oscillates at a rate of 4Hz or 28,800 vibrations per hour. It contains 32 jewels and can hold its power for up to 3 days (70 hours) when fully wound.