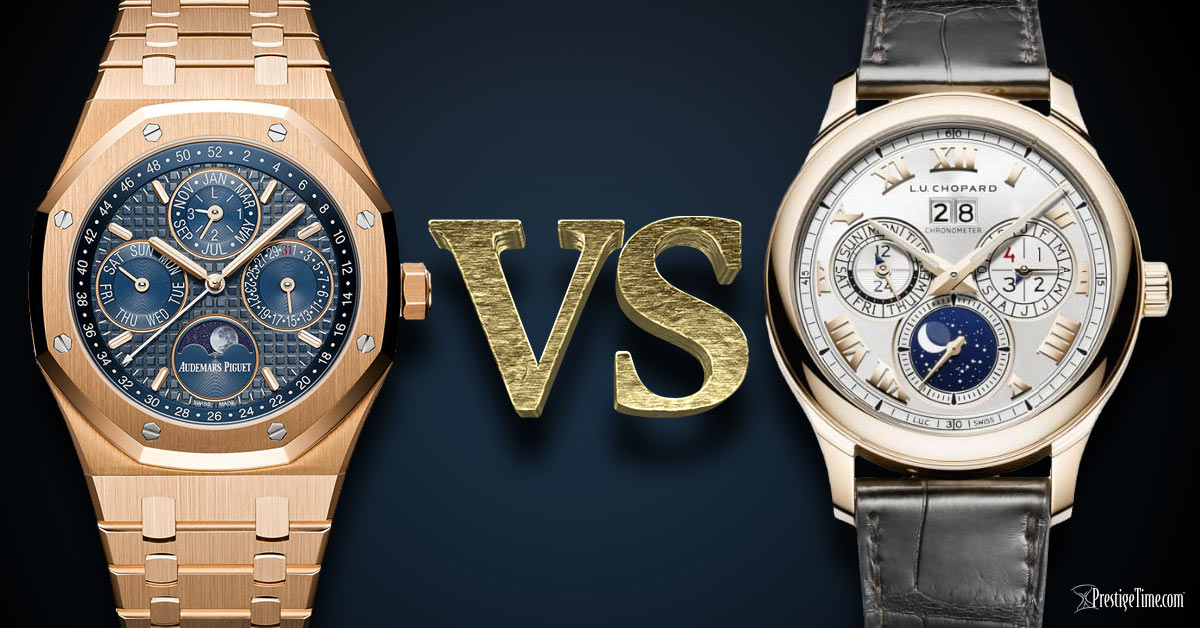 Audemars Piguet VS Chopard Watches
Today we'll showcase two famous watchmakers and pin one against the other in our Audemars Piguet VS Chopard benchmark and brand comparison. 
Few things excite watch enthusiasts more than talking about how one brand compares against another. Today we will compare two very respected names in the watchmaking business, both talented watchmakers. Let's begin!
 Brand Recognition   -   Brand Prestige   -   Retail Value   -   Resale Value   -   Horology   -   Accuracy   -   Craftsmanship   -   Warranty
BRAND RECOGNITION
These watchmakers are two highly respected in the business. They are also popular brands that are widely advertised with high-end timepieces worn by celebrities and high society members worldwide.
Chopard is ranked as the #4 most recognized Swiss watch brand out there and the 23rd brand overall from Switzerland [1]. Their brand value is estimated at 1,098 Million CHF (Swiss Francs). Like similar brands such as Cartier, brands like Chopard are well-established high-end jewelers. While that is very impressive it would be a disservice to say that the attribution for their fame is solely from their fine watches.
Audemars Piguet is not so far behind as the #7 most recognized Swiss watchmaking brand in the world and 26th most valuable Swiss brand overall. Their brand value is estimated at 961 Million CHF (Swiss Francs) [1].
Source: [1] See Interbrand 2016 Swiss brand report at https://www.rankingthebrands.com/PDF/Interbrand Best Swiss Brands 2016.pdf
BRAND PRESTIGE
Unlike Chopard, who is also a famous watchmaker, but is still more famous for their high-end jewelry, Audemars is a watchmaker 1st and foremost. More importantly, AP, as this watchmaker is affectionately known by watch collectors worldwide, is one of the 'Big-3' brands also known as the holy trinity of watchmaking. These three include Audemars Piguet, Vacheron Constantin, and finally, Patek Philippe. This last fact puts AP in a whole different league than Chopard. Their Royal Oak and Royal Oak Offshore collections have become household names in watchmaking and some of the most noteworthy people in the world wear them and even collect them. AP also has some iconic models such as the Royal Oak and Royal Oak Offshore models with their waffle-patterned grande tapisserie dial design. Many are sporting a 5-figure price tag despite the stainless steel case design. AP was the brand that told the industry that it's not the material that the watch is made of that provides the value but rather, the watchmaking esotericism found is inside the case.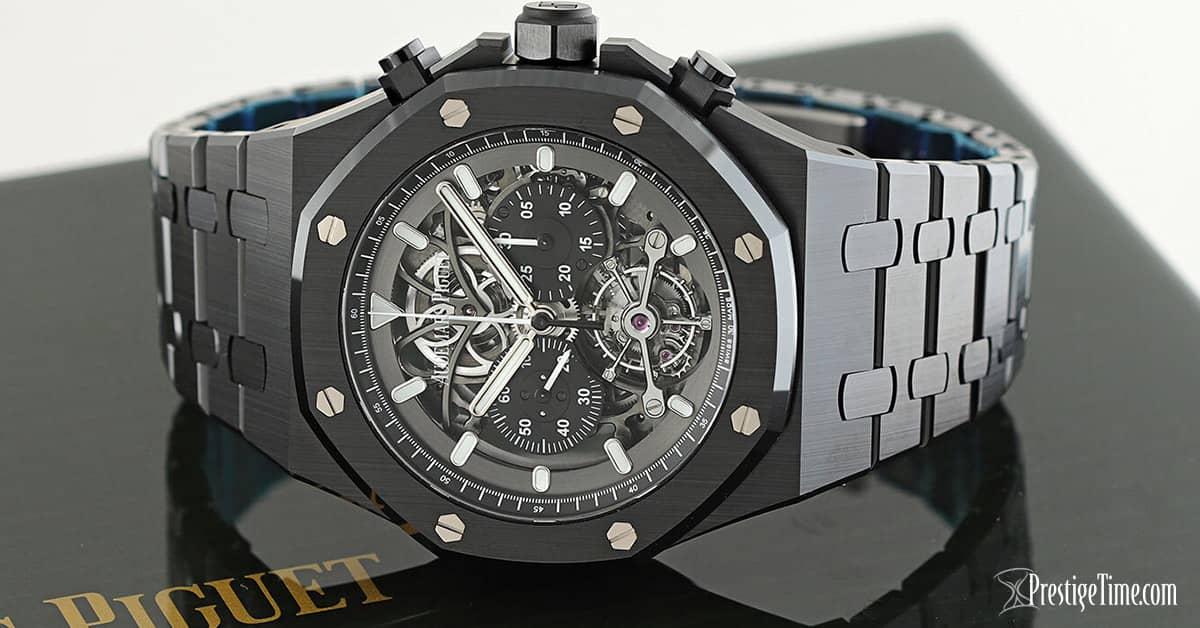 RETAIL VALUE
There is no question that the least expensive Chopard is more affordable than an AP watch. They are at completely different price points. A new, entry-level Chopard watch for men can cost you under $6000 at full retail value. Audemars Piguet watches, on the other hand, cost significantly more.
Chopard has a high-end, high-horology collection known as the L.U.C. where you can find watches that come at a much higher price point. However, when you compare the high-end of Chopard against the high-end of Audemars Piguet, it is not a contest. There are AP watches that literally cost millions of dollars.
RESALE VALUE
Audemars is a very exclusive brand and while Chopard is a highly recognized brand for both luxury jewelry and watches, on the resale side of things, they don't really measure up to a giant like AP. Audemars Piguet has made it harder and harder to get their products and therefore their prices, both for new and pre-owned markets, go up as a result of this.
HOROLOGY
Both watchmakers can create high-horology watches. Chopard has a collection that we mentioned earlier, known as L.U.C. that showcases some great examples of their more complicated watches. The image below can give you a clear example of the movements used in this flagship collection from Chopard.
Audemars Piguet has created some incredibly complicated timepieces throughout its rich history. Their AP Grandes Complications watches have a prerequisite that they must include a Minute Repeater, a Split-Seconds Chronograph, and a Perpetual Calendar complication.
ACCURACY
Both watchmakers create mechanical watches and the more affordably priced battery-powered quartz watches. The quartz-powered watches are far more precise than their mechanical counterparts. Then again, people don't buy mechanical watches for their higher accuracy. They are often purchased for their prestige and the esoteric value that their fascinating mechanical movements provide.
About 3% of Swiss watchmakers send their watches to a 3rd party laboratory called COSC for testing in precision. When they achieve a certain level of accuracy, they receive a prestigious pedigree of sorts known as a COSC certification and it has with it the designation known as a Chronometer.
Chopard sends their L.U.C. watches to be COSC certified but Audemars Piguet doesn't, and why should they if they are already in the Holy Trinity? It's not as though they must prove anything against a lower-market brand like Chopard. Additionally, AP's mechanical watches certainly run within specs, and just like Patek and Vacheron, they don't feel that they need any third-party validation to prove their worth.
CRAFTSMANSHIP
Both brands offer exquisite craftsmanship, but I'd venture to say that anyone who can look at the finishing can see that AP is a cut above. You don't get into the top-3 without that cutting-edge craftsmanship and finishing, with all the works.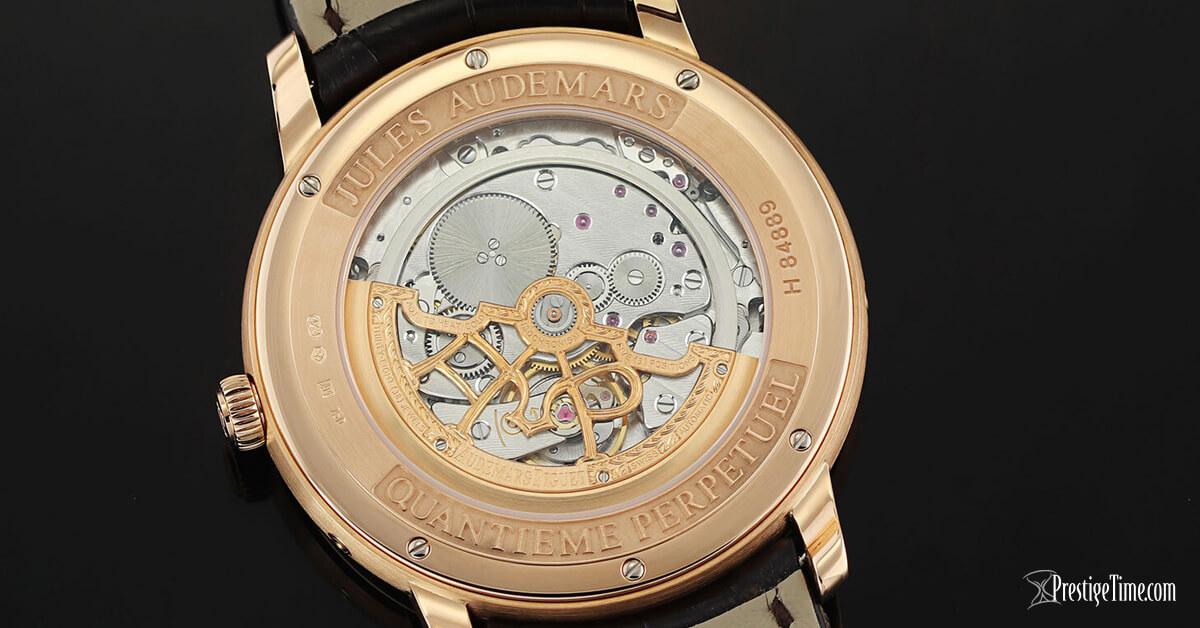 WARRANTY
The average warranty that you will see from a luxury watchmaker is 2 years. Chopard is one of these watchmakers with a standard two-year warranty. However, certain mid and upper-market luxury watchmakers have recently been offering longer warranty periods, and you guessed it, Audemars Piguet offers a 5-year warranty. Of course, this requires you to register your product with them to get a longer warranty.
Browse watches from both of these fine brands using the buttons below
Audemars Piguet Watches       Chopard Watches