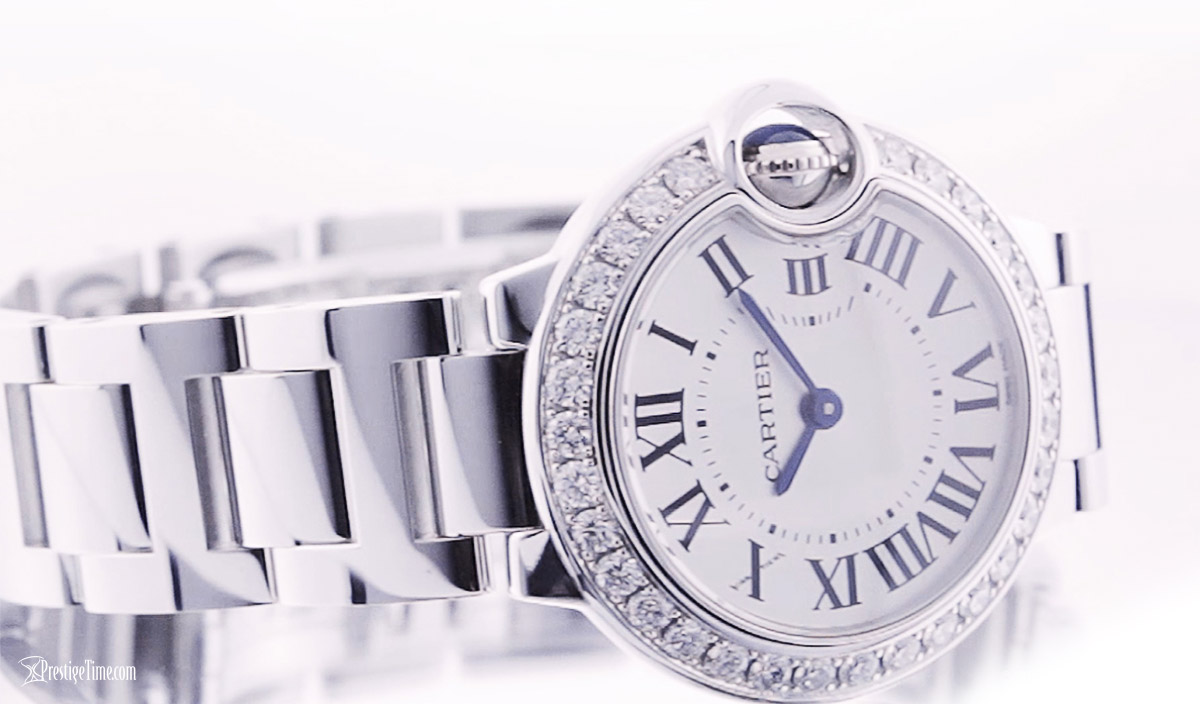 Cartier Ballon Bleu Review With VIDEO
What's the Secret of Cartier Ballon Bleu watches? 
In this Cartier Ballon Bleu Review, we will discuss the 28mm, 33mm, and 36mm sizes. We will also discuss the different costs and prices and explain why this series is so popular.
Few things in this world are as reminiscent of the Chateau Versailles Great Hall Ballroom in Paris, France as the Ballon Bleu de Cartier watch. Just like the illustrious palace, each Cartier Ballon Bleu watch reflects the embodiment of royal absolutism and has been heralded as a major achievement in the art of French haute couture and in the case of the Ballon Bleu, Swiss horology too.
There are many different Cartier Ballon Bleu watch models and they vary in size, color, price as well as material combinations. Some come on a leather strap and some of these timepieces will come on a bracelet. Most have lovely blued steel hands. Nonetheless, each is immaculately designed and holds very high standards of craftsmanship, and would look very chic on a wrist.
Watch our Cartier Ballon Bleu video below for an example of some of the exquisite watches you'll find in this series
What makes the Ballon Bleu de Cartier so unique?
This Cartier watch design has just the perfect balance of feminine grace and strikingly bold features. This balance allows the watch to also have a very masculine look on the larger ones and chronograph versions of these men's Cartier watches.
Aside from the unique classic blue sapphire cabochon crown used to set the time, and the distinctive pebble-shaped case which is very comfortable to wear because of its rounded profile, the Cartier Ballon Bleu is also available with an elegant and ornate guilloche textured dial a wave-like pattern that is seen on all their Ballon Bleu models that don't feature a mother of pearl dial. These are hard to mimic and the intricate method of engraving is yet another distinctive feature that makes the Ballon Bleu so special.
What are the available sizes?
These are the available sizes for a Ballon Bleu Cartier watch. From smallest to largest they are 28mm, 33mm, 36mm, 40mm, 42mm, and 46mm. While most of these sizes are indicative of a Cartier Ballon Bleu women's watch with a few mid-sized watches, if you search, you will find that there are also quite a few Cartier Ballon Bleu men's watches as well as Ballon Bleu Chronographs which are generally 44 mm to 46.8mm x 47.1mm.
How much do they cost?
As possibly the most recognizable Cartier watch, the Ballon Bleu is second only to their legendary Tank series where the prices can go as high as $70k retail, while the Cartier Ballon Bleu price starts at about $4k for a stainless steel model and peaks at just above $61K for some diamond-encrusted 18k white gold models when purchased brand new at the full manufacturer's suggested retail price from Cartier authorized dealers.
On the other hand, pre-owned Cartier Ballon Bleu watches will cost you a bit less. You can often find Cartier Ballon Bleu watches at auctions with starting bids as little as $1,661 in a pre-owned condition.
The Cartier Ballon Bleu watch price depends on a few things, namely the size, of the watch, the material used in production as well as the strap and dial configurations. Some of the Ballon Bleu straps are unique colors such as pale pink to match the pink dial on certain Ballon Bleu models. The majority of the Cartier Ballon Bleu watches have silver dials while some of the higher-end models have a classy gold dial.
On the pricier side of the spectrum, you will find a few models of the Cartier Ballon Bleu with a diamond dial and diamond bezel while others have just a diamond bezel. Additionally, the Ballon Bleu de Cartier watches typically use either Roman numerals for hour markers or diamond hour markers as almost a signature style for their dials.
What makes them tick?
When it comes to the heart of the matter, the movement or caliber that powers the Cartier Ballon Blue watches, this watchmaker prefers to use their own in-house movements. Some models use an HEQ movement, the Cartier Calibre 057 Quartz movement.
The mid-range Cartier Ballon Bleu watches use either the Cartier Calibre 076 automatic movement, the Calibre 049, or the Calibre 430 MC manual winding movement. The Cartier Ballon Bleu men's chronographs use a Cartier caliber 8101 MC mechanical movement with automatic winding.
What is the secret that makes this collection so special?
Ever since the Ballon Bleu de Cartier collection has been introduced in 2007, it held a strong segment of the luxury watch market since it is as much a jewelry piece as it is a fine Swiss timepiece with its charm and broad attraction. As an iconic watch from the French master jeweler, the Ballon Bleu has been spotted on the wrists of royalty such as Princess Kate Middleton and Hollywood A-listers such as Johnny Depp.
Like the Cartier Tank series, which offers both watches for men and Cartier watches for women, in a style that can be modern, ornate, or simply elegant this collection has the versatility to attract a wide range of people and enough design configurations from steel to gold to stay relevant in the long term.