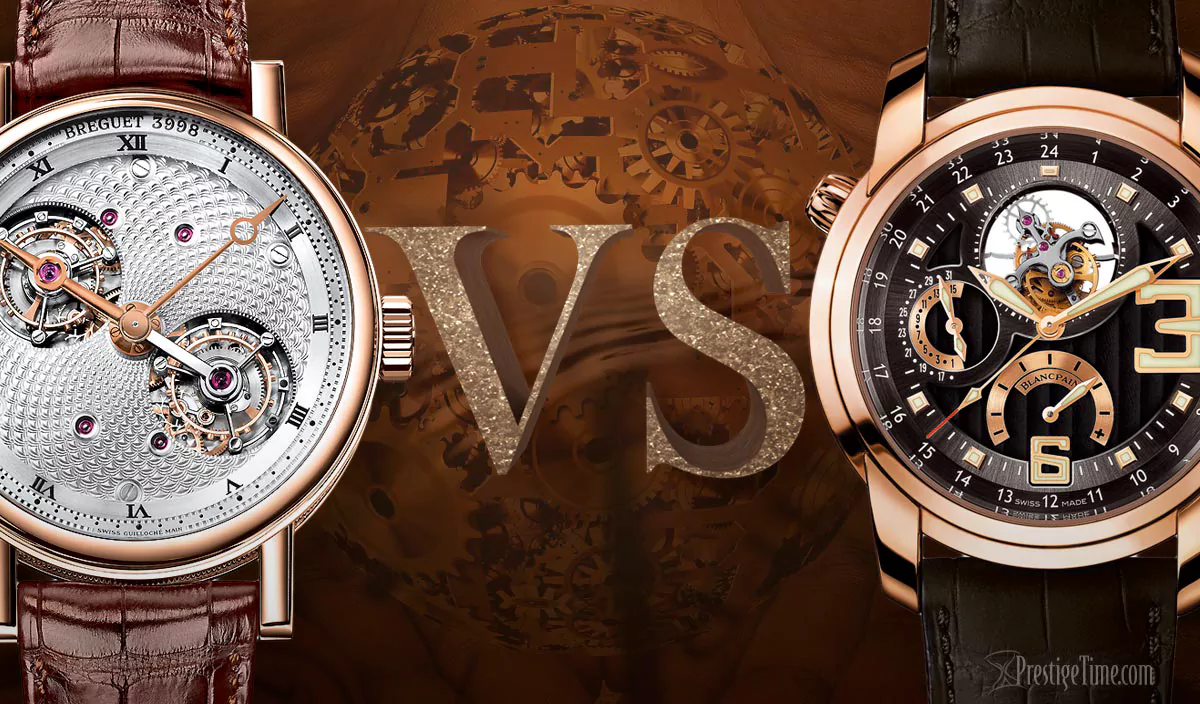 Breguet VS Blancpain Watches
This in-depth and insightful comparison & review will help you determine if a Blancpain or Breguet watch is the right timepiece for you.
Whenever we are asked "What brand is better Breguet or Blancpain?" we can go on a tangent explaining the differences between these two watchmakers before finding out which is the best option for the individual asking the question. There is a good reason for that since the answer can be coming from a variety of different angles and contexts. Today we will tackle all possible meanings in one epic mother-of-all comparisons and review.
Both of these brands make high-end watches, have a huge following, and are some of the most favorite brands among watch collectors. Both are not new brands and are rich in watchmaking history. However, the Blancpain brand name got a new start after a long hiatus but regardless, both have their strengths and virtues.
Today we will address how these watches compare Blancpain and Breguet in terms of the following contexts:
How do Breguet and Blancpain rank as watchmakers in the luxury watch market?
Blancpain is considered a cut above many of the luxury brands and positions themselves in the top tier amongst some of the most excellent names in the industry including Breguet, but also A. Lange & Sohne, Jaeger-LeCoultre, Vacheron Constantin, Patek Philippe, and other top-shelf brands. Indeed, their pricing reflects this with watches only starting at a list price of $8,400 and many going all the way up to over 6 figure price tags (and we're not even talking about models with a diamond-encrusted dial).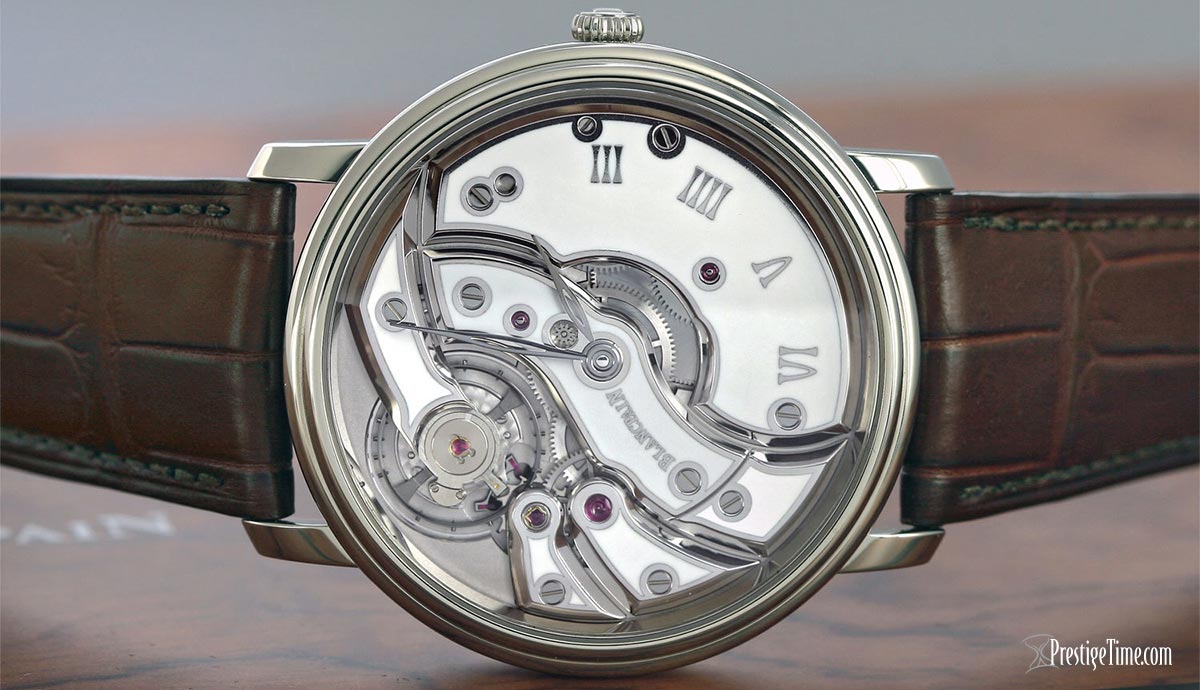 Breguet is one of the most respected names in the watchmaking world. While there are many that favor other brands such as the "big three" Audemars Piguet, Patek Philippe, and Vacheron Constantin. Or even lower market brands such as Rolex and Omega. Serious watch enthusiasts and collectors who appreciate horology and its colorful and fascinating history know the Breguet name very well. There is no denying that the historical watchmaker contributed immensely to the art of watchmaking.
Which is a more recognized brand Blancpain or Breguet?
According to a report by a brand evaluation agency known as Interbrand who published a list of the 50 most famous and valuable Swiss brands in the world, this is where they both stand:
Blancpain did not make the top 50. Sixteen of the brands on the top 50 are Swiss watchmakers which should come as no surprise seeing as Switzerland is famous for their three most significant exports which are: chocolates, banking, and of course our most beloved watches.
Breguet, on the other hand, did make the top 50 list of Swiss brands, smack in the middle of the list in position #25, making them at the moment the 6th most famous Swiss watchmaker / watch brand and has an estimated brand value of 1,004 million CHF.
Who offers a better warranty, Breguet or Blancpain?
They both offer the same 2-year warranty, so they are both on par in that department.
If you want to invest in a luxury watch and are deciding between Blancpain and Breguet, which holds its value best and offers a better resale value?
Firstly, watches are not investments. Especially not in the traditional sense. There are many that will appreciate over time but most are like buying a car. As soon as you use it, some of its value is lost. Additionally, resale values cannot be painted with a broad brush according to the brand since it depends on many variables.
These variables include and are not limited to:
the model of the watch
the historical significance of the watch model itself
the condition the wristwatch is in
Whether or not it includes all original documents and boxes and so on
how rare it is (think limited editions, numbered editions, one-of-a-kinds, and such)
the overall brand recognition of the brand and brand value
the market's demand and so on and so forth
How do these brands compare with regards to the history of watchmaking?
Blancpain
Jehan-Jacques Blancpain, which started producing watches in 1735 in Villeret Switzerland. The great-grandson of the company's founder took over the business in 1815 and was able to take watchmaking from a workshop environment to a modern production capable of mass-producing luxury timepieces. Frederic-Louis Blancpain, the founder's grandson brought significant innovation to watchmaking by using a cylinder escapement instead of a crown-wheel mechanism. It was 1932 when the company was required by law to change its name since there were no more family members interested in controlling the firm. Blancpain was forced to rebrand under the name "Rayville S.A. success de Blancpain". Rayville was a word derived from Villeret (pronounced Villa-Ray).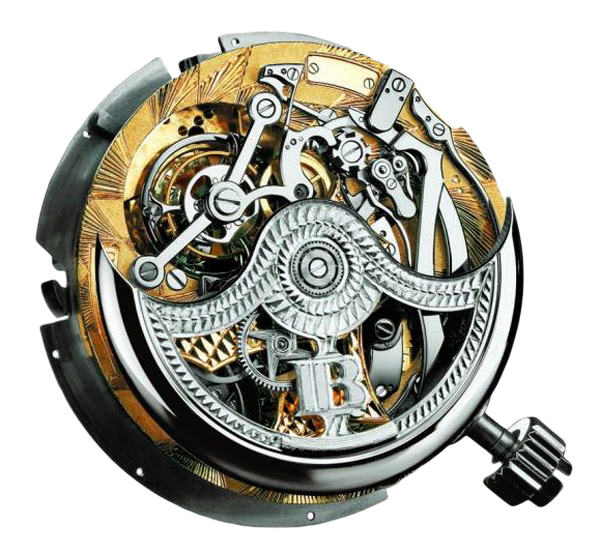 Blancpain is the oldest name of all Swiss watchmakers that are still around today despite the company taking an extended hiatus under that name and operated under a different name for legal reasons.
Perhaps Blancpain's most notable achievement is the Blancpain 1735 (pictured here) which is a no-joking around high complication watch featuring a Split Chronograph, a Minute Repeater, Perpetual Calendar, and Tourbillon complication. Blancpain is also famous for the Fifty-Fathoms watch; a diver watch used by the U.S. Navy and featured in Jacques Cousteau's award-winning movie. In recent years, Blancpain made a novelty on the Fifty-Fathoms with their Fifty-Fathoms Bathyscaphe.
One of the things that Blancpain prides itself on is that despite the quartz crisis of the 1970s, Blancpain vowed that they would never create a quartz watch or any electronic battery-powered digital watch. The era brought enormous pressure on many watchmakers that felt they needed to follow the trend to stay in business. At the time many watch manufacturers had to choose to either stop doing business or adapt to create quartz watches. Blancpain weathered the storm and was able to come out on top and to this day. Blancpain is still considered one of the more prestigious names in luxury watchmaking.
Breguet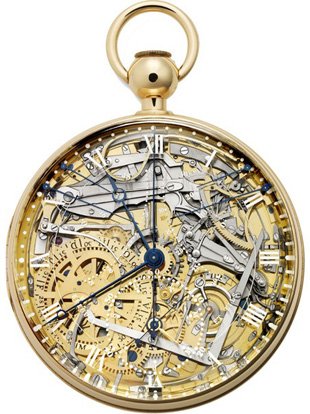 Abraham-Louis Breguet started making watches in 1775.  He was known to be one of the greatest horologists in history. His customers were the top income earners and noblemen and women. Breguet was recognized as an innovator and created automatic watches which are called self-winding watches. He also innovated on the escapement and invented the tourbillon complication and other mechanisms such as the overcoil which improved the balance spring by using an elevated outer coil.
Breguet was probably most famous for the commissioned piece called "Marie Antoinette" which is considered to be the "Mona Lisa" of watches. This timepiece is valued at about $30,000,000 and featured every complication known to man at the time. It took 45 years to complete. It featured the following complications: Chime, Clock, Chronograph, Minute Repeater, Pare-Chute (shock absorber/shock damper), Perpetual Calendar, Power Reserve, Independent Seconds Hand, and even a Thermometer! Yes, it cost a King's ransom.
Another interesting little factoid: Breguet is one of the 72 names written on the Eiffel Tower.
In the year 1870, the Brown family in England took over the company and held it until 1970 when a major Swiss watch conglomerate bought it.
Use the buttons below to browse watches from both of these high-end brands.
If you enjoyed this comparison and feel that others would enjoy it too, please like and share it and follow us on Facebook and Instagram! Thanks!