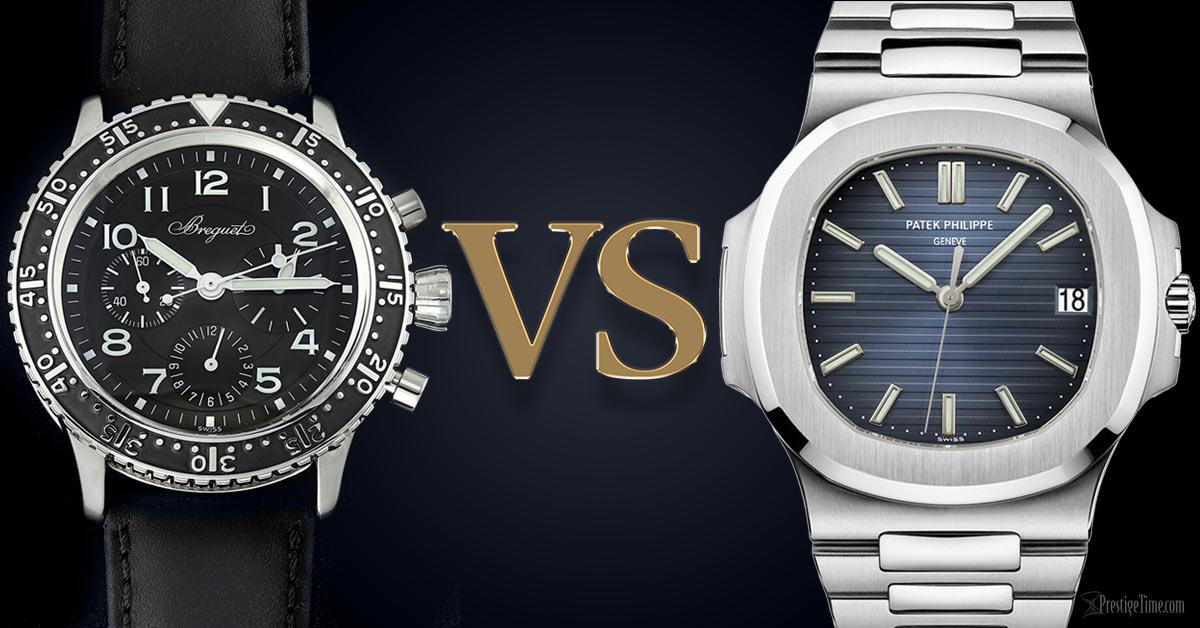 Breguet VS Patek Philippe: Which is better?
Two of the top-shelf prestigious watchmakers go head-to-head in a detailed and thorough comparison where we review both brands from many angles. Shall we begin?
 There are people who like collecting watches then there are those that appreciate fine watches. The former is often in possession of watches from a few mid to lower-market luxury watch brands. The latter will generally have a more sophisticated appreciation for the craft, the history, and the horology that goes into these top-of-the-line watch brands. Today, we will dissect two such brands and get granular about what makes each of them different from one another. Let us begin, shall we?
To simplify the information you are seeking, we divided this comparison into sections that address different ways in which to compare watches from these two manufacturers. Feel free to use the links below to navigate them.
History
Both watchmakers are extremely old watchmakers, each with nearly two centuries of experience in the watch industry. Both are highly respected names that get people's attention in watch collecting circles, especially in the world of highly-exclusive watches.
Which brand is older? Breguet is. They are one of the very few classic 18th century watchmakers still left in the business, making them one of the oldest. Their company was founded in the year 1775.
Patek Philippe is 64 years "younger" than Breguet and was making watches since 1839 and is a favorite among many collectors.
Brand Prestige
These days, like most consumer products, a watchmaker's prestige in the eye of the public is often attributed to several things but especially celebrity endorsements. Both Patek and Breguet have had people in high places, very high places, own their watches, and proudly wear them. These people included politicians, leaders of industry, royals, famous artists, actors, and performers.
However, when that prestige is perceived in the eyes of serious horologists, watchmakers, and those that appreciate the craft, there is more than just the who's who wearing your product to truly impress. For them, prestige is closely linked to how complicated their watchmaking skills are, and how much they have contributed to the age-old craft over the years. Both watchmakers have made numerous important contributions through their inventiveness and many innovations.
Patek Philippe's Contributions to Watchmaking
One of Patek Philippe's earliest contributions was in 1845 with the patent they filed for a keyless winding mechanism for pocket watches which led to the winding crown.
In 1868 they literally created the first Swiss wristwatch.
Then, in 1881, they improved accuracy with the introduction of a precision regulator. Then they invented a perpetual calendar in 1889, a complex mechanism that is also known as a high complication and found on many of the more expensive watches.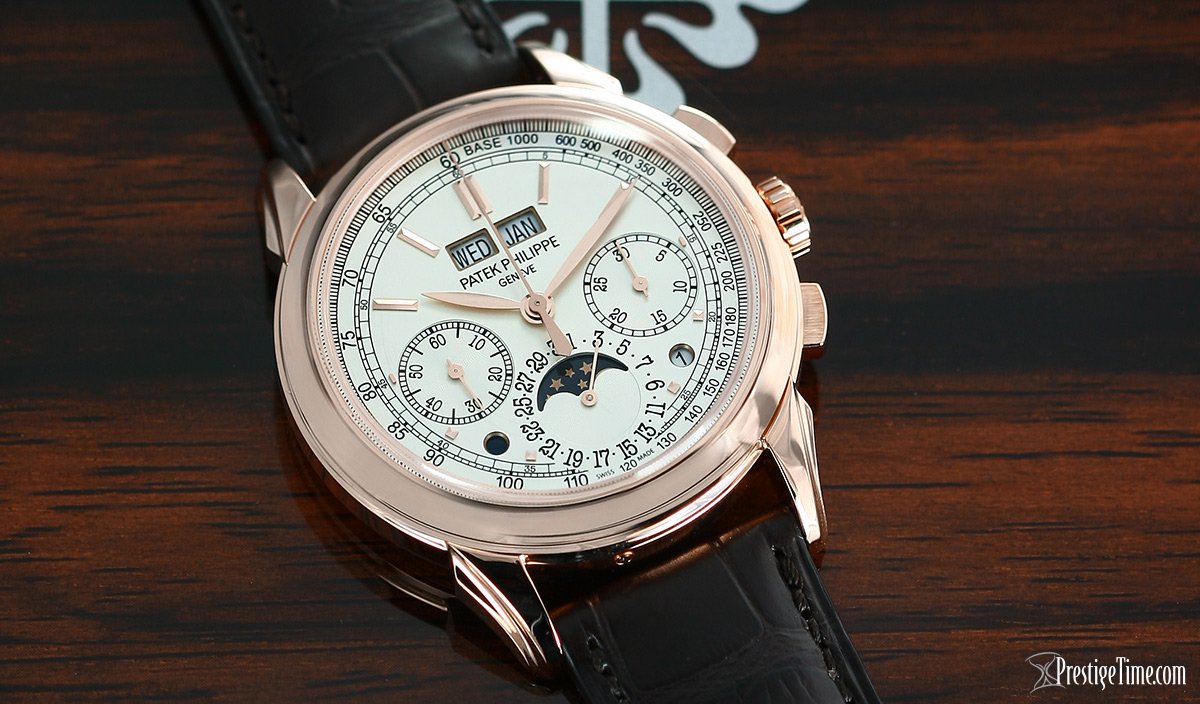 1902 brought out the double chronograph (stopwatch).
The early 20th century, brought one important innovation and new complex mechanism after another, constantly challenging themselves to outdo their latest and greatest feat.
It was 1933 when they had one of their most proud achievements where they created the Henry Graves Supercomplication which held the record as the most complicated watch until 1989 with 24 complications. They then broke their own record in 1989 to celebrate their 150th anniversary with the Caliber 89 that featured 33 complications. Recently another very old watchmaker "out complicated" them and took that record. However, to celebrate their 175th anniversary in 2014, they invented one of the world's most complicated wristwatches with 20 different complications. They had earned many other noteworthy stripes between 1933 and today but I am sure by now you get the picture.
More importantly, Patek constitutes one-third (and arguably the top third) of what is known as either "The Big 3" or the "Holy Trinity" of swiss watchmaking that is comprised of three of the most coveted brands: Patek Philippe, Vacheron Constantin (the oldest watchmaker still in continuous operation, and current title holder of the world's most complicated watch), and Audemars Piguet (also affectionately known as AP watches by watch collectors and famous for their Audemars Piguet Royal Oak watches). Some argue that Jaeger LeCoultre can be a solid 4th but neither Vacheron nor Audemars Piguet would want to lose their footing in the big three to Jaeger LeCoultre. 
Breguet's Contributions to Watchmaking
Breguet has made many important contributions as well. Breguet invented the first automatic (self-winding) watch known as the Perpétuelle. at the very least is the most attributed watch manufacturer for bringing this feature to the watch business.
They have also been credited with inventing the tourbillon complication, one of the most fascinating mechanisms you will see on a high-end watch. It is used to counter the effects that gravity plays on a wristwatch's movement.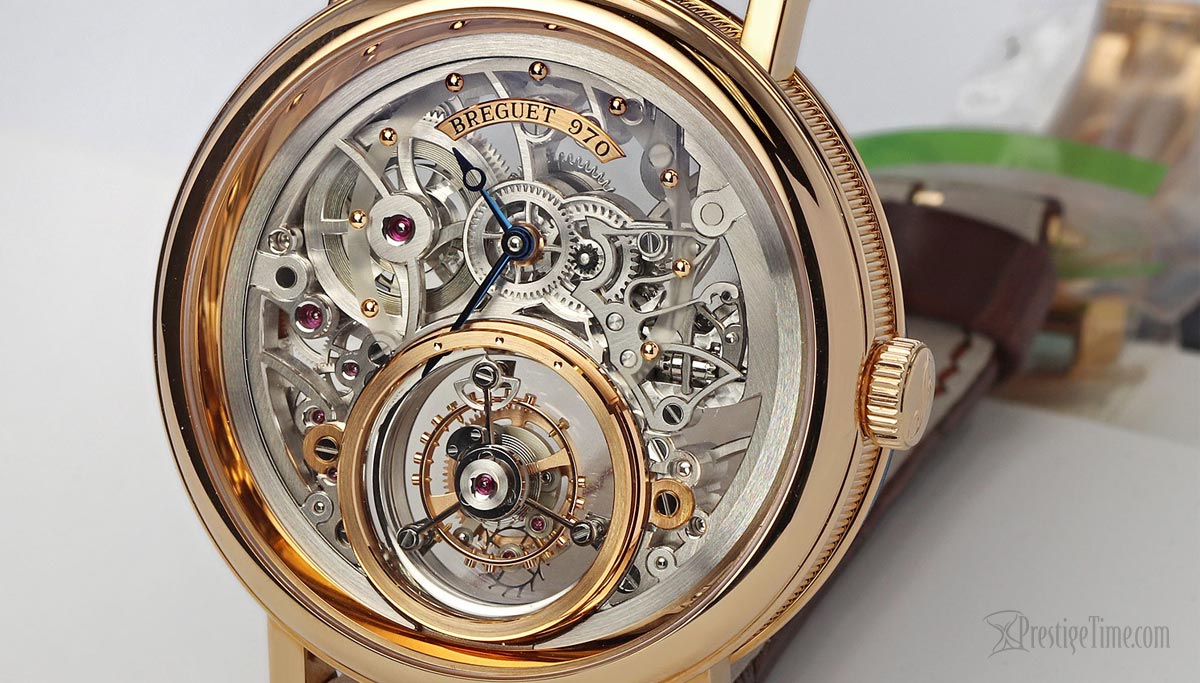 Brand Recognition
With all the above said, it is no surprise that these two brands are among some of the most recognized brand names in the Swiss-watchmaking business. 
Is Patek Philippe a top watch brand? Patek Philippe ranks as the 3rd most internationally recognized name in the Swiss-watch business. They are third in brand recall only to two more accessible and therefore more widely known lower-market luxury brands; Rolex and Omega. Not being in the first place has more to do with the highly effective marketing and branding strategy of these lower-market brands than anything else. 
Is Breguet a top watch brand? Breguet ranks 6th in the world of Swiss watches in terms of brand recognition so both are very valuable brands and are well respected but Patek Philippe is more recognized, both by your average layman and by watch connoisseurs.
Source: Interbrand, a brand valuation agency that created a report of the Top 50 Swiss brand names which can be found online at https://www.rankingthebrands.com/PDF/Interbrand%20Best%20Swiss%20Brands%202016.pdf
Precision & Accuracy
Many watchmakers send out their calibers to third-party labs like many luxury watchmakers do to receive a COSC certificate and a chronometer designation meaning it has a minimum accuracy of -4/+6 minutes per day. This is considered good precision for a mechanical watch and adds a bit of prestige.
Patek Philippe stopped sending their calibers out to COSC. They instead started issuing their own certification and to higher standards. If the watch has the Patek Philippe Seal on it, it means that it has an accuracy of -3/+2 seconds per day, twice as accurate as a COSC certified watch.
Breguet also does not send their calibers to get a COSC certificate and does their precision testing themselves.  This watchmaker has a particularly super high-beat mechanical watch that beats at 10Hz known as the 7727 and is claimed to be no less accurate than approximately +1/-2 seconds per day.
However, this is not the standard precision for every one of their watches. This is an exceptional piece. Breguet does not offer much information about what their precision standards are, per se. The best you will get out of them is that their watches are very accurate. Some enthusiasts who like to measure precision themselves claim that certain models had high precision comparable to that of watches with the Patek Seal. Without a set standard or any official statement from Breguet, it is hard to say for sure. However, there are now mobile apps that can be used by watch aficionados to measure a watch's accuracy.
Craftsmanship
We are often asked: Are Breguet watches good?". Both brands offer excellent craftsmanship compared to most brands. However, Patek Philippe is a cut above Breguet, especially ever since Breguet watches started being mass-produced after being acquired by the Swatch Group in 1999, a vertically integrated international conglomerate heavily invested in the luxury watch sector. Furthermore, Patek doesn't even consider Breguet or any other watchmaker from Switzerland a direct competitor. The only possible direct watchmaking direct competitor would be the top German watchmaker called A Lange & Söhne.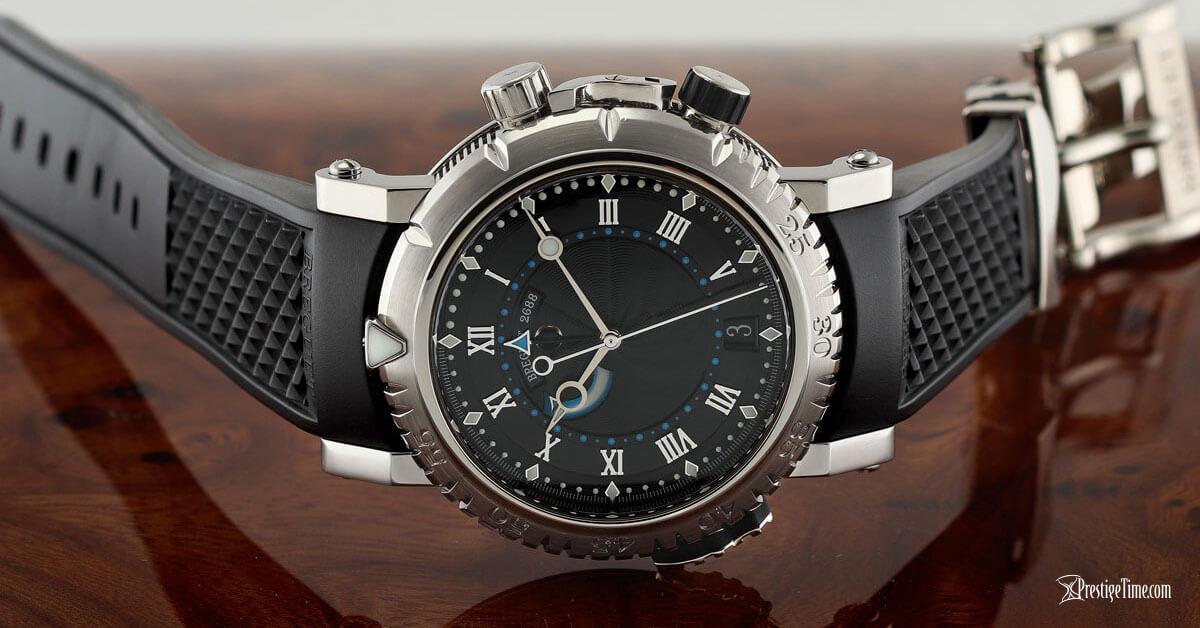 Water Resistance
Both Breguet and Patek Philippe have a collection of sports watches that offer a screw-down crown, and higher than average water-resistance. Breguet has a subseries in the Marine collection called the Marine Royale (pictured above) that offers a water resistance rating of 300m/1000ft.
Patek Philippe has the Aquanaut (pictured below) that offers 120m/393ft, not quite the same resistance as the Breguet Marine Royale, but is about 20% more than the rest of the watches in the Breguet Marine Collection which only offer between 50m/150ft and 100m/300ft. For more about what these water-resistance ratings mean, and what activities each rating can allow without damaging your watch, click here.
Resale Value
Oftentimes, people will phrase a question about retail value as such: "Which watch should I invest in...this one or that one?" It is a misnomer to call a watch, any watch an investment.  Watches are consumer products designed to depreciate, and just like any other product, once they are used even once, they lose some of their original value.
Investments, on the other hand, are meant to gain value with time. Yes, there are rare occasions where a watch will possibly be worth more than originally paid for after buying it. It does happen once in a blue moon. However, when this happens it's so rare that thinking it would in advance is really a gamble, not an investment.
That said, there are some brands that will hold a higher percentage of their original value than others.
Do Breguet watches hold their value? No, not any more than an average brand.
Do Patek Philippe watches hold their value? Yes, compared to every other brand besides Rolex, Patek Philippe holds the highest average resale value in the business and their company slogan likes to tactfully and tastefully emphasize that point.
Retail Value
Patek Philippe watches are not mass-produced like Breguet watches, and therefore are scarce and in demand. Breguet has a much lower cost of entry price where their most affordable models are about half the price or less than a Patek Philippe. Furthermore, sites like ours that sell watches at discounted prices can usually offer a higher percentage of discount on the more available brands than the more exclusive ones. Whereas you can easily find a Breguet watch at around 18% off retail, a Patek would not be discounted that much. The market simply does not allow for that kind of rebate. In some cases, they will even sell for above retail because of how hard it is to get certain models.
Warranty
Both Patek Philippe and Breguet offer a 2-year warranty period. This is the average warranty period in the luxury watch industry. However, more and more brands, especially those owned by Richemont group such as Paneria, are now offering an extended warranty period that is substantially longer if you register the watch online. However, both Breguet and Patek have not picked up on this trend.
Use the buttons below to browse watches and collections from each of these two brands.