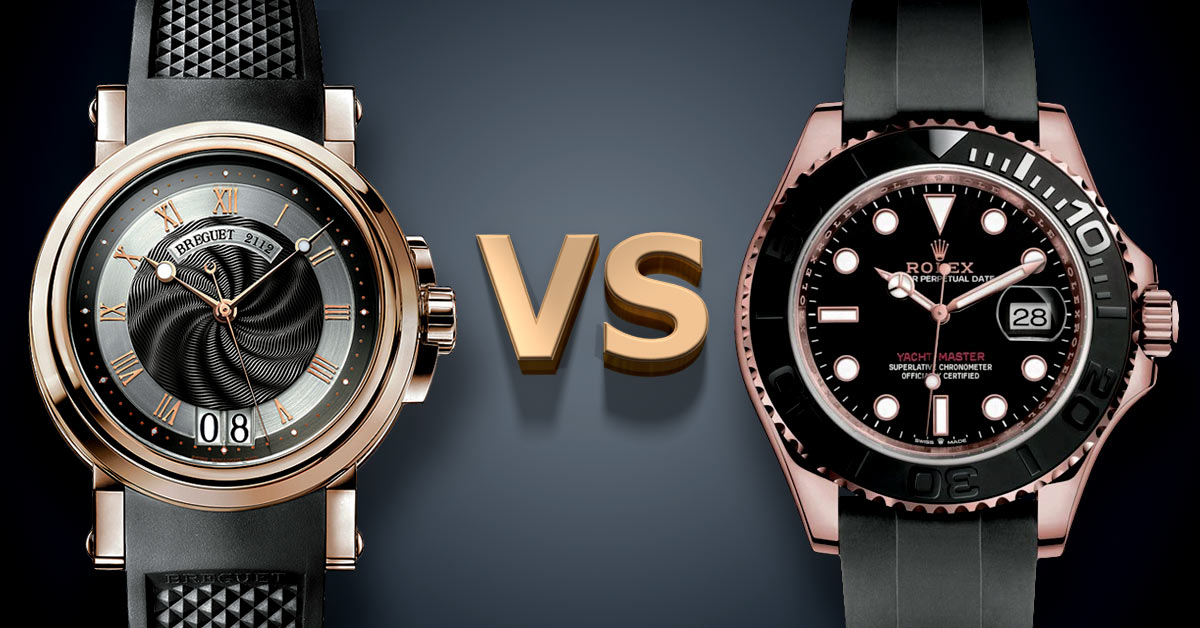 Breguet VS Rolex Watches: Which is Better?
Today we will compare and contrast two great watchmakers, Rolex and Breguet to determine brand is the best choice for you.
We have written this comparison in specific sections in order to make it easier for you to navigate the comparison by what matters most to you. For example: when someone asks us: "Is Breguet better than Rolex?" this question can be coming from many different places and can be filled with any number of contexts. Therefore, use the menu below to jump to the section in which you would like to know how these two watchmakers compare.
 Accuracy  |  Brand Popularity  |  Brand Prestige  |  Horology  |  Resale Value  |  Retail Value  |  Water Resistance  |  Warranty
ACCURACY
When it comes to precision in chronometry, this is an area that watchmaking aficionados have a field day discussing. Some common terms like COSC certified and Chronometer are often thrown around. For those that need to know what that is, COSC is a French acronym for the Swiss Official Chronometer Testing Institute. They are a third-party laboratory that tests watch movements for high precision and awards a special designation of 'Chronometer' to the ones that meet a minimum standard of a deviation of no greater than -4/+6 seconds per day.  For mechanical watches, this is considered to be a great accuracy rating.
However, not all luxury watchmakers use COSC for their testing. In fact, some of the most prestigious watchmakers do not use them at all and prefer to do their testing in-house and often with better results. That said, Breguet was known back in the early 1800s for the 1815 Marine Chronometer that they made for the Royal Navy. However, back then, the term Chronometer meant something completely different.
Rolex uses COSC to certify their movements outside of a case. Once they are tested using COSC standards, they then send the movements back and put the movement in a case and conduct further testing until they reach an accuracy of -2/+2 seconds per which is double the accuracy of COSC standards. This has become the standard for all modern Rolex watches with the words "Superlative Chronometer" imprinted on the dial; their own in-house designation.
While the Breguet company doesn't necessarily get their watches COSC certified, they have proven in the past that they can make watches significantly more accurate than COSC standards, such as the Classique Chronométrie 7727 that had a super-high beat caliber that oscillated at over twice the average 4Hz rate at a very high rate of 10Hz. It used a silicon balance spring, lever, and escape wheel as well as magnetic pivots. Mind you, this is not their entry-level watch. Furthermore, they don't advertise their brand to be the most accurate. They have good accuracy but are known to be a more historically significant brand compared to Rolex.
BRAND POPULARITY
According to a recent study by a brand valuation agency, Rolex is not only the more popular brand compared to Breguet but in fact, compared to any other Swiss watch brand out there. With nearly 100% international brand recognition worldwide, they have established themselves as the world's most known luxury watchmaker. Perhaps that is why they have a crown as part of their logo?
Is Breguet a top watch brand? Breguet is a very popular brand that is the 6th most popular watchmaker on the same list where Rolex appears in 1st place. Breguet is especially known to those who know watches and love the history of watchmaking. They are a more significant historical brand compared to Rolex and have made numerous precious contributions to the age-old craft of mechanical watchmaking, especially in their earlier years. In terms of brand popularity, Rolex is significantly more popular than Breguet.
*Source: Interbrand, an agency that measures brand value and brand recognition. [ See https://www.rankingthebrands.com/PDF/Interbrand%20Best%20Swiss%20Brands%202016.pdf ]
BRAND PRESTIGE
While Rolex is a very well-known, the most well-known luxury watch brand, they are not considered as prestigious a brand as Breguet. Breguet is one of the oldest known watchmakers still in business. Their many inventions, innovations, and contributions to watchmaking have positioned them as a very capable watchmaker with a rich history to back it up. Rolex has an advertising strategy and brand that caters to the average person whereas Breguet, with its higher cost of entry, caters to higher earners and watch connoisseurs and therefore is more exclusive and prestigious. In terms of brand prestige, Breguet is better than Rolex.
HOROLOGY
This is another easy win for Breguet. Abraham Louis Breguet invented so many incredible things that have added to the mystique and esotericism that orbits mechanical watchmaking today. A good list would include the tourbillon complication, the automatic (self-winding) watch, the magnetic pivot,  the Pare-chute (the world's first shock protection system for watch movements), the Breguet Overcoil, the Gong-spring (the precursor to the minute-repeater complication), 1stperpetual calendar for wristwatches (quite possibly) and many more.
While Rolex has made some improvements to the self-winding rotor that Breguet helped in creating, they have not made nearly the number of game-changing contributions to watchmaking that Breguet has. Furthermore, Breguet has many high-complication watches that include Grande Complications featuring numerous complications working in tandem. Most notably, the Marie-Antoinette pocket watch, a limited edition watch held the title of the world's most complicated watch at the time. It was commissioned with no budget and no set timeline to create. It took 44 years and two generations of Breguet watchmakers to complete. This achievement awarded Abraham-Louis Breguet as the greatest watchmaker of all time.
RESALE VALUE
Here is an area where Rolex shines the brightest compared to any other brand. In addition to being the most recognized brand, Rolex watches also have the highest average resale value in the business. Rolex holds its value better than any other brand.
Are Breguet watches a good Investment? Breguet, especially since they have started to be mass-produced do not sell as well as Rolex on the preowned marketplace and do not maintain their value nearly as well as Rolex timepieces. More importantly, watches typically don't gain value after wearing them. They are consumer products and not investments. The rare occasions where they appreciate in value are so few and far between and therefore they cannot accurately be described as an investment. Thinking so is more a gamble than an investment. 
RETAIL VALUE
While the cost of entry for a Breguet watch is around double that of the most affordably priced Rolex, the retail value depends on more than just the retail price suggested by the manufacturer. Breguet has a higher retail list price compared to Rolex. However, Rolex prices as of the last few years have skyrocketed, especially on their popular sports models. Some may even be selling for double the retail price. This is due largely to Rolex withholding inventory and causing the demand to go through the roof. More so, every time we suspect we have seen it reach its highest price ever, it goes up again. There is no saying how long this will go on, but it does make many of their most popular models less attainable.
WATER RESISTANCE
Both Breguet and Rolex have some diver's watches in their catalog and though the average diving enthusiast can get away with wearing a Breguet Marine Royale dive watch that features 300m/1000ft of water resistance (though most prefer a Rolex Submariner), serious deep-sea divers need of more water resistance than that. A perfect example is the Rolex Sea-Dweller that offers 1220m/4000ft of water resistance. Another even better example is the Rolex Deepsea model # 126660 D-Blue James Cameron. This watch offers over 10 times the water resistance with a rating of 3900m/12800ft.
WARRANTY
Rolex has a longer than average warranty period. Rolex's warranty period is 5 years. Breguet only has a 2-year warranty period compared to Rolex and in the luxury watch business, a 2-year warranty is average.
---
Breguet Collections
---
Rolex Collections