Breitling Chronospace Military Review
We don't discriminate when it comes to playing soldier. This is one of the reasons why so many real men are wearing a Special Edition Breitling like this. Read our review of the all-black Breitling Chronospace Military.
Like all Breitling watches, the Chronospace Military special edition is built tough as nails and like a well-trained soldier can handle just about any situation no matter how challenging. This is one of the reasons why Breitling has become a favorite with the people in uniform. The Breitling Chronospace Military is a watch that can keep up with the adrenaline-pumping lifestyle of the most trained military men and women.
Soldiers are trained to carry out special operations with military accuracy down to the second and that level of accuracy and dependability is the same kind you would expect to find with any fine piece of heavy-duty military gear, even a watch.
One of the unique features of the all-black Breitling Chronospace Military watch is its tremendous precision. While quartz watches are known to have higher accuracy than mechanical watches, a Quartz Chronometer like this watch means we're taking that high accuracy to a whole new level.
LOOKS:
There's no denying that this watch looks bad-ass and has a home on the wrist of anyone who can disassemble, clean, reassemble and reload an M-16 in under 20 seconds.
The case has a large diameter of 48mm but wears on the wrist like a smaller watch. This is due to the large prominent bezel and luminescent indexes and numerals being closer to the center of the dial than most watches.
The all-black and grey design would suit just about anything you would wear when doing wet work or some other form of special ops. The look is kind of reminiscent of the GP Chrono Hawk Shadow Hawk Edition in a way although it is a very different watch, this still has that same bad boy/rockstar appeal.
The anthracite military strap is solidly constructed and built to endure punishment before ever having to be replaced.

FUNCTIONS:
The Chronospace also has highly useful features which are usually called complications on analog watches but we'll use the same nomenclature as a parable for this highly precise battery-powered army watch.
The stopwatch function which is usually called a chronograph allows the soldier to create, set, and reset timers with the push of a button. These timers are accurate within one-thousandth of a second.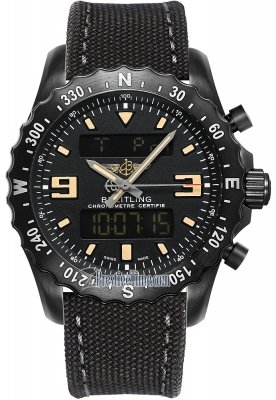 Another great feature is the perpetual calendar that never needs to be reset… ever.
GMT Time Zone allows you to keep track of and display the time in more than one location simultaneously.
There is also an end of battery life indicator which lets you know when you need to replace the battery.
As we know most of these secret missions happen at night or in pitch-black darkness. Therefore, your watch needs to be easy to read when the lights are out. This watch had two methods of illumination to avoid you ever having to use night vision to tell the time. One is a backlit digital display which is NVG compatible.
The second method is the luminescent roman numerals at the 3 and 9 o'clock position are very easy to read and the inverse triangle at the 12 o'clock and the larger index at the 6 o'clock position is equally as visible making it very easy to read in low light conditions.
WATER RESISTANCE:
While this watch does offer lots of useful features, what it does not offer is excellent water resistance like some of the other Breitling watches on the market which are more geared towards diving. You can, however, do some light swimming and even wash your hands while wearing this watch but diving or showering is not recommended.