Bulgari Octo Finissimo Extra Thin 40mm Review
Bulgari has been breaking record after record when it comes to ultra-thin watches.
According to their brand's CEO, Bulgari is a mirror of Rome since much of the inspiration for their geometric watch designs were sourced from the geometry found in historic Roman architecture. However, the quest for ultra-thin supremacy reflects more modern trends within Italian culture and high fashion.
Bulgari, who has always been known as a high-end jeweler, broke several watchmaking records since their quest to create the world's thinnest watches. This is expressly seen within the Octo Finissimo collection.
In 2018, a double record-breaking achievement was announced with the thinnest automatic watch ever that also just happened to feature a flying tourbillon making it the thinnest tourbillon watch as well. Thus far, they have successfully made the thinnest flying tourbillon, the thinnest automatic watch, and the thinnest minute repeater. Each one is a great achievement in and of itself. The Bulgari Octo Finissimo Extra Thin 40mm featured below has an incredible case thickness of only 5.15mm.
Many watch aficionados and experts would say that this was only made possible by the alliance made in 2010 between Bulgari, Gérald Genta, and Daniel Roth.
Gerald Genta's design influence can clearly be seen not only in the design of the Octo Finissimo but in the same avant-garde octagonal shape seen in many of the iconic watches that he had designed for the best and brightest in the business.
In 2010 Gerald Genta was integrated into the company which brought many new horological complications to the brand such as the tourbillon, the retrogrades, and grande sonnerie. With this new knowledge base of Bulgari was able to bring in a new level of watchmaking to the brand. Approximately 95% of their watch components are now manufactured in-house.
The Le Sentier, Switzerland based manufactory that produces this watch used to belong to Gerald Genta and what also used to be its sister company, Daniel Roth until it was acquired by the Bulgari Group at the turn of the new millennium.
Though Bulgari has been producing watches for the greater half of the 20th century, in the past two decades since this major acquisition, Bulgari watches pulled their brand up-market to new heights with the introduction of many watches that were inconceivable prior to the year 2000. Imaginative designs with highly creative innovations gave birth to watches that completely defy the way things were done thus far.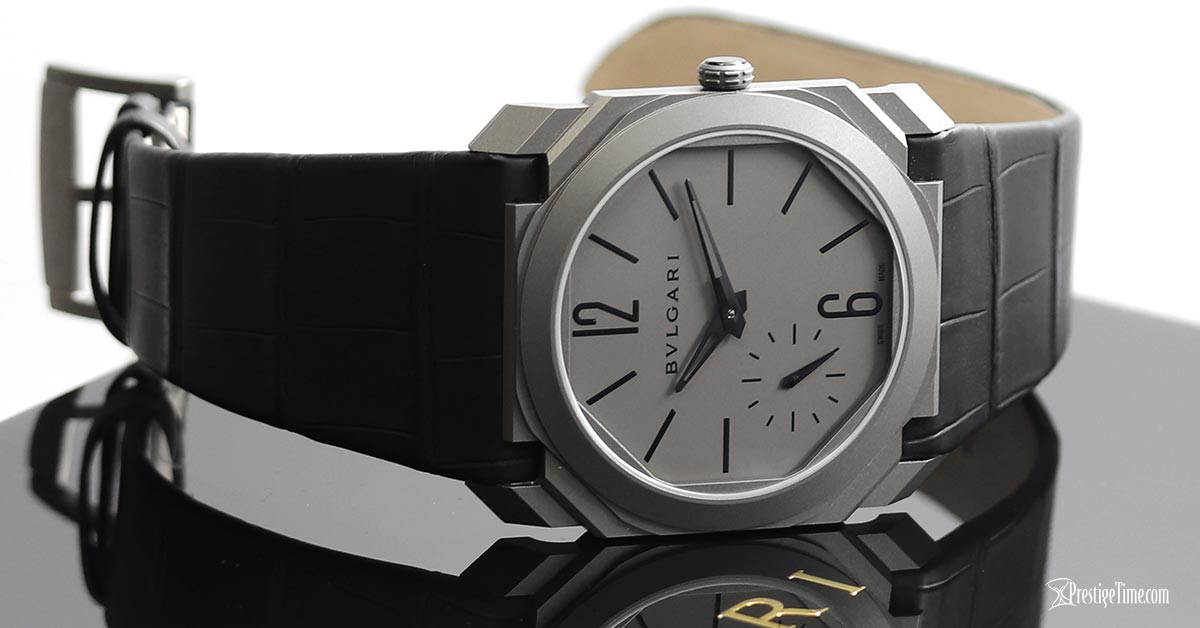 The contemporary look of the BVLGARI Octo Finissimo Extra Thin collection can equally be attributed to the sandblasted finish on their stainless steel, ceramic and titanium cases. According to the managing director of Bulgari watches, this has become a signature look for the series.
Developing these ultra-thin watches was a complication in and of itself, and of course, the development of the movements would prove to be one of the greatest challenges since complicated watches tend to require a higher number of internal components.
This required lots of planning and the entire engineering process started years before a single caliber was ever introduced. Now, with all the necessary talents at their disposal, and all the necessary pieces in place, things were finally coming to life.
They originally started developing this movement as a 4Hz / 28,800 VpH caliber and then eventually lowered the frequency to 3Hz while achieving a 60-hour power reserve. This power reserve duration is hard to ignore in an ultra-thin watch such as the 40mm Octo Finissimo Extra Thin. This watch is powered by the in-house Caliber BVL 138 which is only 2.35mm thick.
One of the main differences between an Italian brand and a Swiss brand is that with an Italian brand, the aesthetics are what drive the technique and a Swiss brand will usually design the aesthetics around the technique.
The two model numbers that we're featuring here are: model #: 102711 bgo40c14tlxtauto which comes on a black alligator leather strap. ( View Here ) and model #: 102713 bgo40c14ttxtauto which comes on a titanium bracelet. ( View Here )
Most people would never understand how effortless it is to wear these watches. The ultra-thin design and engineering and ultra-lightweight materials come together to create a watch that barely allows its presence to be felt on your wrist. At the same time, it makes a bold statement with its contemporary and elegant design. With slim fit becoming the new black, these ultra-thin watches are a more than welcomed accessory.