Bvlgari VS Chopard Watches
These two high-end luxury jewelers make exquisite watches. Let's go head-to-head in this detailed and informative comparison to find out which is best!
To create a precious ring, bracelet, or even diamond necklaces undoubtedly requires skill. Let's be frank, watchmaking is a very different craft than jewelry making. One that takes a whole new level of science, math, physics, creativity, and brilliance in engineering to master and really shine in the overall watch market. Seeing as both Bulgari and Chopard are iconic luxury jewelers first and luxury watchmakers second, how do they compare to the latter? In addition to horology and style, how do they compare on other levels? Read further to find out. 
 Brand Popularity   |   Brand Value   |   Horology & Craftsmanship   |   Price   |   Resale Value
Overview
Both Chopard and Bulgari have made great strides in watchmaking since their debut in the business. They are similar in many ways, such as their unique designs, their innovative approach to the business, and their rapid expansion into owning their own manufactures in Switzerland where they can produce in-house movements.
Brand Popularity
Both are well-known brands and household names. Each of them managed to sneak their watches into some blockbuster films for some strategic product placement, some tactfully like Bulgari's Diagono watches appearing on the wrist of the character Tony Stark in the Ironman movie, and some not so under-the-radar such as Chopard's very obvious product placement in Netflix's 6 Underground. Either way that you look at it, their "stock" has been going up in the public's image of their watchmaking in the past few decades.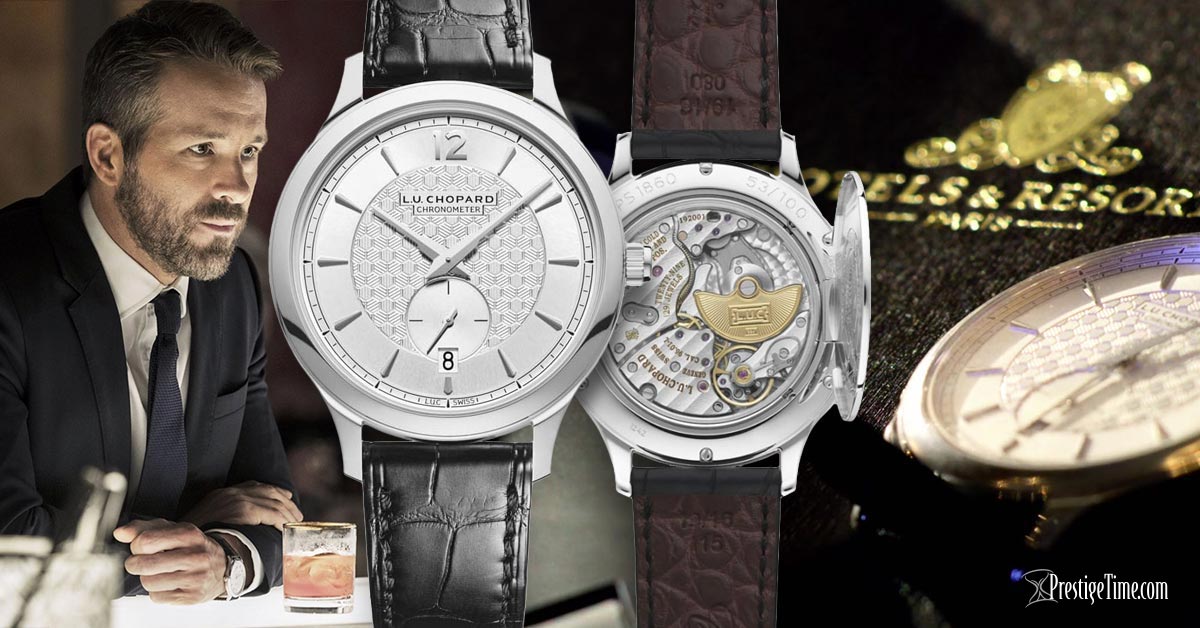 Brand Value
According to a recent study by Interbrand, a brand valuation agency, Chopard also made it to a top 50 most valuable Swiss brands list at position #23 (in all industries) which translates to #4 from the Swiss watchmakers included on the same list. They have an estimated brand value worth 1.98 Billion CHF (Swiss Francs)[1].
Bvlgari wasn't on the Top 50 Swiss brands list from Interbrand but according to a recent study by Statista, Bvlgari has an estimated brand value of 4.281 Billion Euros in the 4th quarter of 2018.[2]
The percentage of this value that can be attributed to the watch division of their business has not been calculated in these studies. Some things are probably best-kept a secret.
Sources & Citations: [1] Interbrand 2016 Swiss brand report:  https://www.rankingthebrands.com/PDF/Interbrand Best Swiss Brands 2016.pdf  [2] Statista https://www.statista.com/statistics/979731/brand-value-of-bulgari/
Horology & Craftsmanship
Comparing them in terms of watchmaking is a touchy subject since they have both been making strides in horology which sets them apart from a similar company, like Tiffany, for example. There are groups of people that show favoritism to each of these brands in terms of their advances in watchmaking. Both brands also have some highly popular collections of watches for men and women. For your convenience, you can browse their various collections on our site using the buttons below or read more.
Bulgari Watches              Chopard Watches
For ladies' watches, Chopard has made some highly popular collections. Two collections that are worthy of an honorable mention and that sell very well are Happy Sport and Happy Diamonds. These two collections featured a unique design characteristic where in which "floating" diamonds or colored gems danced freely around the dial as you moved your wrist. Women around the world love these. Many of the higher-end models have a diamond bezel and a gold bracelet. 
For men's watches, Chopard has been making strides in increasing the power reserves on their watches by stacking multiple barrels.,They call this L.U.C. Twin Technology and it can be seen in the Chopard L.U.C. collection. Additionally, Chopard's COSC certified Mille Miglia, a collection of column-wheel chronograph watches has the prestigious Chronometer designation attesting to their great precision of -4/+6 seconds per day. Their classic and smooth design is reminiscent of the classic car racing that inspired the collection.
We haven't seen too many high-complication watches coming from Chopard yet but are looking forward to seeing where they will go from here.
For the ladies, BVLGARI has shown some incredible design and ingenuity with very bold designs. Statement pieces such as the BVLGARI Serpenti watches have been a non-stop hit since the 1940s with their serpentine coiled bracelets that wrap around the wrist usually more than once. This collection has grown over the years and Bulgari continues to outdo themselves with more innovative designs that cater to a larger audience while at the same time, keeping the prestige of this collection at a maximum.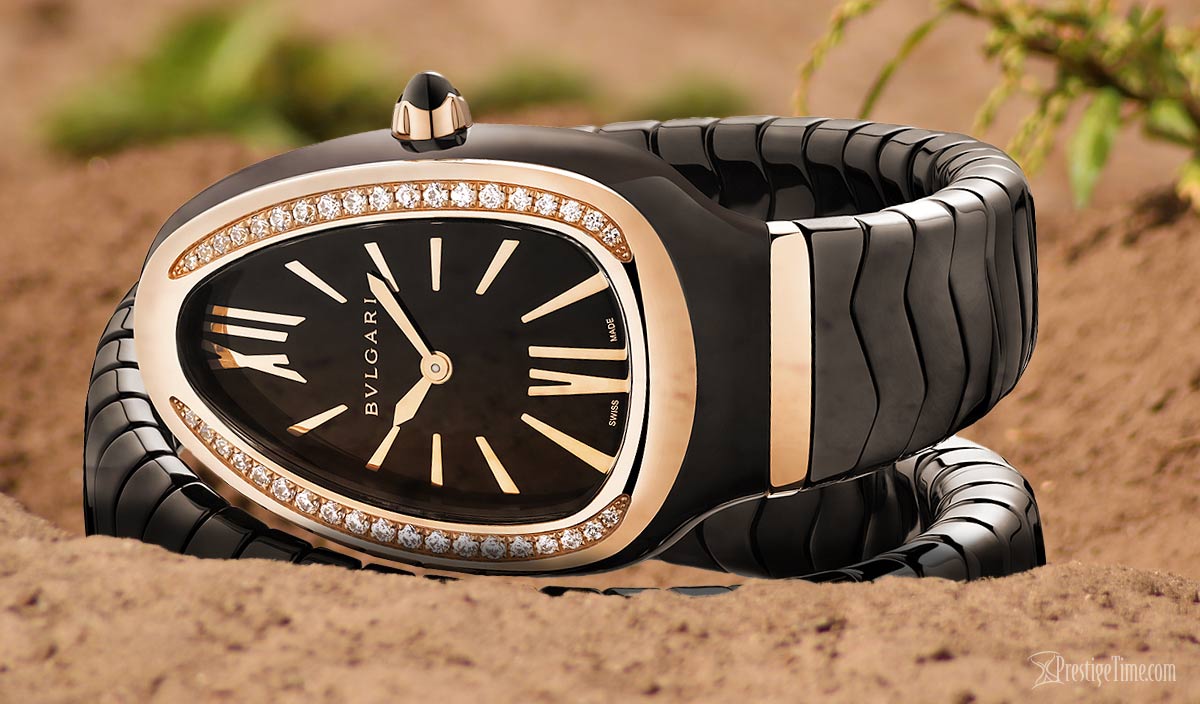 Bulgari has been making waves by shrinking the case thickness of their calibers and watch cases to the point of disbelief. This is apparent in the Octo Finissimo collection. Bulgari even created the world's thinnest tourbillon within this collection, the Octo Finissimo Tourbillon Squelette with an in-house movement. The caliber BVL 288 broke three world records simultaneously: the thinnest automatic watch, the world's thinnest automatic tourbillon, also the thinnest tourbillon, full stop.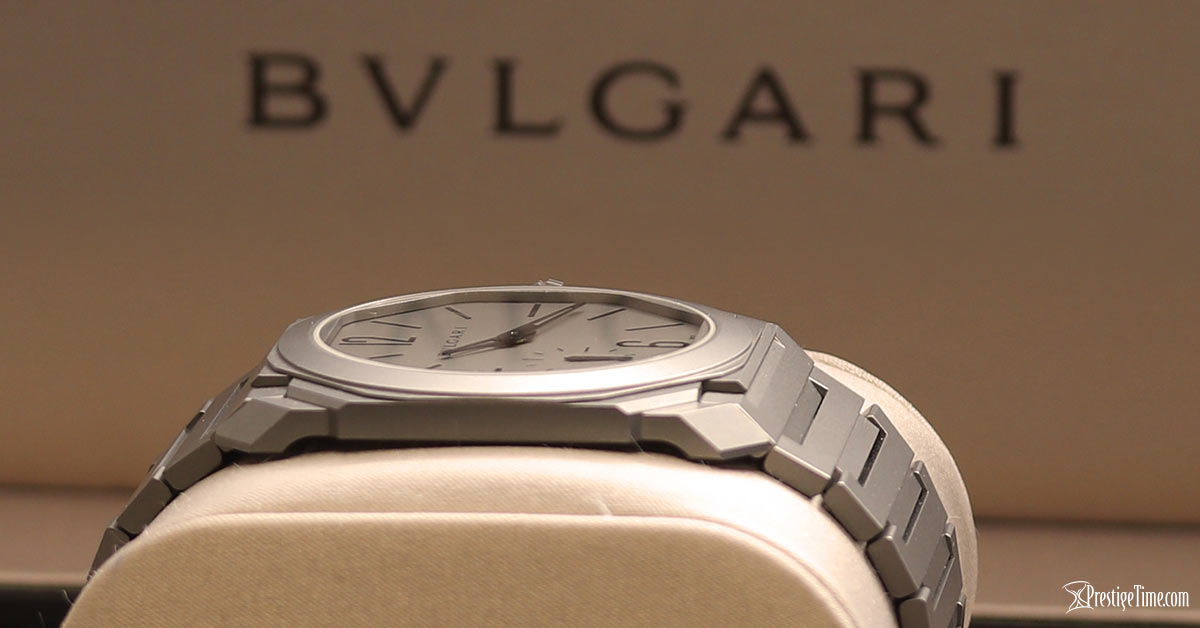 Legendary watch designer Gérald Genta was responsible for the Octo design. The same designer who brought many more cult watches such as the AP Royal Oak, Patek Philippe Nautilus, IWC Ingenieur, Omega Constellation and many more to the forefront of the industry and to the collectors watch box. In 1999 Gérald Genta sold his business to Bulgari which gave them the status they were looking to achieve with the watch connoisseurs. Below is a manual wind watch from the Octo FInissimo Extra Thin collection which has an incredibly thin case thickness of only 5mm! Even though this model doesn't feature a prized tourbillon complication, it is quite a handsome watch nonetheless. The automatic watches within this collection use a micro-rotor which was a very space-efficient design choice.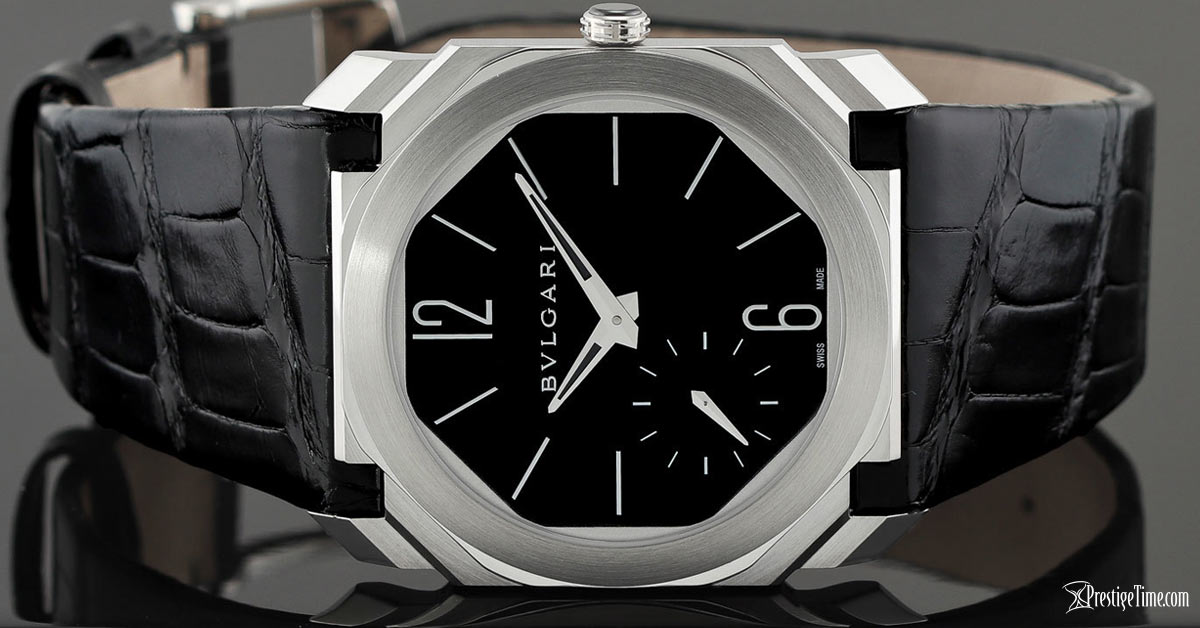 Other innovative watches featured Automata (think of mechanical animations such as the likes that watchmaker Jaquet Droz is famous for) Giocatore Veneziano Papillon.
In terms of actual horology and innovation, these events put Bvlgari a cut above Chopard as we have been seeing more and more high horology watches emanating from Bulgari. Especially those that chime like the Octo Finissimo Minute Repeater the world's thinnest minute repeater, also known as the Octo Finissimo Répétition Minutes and another chiming watch called the Grande Sonnerie Magsonic®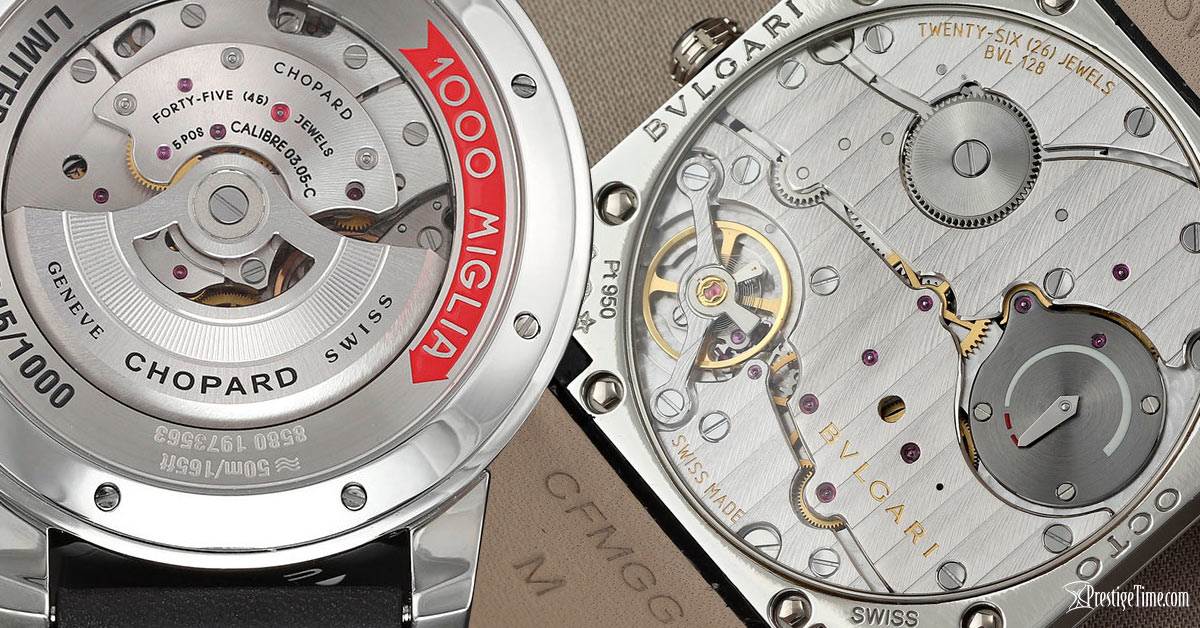 Price
Considering the above comparison. The cost of an entry-level watch from each of these watchmakers seems disproportionate since BVLGARI seems to be making higher caliber watches (pun intended) yet the least expensive Chopard watch has a list price that significantly more than the least expensive BVLGARI watch.
Resale Value
In terms of average resale value. There are some brands that tend to perform better on the pre-owned market and therefore have a higher than average resale value. The two best-performing brands would be Rolex and Patek Philippe when compared to every other brand. However, Chopard and BVLGARI are very similar in terms of their average resale value. So, for this point of comparison, I would say they're too even to say one way or another. It is important to note that resale value depends on many variables. To learn more about how a pre-owned watch is evaluated make sure to read our preowned buyer's guide.
Browse watches from each brand using the buttons below.
Chopard Watches                            BVLGARI Watches
If you enjoyed this comparison, please share it and feel free to follow us on Facebook and Instagram!