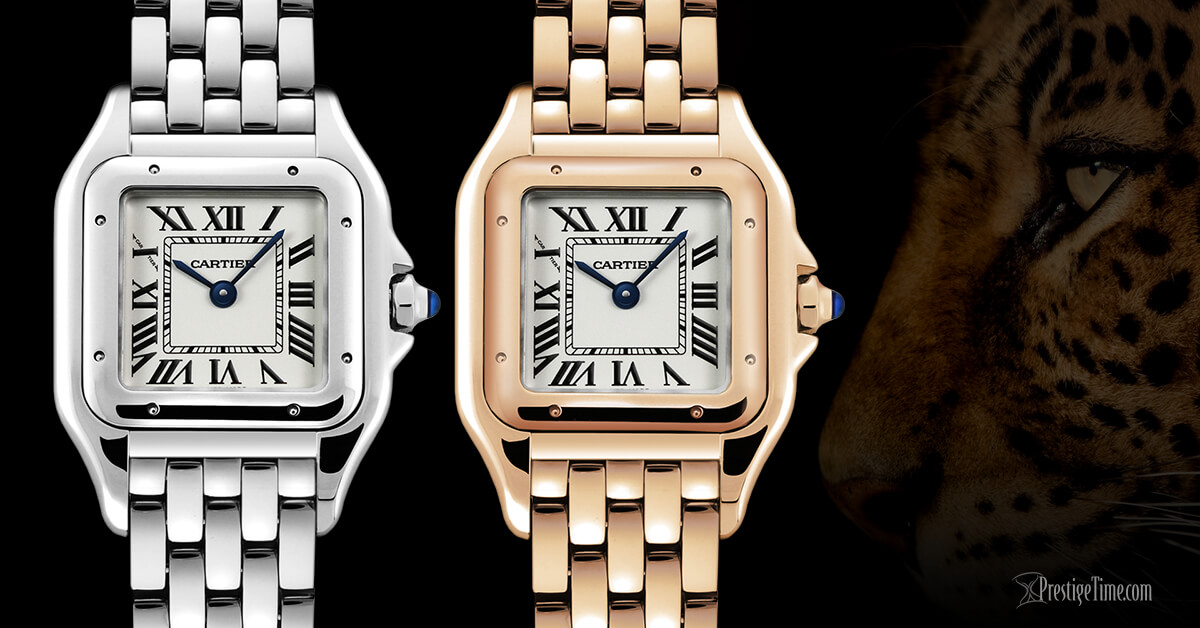 Cartier Panthere de Cartier watch Review
The reinvention and relaunch of a timeless icon from the Maison de Cartier.
The Maison de Cartier, although known as the Jeweler of Kings has always catered primarily to the ladies with their highly artistic and breathtaking designs.  This collection of watches evokes fluidity, sensuality, and that smooth feminine grace.
The Cartier Panthere watch, a style icon from the early 1980s is back after a production break of about a decade or so later. At the SIHH watch expo (Salon International de la Haute Horlogerie) in Switzerland, Cartier took the stage with the reintroduction of this iconic collection of women's jewelry watches.
The news was received with great anticipation and to nobody's surprise, the Cartier Panther watches evoked a warm and welcoming response. The watch is available in 2 different sizes. The largest size is 27mm x 37mm and the smaller size is 22mm x 30mm.
The bracelet design takes after the pattern of a leopard with the design and curvature of its links creating a pattern of highlights and shadows that emulates the spotted fur coat of the graceful feline. Cartier re-worked and consolidated the links to ensure long-term wear.
 The links were also designed to be flexible and allow the bracelet to move up and down like the graceful ebb and flow of the panther's body as it strides stealthily. While this creature may be able to fly under the radar, the Panthere de Cartier, on the other hand, is sure to get lots of attention.
Another distinctive feature of this collection is the octagonal-shaped blue sapphire crown adding that distinctively Cartier flashes of blue that you will find throughout many of their various collections of luxury watches.
Eight tiny screws grace the bezel design of this watch creating a more feminine bezel which seems to have drawn some of its design inspiration from the iconic Santos collection of men's watches which has a similar case shape.
The Cartier Panthere has a very sophisticated yet delicate and smooth look with its polished bezel and satin-finished case. The case has a slender profile making providing easy and comfortable wear.

The dial has a familiar design with a railroad minute track and bold roman numerals as you would see on the iconic Tank collection and Santos collections. The name Cartier is also crossing the Roman numeral 'X' at the 10 o'clock position.
Blued steel is the material used on the sword-shaped hour and minute hands which contrast well over the silver dial.
There are several two-toned models which use stainless steel and yellow gold or stainless steel and rose gold.  Some models feature a diamond bezel that has small spaces in them for the tiny screws in the bezel.
This entire collection has a very contemporary yet edgy design and is guaranteed to get noticed. The Cartier Panthere de Cartier comes with a manual, pouch, white outer box, and a beautiful and elegant crimson red Cartier watch box with a white interior and white watch cushion