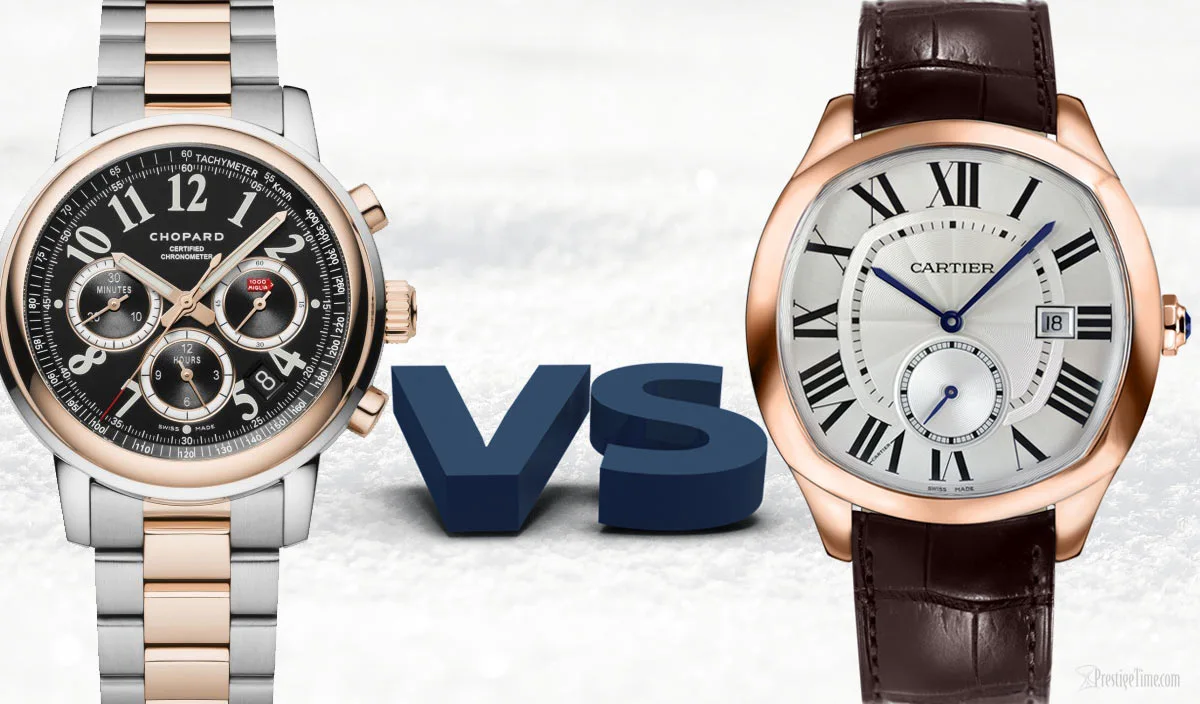 Chopard VS Cartier Watches
Which is better Chopard or Cartier? ...Better for what? That's the million-dollar question... Find out in this detailed comparison of both brands!
Who Makes Better Watches:
Cartier or Chopard?
  High-end jewelry brands like Chopard or Cartier often wind up making their own Swiss-made watches. Why? A watch is usually the only jewelry men would wear on a daily basis and men will spend handsomely on their watches. As a jeweler, where the majority of their products are usually for women, it is the perfect cross-sell item that services men who come into their various boutiques to shop. These two brands are possibly the most popular and well-known jewelry companies that produce high-end Swiss-made watches. Cartier and Chopard are two very comparable jewelry brands that also offer exquisite timepieces. They both have the gift for exquisite design and are amongst the most known names in the world of high-end jewelry and the world of luxury watchmaking. For your convenience, you can use any of the buttons below to view each of these brands in a new tab as you compare the two.
Which Has a Higher Resale Value, a Cartier Watch, or a Chopard Watch?
Cartier is primarily a high-end jewelry company with a brand value of over $10 billion in 2016 with over $6 billion in sales in 2016. In terms of resale value, a Cartier watch will in most cases hold its value better than a Chopard watch. This doesn't mean that one is more mechanically advanced than the other it's more about the brand value and rarity of the model.
Chopard is a privately held company and can't compare their sales to the likes of Cartier which is a public company. Their sales figures are still estimated at up there near the billion per year range which is quite impressive for a privately held business. Regarding the resale value, they will in most cases have a lower resale value than a Cartier watch. Is a Chopard watch a good investment? Let's not call any consumer product an investment. Investments are designed to go up in value while consumer products, on the other hand, are not.
Again, that's not to say that one brand makes a better gold watch than the other, it's just that the perceived value of the watch and the value of the brand, in general, have a strong influence when you try to resell one of their watches. This is also true with other comparable brands and products.
Cartier Watch Prices VS Chopard Watch Prices
Cartier watch prices start at around $2,400 (list price) and usually, you can't get as discounted a price on a Cartier watch as you could with a Chopard watch if you buy one online instead of at an authorized dealer. It's one of those things that is directly related to the resale value.
Chopard watch prices start at around $4,390 (list price) and you can usually get a more discounted price on a Chopard watch than on a Cartier watch if you buy one online instead of at an authorized dealer. It's one of those things that is directly related to the resale value.
Which Watch Brand is Considered More Stylish? Chopard or Cartier?
The answer is that it depends on what style you are looking for. Both companies, in fact, make really beautiful watches. Both watchmakers, for the most part, tend to use a very different look from one another and have a unique style. Chopard watches, especially their most popular series such as the Chopard Happy Sport and Happy Diamonds collections have more fun and contemporary look compared to their Cartier counterpart, which often has a more classic and timeless look. Cartier has quite a few pretty iconic watches such as their many Tank series which date back ages. They also have a few very fashionable collections such as the Cartier Ballon Bleu with the blue cabochon crowns and most recently, the trending cushioned shaped Drive de Cartier series.
What's the Difference Between Cartier and Chopard Watches?
Is Chopard a luxury brand? Yes, and for starters, they both create stunning designs. It appears that Chopard's product line is heavily focused on women's watches which makes sense since they also sell a ton of high-priced women's jewelry. It seems like the natural thing to do. There are far fewer watches by Chopard that are made for men compared to men's Cartier watches. Cartier is also heavily focused on producing ladies' watches. However, there is a higher proportion of men's Cartier watches compared to Chopard watches. The luxury timepiece industry, in general, is seeing a higher amount of women's watches produced than usual. Many believe that women are starting to take a higher interest in what's on their wrists and this is the industry's way of preparing for an influx in demand.
Watch collectors tend to like Cartier watches over Chopard and this could be because of the historical significance that Cartier has with regards to watchmaking. While Patek Philippe may have invented the wristwatch, Cartier was the one that made them mainstream and fashionable in a time where men only used pocket watches. Perhaps this is also one of the reasons why they tend to fetch more at the time of resale.
Who Makes Better Watch Movements Cartier or Chopard?
Chopard Watches have some great movements. The LUC Chrono One which is found in some of their chronographs, the LUC Calibre 96.14-L that strikes every hour, or some of their more complex calibers such as the ones found in their tourbillon watches and perpetual calendar watches.
Chopard prides themselves on their hand-crafted calibers that each are unique with hand-engraved floral finishings and raised motifs. Other movements in the L.U.C. collection offer impressive power reserves such as the sixty-five-hour power reserve on the calibers that have LUC Twin Technology. These movements have a double-barrel which allows the watches to run for longer periods without winding down.
The Chopard movement is a handcrafted work of art using age-old Haute Horlogerie / High Horology traditions.
Cartier Watches have a long history of making fine movements such as the caliber 9452MC which is an upscale Flying-Tourbillon. But most recently, in the last decade, they started producing watches that they would never actually sell. People would call them concept watches or research pieces.
They've invested in new materials and produced innovative watches such as the ID-ONE and later the ID-TWO which addresses the biggest enemy to watch accuracy after electromagnetic interference, air. Their new concept watch has an air-free case which is completely vacuum-sealed. Eliminating the air inside the case removed any drag and turbulence generated by the moving parts.
Of course, these watches are just a way to show off how advanced they are in watchmaking and are not for sale.
If you enjoyed this comparison and feel that others would enjoy it too, please like and share it, and feel free to follow us on our social media pages. Thanks!