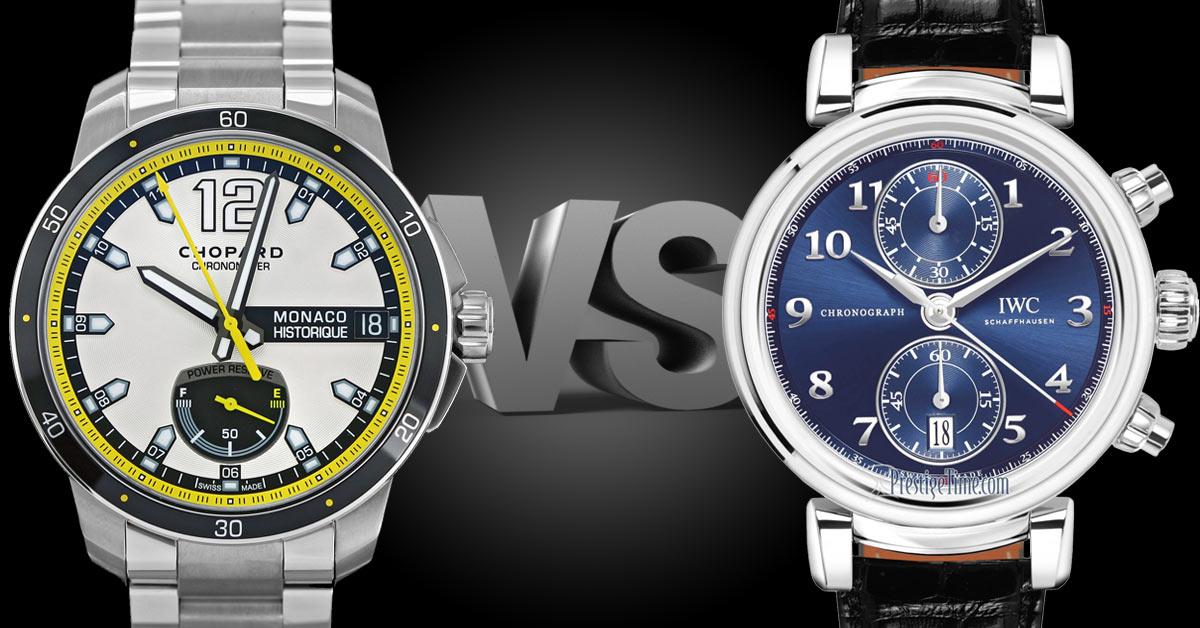 Chopard VS IWC: Which is better?
These two historically rich luxury brands are often compared and considered when looking for a meaningful luxury watch. Let's explore them thoroughly and see how they compare to one another.
 Many people will ask us questions about these two brands to find out which is the best but also which is better for them.  Let's get well acquainted with these two brands and see how they compare and contrast to one another. We'll compare the two watchmakers sectionally, from many popular perspectives. This way, with all the facts, you can determine for yourself which you feel is the better brand for your consideration.
Precision & Accuracy
Are Chopard watches more accurate than IWC watches? Watch enthusiasts like accuracy and precision, especially when it comes to mechanical watches such as automatic (with a self-winding rotor) or manual-wind (hand-wound) watches. However, the irony you're going to find is that these two categories of mechanically-powered watch calibers are the more expensive types of movements. Meanwhile, they are not nearly as accurate as their more affordable-to-produce counterparts; quartz movements. These battery-operated quartz movements use an electric charge to excite a quartz crystal that resonates at a higher rate than the beat at which any mechanical watch can oscillate. The plus side is that quartz movements are easy and inexpensive to produce. So more accuracy doesn't necessarily imply that it costs more money. 
The caveat? They go against almost everything for which purists and traditionalists in luxury watch collecting stand. Mechanical watches, on the other hand, are powered by the tension of tightly wound springs. When done inventively and correctly a mechanical watch can produce all sorts of timekeeping functions known as complications. These vary from all different types of calendar functions, moon-phases, chronographs (stopwatches), and many other more mystical looking features such as tourbillons, to name just a few. These add to the value, mystique, and esotericism of the wristwatch. So for serious watch connoisseurs, mechanical watches are where it's at and most would scoff at quartz watches the way a Cordon-Bleu chef would turn up the nose to fast food.
Most would rather own a mechanical watch with a movement that passed through a third-party testing institute known as COSC and features a prestigious Chronometer designation attesting its higher than average accuracy. That said, IWC is a more traditional luxury watch brand that only produces mechanical watches and unlike many others in the watch industry, doesn't feel it needs third-party validation on a movement from COSC. Chopard produces both mechanical and battery-powered watches and has some watches that have a COSC certification on the movement and come with the prestigious Chronometer designation, such as can be found in their L.U.C. collection.
History
IWC was established in 1868 by a Bostonian by the name of Florentine Ariosto Jones who went to Schaffhausen and founded the International Watch Company known as IWC today. Over the years this watch manufacturer produced many exciting and impressive watches and was taken over by the Richemont group, a luxury brand conglomerate in the year 2000. 
Chopard was established in 1860. Louis-Ulysse Chopard, its founder was able to design for, and purvey his watches to people in high places such as Russia's Tsar Nicholas II and was producing artisanal watches with creative designs from an early age. He aimed to produce very precise watches at a time when these types of timepieces were in very high demand. Eventually, the Chopard watch company relocated from Sonvilier to Geneva Switzerland.
Brand Prestige
Chopard has produced many mechanically-impressive watches with high complications such as are found in their Grande Complications collection. They are considered a prestigious brand but are a mid-market luxury watchmaker. Many brands outrank them in terms of prestige but even more watch brands are considered beneath them.
IWC Schaffhausen has at the turn of the new millennium produced more and more watches with impressive power reserves and higher complications earning their place in the industry as a highly-recognized luxury watchmaker. Similar to Chopard, many brands outrank them in terms of prestige but even more watch brands are considered beneath them.
Is Chopard a more prestigious brand than IWC? No. Chopard is a unique brand that is known as a luxury jeweler first and a watchmaker second. Haute Joaillerie is where the majority of their investment lies.  IWC is only a luxury watchmaker, period. A good one at that. Both brands produce very high-quality luxury timepieces. In terms of watchmaking prestige, IWC stands a little taller. A more comparable brand to Chopard would be Cartier, who although produces high-end watches, is primarily known for their bourgeoisie jewelry. 
Brand Recognition
Chopard is the 23rd most recognized Swiss brand name and at the time of the report has an estimated brand value of 1,098 million CHF (Swiss Francs). Chopard is more known as a luxury jeweler than a luxury watchmaker despite the fact that they produce excellent watches. So saying that they outrank IWC as a watchmaker would be an inappropriate attribution of their brand recognition.
IWC is the 32nd most recognized Swiss brand in the world with an estimated brand value of 779 million CHF (Swiss Francs). Unlike Chopard, who is primarily known as a high-end jeweler, IWC's brand recognition can be 100% attributed to their watchmaking endeavors.
Source: Interbrand, a brand valuation agency that produced a Top 50 Swiss Brands Report available at https://www.rankingthebrands.com/PDF/Interbrand%20Best%20Swiss%20Brands%202016.pdf
Craftsmanship & Durability
Both watchmakers offer fine craftsmanship and have ornately finished and decorated movements, cases, dials, and use quality materials and parts.  In terms of aesthetic appearances, these two watchmakers are pretty closely matched. In terms of durability, the needle is leaning slightly in favor of IWC that creates most of their watches with a slightly tougher build. A true watch lover would never want to physically drop a precious watch, but if I had to bet on which would stand a better chance of survival, it would be IWC. Just take it with a grain of salt and under no circumstances ever try it at home!
Water Resistance
Do Chopard watches have better water resistance than IWC watches? No. Most Chopard wristwatches have a water resistance rating of between 30m and 100m, but most offer barely enough to even do some swimming and snorkeling. IWC, on the other hand, has a popular diving watch series known as the Aquatimer that offers 300m/1000ft, nearly three times the water resistance, and the Aquatimers can even be used for board diving and scuba diving. Neither brand offers watches that can handle any serious professional deep-sea diving though. For ideas of watches that can handle that type of pressure, click here.
Warranty
The average warranty that you will see from a luxury watchmaker is 2 years. Chopard is one of these watchmakers with a standard two-year warranty. However, certain mid and upper-market luxury watchmakers have recently been offering longer warranty periods. IWC is one of those with a much-longer-than-average warranty period. Although a new watch of theirs comes with the standard 2-year warranty, IWC encourages you to register the watch on their website and in doing so, extend that warranty by an additional 6 years for a total warranty period of 8-years from the date of purchase!
Resale Value
Which holds its value best, IWC or Chopard watches? The valuation of a previously owned timepiece depends on many variables. Namely, the brand, the model of the watch itself, the condition it is in, what is included with it (think original documentation, manual, box, tags, stickers, warranty card, etc.), so it's not always easy to blanket coat an entire brand. However, as is the case with every brand, certain models will fetch a higher resale value than others.
Supply and demand play a big role in this valuation as well and would be worth mentioning. Both IWC and Chopard produce approximately 75,000 watches per year and therefore it comes down to the desirability of the watches they produced that are available on the preowned marketplace. 
A good example is the Chopard Mille Miglia, which is an in-high-demand sports model. Their other models don't do as well on the preowned marketplace because they aren't as desirable pieces as the Mille Miglia. That said, IWC has more of these more desirable models in their various collections, and in general, will sell at a higher average resale price compared to Chopard.
Retail Value 
Much like resale value the retail value is usually reflective of how desirable a watch is. For example, whereas the cost of entry for a Chopard watch at the most affordable model may be only slightly higher, the level of discounts you can expect from a brand like Chopard is also slightly higher.
How much is the most affordable Chopard watch? For ladies, they start at a full MSRP value of about $4,500, and the men's models start at a full retail price of around $5,200. 
What is the least expensive IWC watch? The cheapest IWC watch for ladies starts at an MSRP of around $4,150, and for men, you're looking at a full retail price of around $42,50 and can go up to the hundreds of thousands of dollars range for the solid gold and high horology models. 
Watches from these two brands can be bought at a significant discount on Prestige Time. Use the buttons below to browse the various collections from each of these two brands.
If you enjoyed this comparison and feel that others would enjoy it too, please like and share it on your social media and make sure to follow us on Instagram for more great watches. Thanks!