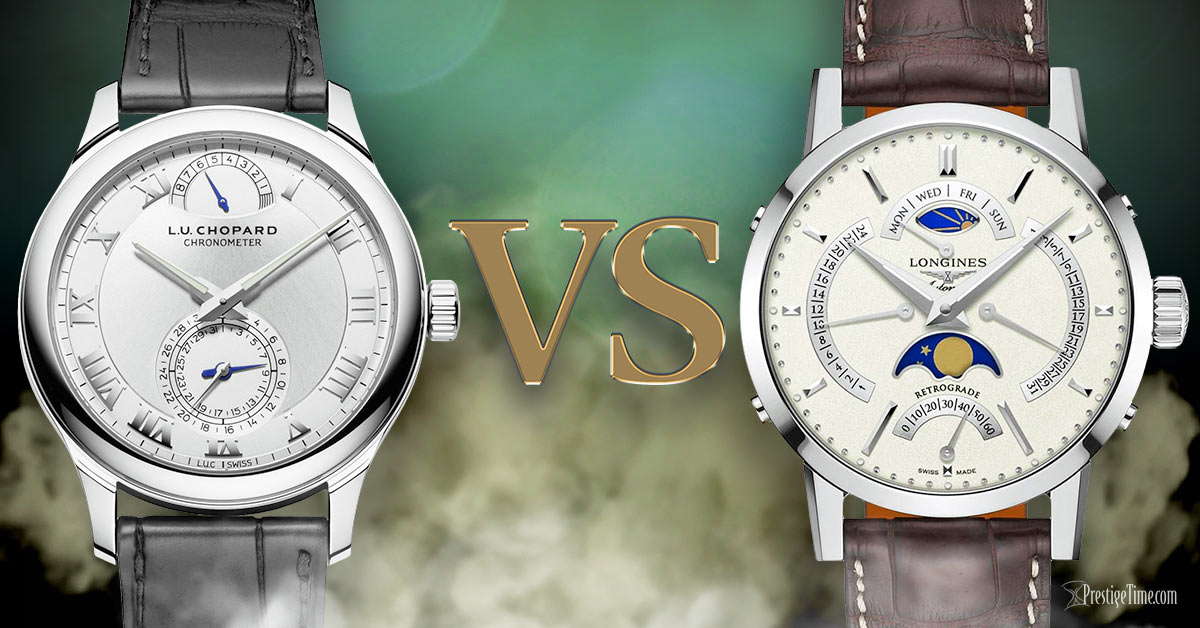 Chopard VS Longines
Today we will compare, and contrast two famous watch brands. One is Chopard, a Swiss watchmaker and jeweler extraordinaire; the other is Longines, a world-renowned watch manufacturer. Which is best?
We get all sorts of questions from people who are looking for the perfect watch for themselves or for someone else as a gift. These questions are often along the lines of "which brand is better" and we understand the question in ways and from different perspectives that most people don't.
Being in the business, we get to experience watches from many brands, both pre-sale and post-sale.  We get to see which brands live up to their word and take their reputation seriously, especially when it comes to post-sale service and fulfilling warranty obligations.  We see which brands play hard to get to drive up demand, we also see which brands deliver value for their price point. We see which brands sell well both on the new and on the preowned market and which hold their value better than others and which don't. So naturally, many people turn to us for our advice. Not just because of our decades of experience in the business, but because we in many cases act as the go-between and thereby become the customer advocate that directs and navigates the brand's warranty fulfillment.
Based on many of the above situations you can see that not all brands are created equal and there are in fact many things to consider when buying a watch from any brand. Now that we got that out of the way let's ask the question you are looking to answer here today:
Which is better a Chopard or a Longines watch?
We will section off the answer to this question based on the various contexts in which it can be asked. This will allow for a very easy-to-navigate article and post.
Accuracy  |  Brand Popularity  |  Brand Prestige & Horology  |  Resale Value  |  Retail Price |  Water Resistance  |  Warranty  |  Collections
ACCURACY
Precision is a big topic of discussion in watchmaking and naturally since we are measuring time. However, not all watches are created equal. Mechanically powered watches, for example, get their power from tension incrementally released through a series of gears and components and are typically more expensive to produce than the more affordable battery-powered quartz watches that became popular in the 1970s and are still around to this day.
Many mechanical watches that are highly precise will have a prestigious pedigree from a 3rd party lab known as COSC and come with a COSC certificate and a designation of Chronometer.
Many Chopard watches meet these COSC specs and come with a chronometer designation and COSC certificate. These can especially be found in their high-end L.U.C. collection that has some very impressively precise timepieces such as the L.U.C. 8HF Control Limited that has an 8Hz (57,600 vibrations per hour) oscillation rate in the movement (see image below).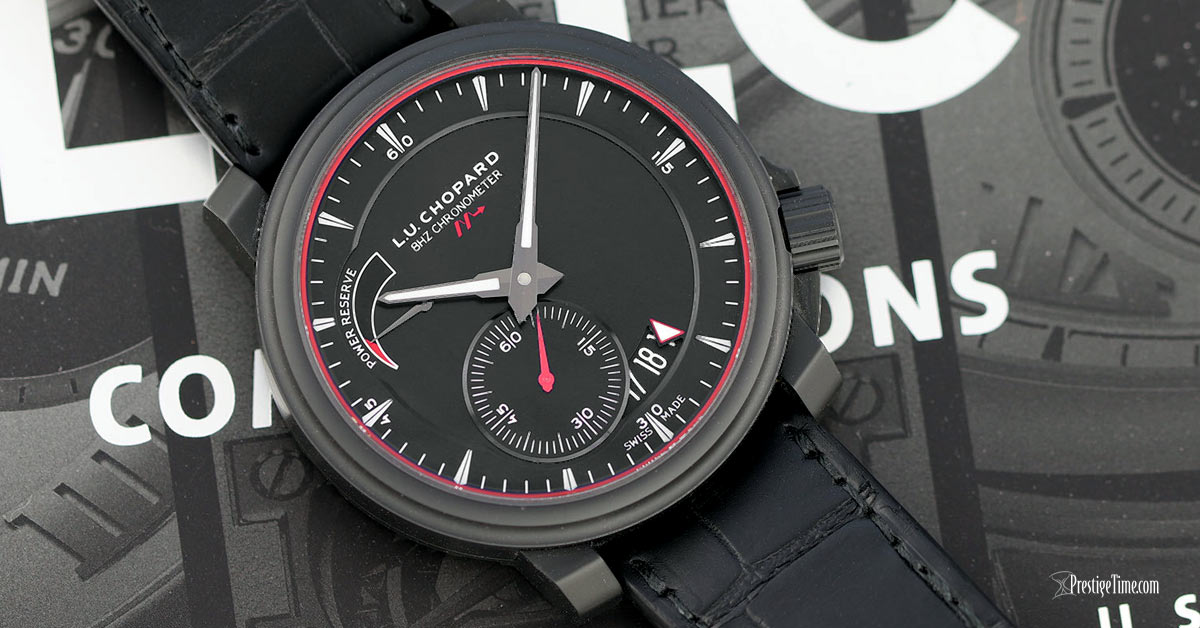 At the same time, certain mechanically powered Longines watches come with a COSC certificate, such as the Longines Record collection but nothing as impressive as the 8HF above as of yet in terms of mechanical precision.
The reality is that people buy mechanical watches because they have a certain mystique and esoteric value when it comes to how they operate and how they are crafted. They are certainly not the most accurate watches in the world. The real irony is that inexpensive quartz movements are more accurate than even the most accurate mechanically powered watches. That said, when it comes to quartz watches, not all are created equal. Longines has an excellent quartz watch collection called the Conquest V.H.P (Very High Precision) that takes Quartz accuracy to the next level with many extra features to keep them as accurate as possible.
BRAND POPULARITY
Longines is the 24th most recognizable Swiss brand in the world and the 5th most recognizable Swiss watch brand in the world. According to a recent study by Interbrand* (a brand valuation agency), Longines has an estimated brand value of 1,089 Billion CHF (Swiss Francs).
Chopard is the 23rd most recognized Swiss brand name, the 4th most popular watchmaking brand and at the time of the report has an estimated brand value of 1,098 million CHF (Swiss Francs). Unlike brands like Panerai or Tudor, Chopard is a company that is more known as a luxury jeweler than a luxury watchmaker even though they produce excellent watches. Therefore, saying that they outrank Longines as a watchmaker may be an inappropriate attribution of their brand recognition. They are certainly a larger and more well-known brand, but a brand of what is the real question. Much of their brand value comes from their high-end fashion fame in luxury jewelry.
Source: [1] See Interbrand 2016 Swiss brand report at https://www.rankingthebrands.com/PDF/Interbrand Best Swiss Brands 2016.pdf
BRAND PRESTIGE & HOROLOGY
Chopard has some pretty high-end watches that have caught the attention of match aficionados and horologists. Some even have solid gold cases and in-house calibers, with prices that run upwards of $60,000, and come with high complications such as a minute repeater or a Perpetual Calendar/Moonphase combination found on the L.U.C. Lunar One. The L.U.C. Range is their top-shelf watch collection, and some watch enthusiasts even boldly claim that these may even be comparable with similar watches from some of the most prestigious brands in terms of horology, craftsmanship, and finishing.
Longines does offer some watches with extra complications such as Chronograph/Moonphase combinations (see photo below) or retrograde hands but not any very high complications such as perpetual calendars or tourbillons.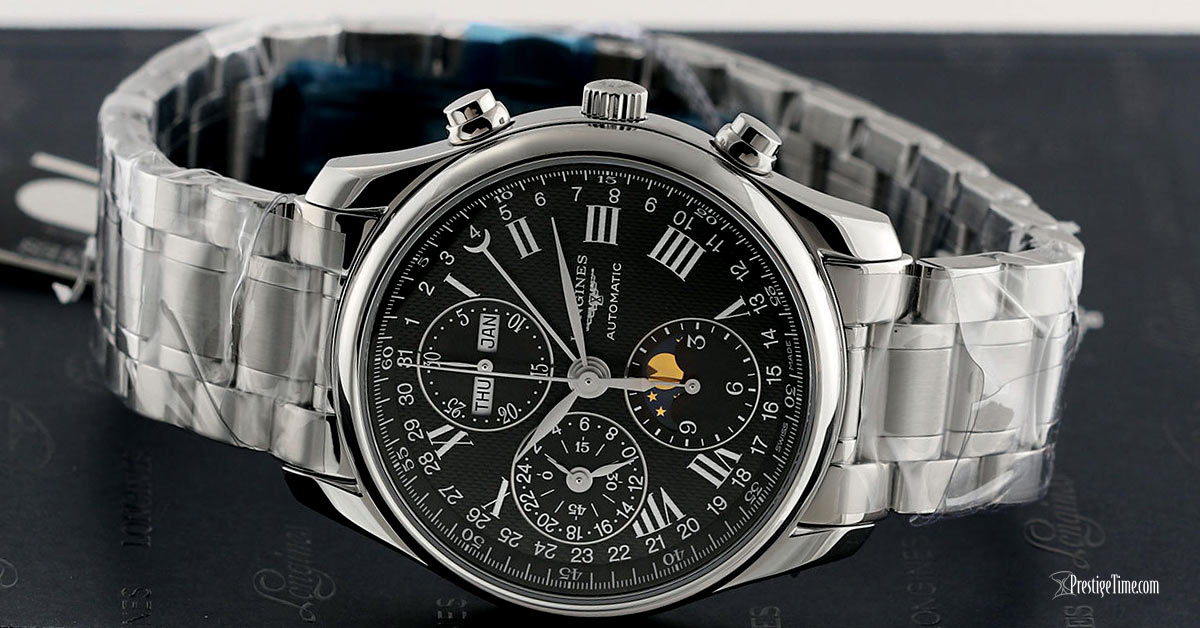 RETAIL PRICE
The entry-level retail price of a Chopard watch is around 600% greater than that of even the most affordably priced Longines watch. This applies to both battery-powered (quartz) models. Mechanically powered automatic (self-winding) watches are around 400% more for a Chopard when compared to automatic Longines watches and top out at around a $60,000 manufacturer's suggested retail price.
A new entry-level Longines watch has a retail list price of around $750 whereas the most affordable Chopard has a retail list price of around $4,500. Longines has only one model that is in the 5-figure price range but on the lower five-figure range topping out at under $12k. Longines' most expensive models are, for the most part, in the under $10,000 range while the majority of Longines watches are priced at under $2,000. 
RESALE VALUE
On the preowned market, you will find that Chopard watches, on average, can sell for a higher percentage of their original retail value when it comes to mechanical men's watches. They are also a more prestigious brand than Longines and therefore aren't as mass-produced as Longines.
WATER RESISTANCE
One of the areas where Longines shines significantly brighter than Chopard is water resistance. Chopard doesn't really produce any diver's watches or any watches that have elevated water resistance similar to that of a dive watch. Longines has a very popular collection of diving watches called the Longines HydroConquest that has many models including HydroConquest chronographs for divers with a mechanical stopwatch function.
WARRANTY
When it comes to the warranty, Longines and Chopard both offer the same 2-year warranty period. However, what differentiates them is just how smooth the process is dealing with these brands. Chopard offers a more hassle-free experience than Longines when it comes to warranty fulfillment.
COLLECTIONS
Chopard Collections
---
Longines Collections
---
Browse watches from these two brands using the buttons below: