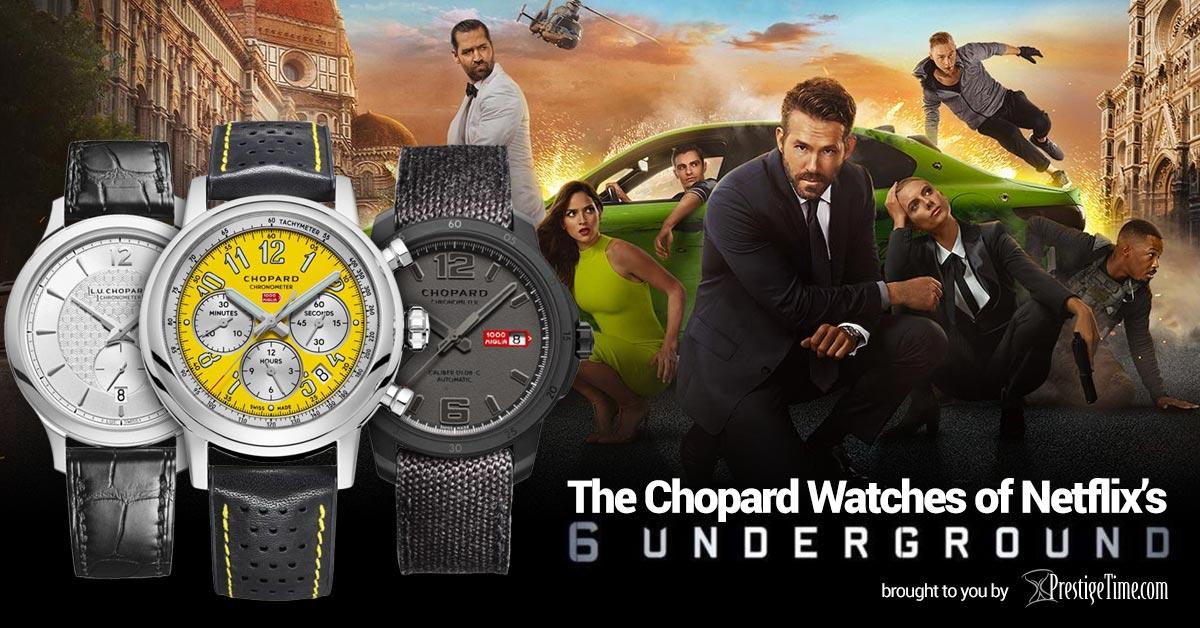 Impressive Chopard Watches in Netflix's film 6 Underground
Even with all the explosions, mind-blowing action scenes, and high-octane car chases, it would be hard to miss the expensive watches that made their way into the new Netflix film featuring Ryan Reynolds.
In case you didn't have the inside scoop, be it in the Hollywood scene or the Swiss watch scene, there was some pretty hard-to-miss product placement happening in the new Netflix original action film starring Deadpool star Ryan Reynolds as "One", the billionaire leader of a rogue group of action heroes all with no names, just numbers. Lior Raz, (the lead actor from popular Netflix series Fauda) plays Rovach Alimov, the evil tyrant who is hunted down by these highly skilled rogue agents.
This opening scene glamourized Chopard's most priceless piece of jewelry. However, the rest of the film had quite a few of their precious wristwatches highlighted. How they survived the filming of this movie is a mystery unto itself. Word has it that Chopard threw a huge party for the premiere of 6 Underground where they showcased many of their fine products. Maybe even Ryan Reynold's watch in 6 Underground?
Which watches were featured in the movie?
Let's begin with one of the 6 Underground watches that probably caught your eye the quickest with its vibrant competition yellow dial; the Chopard Mille Miglia Classic Chronograph Racing Colors (reference # 168589-3011). This watch is from Chopard's popular Mille Miglia collection enjoyed ample screen-time with a full-screen close-up of the dial. This watch is a COSC certified Chronometer with a power reserve of about 42 hours. Being a Chopard chronograph watch it has a stopwatch function controlled by the pushers on either side of the winding crown. While this is probably the most sporty looking Chopard watch 6 Underground featured, there were actually a few of their watches in this full-contact, explosive Michael Bay film.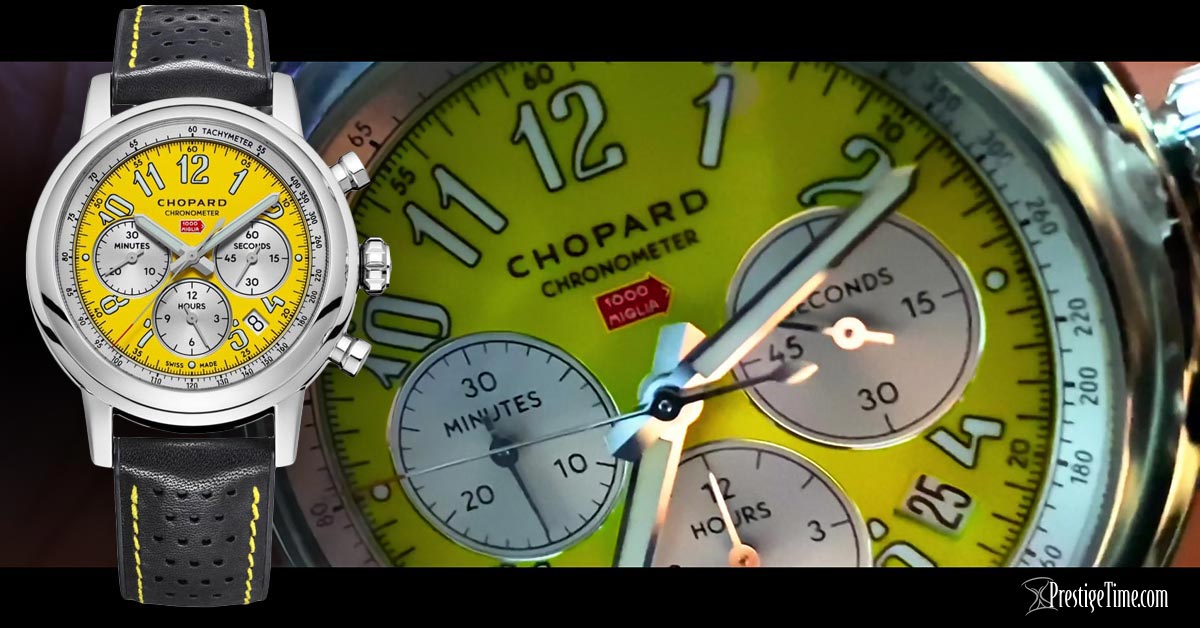 Another 6 Underground watch the hero wears on his wrist is a sporty looking model featured in this film is the very slick black ops-looking Chopard Mille Miglia GTS Power Control Grigio Speciale (reference# 168566-3007) This watch was seen several times in scenes with covert missions that required a stealthy look. Ryan Reynolds' watch in 6 underground has a grey coated case with a matching grey dial. It features a power reserve indicator and is powered by the in-house Chopard Caliber 01.08-C automatic movement which is comprised of 251 parts and contains 40 jewels with a power reserve of 60 hours. 
When Ryan Reynold wasn't kicking you-know-what and taking names while strapped to the nines with Kevlar and weapons, he dresses up and gets all dapper with the classic Chopard L.U.C. XPS 1860 Officer. It features an officer's case back that swings open to reveal the movement and is shockingly limited to only 100 pieces worldwide. Luckily there is also a non-limited-edition version of the Chopard L.U.C. XPS 1860 without the Officer's case back and the textured pattern on the inner dial. Another difference between the limited edition version and the standard version is the movement. The Chopard L.U.C. XPS 1860 Officer (Limited Edition) is powered by the L.U.C. Caliber 96.00-L whereas the standard edition runs on the L.U.C. caliber 96.03-L.
Both mechanical movements-feature a 65-hour power reserve enabled by the L.U.C. Twin technology which allows for two stacked barrels. Double barrels and this explosive movie seem to go hand in hand. I'm just glad that in terms of our love for the art of watchmaking, that they didn't smash these precious watches to pieces as they did to everything else in this movie. Glad that some movies show a little appreciation for the dignity of the craft and show a luxury watch the respect it deserves.