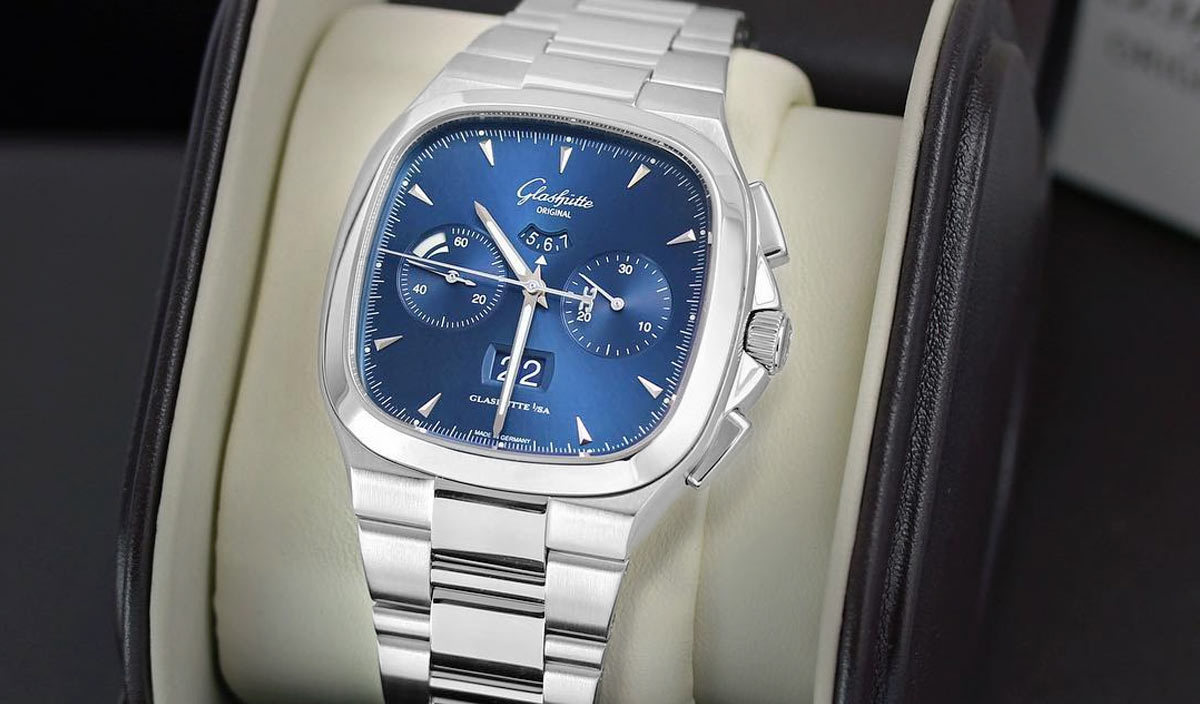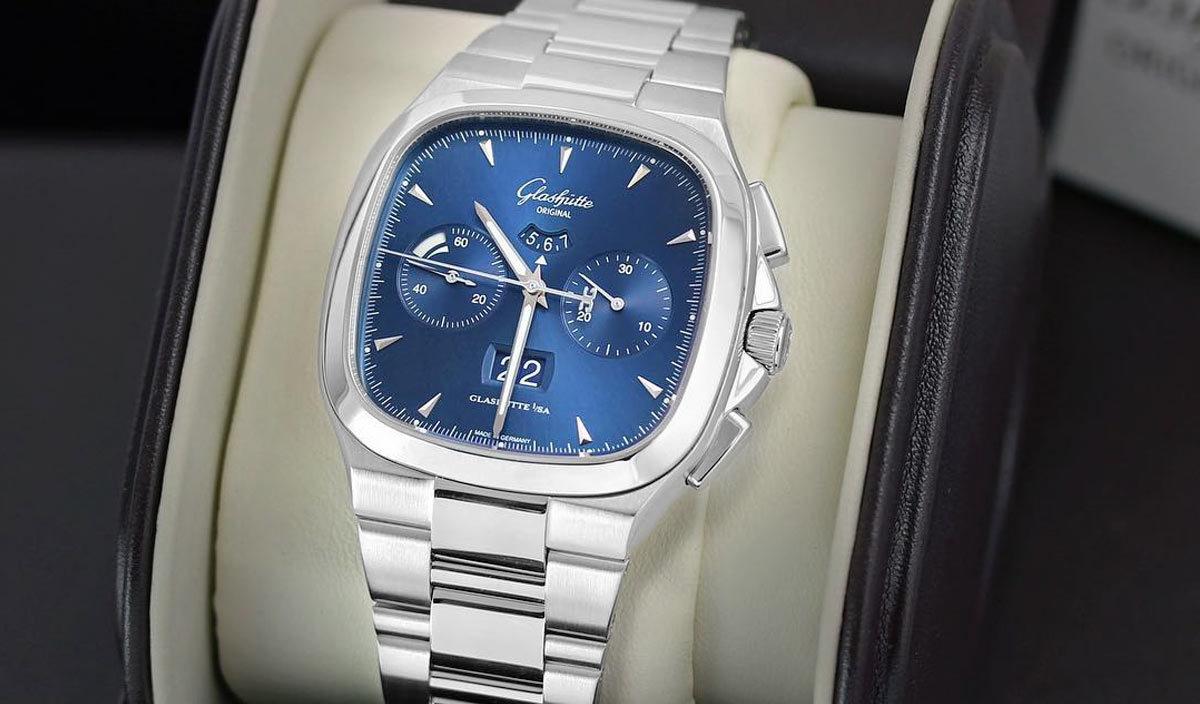 Glashutte Senator Seventies Chronograph Panorama Date Review
From the 20th Century Vintage collection of Glashütte Original Senator watches.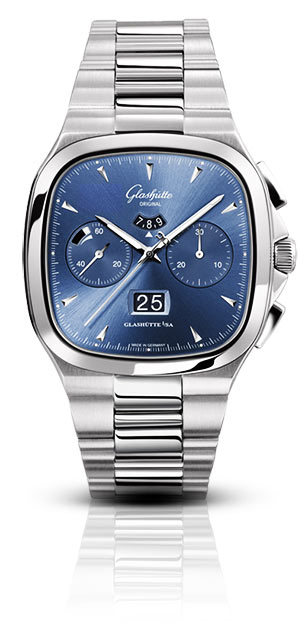 This collection has many praiseworthy timepieces that are not only remarkable beautiful but, equally punctual. Germany is a country that is known for its punctuality and their luxury watchmakers make mechanical watches that are highly precise. Today we will examine the Glashutte Original Senator Seventies Chronograph Panorama Date. This series has many fine watches that vary in dial color from Ruthenium to Silver and a Brilliant Blue with several different types of straps available from leather, stainless steel, and rubber.
Specifically, we will take a look at Glashutte Original reference number 1-37-02-03-02-70 with the stainless steel case and bracelet with a gorgeous blue dial. The dial of the Glashutte Senator Seventies also has applied white gold hour markers that contain a luminous fill. While the watch case is not exactly square with its round edges, it has a very smooth design with its polished stainless steel case and bracelet. It also has highly polished and nicely rounded chronograph buttons.
This is the type of watch that has such great aesthetic features that can distract you from all the great mechanical features such as the Panorama date, an oversized date that used two disks to display the day of the month. There are easy-to-read sub-dials located at the 9 o'clock and 3 o'clock positions. You can even spot a power reserve indicator on the left sub-dial.
The chronograph has a column-wheel mechanism as well as a flyback complication which sure is better than having to stop, reset and restart the timer essentially allowing you to restart the stopwatch function of the chronograph instead with a single push of a button with a measurement of up to an eighth of a second.
Everything about this watch has striking features including the movement itself. The Glashutte Original Caliber 37-02, with its massive amount of jewels (65 in total), simplified column-wheel construction, and a stupendous power reserve of approximately 70 hours all managed by a single spring barrel. The Calibre's attention to detail is phenomenal with a movement plate that is finely finished with a striped/ribbed finish, a skeletonized rotor with the double-G logo, a swan-neck fine adjustment, blued screws & beveled component edges.
Glashutte Original launched the 20th Century Vintage Seventies series as a celebration of a pivotal decade in human history. While the '70s was to some just an extension of the sixties; amidst the hippy concerts, bell-bottoms, and post-Woodstock student protests, a paradigm shift in global thinking occurred. It was a change that got people thinking of a new set of values where people were beginning to expect equal rights for all types of people. Many were also beginning to fight for the very survival of our planet and numerous additional worthy causes. The Seventies watch is a mirror into a game-changing era where everything just got better. We're expecting only greater things from this meticulously precise and talented German watchmaker.