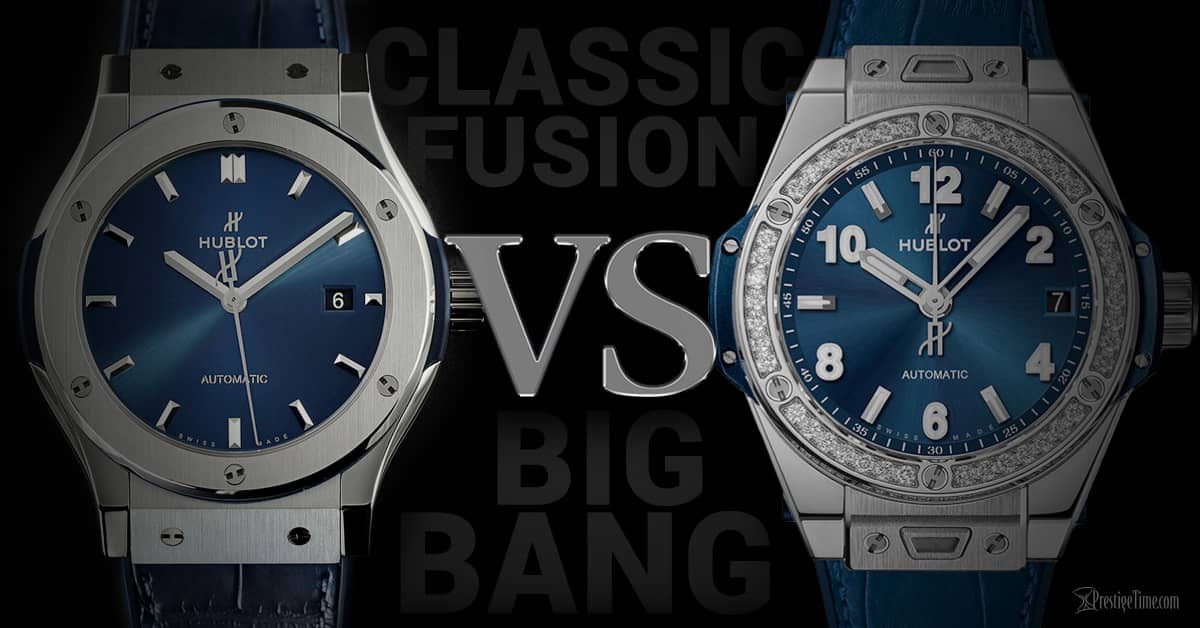 Hublot Classic Fusion VS Big Bang: The Ultimate Comparison
Enjoy an eye-opening, behind-the-scenes look from an insider to help you determine if you should choose the Hublot Big Bang or Classic Fusion.
Hublot Classic Fusion VS Big Bang
Two of the most popular Hublot watch collections will be compared today to help you determine which is the perfect match for your wrist. We'll examine both collections from several different angles including the variety of watches in each collection, the various series within each collection, the stylistic differences, the differences in their mechanical horology, and more. Let's begin with style, shall we?
Style & Design
Hublot has many designs and produces many different limited-edition watches, more than most manufacturers would dare to make. Each of these collections has its own special and limited run watches which are too numerous to mention here but we will cover most models in both collections.
Classic Fusion Style & Designs
Overview: Classic Fusion watches have a very distinct neo-classic look. Hublot, which is the French word for 'porthole' is a great way to describe the design of the bezels on the most popular Hublot watches which not-by-chance, resembles the look of a submarine hatch.
Hublot takes risks that have paid off and served to establish their very specific look. Their design is lead not by copying other designs as much as they created a look that many others have tried to follow.
Materials: The word Fusion is in the name to describe the mixed media and materials used to create these fine watches; one of the things for which Hublot is famous. From lightweight titanium to precious platinum, 18kt rose gold, two-tone, diamonds, and even ceramic, stainless steel, leather, rubber, and fabric.
Case Size: You can find watches in this collection that are designed for women as well as for men, and everything in between for those with medium-sized wrists. Some watches have ultra-thin cases while others have bulkier cases. The smallest case sizes start at 33mm and on the larger end of the spectrum, they go up to 45mm in diameter to accommodate larger wrists.
Dial: The dials on the Classic Fusion watches are easy to identify since most of them will only use appliqué beveled index hour markers or in some cases diamond hour markers on their higher-end watches. Their cases are also very similar in construction with specific finishing techniques such as a brushed finish used on the bezel ring and center block between the two lugs and a polished finish on the lugs, bezel screws, case sides, crown, and in some cases chronograph pushers.
While most dials have a sunray finish, Hublot has done and still does many experimental things with the design of the dials in this collection, including the use of carbon fiber patterns and even fabric patterns (such as a houndstooth pattern) with a matching bracelet.
Bezel: Most bezel rings have the brushed porthole look with 6 of their signature H-style screws. These screws are polished and equally spaced apart and located at the 12, 2, 4, 6, 8, and 10 o'clock positions. On some of the models, you will find diamond bezel rings, and this is something that has changed a bit over the years. Whereas more of the older models had two rows of smaller round brilliant cut diamonds, many of the newer models feature a single row with larger diamonds. As of now, it is unknown if this is a permanent change or not. Perhaps in the future, they might bring back the double row look again to more pieces. For now, you can still find some models that have the double-row design but most models with diamond bezels use one row of diamonds.
Selection: There currently a few hundred models that are in the collection between the many series and sub-series under the Classic Fusion label. This is a much larger collection than the Big Bang and many of the series within have different mechanical complications that set them apart from a standard Classic Fusion watch that just tells the time and day of the month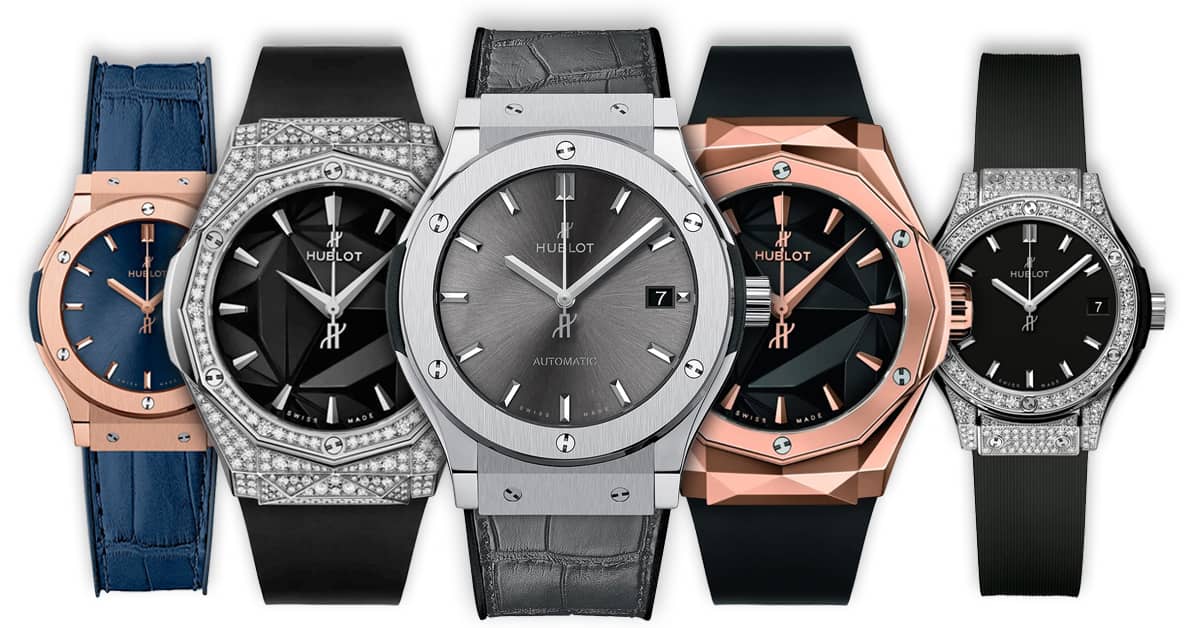 Big Bang Style & Designs
Overview: This is a smaller collection of more exclusive watches from Hublot that as you can expect come with a high point-of-entry price as well. Let's just say that the Big Bang is not your average watch. It's gutsy, it's bold, it's bigger, and it will oftentimes stand out. The perfect watch for the person who Zigs when everyone else Zags.
It's important to note that one who isn't fluent in all the Hublot collections and series may try and draw parallels between the Hublot Big Bang and Hublot Big Bang UNICO collections. While they share two words in their name, they are different watches. We'll talk more about this in the segment of this post covering the mechanical movements that power Big Bang watches.
Dial: The dials on the Big Bang watches vary in color and style but certain features are consistent, such as the use of luminous (glow-in-the-dark) hour markers. These hour markers will either be index style hour markers or a combination of index hour markers and Arabic style numerals in a stencil-style typeface. You'll also see a minutes and seconds track around the perimeter of the dial, whereas the Classic Fusion, in most cases, doesn't have one.  
Case: You can expect the case size of the Big Bang to be in the larger end of the spectrum with most watches starting at a minimum case diameter of 38mm VS the Classic Fusion's 33mm. This is because the Big Bang is a bolder collection with a more out-of-the-box and "drawing outside the lines" design approach.
Materials: Everything from the combination of materials to the way they strike you can at times and on certain models be even jarring for the traditionally styled. A good example of this avant-garde design is a model that uses a grungy and distressed looking denim fabric for the dial and strap, combined with an 18kt rose gold case with a diamond bezel and diamond hour markers. Like I said not your average watch.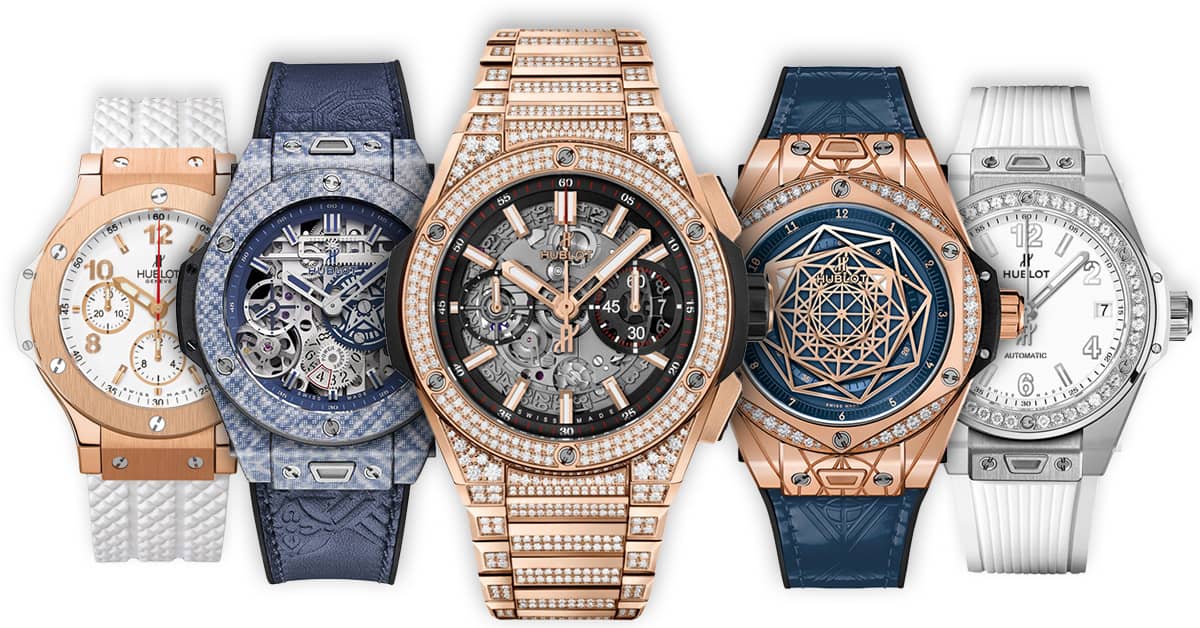 Movements
Classic Fusion Movements
The Hublot Classic Fusion collection uses several different movements including quartz calibers (battery-powered movements) as well as mechanical movements which include both automatic (self-winding) calibers, and manual-wind (hand-wound) calibers. The calibers in the Hublot Classic Fusion watches are what is known as ébauche calibers; a template base-movement which is usually supplied by ETA, the biggest supplier of movements of these types and they make high-quality movements for many luxury watchmakers.
However, there is a certain prestige that is attributed to a watchmaker that can produce their mechanical movements 100% in-house and not have to rely on any 3rd party suppliers. This doesn't indicate that in-house movements are more accurate or better than non-in-house ébauche calibers per se, but the vertical integration is impressive regardless. It also provides the opportunity for the watchmaker to monitor and control the quality of production of the entire watch from start to finish. Which brings us to the Big Bang.
Big Bang Movements
The uninitiated may draw parallels between the Big Bang collection and the Big Bang UNICO collection. Even with a similar look and nomenclature, this would be a mistake. These are two different Hublot collections.
The main difference between the movements in the Big Bang and Big Bang UNICO collection is that the UNICO is, for the most part, either a caliber with a chronograph (stopwatch feature) or a GMT (second-time zone feature). Even more important to note, is that the word UNICO indicates that they are using Hublot's 100% in-house mechanical movement (UNICO was the name of the first all Hublot caliber, and the name kind of stuck). Below is an example of an in-house UNICO self-winding caliber.
The Hublot Big Bang collection (without the word UNICO), on the other hand, may use movements that have a 3rd party base movement, which they may or may not modify in-house. They also have a few models that are powered by a battery and use a quartz caliber.
Price Range
The Classic Fusion collection has an entry-level MSRP of $5,200 for the battery-powered quartz models and the Classic Fusion Quartz series can go up to as high as $30,500 for the solid gold models.
Their mechanically powered counterparts, such as their automatic watches have an entry-level price point of $6,200 and can go up to 6-figure and up price tags for the more complicated and more blingy models.
The Big Bang collection has entry-level quartz models that have an MSRP of $10,400 and these Classic Fusion Quartz watches can cost as high as $29,400 for more diamond-encrusted precious metal models.
The mechanical models in the Big Bang collection have an entry-level MSRP of $11,500. On the higher end of the price range, they can go up to over a 6-figure price tag.
Use the buttons below to browse these two collections.