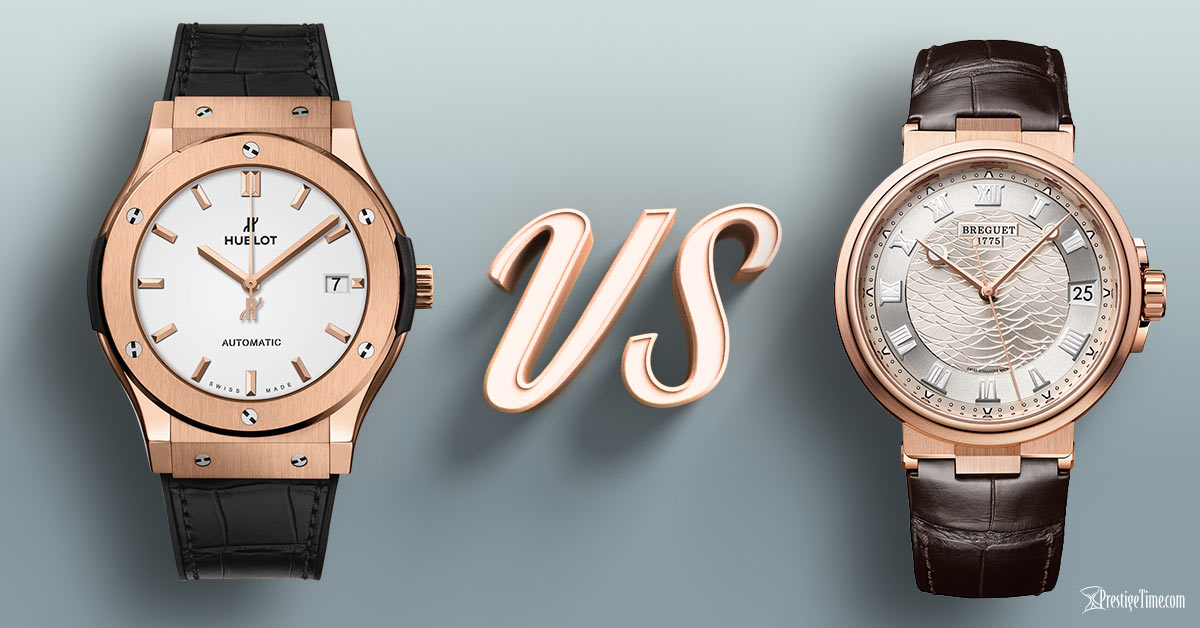 Hublot VS Breguet
A detailed comparison of two very popular watch brands. Let us see how they measure up against one another, shall we?
We are going to be comparing these two popular watchmakers on many levels. Why? Because when people ask us "What's better Breguet or Hublot?", it is often a question coming from one of many places and can therefore contain any number of different contexts. Therefore, our comparison will be sectioned using many different angles of comparison. Use the section menu below to navigate this article.
Accuracy  |  Brand Popularity  |  Brand Prestige  |  Horology  |  Resale Value  |  Retail Value  |  Water Resistance  |  Warranty
When it comes to precision, we need to separate each brand into two categories: quartz watches (battery-powered movement) and mechanically powered watches (powered by using the incremental release of spring tension in the movement). First, a brief explanation for the uninitiated, just in case.
Ironically, the movements that are more accurate are also less expensive to produce. Of course, these are the more affordably priced quartz calibers that came to the marketplace in the 1970s. These use a battery that sends a charge to a quartz crystal causing it to resonate at a very high frequency, a frequency much higher than that which any mechanical movement ever developed can produce on its own. Hublot offers some battery-powered quartz watches with this higher accuracy. However, Breguet only produces mechanically powered watches. Most luxury watch collectors prefer mechanical watches since there is a certain mystique about how they are engineered and an added esoteric value regarding how they operate.
When it comes to precision in chronometry, especially concerning mechanically powered watches (with non-quartz movements), this is an area that watchmaking aficionados have a field day discussing. Some common terms like COSC certified and Chronometer are often thrown around. For those that need to know what that is, COSC is a French acronym for the Swiss Official Chronometer Testing Institute. They are a third-party laboratory that tests watch movements for high precision and awards a special designation of 'Chronometer' to the ones that meet a minimum standard of a deviation of no greater than -4/+6 seconds per day.  For mechanical watches, this is considered to be a great accuracy rating.
However, not all luxury watchmakers use COSC for their testing. In fact, some of the most prestigious watchmakers do not use them at all and prefer to do their testing in-house and often with better results. That said, Breguet was known back in the early 1800s for the 1815 Marine Chronometer that they made for the Royal Navy. However, back then, the term Chronometer meant something completely different.
While the Breguet company doesn't necessarily get their watches COSC certified, they have proven in the past that they can make watches significantly more accurate than COSC standards, such as the Classique Chronométrie 7727 that had a super-high beat caliber that oscillated at over twice the average 4Hz rate at a very high rate of 10Hz. It used a silicon balance spring, lever, and escape wheel as well as magnetic pivots. Mind you, this is not their entry-level watch. Furthermore, they don't advertise their brand to be the most accurate. They have good accuracy but are known to be a more historically significant brand compared to Rolex.
Browse watches from these two brands using the buttons below: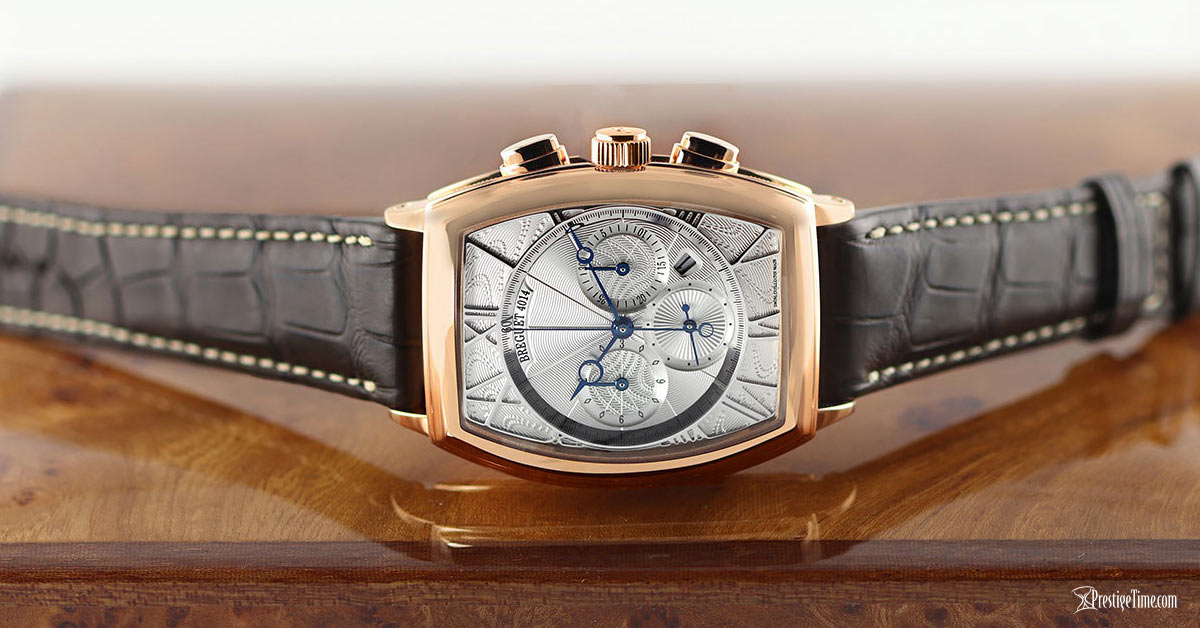 Breguet is a very popular brand that is in the 6th most popular Swiss watchmaker (#25 position for overall Swiss brands) on a list of the 50 most valuable Swiss brands and has an estimated brand value of 1,004 Million CHF (Swiss francs). This list was recently posted by Interbrand, a brand valuation agency that measures brand value and ranks the most valuable brands.
In terms of brand popularity, Hublot is less popular than Breguet. Partly because they are a much younger brand. Nonetheless, Hublot is still a very popular brand, and of the top-50 most valuable Swiss brands (including Swiss watchmakers, Swiss banks, Swiss chocolatiers, etc.) are in the #40 position making them the 14th most popular Swiss watchmaking brand. They have an estimated brand value of 401 million CHF (Swiss francs); less than half of that of Breguet.
*Source: Interbrand, an agency that measures brand value and brand recognition. [ See https://www.rankingthebrands.com/PDF/Interbrand%20Best%20Swiss%20Brands%202016.pdf ]
Breguet is one of the oldest watchmakers that is still making watches today. They are especially well known by those who know their horology and love the history of watchmaking. They are a more historically significant brand compared to Hublot and have made numerous precious contributions to the age-old craft of mechanical watchmaking (especially in their earlier years).
Hublot, because of their age, is considered a less prestigious brand than Breguet albeit still a luxury brand. In other words, their watches are not cheap. They are aggressive with their marketing and do many small batches of limited-edition watches to keep things as exclusive as possible. Being the new kid on the block isn't easy for a watchmaker that is up against brands that are in many cases, literally hundreds of years older than you.
Regardless, they are a trending brand that has been moving up and up at a steady pace since its inception. They have produced some impressive timepieces and have earned their stripes among the respected watchmakers. Nonetheless, Hublot is still a different type of wristwatch brand that creates very different watches than Breguet and they are catering to a very different type of crowd.
Browse watches from these two brands using the buttons below:
Both Breguet and Hublot have some diver's watches in their catalog and though the average diving enthusiast can get away with wearing a Breguet Marine Royale dive watch that features 300m/1000ft of water resistance, for serious professional diving, you need more than that.
Hublot Used to have a seriously thick diver's watch with a whopping 4000m of water resistance called the Hublot Oceanographic 4000. However, they no longer manufacture these models. The closest type of model you can find with an above-average level of water resistance is the Big Bang Chronograph Black Magic
Both Hublot and Breguet give a two-year warranty on their watches. There are several more upper-market brands that offer longer warranty periods. Even a few lower market brands such as Omega have been extending their warranty periods but the average warranty period in the watch business is still a 2-year warranty.
Both watchmakers can create high-complication watches and although most of their watches are not, in the not-so-distant past, each of them has created a few notable ones. Above is an image with two fine examples. The Hublot Masterpiece MP-09 features a bi-axis tourbillon and power reserve indicator. To the right is a Breguet with a perpetual calendar and tourbillon complication. While both can in fact produce high complication watches, it was Breguet, who in 1827 showcased the Marie Antoinette Grande Complication pocket watch number 1160 that was commissioned for the Queen from which it got its namesake. It had more complications than any other watch in its time and took 44 years to complete.  To this day, this watch is still considered to be the 5h most complicated watch in the world. Breguet is also famous for inventing the tourbillon complication, and for innovating on the winding-rotor used in an automatic timepiece today to help keep the power reserve at its fullest. So in terms of horology and overall watchmaking know-how, Breguet wins at this and it's not even a contest.
Hublot, on the other hand, does some incredible work with its metallurgy and has done some extensive research in creating a fusion of different materials to create new allows like their famous King Gold. Hublot is one of the leaders in bringing all sorts of innovation to the materials used in watchmaking. Oftentimes these new and innovative materials enhanced the quality by making the watch more resistant to nicks and dings and thus increased the longevity of the material. 
Between these two brands, Breguet's prices start at around double that of Hublot so the cost of entry is significantly higher. Additionally, they have watches that go up to the mid-six-figures for their more bespoke high-complication pieces and even in the multi-millions for their more historical auction pieces such as the 1160 watch known as the Breguet Marie Antoinette (mentioned earlier) that is worth over $30 Million dollars.
People often ask if they should "invest" in a Breguet or a Hublot. For the record, watches are consumer products, not investments. Therefore, they are expected to lose some of their value once worn. Investments are designed to increase in value. The times where a watch appreciates in value are so few and far between that expecting them to go up in price is a gamble.
However, some specific watches, and certain watch brands, on average, will hold their value better than other brands or other watches. That said, Breguet Once again has the upper hand over Hublot in this category. Hublot watches tend to not hold their value very well compared to Breguet.
There are certain brands that will hold their value even better than Breguet, such as Rolex and Patek Philippe, which are, in general, the best at holding their value or at times albeit rarely even going up in value.
Browse watches from these two brands using the buttons below: