Hublot VS Breitling: Which brand is best for you?
Let's compare some very popular luxury watch brands, Breitling and Hublot to see which is best for you.
Today, we'll compare Breitling VS Hublot at many levels from durability, craftsmanship, history, value, horology, brand recognition, price, resale value and more. Let's jump into the in-depth comparison, shall we?
Hublot VS Breitling
To make this comparison easier to navigate, we sectioned off different ways that Hublot and Breitling can be compared and benchmarked. To jump to the various section, please use the links below.
Brand Recognition  -  Durability  -  History  -  Craftsmanship & Horology  -  Resale Value  -  Price  -  Water Resistance  -  Warranty
Brand Recognition
Hublot is in position #40 of the top 50* Swiss brands making Hublot the 14th most recognizable Swiss watch brand in the world. Many attribute Hublot's success to their marketing team who recruited a small army of brand ambassadors which include all sorts of world-class celebrities from Hollywood stars, and supermodels to artists, athletes, and even sports teams.
Breitling is in position #41 of the same top 50* Swiss brands making Breitling the 15th most recognizable Swiss watch brand in the world.
*Source: Most Valuable Swiss Brands by Interbrand.
Browse Hublot     Browse Breitling
Craftsmanship & Horology
Both brands have done things which took impressive craftsmanship. The Hublot La Ferrari is a great example of what a determined watchmaker can do when feeling creative and motivated.
For Hublot, this is the exception to the rule since it is usually not the way they go about making their watches. While there are quite a few Hublot watches that have in-house manufacture movements, there are many more that don't.
Most of their watches over the years used ébauche movements or off-the-shelf ETA movements which for the price that they are charging seems steep regardless of what exotic and innovative materials they use.
Many would even go as far as to say that you can get the same value from many other brands like Tudor for example which has watches that use in-house movements or even comparable brands that use ETA calibers minus all the marketing hype, brand ambassadors and celebrity endorsements that Hublot has. On the other hand, you will have to forego that unique look of a Hublot watch, if that's something that you are in to.
However, while this does sound like harsh criticism Hublot does have its plus side. They create watches using materials that most watchmakers never thought of using. Their metallurgists have concocted a few new and unique types of gold including King Gold (a proprietary color of gold which is even redder than traditional 18kt gold 5N) and Magic Gold which is a fusion of Ceramic and Liquid Gold.
As Sébastien Recalcati, Hublot's materials science engineer once said: "If you want something unique and different you have to create it yourself." Below is a photo of a Hublot watch that uses Magic Gold, a highly scratch-resistant material that fuses the luster of gold with the benefits and hardness of ceramic.
High Horology
Most watch enthusiasts don't associate Hublot or Breitling for that matter with high horology, also known in its original French as Haute Horlogerie. This is where you'll find high complication watches such as minute repeaters, perpetual calendars, and tourbillon complications, etc. Most watch collectors would hear about high complications and think of higher market brands such as Vacheron Constantin, Patek Philippe, or Breguet.
However, the truth is that both brands have created watches that would be considered based on their complications, high horology watches. Watches with tourbillon complications would be a great example of how Breitling or Hublot have earned their stripes in this prestigious area of watchmaking.
Durability
Both brands manufacture durable watches when compared to low-end watches, but how does a Hublot measure up against a Breitling; a brand of watches known for their tank-like build quality? While most would expect a brand as pricey as Hublot to measure up, many feel a difference when they inspect the durability and build of their new Hublot watch and compare it against a Breitling.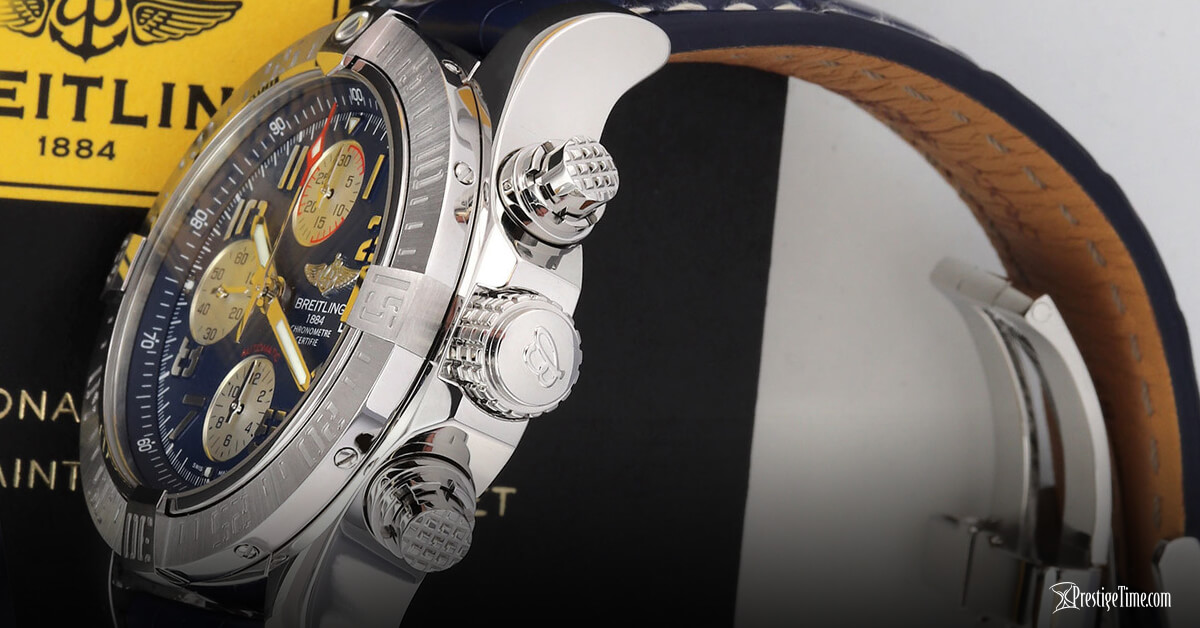 History
Both brands have a bit of history, but Breitling has a significantly older one; older by nearly a century. Breitling started their watchmaking in 1884 whereas Hublot only began their business in 1976 when Carlo Crocco went to Switzerland to create his first Swiss watch which would be the very first luxury timepiece with a rubber strap. Breitling has nearly a hundred years more experience in the watch business and has built a very established brand over their many years in business. 
Resale Value
Neither Breitling nor Hublot has the best resale value in the business when comparing then to upper market brands like Rolex or Patek Philippe, but between Breitling and Hublot, if you asked which has a better average resale value, the answer is usually leaning towards Breitling, in most cases.
Of course, certain models will always fetch more than others and many variables go into the valuation of a pre-owned watch. Things such as the condition it's in, what model it is, the year of production, if it comes with the original packaging stickers and hangtags that came with it, whether it includes the original documents or not (especially the warranty card), whether or not it is still under warranty and many other factors which include supply and demand.
Some people use the term "investing in a luxury watch" loosely. This statement seems quite senseless since just like most products, a luxury watch loses some of its value once it's used or even worn once. The same thing happens when driving a new car off the lot.
A luxury watch should not be looked at the same way you look at an actual investment such as bonds or even real estate which more often than not appreciate in value. The nature of luxury watches in most cases is the very opposite. However, there are cases when a luxury watch will be worth more than its original price but these are too far and in between to seriously considered any luxury watch as an investment with financial benefits.
Price
Prices go up and down all the time but usually not by that much. In terms of entry-level Hublot watches, the cheapest Hublot watch is a ladies' model of the Classic Fusion Quartz 33mm on a rubber strap. They have an MSRP that starts at about $5,900.
The most affordable Hublot watch for men is the 38mm Hublot Classic Fusion 38mm which starts at an MSRP of about $7300.
The cheapest Breitling watch Is the men's Endurance Pro Quartz 44mm, a 44mm model that has an MSRP of $3300. 
The most affordable Breitling watch for women is a Breitling Superocean 36mm which starts at an MSRP of about $3600.
Water Resistance
Both brands have some watches with great water resistance. Hublot has the King Power Oceanographic 4000, for example, that has 4,000m or 13,120ft of water resistance which is enough water resistance for some seriously adventurous diving. It comes at a price point of over $30,000.
Breitling has the Avenger II Seawolf series which has watches that are water-resistant up to 3,000 meters or 10,000 feet and start at a price point of under $4,000.
Important: Before diving to the depths indicated on the water resistance of your watch please read about watch water resistance. You'll find that the water-resistance rating on a watch doesn't mean that you can actually take your watch to those depths when diving. Make sure not to take your watch to a depth that exceeds the recommended depth or it can invalidate the warranty. 
Warranty
Hublot offers a two-year manufacturer's warranty that can in some cases be extended using the Hublotista program, certain conditions apply so be sure to look up the program for specifics.
Breitling offers a 5-year warranty on their watches. This is a pretty good warranty period since most luxury watchmakers with few exceptions only offer up to two years.
Browse Hublot     Browse Breitling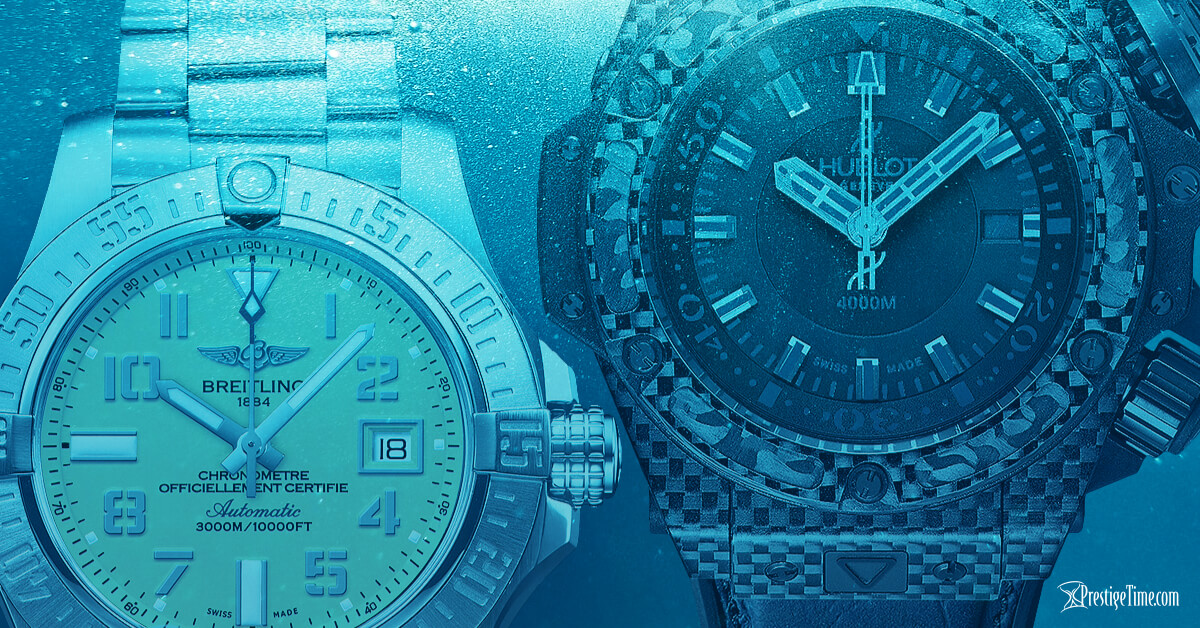 Summary
Hublot has many, many fans and so does Breitling for that matter. However, the type of watch collector that buys a Breitling over a Hublot tends to be the more traditional type who favors established and more historic brands. Hublot tends to attract a different type of crowd with larger-thank-life watches; many glittering with bling. Many watch collectors love Hublot for this style while many others find their designs to be too bold for those who stick to more classic and conservative watches. 
Both brands make great watches and both are respected middle-market brands. Hublot, because of their larger than average case sizes on many of their watches, tends to attract customers with larger than average wrist sizes. Breitling has a more rich history in watchmaking than Hublot and therefore typically receives more acknowledgment amongst watch enthusiasts and serious horophiles. 
In the end, it really just boils down to it being a matter of personal taste and style. Use the buttons below to browse both brands.
Browse Hublot     Browse Breitling