IWC VS Breitling - Which is Best?
IWC and Breitling go head-to-head in a winner takes all comparison. Read more about these two watchmakers to find out which is best for you.
 IWC VS Breitling Watches
In this comparison, we will benchmark Breitling VS IWC from several different perspectives in an effort to give you a holistic approach to making a purchase decision for a fine watch. We will compare them on many levels such as:
Craftsmanship   –   Durability   –   History   –   Brand Recognition   –   Horology   –   Resale Value   –   Price
Craftsmanship
Most IWC watches will come with a transparent sapphire case back that allows you to see the mechanical movement powering the watch. These movements (AKA calibers) use several different finishing techniques which allows the movement to shine in ways that unfinished metals couldn't. It adds pleasantness to the aesthetics of a watch to see the movement decorated in this way. Oftentimes they are also engraved with different markings that tell you about the features of the movement and brand.
Breitling watches are a different type of watch and although they offer fine craftsmanship, they don't always have a transparent case back. However, when they do you can see a beautifully finished movement. On that note, there are also many Breitling watches that don't use mechanically powered movement but rather, quartz movements which are battery-powered. These don't offer the same opportunities for the watchmaker to finish the various plates and create this brilliant display the way one can with a mechanical watch. Perhaps many of their watches have a solid case back for this reason.
Durability
Breitling watches tend to have a more heavy-duty build. While it's never recommended to give a watch, mechanical or otherwise, a blunt force trauma or shock, it's possible that these things will happen. In the event that it did happen, I'd be more comfortable wearing a Breitling and not the IWC which tends to be a more refined watch and less of a tool watch like most Breitling watches.
Many watchmakers have developed shock-absorbing technologies that they incorporate into their timepieces. Even so, the mechanics in a watch are comprised of tiny gears and screws and it's NEVER recommended to try out the shock absorbers and see what happens.  
History
Both Breitling and IWC emerged around the same time in the late 1800s. IWC which began its journey in 1869 in Schaffhausen, Switzerland has about 15 years more experience in the business than Breitling which began its course in the Jura Mountains of Switzerland in the year 1884.
Both are considered very established names in the watchmaking industry and have made their own contributions to the craft during their century and a half or so in the business. For a more detailed history of these two brands use the links below to visit our brand page and learn more.
Brand Recognition
BREITLING: According to a recent report from Interbrand, a brand valuation agency, Breitling is the 15th most recognizable Swiss watch brand in the world* and has an estimated brand value of 359 Million Swiss Francs (CHF). Breitling is a major player in the Swiss watch industry and is especially well-known by pilots and aeronautic professionals who enjoy the many watches that Breitling creates with special features just for pilots.
IWC: According to the same report IWC Schaffhausen has the upper hand when it comes to brand recognition. They rank as the 10th most recognizable Swiss watch brand in the world and have an estimated brand value of 779 Million CHF. Many watch collectors would also consider an IWC watch to be a more prestigious brand when compared to Breitling because of the horology that they put into their Grande Complication watches which combine many added features that all run mechanically.
They are both very popular brands and deserve to be on the list of top 50 Swiss brands. However, we are comparing different types of brands here. In a popularity contest with pilots, you may find that many prefer a Breitling (even though IWC has a great line of pilot watches of their own). However, when you ask luxury watch collectors, you may find more leaning towards IWC.  Both are excellent brands that cater to a different niche.
*Sources & Citations: Interbrand Report: https://www.rankingthebrands.com/PDF/Interbrand Best Swiss Brands 2016.pdf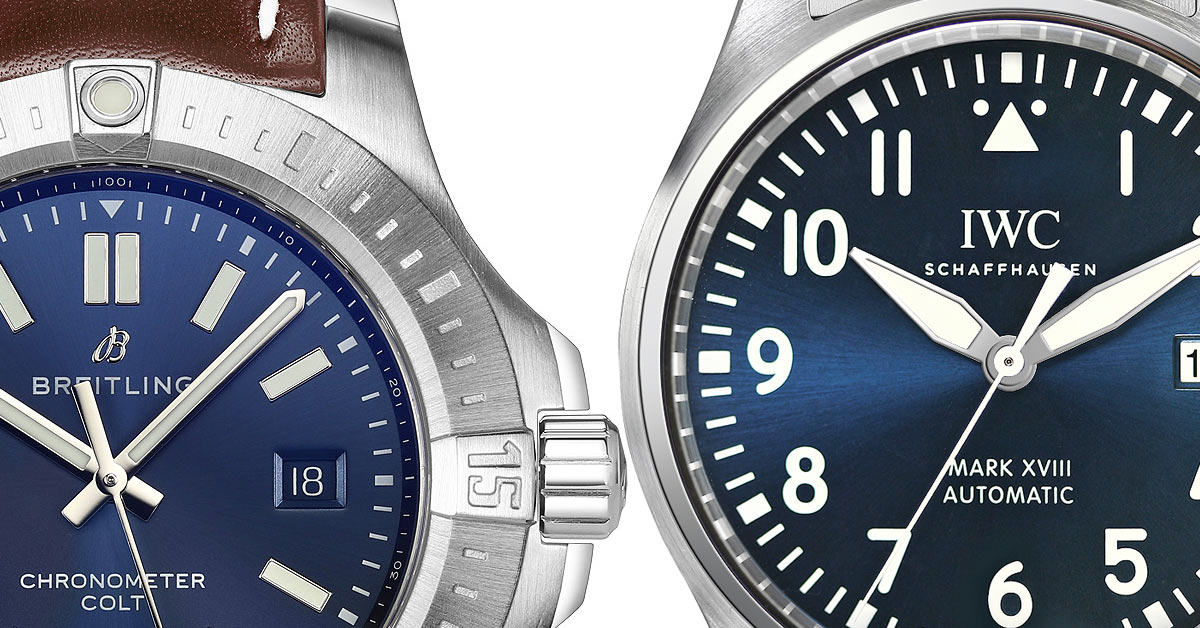 Horology
In terms of horology, both watchmakers have made generous contributions to the craft, each in their own way. IWC produces both high-quality simple watches which just tell the time and date in addition to high-complication watches. High complication watches or Grande Complications employ several mechanical complications that allow added features such as a stopwatch function, perpetual calendar, moon phase, minute repeater, retrograde, and more simultaneously, all of which are powered mechanically by springs and gears.
Oftentimes watch aficionados will look at a watch's accuracy and use that as a metric to determine it's worth. For this reason, many watchmakers pay the extra to get their calibers tested with COSC. Getting a COSC certificate allows them to put the word 'Chronometer' on the watch. Doing so indicates that the watch movement has a certain minimum accuracy with variances of no more than -4/+6 seconds per day. However, not all premium watchmakers do so.
IWC is one of those watchmakers that believes the brand prestige should speak for itself and are perfectly happy with their own in-house testing and regulating. Other watchmakers who feel the same way include top-shelf brands like Patek Philippe so clearly COSC is not the determining factor for the quality of the horology that goes into a watch.
Breitling, on the other hand, has most of their watches certified by COSC and comes with a COSC certificate and the word 'Chronometer' written somewhere on the watch. In fact, even their quartz watches which are battery-powered are more-often-than-not COSC Certified Quartz calibers and have a Quartz Chronometer designation. Quartz movements are categorically more accurate than even the most accurate mechanical movements. How much more so for a Quartz Chronometer. The caveat is that most luxury watch collectors show little to no appreciation for a quartz movement since they don't hold the same age-old craft and tradition as traditional watchmaking which is purely mechanical.
Resale Value
When it comes time to purchase a watch most are looking for the value they get with their purchase of a new watch. However, some people will also look at the average value that that watch would hold once it's been worn. Like any consumer product, a watch loses some of its value when used for the first time and it will depreciate more over time. Seasoned watch buyers will often look at the average resale value that a watch or a watch brand has in the event that they ever choose to sell it or trade-in their pre-owned watch, they can maximize their return (not to be confused with a return on investment).
Some people will loosely use phrases like "investing in a watch" but the truth is that a watch will not appreciate in value like a traditional SEC-regulated security-based or equity-based investment and therefore the word investment is a misnomer to use with any watch. The rare event that a watch appreciates in value is in fact so rare that it's literally a gamble to attempt to buy a watch with the hopes that it would go up in value.
That said, when looking at the average resale value of Breitling and IWC watches, IWC will on average hold more of its original value when reselling it on the pre-owned market.
Price
IWC has had some of the best valued high-quality Pilot watches which start at a list price of about $4,150. Their in-house Big Pilot watches offer even more but also come with a heftier price tag which starts at a list price of around $13,200. On the higher end of the price scale, some high complication IWC watches such as the IWC Portuguese Grande Complication can run for a list price of $283,000.
Breitling has Aviator watches starting at a slightly lower price point. A 41mm Aviator 8 watch, for example, will start at a list price of around $3930 for a stainless-steel model and around $26,920 for an 18Kt rose gold model. The most affordable entry-level Breitling watch would be the Breitling Endurance Pro Quartz 44mm which has a list price of around only $3,000.
Prestige Time has both IWC and Breitling on sale at reduced pricing. Browse the various collections from both brands using the buttons below.
Breitling Collections
IWC Collections