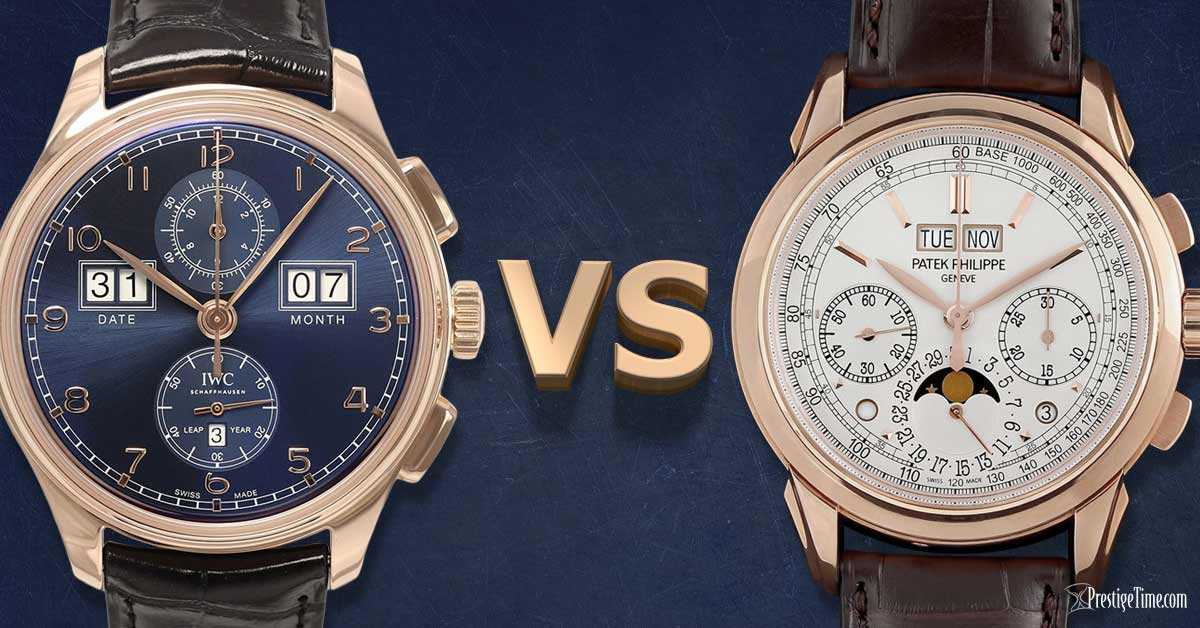 IWC VS Patek Philippe watches | Which is Best?
An eye-opening in-depth comparison and review of IWC VS Patek Philippe.
You're considering the purchase of an IWC or Patek Philippe watch, but which is best for you? You probably have all sorts of questions about Patek Philippe and IWC watches and how they compare to one another. Let's have a look at these two mainstream Swiss brands of luxury watches and see how they compare to one another on various levels. Use the links below to jump to each section.
Price    -    Brand Recognition    -    Resale Value    -    Horology    -    Water Resistance    -    Craftsmanship    -    Warranty
About IWC and Patek Philippe
Both Patek Philippe and IWC are brands that have been in the business for well over a century. Patek Philippe has been creating watches since 1839 and IWC has been a watchmaker since 1868.
Patek Philippe is based in Geneva, Switzerland. They are one of the last remaining independent luxury watchmakers left and is owned by the Stern family for nearly one hundred years.
IWC, on the other hand, is based in Shaffhausen, Switzerland and has been a subsidiary under the umbrella of the Richemont Group since the turn of the new millennium.
Prices
In terms of the price of an entry-level watch, there is a Major difference between these two brands.
IWC watches start at about $4,000 at full retail price for a 36mm Pilot's watch or the larger 40mm Pilot's Mark XVII. The higher-end IWC watches such as the IWC Da Vinci Tourbillon Retrograde Chronograph go for over $100,000 or the IWC Portuguese Grand Complications which can sell for $246,000.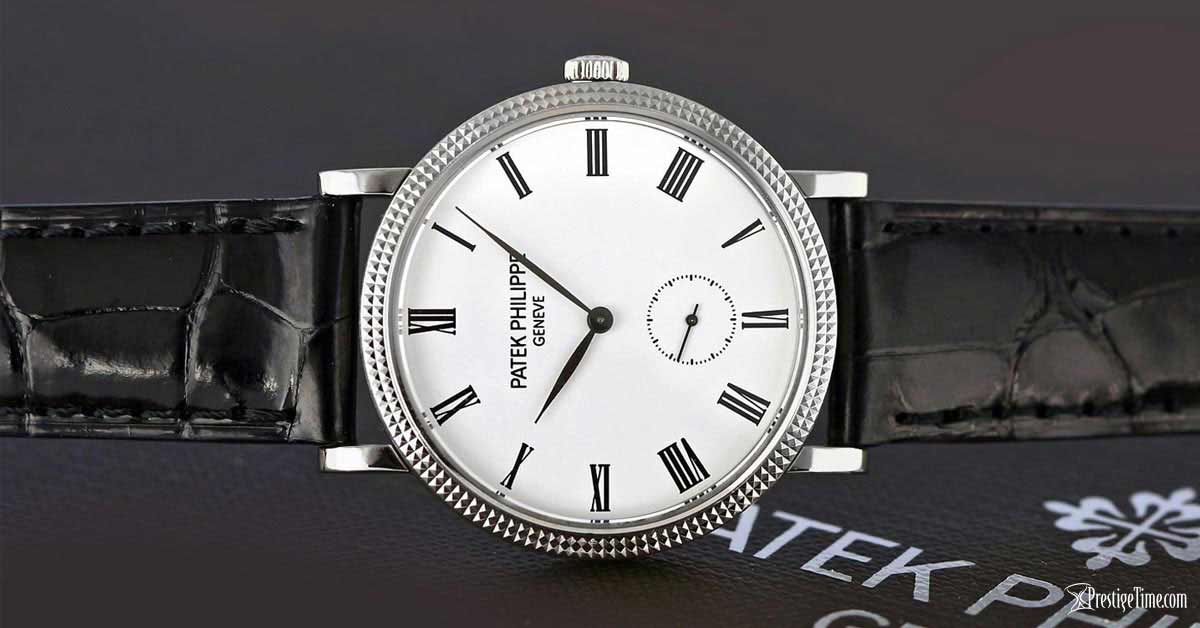 Patek Philippe watches start at around $12,000 for a ladies' watch and at about $20,000 for a men's watch such as the Calatrava. That's for a more affordable model. Now for the higher-end models… Let's open with the most expensive watch in the world now is the Patek Philippe Grandmaster Chime (reference # 6300A). This sold at an auction for over $31,000.000. I think you understand why I said Major difference and why I used a capital 'M'.
For your convenience, you can browse both brands using the buttons below to compare the difference in price between Patek Philippe and IWC watches. 
Brand Recognition
Another area where Patek Philippe reigns supreme is in brand recognition. According to a recent report by Interbrand, a brand valuation agency, after Rolex, and Omega, both of which are lower-market luxury watch brands, Patek Philippe comes in as the 3rd most recognized Swiss watch brand in the world.
IWC is the 10th most recognized Swiss luxury watch brand in the world and is nonetheless admired by many watch collectors around the world as a fine watch brand.
Water Resistance
IWC has an excellent reputation with their diver's watches and water-resistant Aquatimer series. In fact, the Aquatimer Automatic 2000 46mm reference # iw358002 has a water resistance rating of 2,000m/6,000ft which pretty much blows Patek Philippe diver watches out of the water in terms of water resistance.
Why doesn't a brand like Patek Philippe make a diver's watch that can compete with watches such as the Aquatimer 2000 (2,000m/6,000ft) or the Rolex Deepsea Sea-Dweller (3,900m/12,800ft) or even the Omega Planet Ocean (600m/2,000ft)?
My guess is that Patek Philippe doesn't want to portray their brand as one that creates tool watches which in turn, dilutes their brand value. When you're at the top of your game like they are, you don't really need that kind of attention… and who would even think of taking a Patek on a diving expedition anyways?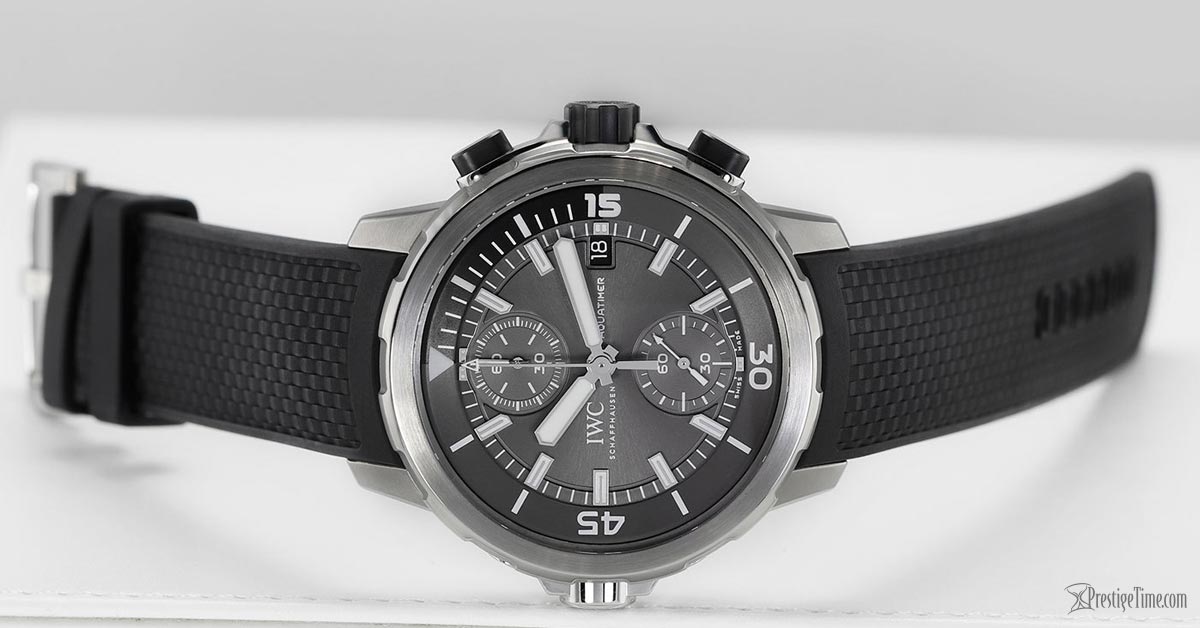 Craftsmanship
Both Patek Philippe and IWC have beautiful craftsmanship. That said, Patek is a cut above and has the Geneva seal to show for it. You'll especially notice this on the perfect finishing and hand engraving on their movements.
Horology
Both IWC and Patek Philippe produce watches that are mechanically impressive. Watches with high complications such as minute repeaters, tourbillons, perpetual calendars and such often make the centerpiece of any serious collection.
While both brands manufacture high complication watches, Patek Philippe has a reputation of throwing so many into a single watch that they were more than once awarded the coveted "World's Most-Complicated Watch" position. The Henry Graves Supercomplication pocket watch with 24 complications and the Patek Philippe Caliber 89 with 33 complications.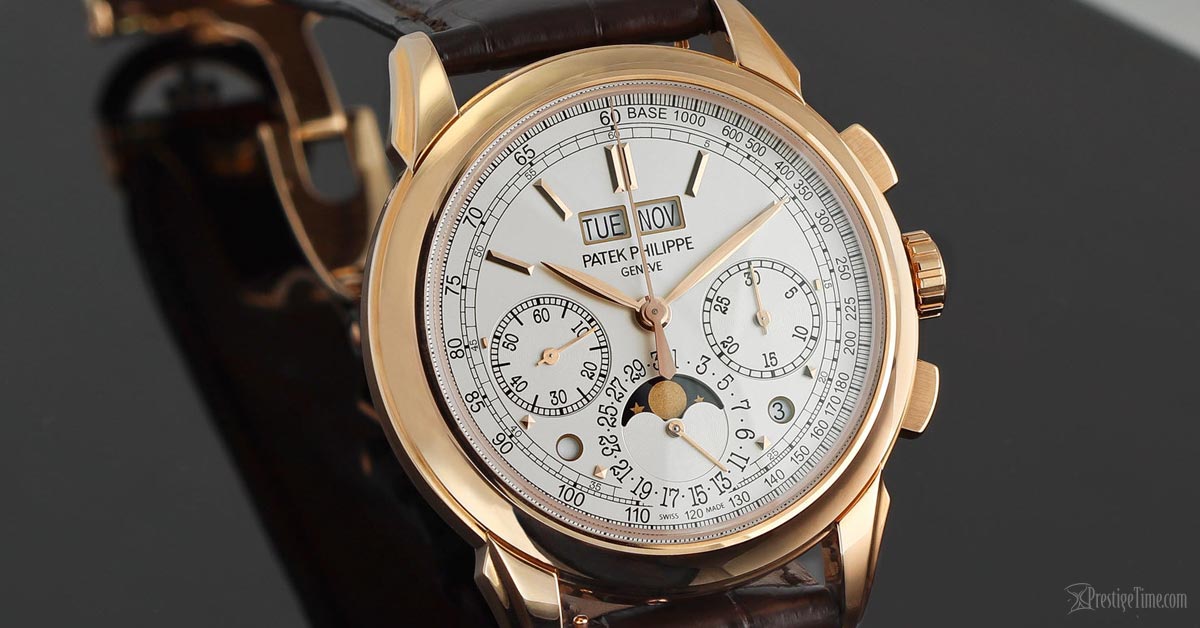 Resale Value
When it comes time to let go of a precious watch there are two brands that really hold a higher than average resale value. These are Rolex and Patek Philippe. IWC, on the other hand, is relatively average when it comes to maintaining its value for the preowned market.
Of course, this is not a rule that can be painted with a broad brush it depends on many variables such as the model of the watch itself, the documentation that is included, if it's still under the manufacturer's warranty, the condition that it is in and so on.  
This above-average resale value could have lots to do with marketing and the way Patek Philippe positions their brand in with their iconic slogan: "You never actually own a Patek Philippe. You merely look after it for the next generation."
Warranty
As of Nov 19th, 2019,  IWC announced that they will be extending the warranty period from 2 years to 8 years when registering IWC's international limited warranty online in the MY IWC program.  They also honor this extended warranty period on any watch bought within the past two years.
Patek Philippe, on the other hand, only has a two year warranty period and when you send your watch in for service, you get an additional two-year service warranty. 
Summary
If money were no object and if water-resistance is not that important to you Patek Philippe is, for the most part, the ideal choice for numerous reasons mentioned above. Of course, there are many IWC watches that are more costly than some Patek Philippe watches. There are also many IWC watches that are highly popular with watch collectors such as the IWC Pilot's watches.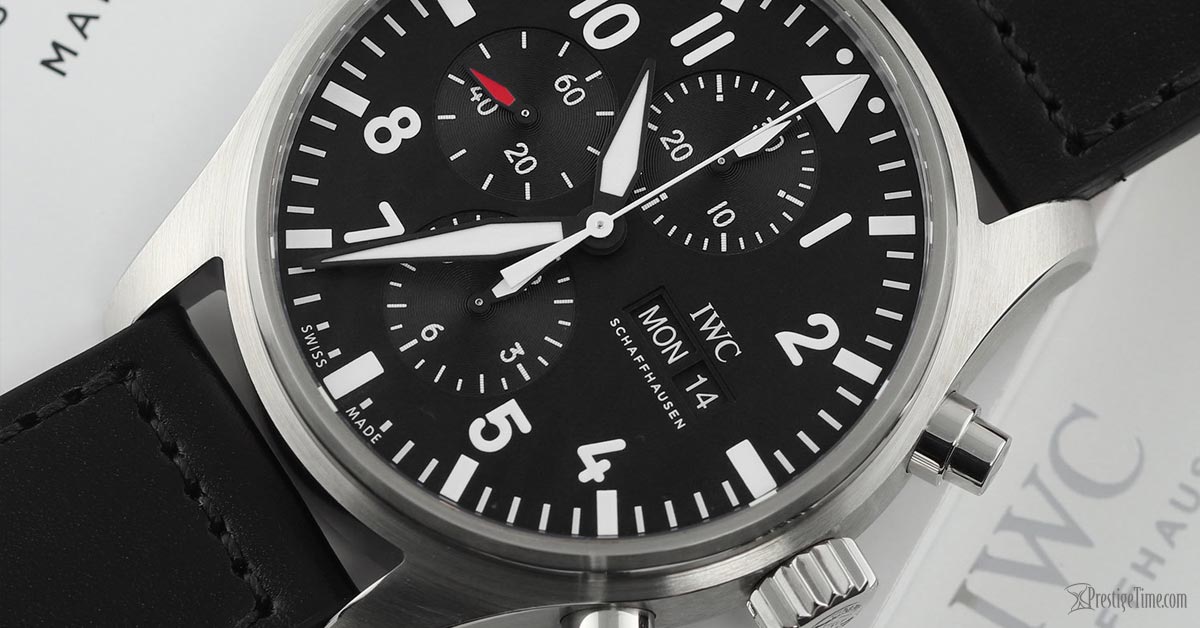 Patek Phillipe watches are usually a prized possession in a watch collection and often used as family heirlooms.  IWC watches have some outstanding watches and are considered to also be precious. They are a highly recognized brand in the watch industry but not to the same degree as Patek.
Patek Philippe is one-third of the Holy trinity comprised of three top brands and arguably the best of all three. They are both excellent brands and ideally choosing a watch should be based on the features it offers you. However, people tend to buy watches for different reasons. First, determine what is your motivation for buying a luxury watch then choose a brand that has the features you are looking for that meets your objectives. You can browse watches from either brand using the buttons below.