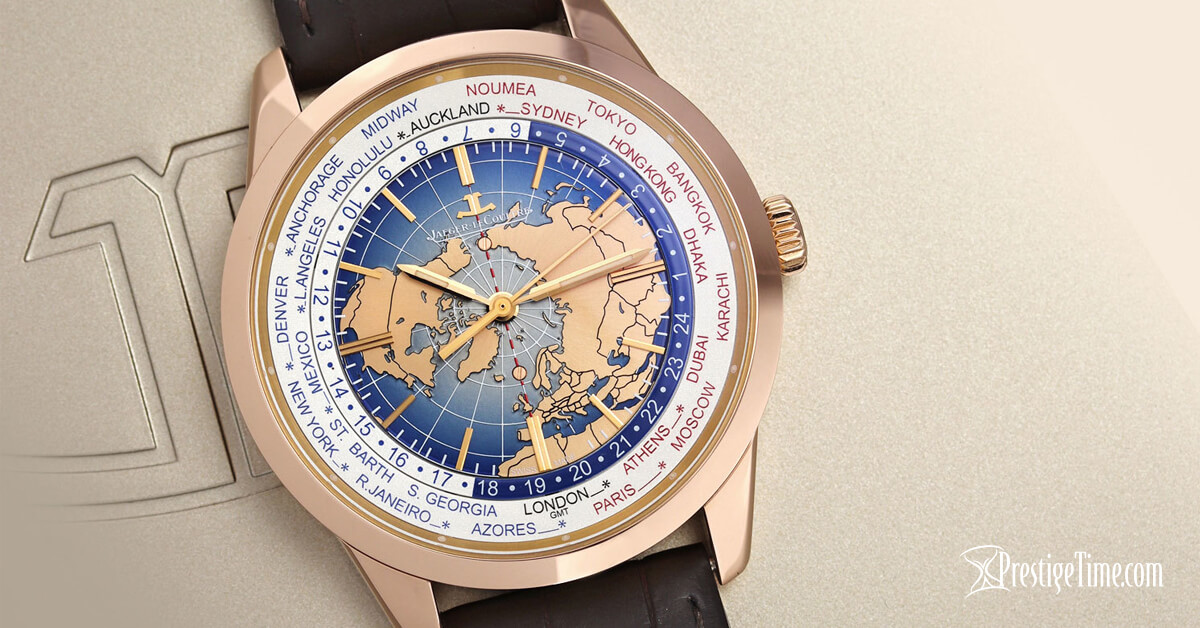 Jaeger LeCoultre Geophysic Universal Time Review
Today we will review a world-time watch from Jaeger-LeCoultre, a world-class Swiss watchmaker. Join us for this detailed review.
It's not often that I get to write a review on such a beautiful watch as this one (JLC Model #: 8102520) so I'm going to jump right to it. Most people associate a mechanical watch, especially a high-end Swiss watch with a sweeping seconds hand. This means that the second's hand moves gracefully around the dial without making any "pit stops" at every second. Traditionally this is how an automatic watch such as the one you are looking at would operate. It is usually the inexpensive battery-powered watches that have ticking seconds hands. 
There are exceptions to this when it comes to Swiss watches but they are few and far between. This watch is one of these exceptions. It is a mechanical watch that has a ticking seconds hand. In horology, this is known as a Dead Beat mechanism (not to be confused with a deadbeat watch that just doesn't work). This particular watch has a dedicated hairspring for the second's hand. The is positioned towards the middle of the movement and allows the watch to maintain its amplitude even though the ticking seconds require extra power to jump each second.
It takes a great watchmaker to change the nature of mechanical things to operate against the way they were meant to function. Jaeger LeCoultre is one of those few watchmakers that have no quarrels with thinking outside the box. Historically speaking they have designed and manufactured some of the world's most complicated mechanical watches. We once did a review with a video of one such watch a while back which can be read here.
The difference between the above watch and the one we are reviewing here is the movement. Whereas the watch depicted in the video above runs on the Jaeger-LeCoultre Caliber 770, the one we are reviewing here is powered by the JLC in-house caliber 772 which also uses the Gyrolab® balance which beats at 28,800 vph. This self-winding movement contains 36 jewels and is comprised of 274 parts and has a power reserve of approximately 40 hours.
The dial on this watch is probably the most distinctive feature of this watch. It is a world-time watch that will use a busier design than your standard JLC watch. Its striking blue globe on the dial has matte rose gold continents.
The hour markers are closer to the center than what you would see on a JLC watch. This is because the outer perimeter of the dial is reserved for the names of the major cities around the world which are printed in red and blue. This time zone ring features 24 cities and has them showing in two colors for a reason, the ones that are shown in blue are indicating that it is nighttime.
The rose gold hour and minute hands have luminous fill and unlike most watches, the hour hand, as well as the date, can be adjusted either forward or backward without damaging the movement. Jaeger LeCoultre is known for its rigorous testing and meticulous horological prowess. Each watch is put through its intense 1000 hour control test which lasts approximately 41 days. There is no other watchmaker that does this level of intense testing.