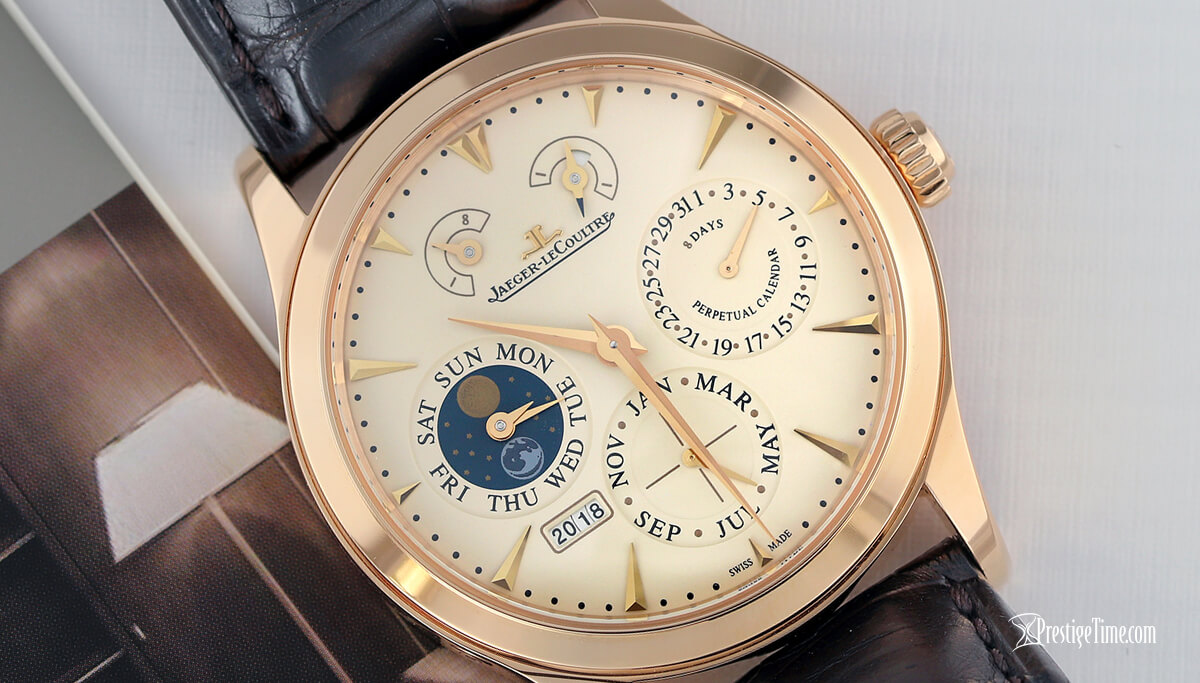 Jaeger LeCoultre Master Eight Days Perpetual Review
Let's have an up-close and personal look at yet another masterpiece by JLC.
Today we have the privilege of reviewing an absolutely beautiful high-complication masterpiece from Jaeger LeCoultre. This is a member of the JLC Master collection, a collection which gave birth to some of the most profoundly exceptional watches this watchmaker has made. Let's jump right in, shall we?
At only 40mm the polished 18kt rose gold case on this watch is less of a bold statement on the wrist and more of a stately watch for those that hold the belief of "less is more". However, this timepiece is far from looking like a minimalist watch which lives by that less is more rule. On the contrary...it is quite complicated, to say the least!
Water resistance is almost non-existent on this watch at 5 bar/50m. In fact, if I were you, I wouldn't as much as wash my hands whilst wearing such a masterpiece. It's just not that kind of watch. But getting dressed to the nines in a tux or a perhaps even a nice Zegna suit would do it justice.
DIAL
The dial is an off-white ivory-colored dial with a matte finish and has lots going on beneath the satin/polished rose gold dauphin-shaped hands. Three sub-dials a year aperture and two indicators to be specific. Juggling so many things in a design can be quite a challenge but the watchmakers, engineers, and designers at JLC clearly have a knack for creating balance and harmony out of what could easily be chaos.
COMPLICATIONS
Speaking of complications, let's expand on this subject. Not all complications are created equal. More so too when you combine many of them. While this is not the world's most complicated watch, it would be classified as a high-complication watch. The combination of a perpetual calendar, Moon phase, Power reserve indicator and AM/PM indicator is responsible for that. The kind of horological talent that separates the men from the boys in terms of watchmaking know-how.
PERPETUAL CALENDAR
If this is the first perpetual calendar watch you are considering there is one most important thing you need to be very careful about. That would be knowing when it is safe to set the calendar on this watch. With high-complication perpetual calendar watches such as these, you can properly destroy the movement if you set the perpetual calendar at the wrong time of the day (between 9 PM and 3 AM). However, once properly set and if you keep the watch tightly wound, you can expect it to display the correct date uninterruptedly until the year 2100 and never have to correct it more than once every 122 years!
Elements of this complication are spread out evenly across the entire dial. The day of the month is located on a sub-register on the right side of the watch at the 3 o'clock position. The month itself is located on a sub-dial at the 6 o'clock position with the year appearing in an aperture just to its left between the 7 and 8 o'clock position and finally the day of the week at the 9 o'clock position indicated by the long hand that extends past the moon phase window.
AM/PM INDICATOR
JLC implemented yet ANOTHER complication which is embedded in the Day-Night Indicator by way of a small window. When it is RED, the archetypical color which means STOP and therefore means don't attempt to set the calendar right now. When this window is clear you are good to go.
MOON PHASE
At the 9 o'clock position you can see the moon phase complication contained within the center of the day of the week sub-dial.
POWER RESERVE INDICATOR
You can see the power reserve indicator at the 11 o'clock position and shows how much power is left in the twin barrels. It is recommended that you keep your watch tightly wound for maximum efficiency. Though there are those that will let it all but run-out completely before winding it again by hand, you should get into the habit of winding it back up by the time it reaches the halfway point to be safe and ensure precision.
GOOD ADVICE
Remember, this is not an automatic/self-wing watch and it, therefore, won't recharge itself via a rotor while you wear it. It is, therefore, good practice to make a conscious effort to fully wind it every few days.
ACCURACY & PRECISION
Just like all their watches, the JLC Master Eight Days Perpetual endures the same rigorous 1000-hour control test which puts the watch through all sorts of stressful situations to see how well the movements can handle it. This control test is the most intense one on earth…or any other planet, for that matter.
MOVEMENT
The Jaeger-LeCoultre caliber 876-440b is a 4Hz/28,800VpH hand-wound movement decorated with a patented hand-finished "côtes soleillées", a radial sunburst finish, and "perlage", a small circular brushed pattern finish. This combination causes the plates to refract light and shimmer in the most delightful way. Furthermore, the movement's bridges and plates are held together with a series of blued steel screws and are punctuated with jewels. This 37-jewel 876-440b contains two "hearts" the twin barrels allow provide a remarkable power reserve duration lasting up to 8 days on a single wind.
CONCLUSION
This is not your average run-of-the-mill watch. JLC is known as one of the most innovative and respected names in the business and it's not marketing hype. They are just that good at what they do. Many even argue that they should be added to the Holy-Trinity and make it a foursome just for their ingenuity. In fact, they were once the coveted creators of the most complicated watch in the world before two other members of the 'Big 3' out-complicated them. All that said, you will certainly draw the attention of watch aficionados and collectors the world over wearing one of these.
Pricing:
The full list price for about $32,700 but you can save 15% off the price of one of these by getting a new, unworn one here.
Another option is to get a pre-owned one in excellent, 90% + new condition which is still under the manufacturer's warranty and includes all original boxes and papers for substantially less.