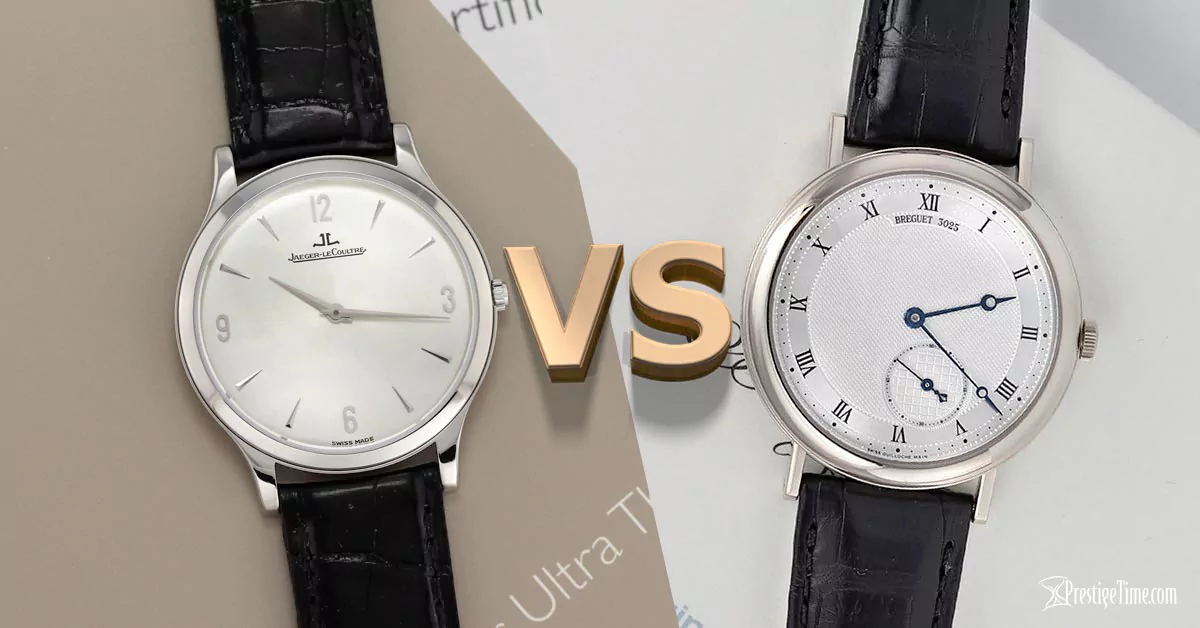 Jaeger LeCoultre VS Breguet
Let's compare two brands that are some of the most favored by horologists and watch aficionados. 
"Should I buy a Jaeger LeCoultre or a Breguet watch?" This question often arises in the minds of someone shopping for a high-end luxury watch from a prestigious brand. Especially someone who really knows their watches. "Is JLC better than Breguet?" is asked more frequently that you would think. Let's analyze both brands from many levels and try to answer these popular questions in a thorough comparison and detailed review of both brands.
Let's start by noting that when someone asks these questions, it takes understanding the context of the question before providing an answer. For one person's needs and lifestyle, a Jaeger LeCoultre is a better watch and for another, a Breguet is a better watch. How to determine which is better for you takes a bit of digging.
Some people are looking for a watch that can one day become a nice family heirloom. For others, they are looking for a great diving watch or a sports watch. Some are looking for a dressy watch with impressive horological complications, while others are looking for something from a nice respected brand but affordably priced. We will, therefore, compare these two brands in the following contexts:
Popularity  |  Prestige  |  Craftsmanship  & Horology  |  Price  |  Resale Value  |  Selection  |  Warranty
Popularity
Both Breguet and Jaeger LeCoultre are very popular brands with watch enthusiasts and collectors. Breguet is a more brand according to Interbrand, a brand valuation consultancy that ranks many brands from different countries. Of the top 50 most valuable Swiss brands, Breguet is ranked at #25 and JLC is ranked at #36. These brands include all sorts of companies but in terms of Swiss watch brands, Breguet is the 6th most popular Swiss watch brand and Jaeger LeCoultre is the 12th.
According to a recent report, Breguet has a brand value of around 1 billion CHF (Swiss francs) and Jaeger LeCoultre has a brand value of 673 Million CHF.
*Source: Most Valuable Swiss Brands by Interbrand.
Prestige
There are a few major conglomerates that for the most part, take up the overall luxury watch market. JLC and Breguet belong to different conglomerates. Swatch Group is the larger of these conglomerates and owns over a dozen popular watch brands and Breguet is the flagship prestigious brand under The Swatch Group umbrella. Breguet is the older brand and was founded in 1775 compared to Jaeger LeCoultre (circa 1833) and is in an ultra-luxury tier.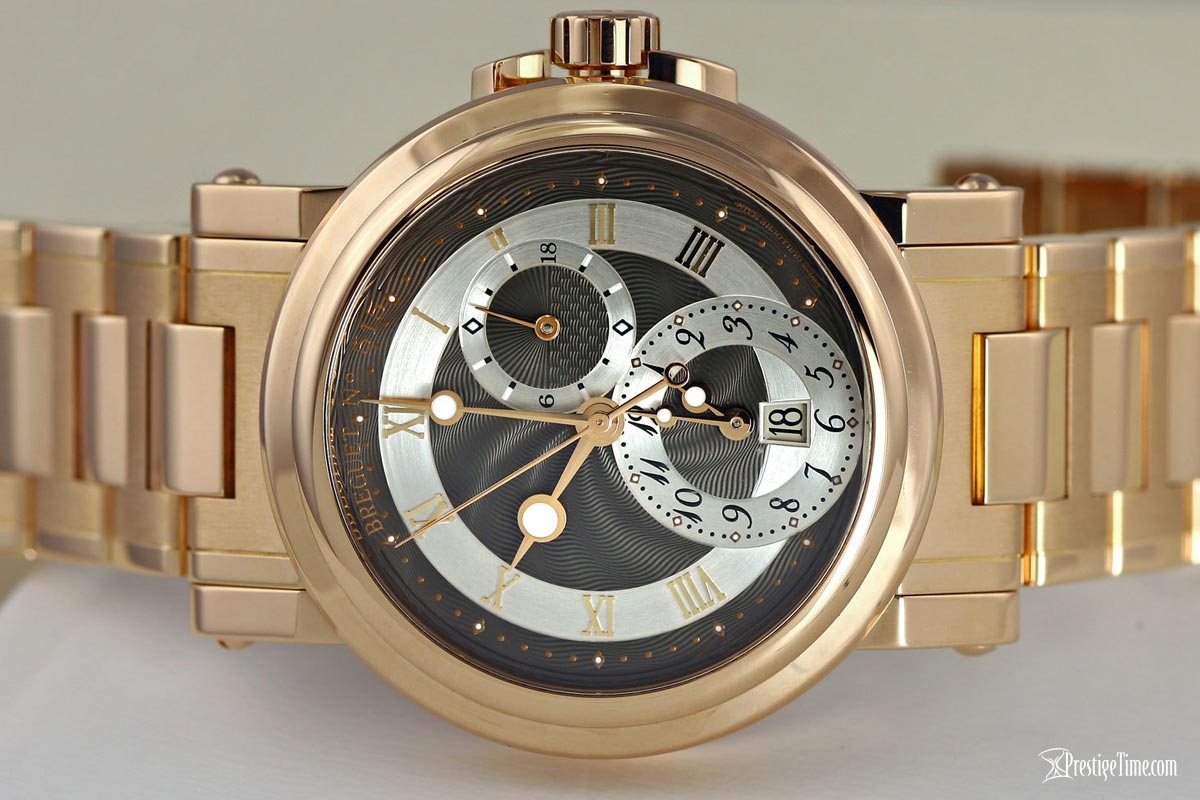 Jaeger LeCoultre is a luxury watch brand and belongs to the Richmont group. JLC shares its parent company with several other prestigious brands such as Vacheron Constantin (a top tier brand which is one of the big three), A Lange & Sohne (an ultra-luxury brand like Breguet), IWC, Cartier, and a few other highly respected, high horology brands.
Craftsmanship & Horology
Both brands offer incredible craftsmanship and have things about them that makes each of them unique. Breguet is known for implementing a coined edge design on their cases and this is a very distinguishing feature but it's what goes on inside their watches which is even more impressive.
Watches such as the Classique Complications 3795, their Double Tourbillon 5347, and of course, the Marie-Antoinette No. 1160 are clear signs of their horological prowess. The company's founder, Abraham Louis Breguet is credited with inventing the Tourbillon complication in 1975. This is one of the most fascinating mechanical complications in a high-end watch and is found in many of their timepieces.
Jaeger LeCoultre is a different type of company with possibly a more colorful history. JLC has supplied many high-end luxury watch brands with their calibers and can produce every component of their watches in-house.
Jaeger LeCoultre also holds many super high complication watches under their belt such as those found in their Hybris Mechanica collection. Some watches include the Master Ultra-Thin Minute Repeater Flying Tourbillon. Another example is the Duomètre Sphérotourbillon with flyback seconds, twin power reserves, dual time zones, Master Grande Tradition Gyrotourbillon Westminster Perpetuel which has a perpetual calendar with a gyrotourbillon.
JLC is also known for having possibly the most rigorous testing in the business with its 1000 hour control which tests for longer than any other brand.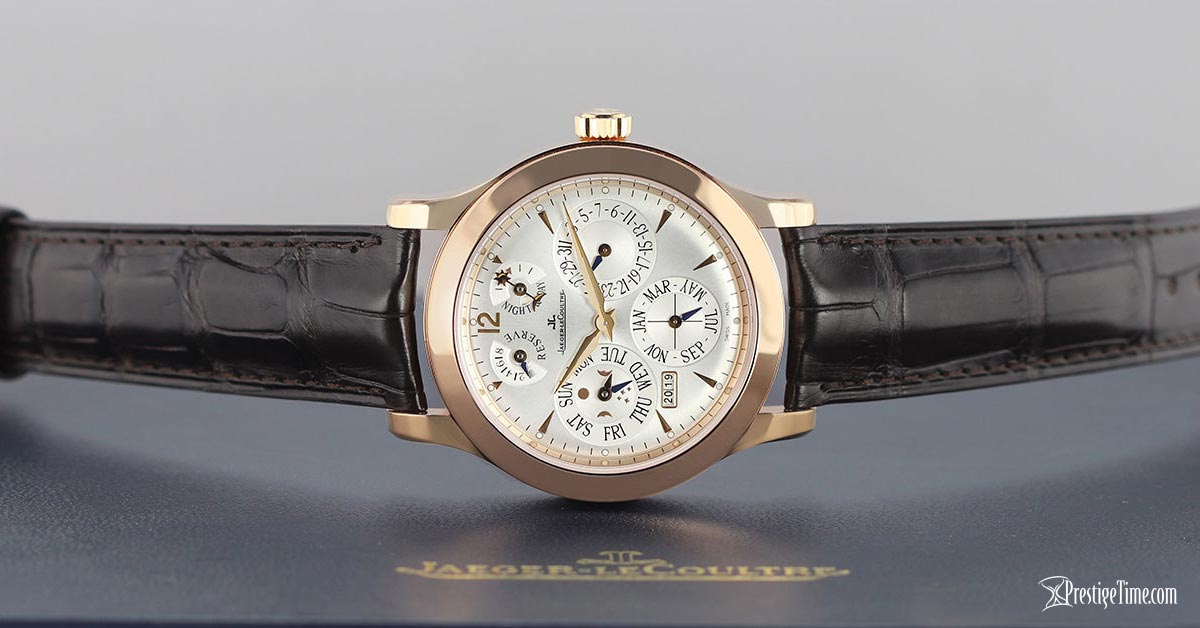 Price
Breguet and JLC are both high-end watches. Breguet is the more prestigious of the two brands and therefore has a higher price point for an entry-level watch. Slightly more than double what an entry-level JLC watch would cost. It's also important to note that while most JLC watches are mechanical watches, these entry-level JLC watches I just mentioned are in fact ladies' quartz watches and not mechanical. A full-size mechanical JLC watch would be about two thirds the price of an entry-level Breguet watch.
Resale Value
When it comes time to sell your watch you will be surprised that it's like most consumer products in the sense that as soon as you use it, it already lost a significant amount of its value. There are only a few brands that have a strong average resale value and those are typically Rolex and Patek Philippe. Of course, this rule is not set in stone and there will always be certain watches from each brand that will have a higher resale value than other watches.
These resell values depend on many variables such as supply and demand, rarity, condition, the model number itself, if it's a limited edition or not, if it comes with all original documents, if it was serviced by the factory or not, if it's still under warranty and many more. As you can see it's not so black and white.
A good and practical rule for any watch purchase is to not look at it as an investment. If someone asked me: "What is a better investment a Jaeger LeCoultre or a Breguet watch?" I would answer: "Real estate or a mutual fund". A watch is categorically not an investment it's a luxury item. It does hold a certain amount of its tangible value but it's not an asset that typically appreciates nor does it provide quarterly dividends like some stocks and in most cases will not appreciate. The few that do are few and far between and trying to predict which models will appreciate or not is a gamble.
Warranty
Every Breguet watch comes with a 2-year warranty and straight out of the box, Jaeger-Lecoultre also offers a two-year warranty on their watches. However, when you register your new JLC watch with Jaeger LeCoultre online, they will extend the two-year warranty by another 6 years! You'll have to take a few extra steps but you receive up to an 8-year warranty period when you register with the Jaeger LeCoultre Care Program. There are of course certain conditions attached such as the watch has to be still covered under their international limited warranty at the time of registration, but it's well worth it.
Selection
Both brands have nice selections of watches for both men and women. Breguet has a slightly larger selection than JLC. Many of Jaeger LeCoultre's watches belong to their iconic Reverso collection which has a unique rectangular shape and are reversible.
Jaeger LeCoultre Collections
Breguet Collections