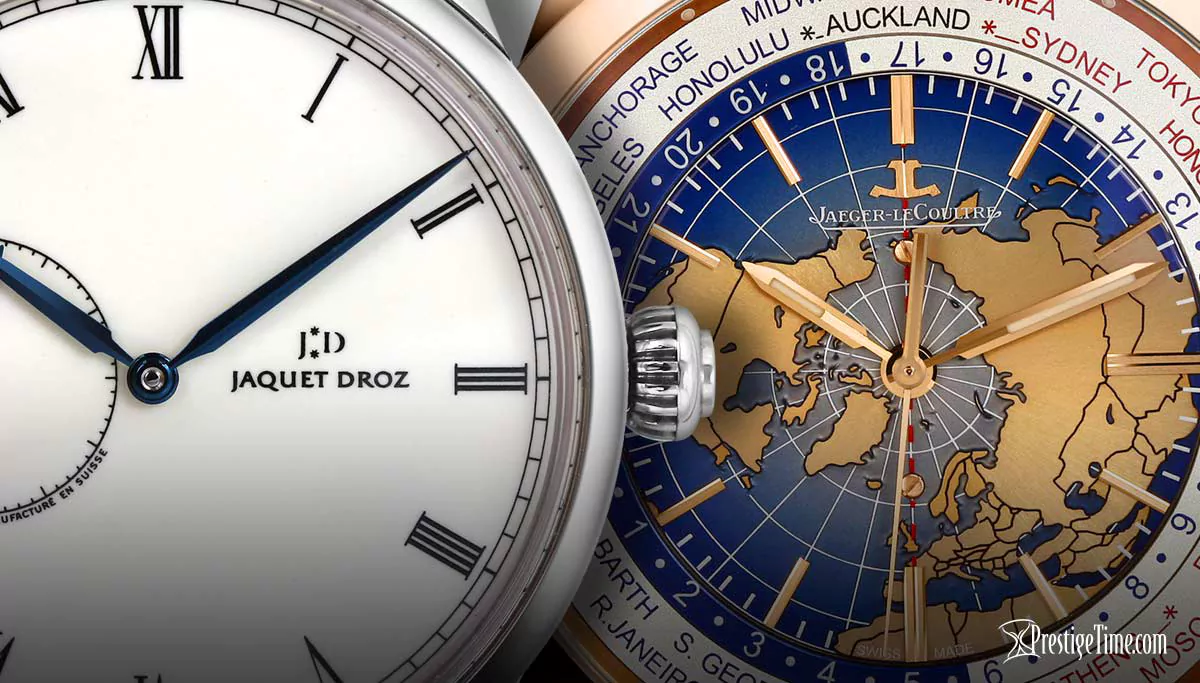 Jaeger LeCoultre VS Jaquet Droz Review & Comparison
Time to compare Jaeger LeCoultre; two highly skilled watchmakers, to determine which of these two brands are best for you.
Which is Best?
This question can literally mean all sorts of things depending on from which angle the question is being asked. The context will determine the correct way to answer this question so let's answer each of them, shall we?
"Is a Jaeger-LeCoultre a good watch?"
To answer, it helps to know who JLC actually is in the industry. Read a bit about them and you decide.
JLC (as they are affectionately known) has a long history in Swiss watchmaking and has played an integral role in the overall industry. Considered to be one of the top luxury watch brands in the world, Jaeger LeCoultre brought numerous innovations to the traditional art of watchmaking.  Some of the things you can thank JLC for include: a winding system that no longer requires winding keys (Antoine LeCoultre) a steel pinion cutting machine, numerous tools including many which enabled watchmakers to maker smaller and smaller parts. The miniaturization of these components opened doors for watchmakers to make countless horological innovations over the past century.
LeCoultre & Cie. was unique in the sense that they were a one-stop shop where watches were made entirely in-house at a time when almost every watchmaker was buying this and that's from various manufacturers. Few had the machinery, the skills, the know-how to do it all themselves. Jaeger-LeCoultre is responsible for creating hundreds of inventions which include over 1,200 different mechanical calibers and holds close to 400 registered patents.
"Is a Jaquet-Droz a good watch?"
To answer, it helps to know who Jaquet-Droz really is. Here's a bit about them. You be the judge!
Jaquet-Droz was famous for its ingenuity in the late 18th century. In 2018 they celebrated their 280th year. Pierre Jaquet-Droz and his prodigal son Henri-Louis created what was considered at the time to be some of the most mechanically advanced creations known to man.
Many of their creations were, in fact, horological masterpieces complete with automatons while others were tools that allowed for the miniaturization of components opening doors for watchmakers to create smaller watches with scaled-down parts. The father and son duo was also famous for creating high-jewelry masterpieces which were embellished with artistic enamel artwork.
These works of art not only exhibited the masterful craftsmanship of these mechanical geniuses but their artistic skills working with enamel a usually very difficult medium with which to paint since the baking of the enamel during its production comes with a high probability of ruining the artwork.
Most recently Jaquet-Droz has been focused on creating high-end mechanical luxury watches that include micro automata on the dial such as the Jaquet-Droz Lady 8 Flower, the Charming Bird, and of course, their Bird Repeater from their Automata series. It's as if this watchmaker found a niche within another niche where two worlds of micro-mechanics overlap.
Jaquet Droz VS Jaeger LeCoultre - Which brand is better?
Do you mean in terms of watchmaking skill and mechanical superiority? Or, perhaps, do you mean in terms of fame and recognition as a brand. JLC is the 36th most recognized Swiss brand in the world. This makes it the 13th most well-known Swiss Watch Brand. Both are very respected watchmakers although Jaeger LeCoultre is a more widely recognized brand. In terms of mechanical skills and contributions to the age-old tradition of watchmaking, However, Jaeger LeCoultre doesn't create any Automata on their watches so You have to ask yourself which mechanical skill is more impressive to you. 
Average resale value and international brand recognition often go hand in hand and between these two watchmakers, it would appear that Jaeger LeCoultre has the upper hand. That's not to say that they always make better watches than Jaquet-Droz. Both brands actually have several watches that truly make them unique. Much of the value is dependent on just how the market and the public perceive them.
Should you buy a Jaeger LeCoultre or a Jaquet Droz watch?
That depends entirely on you. There may be several things about each brand that you truly like. The things that you should consider before purchasing a watch from either of these two brands are:
Will this watch be an investment that you intend to pass on to the next generation?
Or is it a gift for someone in the here and now?
Is brand recognition important to the one who will wear this watch?
Are you are looking for a high complication watch?
FAMOUS WATCHES BY JAEGER-LECOULTRE
The Reverso watches were originally invented for people playing polo who wanted to wear their wristwatches but at the same time, protect them from getting banged up during a match. JLC invented a reversible watch that allowed the case to be flipped over and covered by its carrier which would tuck away the crystal protecting the dial. Since inventing the Reverso, Jaeger LeCoultre has ramped up production and now offers many different Reverso watches for men and women.
The JLC Geophysics was originally designed for the scientific community doing research in Antarctica to be a tool watch with anti-magnetic properties and many praiseworthy features. There are few that truly appreciate the ingenuity of a deadbeat mechanism the way I do. Most people would look at a ticking watch and say "So? What's the big deal?".  Obviously, if we were discussing quartz watches then that would be considered normal behavior for a watch. However, we're not. We're talking about mechanical watches that are ticking when they are supposed to have sweeping second hands.
Jaeger-LeCoultre invented the very first mechanical alarm watch that was also self-winding. This watch was known as the Memovox and is another example of the innovation that JLC brought to the industry.
If you want to call yourself a master watchmaker, you need to really know your chops and there is no other way to prove that you got what it takes without making a few complicated watches (watches with high complications). Some fine examples would be the Master Gyrotourbillon, the JLC Reverso Gyrotourbillon 2, or even the Master Grande Tradition Grande Complication. In fact, Jaeger-LeCoultre created one of the most complicated watches in history so validating their watchmaking expertise at this point is considered old news to most collectors and watch enthusiasts.
While Jaeger-LeCoultre Atmos Clocks aren't considered to be watches per se, they are still impressive pieces of high-horology worth mentioning. This clock runs on energy generated by changes in temperature and atmospheric pressure (hence the name). Atmos clocks are practically perpetually self-powered and more importantly, they are incredibly accurate. It would take about 3820 years for a JLC Atmos clock to be off by a single day.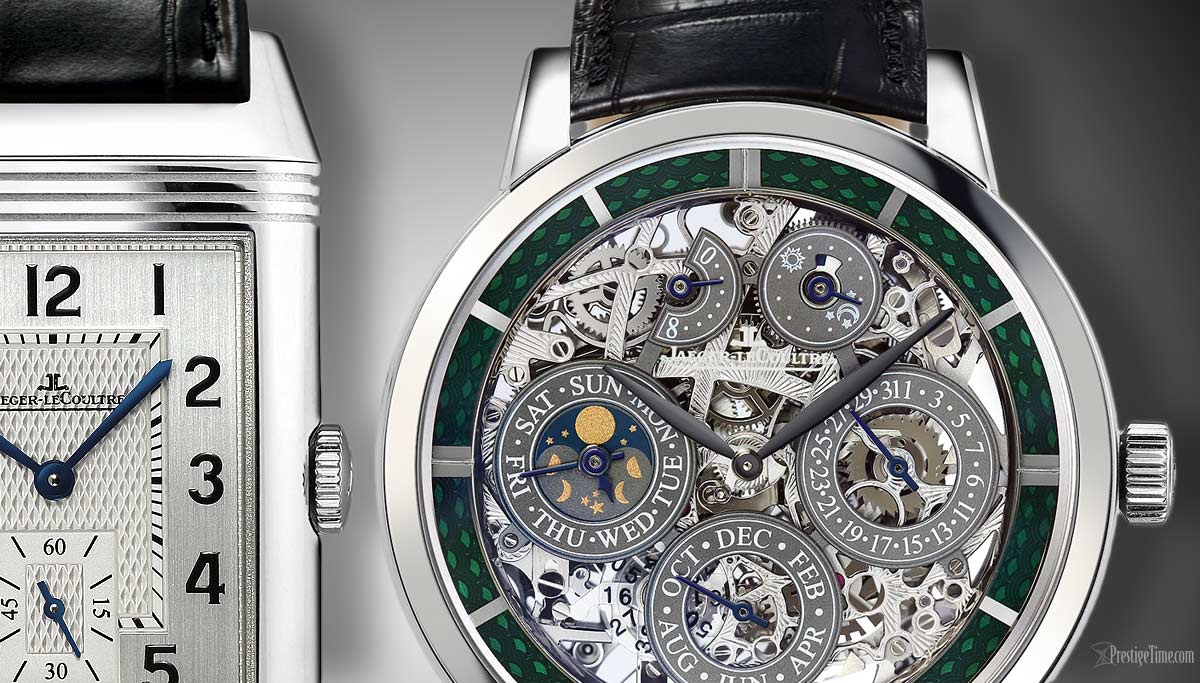 FAMOUS WATCHES BY JAQUET-DROZ
The Grande Seconde collection is possibly where you can find the most popular Jaquet-Droz watches (most probably because they have the most classic look to them). However, recently the Grande Seconde Skelet-One is making some waves in a series that usually looks more conservative in terms of design.
The Lady 8 was a favorite the moment it hit stores with its easy-to-spot figure-eight-shaped case. The new Lady 8 Petite is (you guessed it) a smaller version of its predecessor and has a trendy double wrapping strap following trends on other popular luxury watches for ladies such as the BVLGARI Serpenti and the Hermes Kelly. It's not when a watch can be artistic, expertly crafted, and trendy at the same time.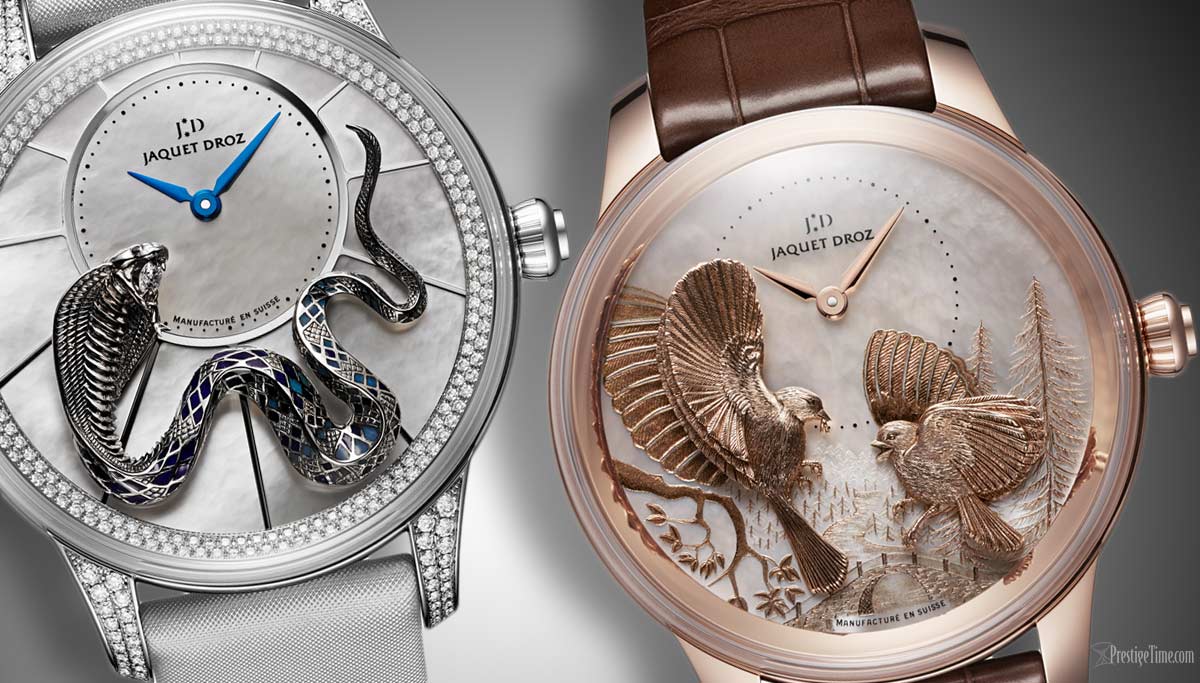 The Jaquet Droz Astrale collection showcases horological complexity while keeping the timepieces elegant with the use of clean lines. A good example would be the Perpetual Calendar Eclipse which features the following complications: Phase de Lune (Moon phase), Quantième Perpétuel (Perpetual Calendar), Leap Year Indicator, and Rétrograde (Retrograde) all the while keeping the dial clean and classy without looking busy whatsoever.
If the nomenclature of this collection didn't give it away, this is an exquisitely artful collection, to say the least. Jaquet Droz Les Ateliers D'art features many creatively designed watches which showcase the many skills used in crafting Jaquet Droz watches such as hand engraved relief art, hand-painted enamel backgrounds, and more. This collection features many watches that feature automata (animated automatons) such as THE CHARMING BIRD and THE BIRD REPEATER.