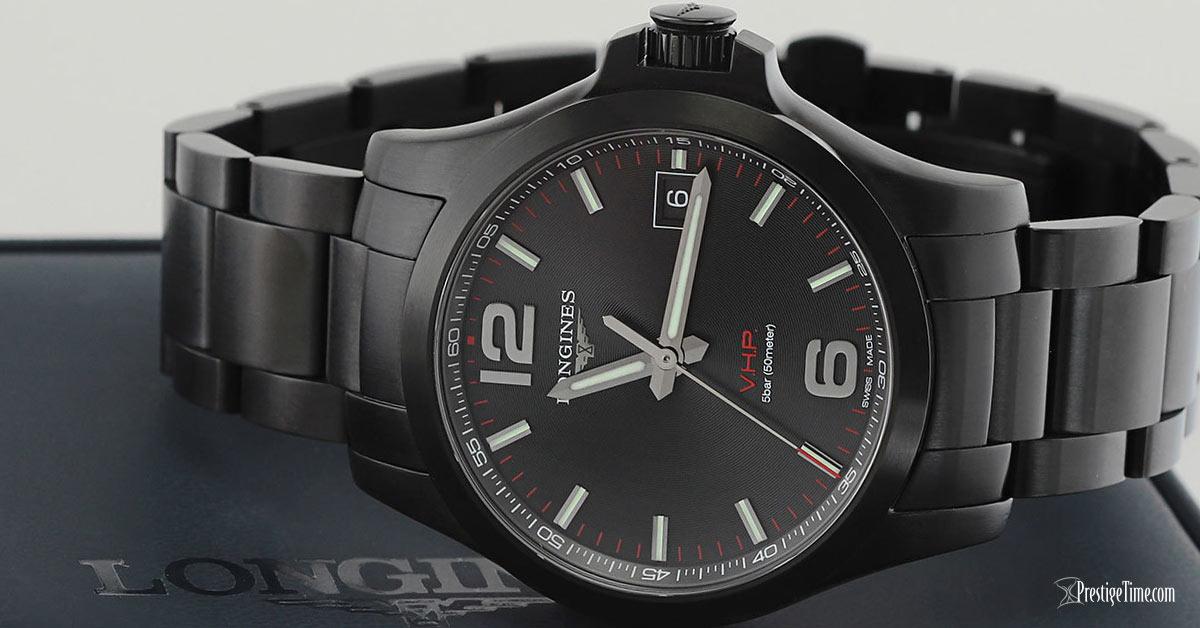 Longines Conquest VHP Review
One of the things watch buffs hate hearing is how a quartz watch is more accurate but how does a basic quartz caliber compare to the Longines V.H.P?
Let's face it. Mechanical watches will never be as accurate as their less expensive quartz counterparts but not all quartz movements are created either. Let's see how the Longines V.H.P. stands up against your average quartz caliber.
Firstly, for those wondering "What the heck does VHP stand for?" It stands for 'very high precision'. This should be a good indication of where this article and review is headed. Exactly how precise is it?...very highly precise!
Originally all watches were mechanical and had a set frequency that they were tuned to in order to regulate the speed of the gears in the movement. This frequency was measured in either the number of vibrations per hour (VPH) or Hertz (Hz). When battery-powered watches were introduced, they incorporated a new watchmaking technology that used a battery and a quartz crystal. The battery would send a small electric charge to the crystal causing it to vibrate and help regulate the frequency of the watch. Quartz is known to vibrate at a very high rate and resonates very steadily compared to traditional watches. A Hi-beat (high frequency) traditional watch can resonate between 5 Hz (36,000 VPH) and 18 Hz (172,800 VPH) depending on the make and model.
A Quartz crystal, on the other hand, vibrates at 32,768 Hz. Again, that's Hertz, not VPH. That would literally translate to 235,929,600 VPH.
This can be compared to a Bugatti supercar leaving a low-cost sedan in its dust on the highway, except that the quartz movements were the ones selling at the lower price. And the difference in speed is more comparable to a rocket, or rather, a light-speed spaceship. The speed of the above example using a car can be said about the accuracy when comparing it to the speed of the oscillation or vibration. That said, some battery-powered movements have been made even more accurate than others and today we are going to highlight one very special quartz watch known as the Longines Conquest VHP 41mm. Let's look at how watches are measured for accuracy and see how both a regular quartz movement will stand and then show the difference when compared to the Longines Conquest VHP.
How accurate are Longines watches? In traditional watchmaking, mechanical watches are measured for accuracy using a metric of +/- a certain number of seconds per day. This means a deviation of a certain number of seconds per day. The plus sign meaning it's running fast and the minus sign meaning it's running slow. Some lucky high precision mechanical watches have a deviation of time of about -4/+6 seconds per day and these often get a special designation from a third-party lab known as COSC for superior accuracy and this designation is known as a Chronometer. Many Longines watches are COSC certified Chronometers. However, a basic quartz movement will have a deviation of around +/- 15 seconds per month that around 180 seconds per year. An interesting example of a hybrid between these two types of calibers is a Grand Seiko watch with the Automatic Spring Drive feature which also uses quartz with an integrated circuit. However, it is accurate but not necessarily considered a quartz-powered timepiece per se.
According to COSC, who also certifies certain HAQ (high accuracy quartz) movements for a prestigious COSC certified Quartz Chronometer designation, at an average daytime temperature of 23 degrees Celsius or 73.4 Fahrenheit, a Quartz Chronometer can expect a deviation rate of ± 0.07 seconds per day which translates to about 25.55 seconds per year. Most quartz watches these days are not high precision quartz chronometers. Breitling produces quite a few of them but they get blown away in terms of precision by the Longines Conquest V.H.P. which has super high precision and accuracy of ± 5 seconds per year! Again, that's per year, not per day, or per month. Full stop.
How does Longines VHP work?
Longines created and implemented numerous technologies that are used in tandem to achieve the level of accuracy that can be expected from the Longines VHP.
Magnetic Detection & Correction
There are two sensors built into the watch that are designed to detect magnetic fields. When the watch detects magnetism, it will stop the movement right away and resets the hands when the magnetic field is no longer detected.
Gear Position Detection System
There is a system built into the movement called the GPD system that constantly recalls the last position that the hands were in. 
If ever the watch had an impact or was to experience a shock it will immediately reset the hands to the position they were in right before the shock or impact was detected.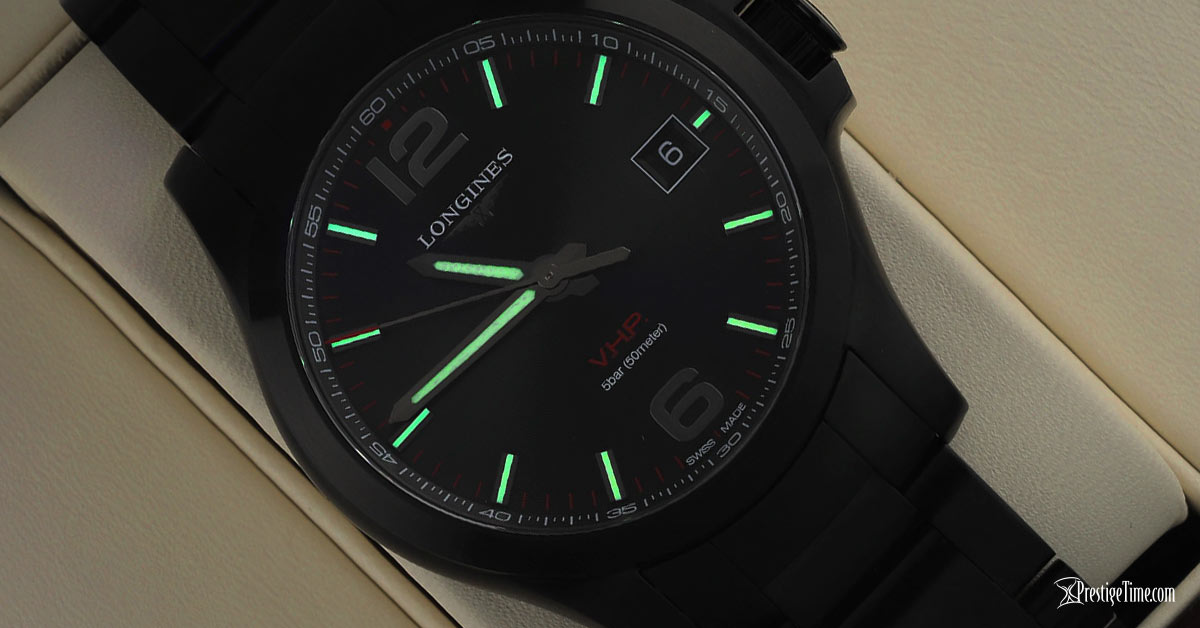 The new Longines Conquest VHP watch is available with either a stainless steel case or a Black PVD-coated stainless steel case and has a dial with luminous hour markers, hour and minutes hand, and features a date window on the right side of the dial at the 3 o'clock position. The case offers some water resistance but the 5 bar/50m/150ft water resistance rating is nothing to really write home about. It's not a diving watch so it's not expected to have tremendous water resistance. Maybe that will be a feature that they will work on for future models. For now, it's good enough to stay on your wrist for some light poolside swimming at most.
Another feature that this watch has is an EOL (end of life) battery indicator. If you change the battery within six months of the EOL activating it will reset all the functions accordingly and resume telling very precise time as usual. However, if the battery was only changed after six months it will need to be sent to a Longines service center to have the battery replaced.
A perpetual calendar that automatically accounts for odd and even months is built into this watch and won't have to be corrected for a few hundred years. Additionally, there is a smart crown that allows you to advance the hour hand in one-hour increments by making a quick turn of the crown. If you turn the crown slower it will allow you to make adjustments to the minutes.
Additionally, the price of this low compared to most Longines watches. Luckily they made it affordable and you can find a new Longines Conquest VHP selling for a starting price of under $1,000. The VHP comes in several sizes and some come with a variety of features. You can find different sizes and features in this collection: 
36mm    |   41mm   |   43mm   |   42mm Chronograph   |   44mm Chronograph   |   41mm GMT   |   43mm GMT
Or use the button below to browse the whole collection.