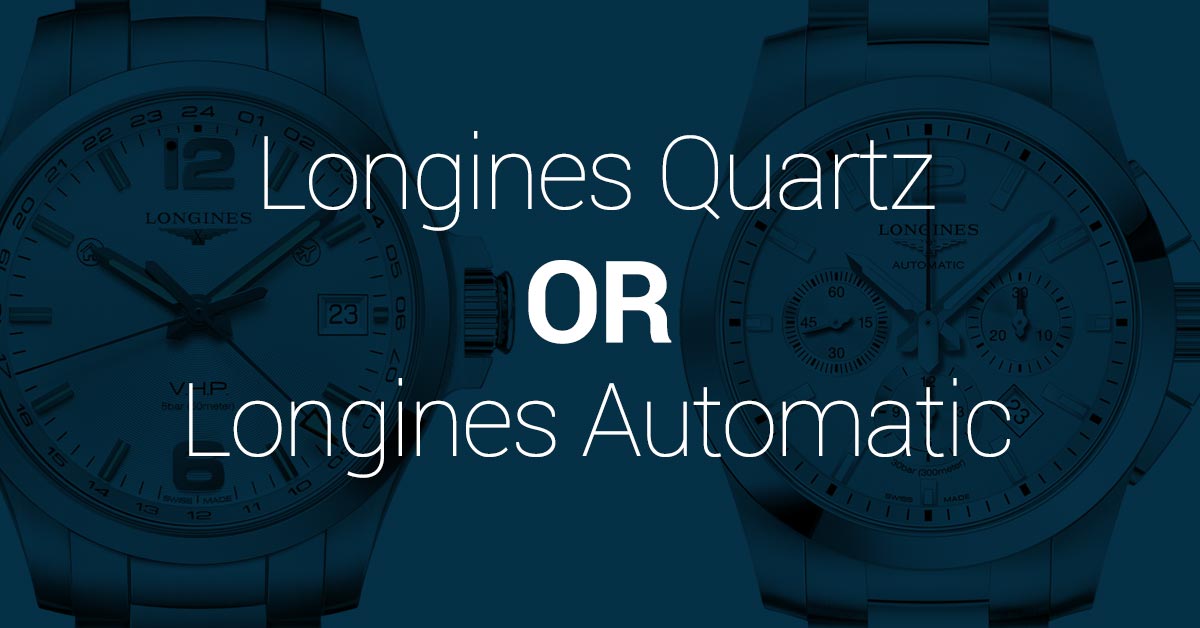 Longines Quartz VS Automatic: Which should you get?
Should you get a Quartz or an Automatic model? What are the differences?
There are so many collections of Longines watches that offer both quartz models as well as automatic models. Some are pricier than others. For the uninitiated in the world of watches, it can be a bit of a conundrum to choose one that best suits your desires and your personal needs without certain information about the difference between a battery-powered quartz caliber and an automatic movement.
Today we will explain and compare the differences between Longines quartz watches and Longines Automatic (also known as self-winding) watches. Let's begin, shall we?
In order to determine which of these two types of watches is best for you, we should discuss what it is that makes them different from one another.  The difference between automatic watches and quartz watches is in the movement; the engine, so to speak, the caliber that is making the parts in the watch come to life. Let's begin with Longines Quartz watches.
Quartz movements use a battery. The battery sends a small electrical charge to a quartz crystal which causes the quartz to oscillate at a very high frequency. The vibrational rate of this particular frequency is mathematically consistent with very accurate timekeeping. The exact frequency is 32,768 Hz or 32.768 Khz. Quartz powered watch movements became really popular in the 1970s after literally hundreds of years of all watches being completely mechanically powered.
Automatic watches, also known as self-winding watches, are powered differently than quartz watches. In fact, all mechanical watches such as self-winding and manual-wind watches use tightly wound springs as a power source. Imagine the tension you experience when pulling out a tape measure, it causes the tape to snap back to the closed position. It's that same type of spring tension that powers a mechanical watch. Here is a great explanation of the most common questions about automatic watches.
Unlike manual wind watches, self-winding watches or automatic timepieces have an added feature that involves a rotor that is attached to the movement. The rotor spins as you move about creating kinetic energy and in doing so, keeps the spring in the watch movement tightly wound throughout the day.
Horological purists tend to lean towards mechanical watches such as manual or self-winding watches since they still employ the age-old watchmaking traditions that have fascinated many through the centuries. They are more labor-intensive to create and require more creativity in engineering.
A quartz movement can be built for a couple of dollars whereas a quality mechanical movement would be in a whole other price bracket. This is also typically reflected in the price of any Longines watch when there is both an automatic and a quartz version available. In almost every case, the quartz model will be more affordably priced.
Does that mean that Swiss quartz watches aren't as good at telling time as an automatic? Ironically, no. Quite the contrary! In terms of actual precision, quartz-powered Longines watches are even more accurate than the most expensive mechanical watches, including automatic watches from higher-priced and prestigious upper market brands.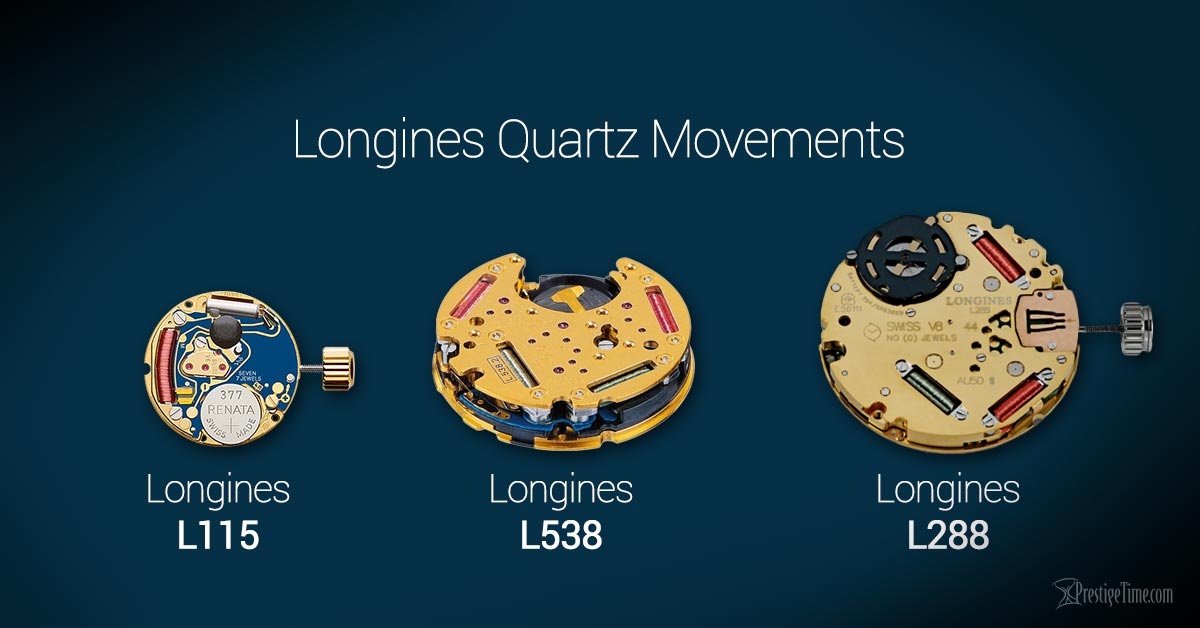 Are some Longines quartz watches better than others?
Just as not all mechanical movements are created equal, so too, not all quartz movements are equal either. Longines has an excellent example of how a watchmaker can drastically improve a quartz watch.
The Longines Conquest collection is an impressive collection of popular Longines watches. Within the Conquest collection, there are a few automatic models and many quartz models. The Longines Conquest automatic watches are at the higher end of the price range within this collection and while that is expected of a mechanical self-winding version of the Longines Conquest V.H.P. sits at a price of only about a hundred dollars less for the higher end Conquest VHP models.
Why is the Longines Conquest V.H.P. getting an honorable mention?
V.H.P. stands for 'very high precision'. While all quartz watches have very high precision when compared to their mechanical counterparts, the V.H.P. goes above and beyond with a thermo-compensated quartz movement that offers an accuracy of +5/-5 seconds in deviation per year. Just for the sake of creating a benchmark for this comparison: the most accurate Rolex is tested and regulated for accuracy of +2/-2 seconds per day whereas the Longines Conquest VHP is only off by 5 seconds per year. You can browse through them using this link.
Are you asking yourself: "Should I buy a Longines Quartz or Automatic watch?"
If so, you want to first think of what it is that you appreciate about watches altogether. For some, a watch is just a timekeeping device. If precision is of utmost importance to you, then a quartz watch is probably more suitable for your individual needs. If you want to watch the mechanical movement in action through a sapphire case back, then you won't likely find that feature on a quartz watch.
For many others, a timepiece just a fashion accessory and nothing more than that. Therefore, looking good on the wrist is the top priority, and keeping time isn't always of the essence. For these types of people, they can be happy with either an automatic watch or a quartz watch provided they feel good wearing it.
For Swiss watch enthusiasts who have developed a taste and appreciation for the mechanical aspect of watchmaking, there is an admiration for the craftsmanship and ingenuity involved in creating these precious watches. Ultimately, you need to discover for yourself what is motivating you to buy a watch in the first place. If it's the Longines brand of watches that excites you, check out our detailed Longines Review. 
Of course, there are many more reasons to buy a watch other than the above mentioned. Some people are looking for a dive watch with excellent water resistance and don't care if it's a battery-powered or mechanical dive watch. Some are looking for a nice watch to become a family heirloom one day. There are many more motivating factors and you need to really ask yourself: "Why am I really considering the purchase of this specific watch?".