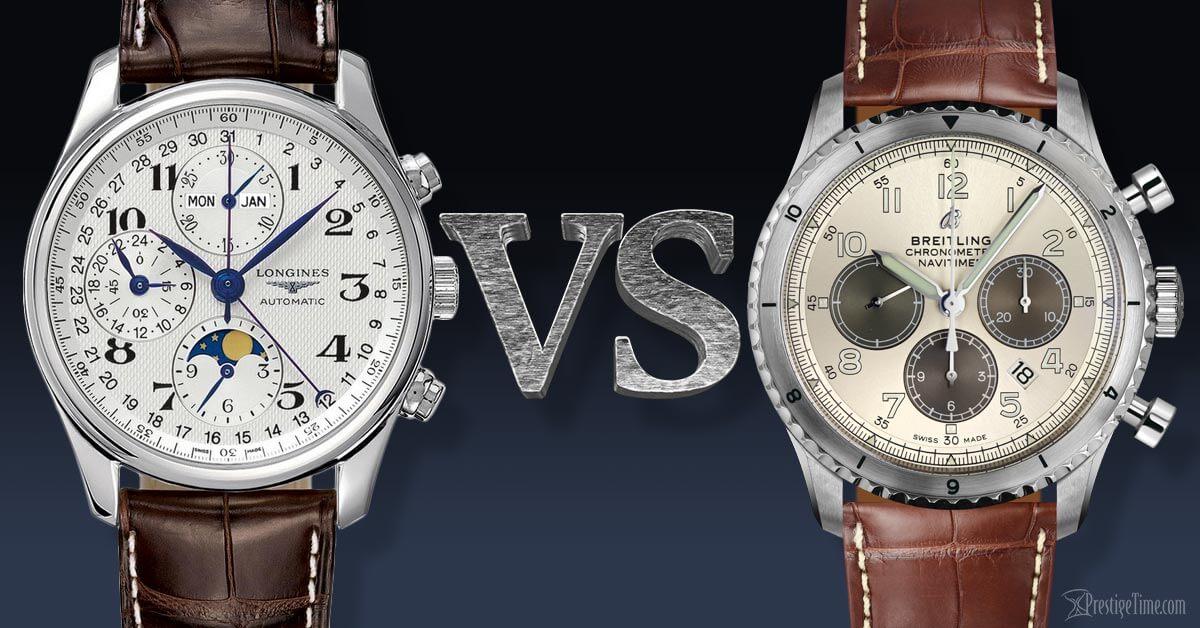 Longines VS Breitling: Which is Best For You?
Today we will compare two famous swiss watch brands Longines and Breitling to help you determine which is best for you. Read our Longines VS Breitling comparison to find out more.
 Today we will benchmark Breitling VS Longines to see how they compare on different levels such as:
History | Brand Recognition| Craftsmanship & Horology | Price & Retail Value | Warranty | Resale Value
Let's open this comparison with a brief history of both brands to get a good sense of where they are coming from and where they are today.
History
Longines
Longines has something unique about them. They have been in the business for what seems like forever, yet they have never left their hometown and since 1832, still operate out of St-Imier, Switzerland. Longines is the first watch brand that ever had an official logo as a registered trademark and by 1867 they became more industrialized and started mass-producing watches in their first factory.
Many famous names embraced the Longines brand over the years such as Audrey Hepburn, Humphrey Bogart and, Kate Winslet, and many others. Longines is now owned by a conglomerate called the Swatch Group.
Breitling
Breitling, also from St-Imier, is about 52 years younger compared to Longines and was established in 1884.  Their watches are known to be precise, practical, and often innovative, especially for aviators. Breitling used to source their movements from mainstream caliber suppliers such as ETA and Valjoux but since 2009 they produce some great in-house mechanical calibers too.
Breitling has a long list of famous people who wear their watches. This list includes astronaut Buzz Aldrin, actors Bruce Willis, Tom Cruise, Jerry Seinfeld, Harrison Ford, John Travolta, musicians Miles Davis and Usher, NHL hockey legend Wayne Gretzky, and MLB baseball icon Cal Ripken Jr, to name just a few. Breitling is now owned by a private equity firm called CVC Capital Partners.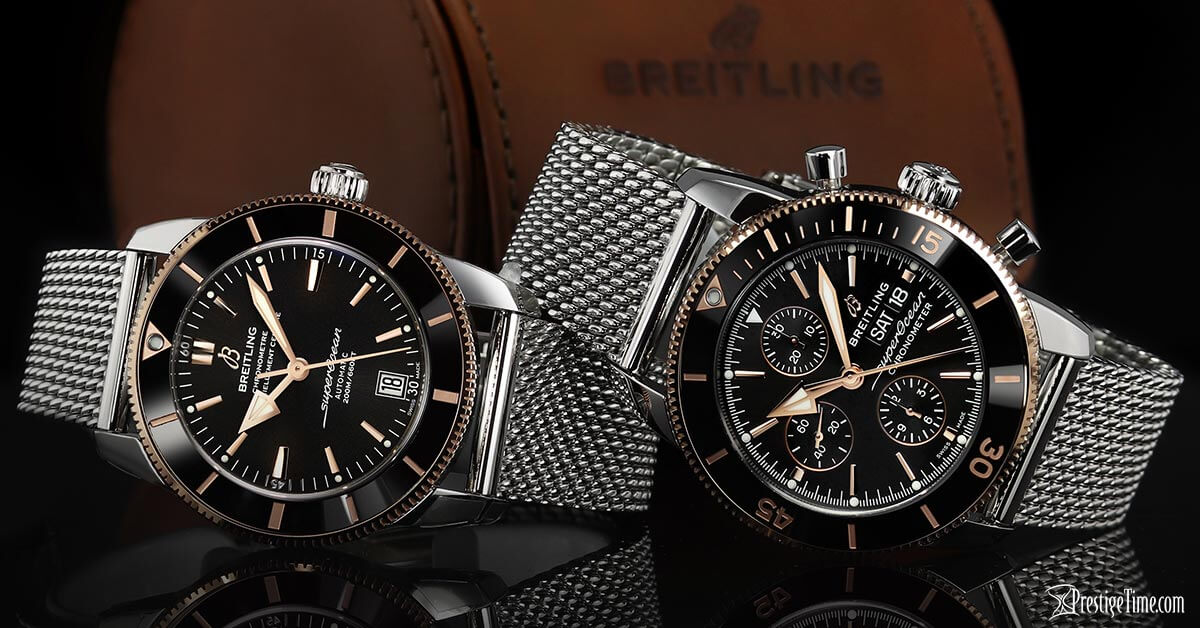 Brand Recognition
Longines is the 24th most recognizable Swiss brand in the world and the 5th most recognizable Swiss watch brand in the world. According to a recent study by Interbrand* (a brand valuation agency), Longines has an estimated brand value of 1,089 Billion CHF (Swiss Francs).
Breitling is the 15th most recognizable Swiss watch brand in the world. Their estimated brand value is 359 Million CHF*. Is Breitling a major watch brand? Absolutely! Very major in fact, but most people will recall the Longines brand more than Breitling.
Sources & Citations: [1] See Interbrand 2016 Swiss brand report at https://www.rankingthebrands.com/PDF/Interbrand Best Swiss Brands 2016.pdf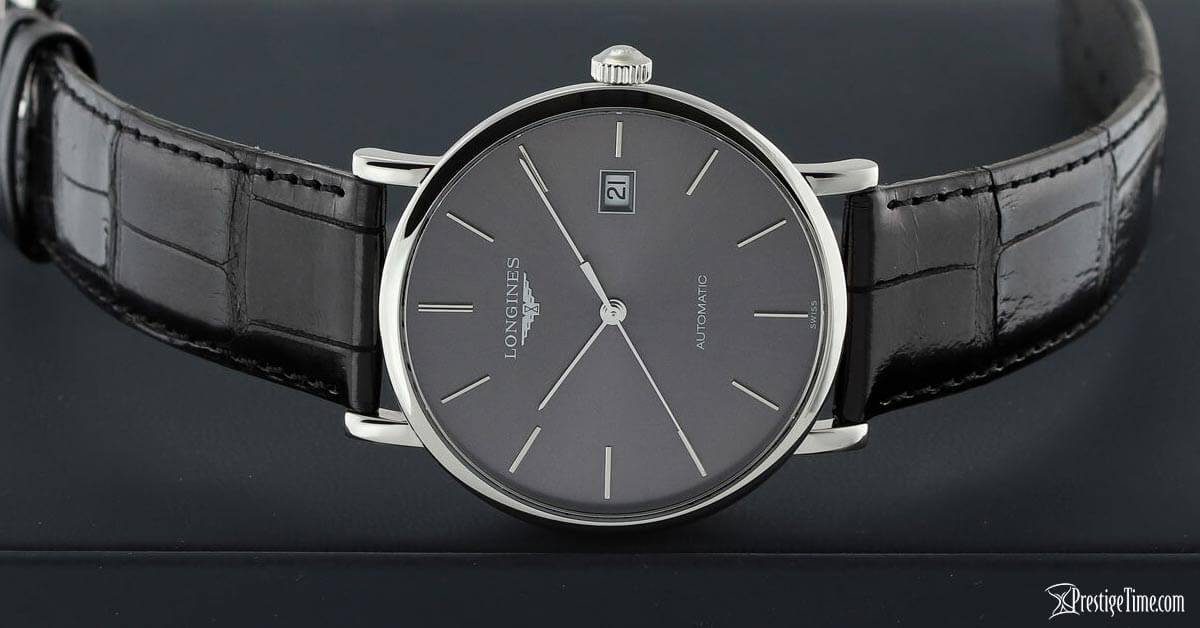 Craftsmanship & Horology
Longines and Breitling differ somewhat when it comes to craftsmanship. The build on the average Breitling watch feels tougher and more durable than the average Longines.  The mechanical Longines watches will almost always come with a transparent sapphire case back allowing you to see the finished mechanical movement. Longines manufactures some Very High Precision quartz watches in their Conquest series known as the Conquest V.H.P.
While Longines watches are considered elegant and sophisticated, Breitling watches have a more solid and sporty look and will often come with a solid case back instead of a transparent case back. This is not because their movements aren't beautiful to behold. They most certainly are nicely finished and aesthetically pleasing to the eye. Additionally, Longines has a nice amount of watches that feature a very classic and vintage look, which can be great if you're looking for a watch like that.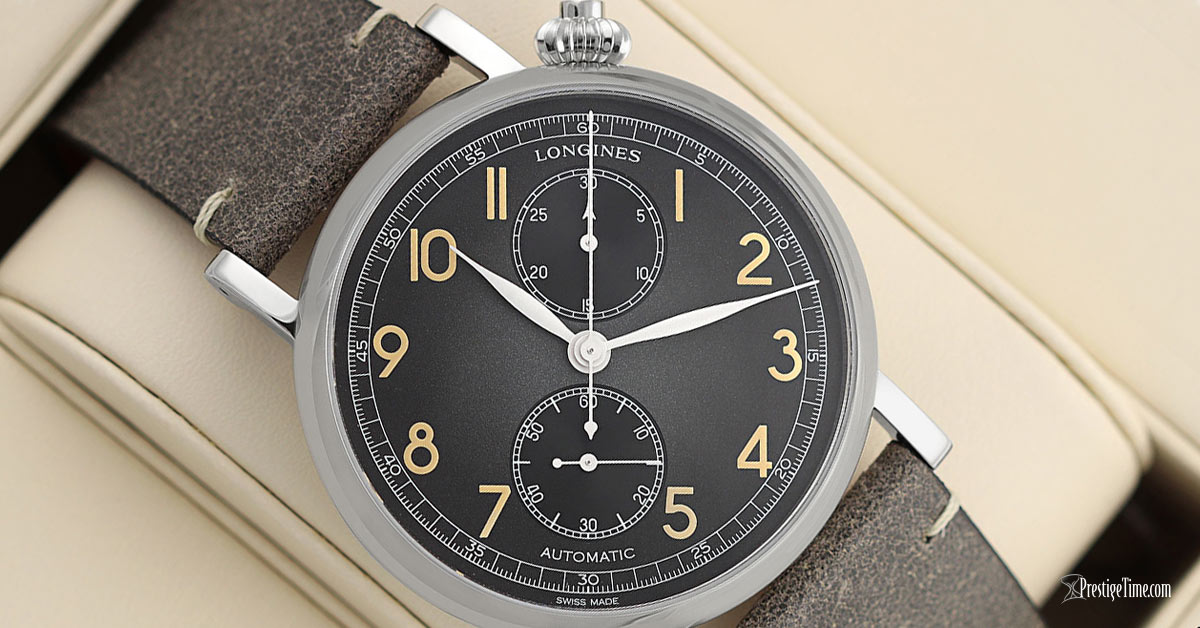 Breitling has some innovative movements and proprietary features such as the World Time complication. Breitling has made some great innovations to the Chronograph complication. They invented the two independent pushers that we see on most chronographs today and in 1969, introduced the first automatic (self-winding) chronograph watch.
Furthermore, Breitling watches are almost always COSC certified chronometers that attest to their high precision. Even their electronic quartz watches are about ten times more accurate than their quartz equivalents and COSC certified. A cut above which is why they call them Superquartz.
While both Longines and Breitling manufacture sporty and dressy watches, Breitling tends to lean towards the tool watches for professionals, especially in the aviation industry. Longines tends to lean towards the dressier models. Many watch enthusiasts would venture to say that Breitling is a step or two above Longines. Breitling may be a slightly less recognized brand to the average consumer, however, Breitling watches, on average, are considered a more high-end brand in higher demand. They are often compared with the likes of Omega in terms of quality and craftsmanship.
Price and Retail Value
Longines is certainly the more affordable brand. When it comes to buying an entry-level Longines watch, you can pick up a men's Longines Conquest Quartz watch at full list price for under $1000. Breitling on the other hand is significantly more and you are looking to pay upwards of $3500 at full retail value for the cheapest Breitling watch.
Of course, there will be a difference in the type of watch you would be receiving at this level. The cheapest Longines watch is a quartz model (which is battery powered). The cheapest Breitling watch would be a mechanical timepiece known as the Chronomat Colt Automatic, which is a self-winding watch running on gears and springs. Typically watch enthusiasts lean towards mechanical watches since there is a certain esoteric mystic in how they operate.
On the other end of the price range, you will find some of the most expensive Breitling watches that retail for hundreds of thousands of dollars such as the Breitling Bentley Flying B which costs over $250,000. These are usually made in very limited quantities such as model # J28362 which is limited to 50 pieces worldwide. Most of the extremely high-end Breitling models such as these would be found in the Breitling for Bentley collection.
Even the most expensive Longines watches have price tags in the low 5 figures, which is still considered an expensive watch for the average layman. It's just not anywhere near the same price point as the most expensive Breitling watches.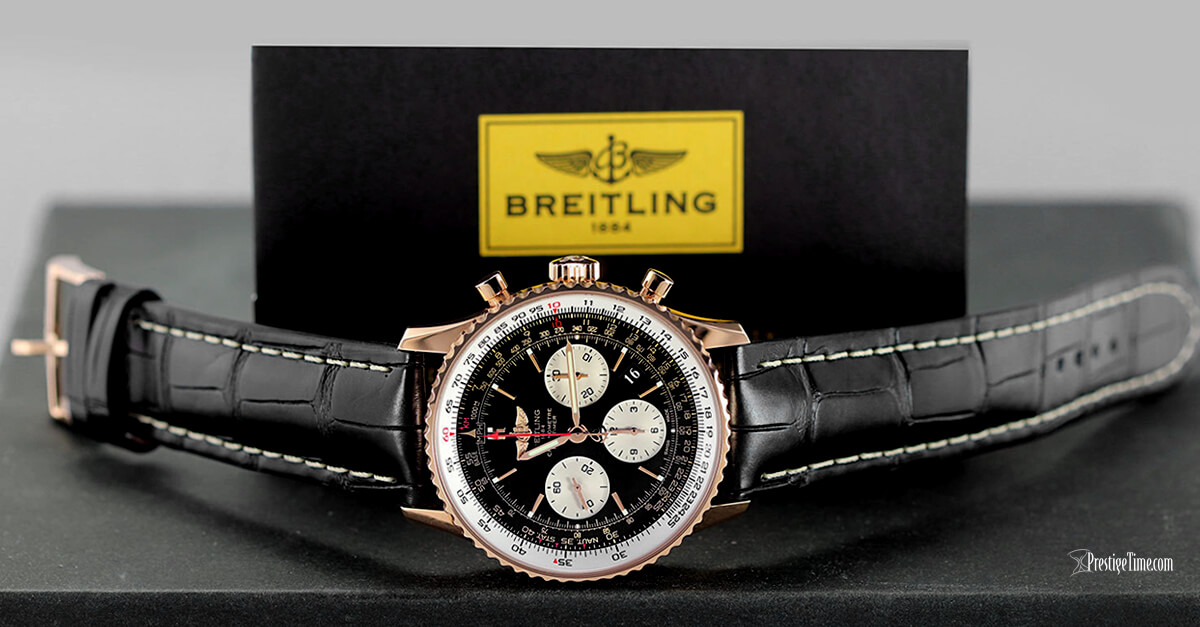 You can find discounts online for both Longines watches and Breitling watches by shopping on sites like PrestigeTime.com. Some models can even be found on sale at 50% off the retail price or more. Use the buttons below if you would like to browse each of these brands.
Warranty
Longines watches have a 2-year warranty which will cover any manufacturing defects and or battery replacement. However, damage caused by things such as putting the watch into underwater conditions that exceed the water resistance rating, or things like physical shock, the crystal getting damaged, or even typical wear and tear would not be covered by the manufacturer's warranty. Basically, make sure to take proper care of all your precious watches.
Breitling has a 5-year warranty which covers the same as the above. Breitling extended its warranty to 5 years about one year after Rolex began offering a 5-year period on their watches. More and more luxury watchmakers have been offering extended warranty periods as of late. However, the average warranty is still around 2 years for most watchmakers.
Resale Value
People don't often buy an item with the intention of selling it. However, we will get asked questions like: "Do Longines watches hold their value?" and "Do Breitling watches hold their value?", so clearly there are some people who are very forward-thinking when purchasing a high-ticket item. Let's answer them, shall we?
Most watches don't hold their value very well and are certainly not made to appreciate in value over time. The rare occasions when they do increase in value are too few and too far in between to look at watches as any form of investment. Like a car, the moment you use it for the first time, the watch depreciates in value. There are few exceptions to this such as certain watches that are extremely rare or very limited editions. It all boils down to supply and demand. 
That said, there are certain brands that will retain a higher percentage of their value compared to other brands. The two brands worth mentioning are Rolex and Patek Philippe. Breitling and Longines will both lose some of its value once used. However, Breitling watches will typically hold a little more of their original value when compared to Longines because of their high demand in the USA.