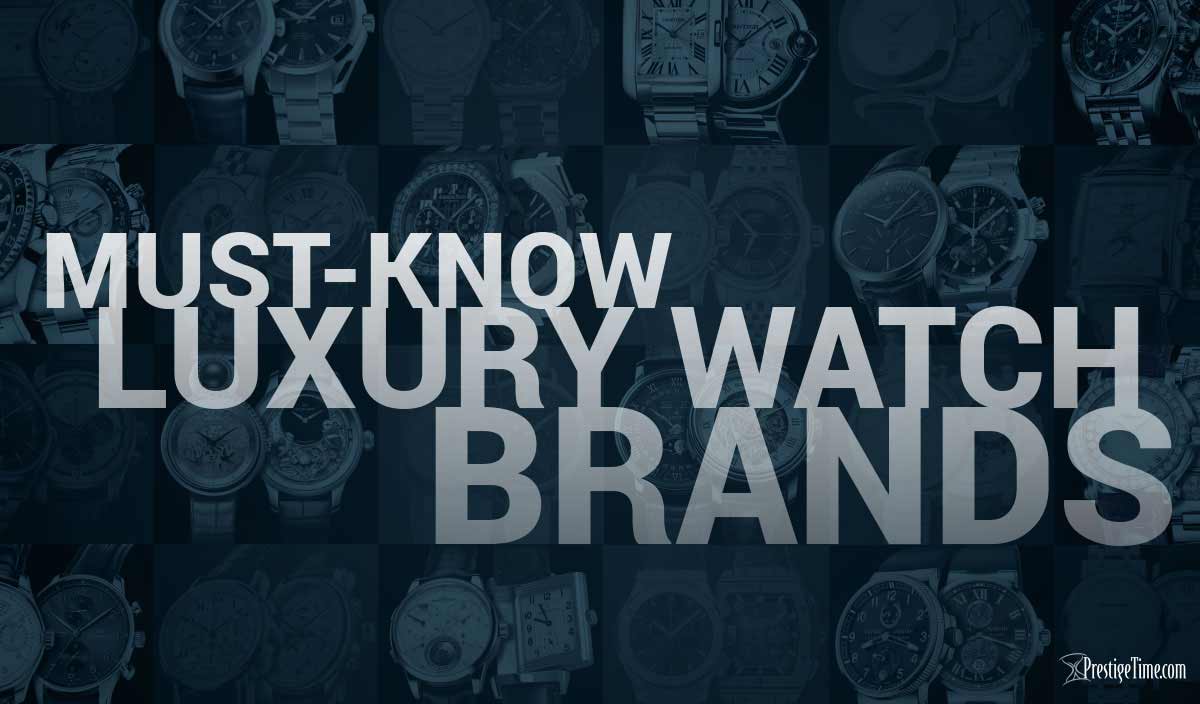 Must-Know Luxury Watch Brands
Watch collectors and enthusiasts are always showing off their knowledge of the various luxury watchmakers they've come to know but not all are created equal. What are good watch brands? Here's a top 10 list for you to discuss.
We're listing only the top-shelf brands here along with some stunning pictures. This includes the best watch brands known as the "holy trinity" which is comprised of Patek Philippe, Audemars Piguet & Vacheron Constantin as well as many other luxury watchmakers such as Jaeger-LeCoultre (JLC ), Blancpain, Ulysse Nardin, Rolex, Jaquet Droz, and more. Although this is a very comprehensive list, it is not in any particular order,  though we may harp on the holy trinity watches a bit for obvious reasons. Every last one mentioned here is an excellent watchmaker worth considering if you're starting a collection or just curious. What is the number 1 watch brand? 
Known for inventing the very first wristwatch, Patek Philippe & Co has become a top watchmaker and is one of the most sought-after in the world. Everyone would agree that it would be a disservice to make a top 10 list and not mention this watchmaker. Patek Philippe is one of the 3 Holy Trinity Watchmakers. Some of their most popular models include the Nautilus, Aquanaut, World Time, Twenty-4, Calatrava, and more. In addition to their many popular models, Patek Philippe was commissioned to create some of the world's most complicated watches for many high-profile individuals such as James Ward Packard, and Henry Graves. The Graves Supercomplication, one of the most exclusive watches ever made was sold for an astounding $11,000,000 USD in 1999 at a New York auction and featured 24 complications that took 8 years to research and create. Many consider them to be the best watch brand in the world and this is why they were listed first in our top 10 luxury watch brands.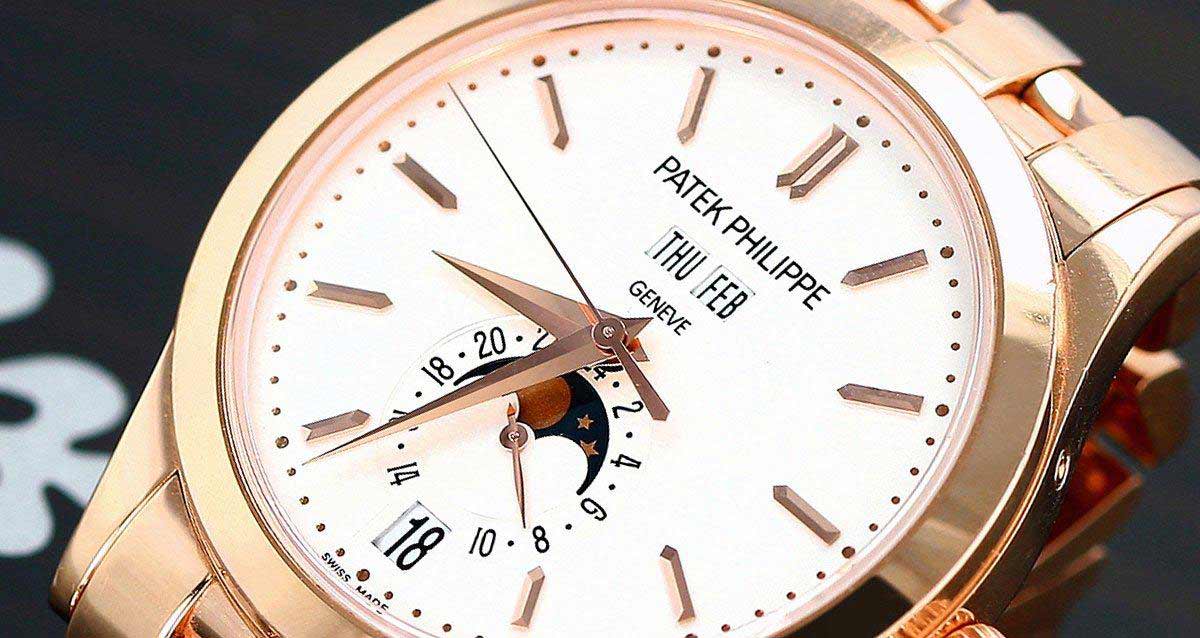 Aside from being considered one of the best watch brands, another great accomplishment of Patek Philippe at one point was the creation of the world's most complicated watch known as the Patek Philippe Calibre 89 with 33 complications. At the time, it was the watch with the most complications until recently when another watchmaker in the holy trinity outdid them, by a landslide. To many Patek is a watch brand luxury buyers consider to be the cream of the crop, one of the most expensive luxury brands and they have created some of the most exclusive watches. Famous wearers include Brad Pitt, Eric Clapton, Charlie Sheen, and the first celebrity to wear one was Queen Victoria. The price range is between 5 figures and 8 figures depending on the model.  Learn more.
Next in our famous watch brands list is the oldest continuously operating watchmaker in the world. It is a brand that brings hundreds of years of watchmaking history with it. Since 1755, Vacheron Constantin is also another Holy Trinity Watch brand and has been creating some of the most unbelievably unique and creative horological masterpieces. The best example of their mechanical genius would be the recently released Vacheron Constantin reference #57260 also known as the world's most complicated watch with a mind-blowing 57 complications and which has an estimated value at $8,000,000 according to Forbes. Even before this amazing feat, they were considered to be a top luxury watchmaker.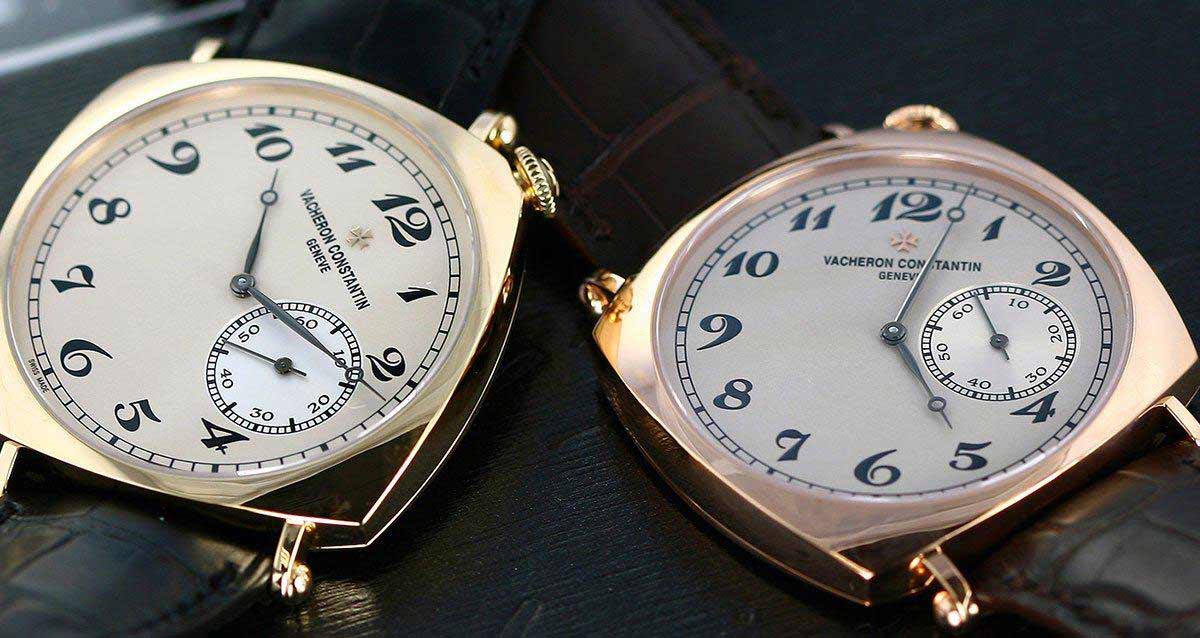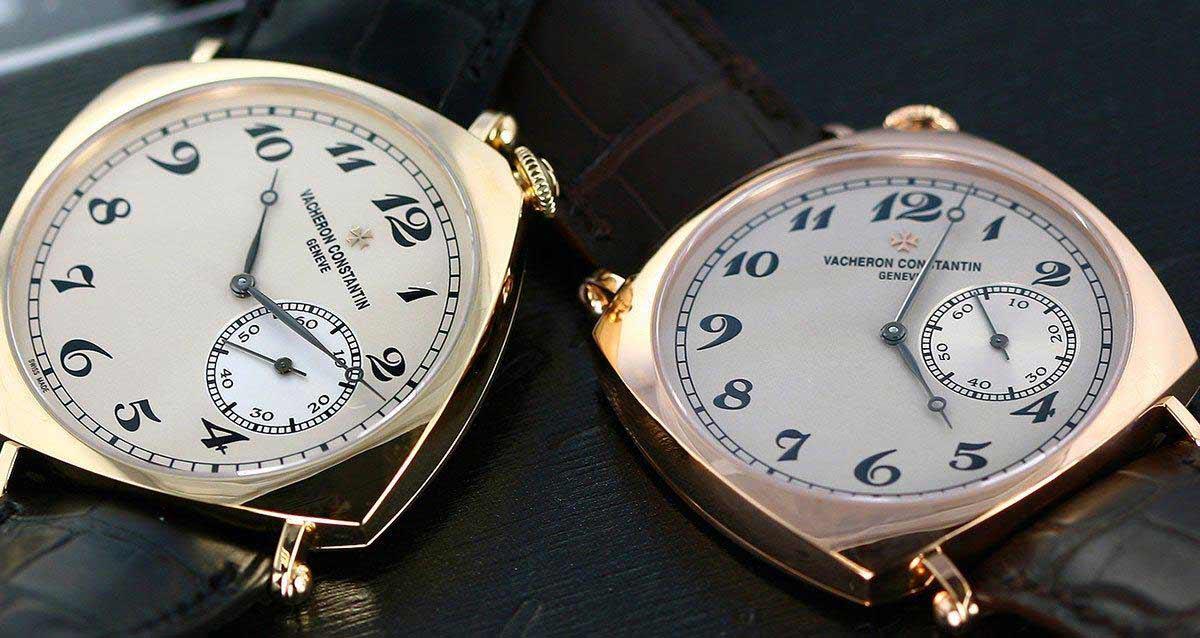 As a member of the "holy trinity", Vacheron Constantin is one of Switzerland's top watchmakers and had built the company around the principles of achieving technical and aesthetic excellence as demonstrably characterized by their many horological achievements and innovations throughout the years. In doing so they have become one of the best international watch brands. Some of their most notable collections include the Patrimony, the Traditionnelle, the Overseas, Malte, 1972, Quai de l'ile, Harmony, Metiers d'Art, and Les Historiques. A truly luxurious watch brand and any seasoned watch connoisseur would agree that they are one of the most prestigious of all.  Learn more.
Another member of the prestigious "holy trinity" in watchmaking, Audemars Piguet has been manufacturing some of the most spectacular watches since being founded in 1875. They are certainly considered by most to be one of the top 10 watch brands in the world today. The collection for which they are most famous is the AP Royal Oak series. This is an iconic watch collection that was a major game-changer for Audemars Piguet who was the first to use a non-precious metal, stainless steel in the latest sports watch design, and charge luxury prices. Audemars Piguet then produced its underwater version of the iconic watch, the Royal Oak Offshore series which became one of the most popular diving watches in history. As one of the trinity, AP has consistently over-delivered throughout the years and is highly respected.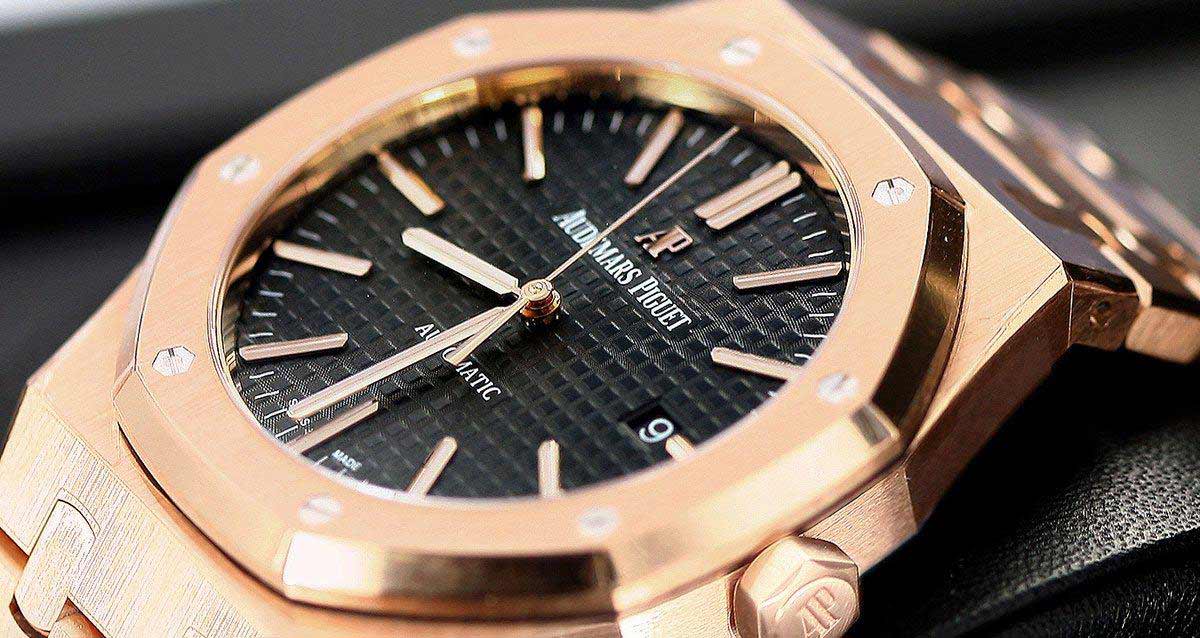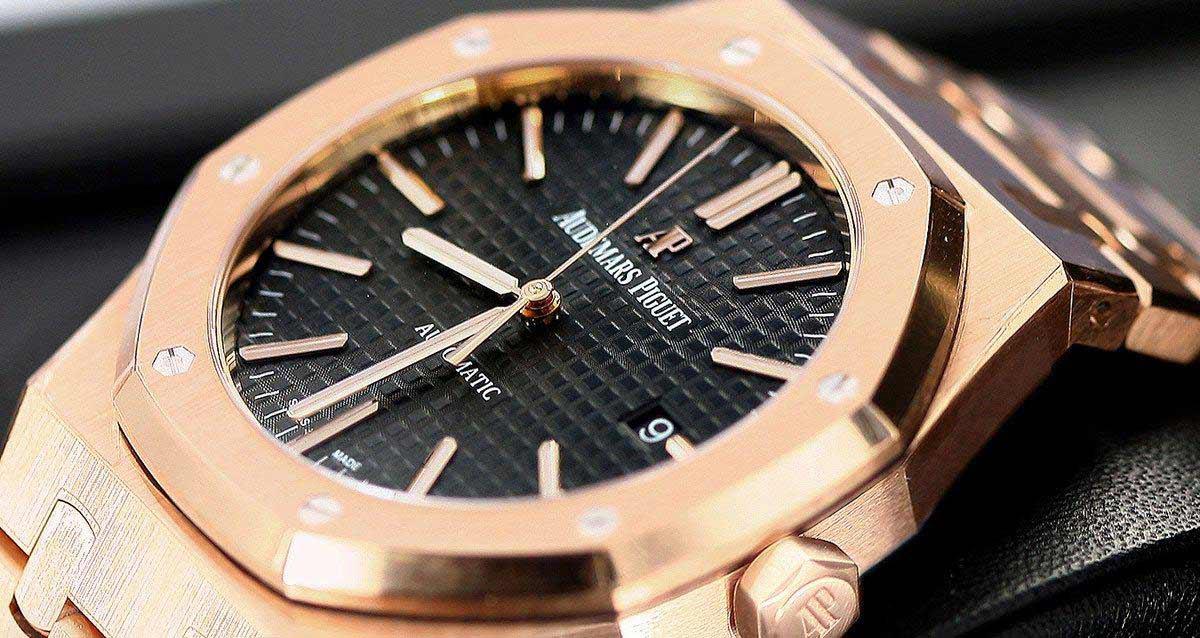 The advent of the Royal Oak watch opened doors for many luxury watchmakers to use their horological expertise as a pricing factor rather than just the precious metal used. Whereas a watch used to be worth its weight in gold, many are now worth more than its weight in gold regardless of what material is being used. Aside from their many Haute Horlogerie watches, Audemars Piguet has been known to be quite avant-garde on the design end of the business and created several Haute Joaillerie pieces such as their Diamond Punk and Diamond Fury watches for ladies. AP watches are also known for their many limited editions and high-complication watches such as the Jules Audemars. They are a luxurious watcher whose name is worthy of being in your horology lexicon.  Learn more.
Blancpain was established in 1735 and is slightly older than Vacheron Constantin but did not operate under the Blancpain brand from the day it was established. They have contributed much to the advancement of watchmaking techniques and produced watches containing some of the most complicated movements. Blancpain is the pioneer in creating diving watches with their iconic Fifty Fathoms timepiece, the world's first-ever diver's watch. Blancpain had since produced many fine collections including Le Brassus, Leman, Villeret, Novelties, Specialties, and Sport. They are one of the top 10 watch brands in the world and worthy of much praise.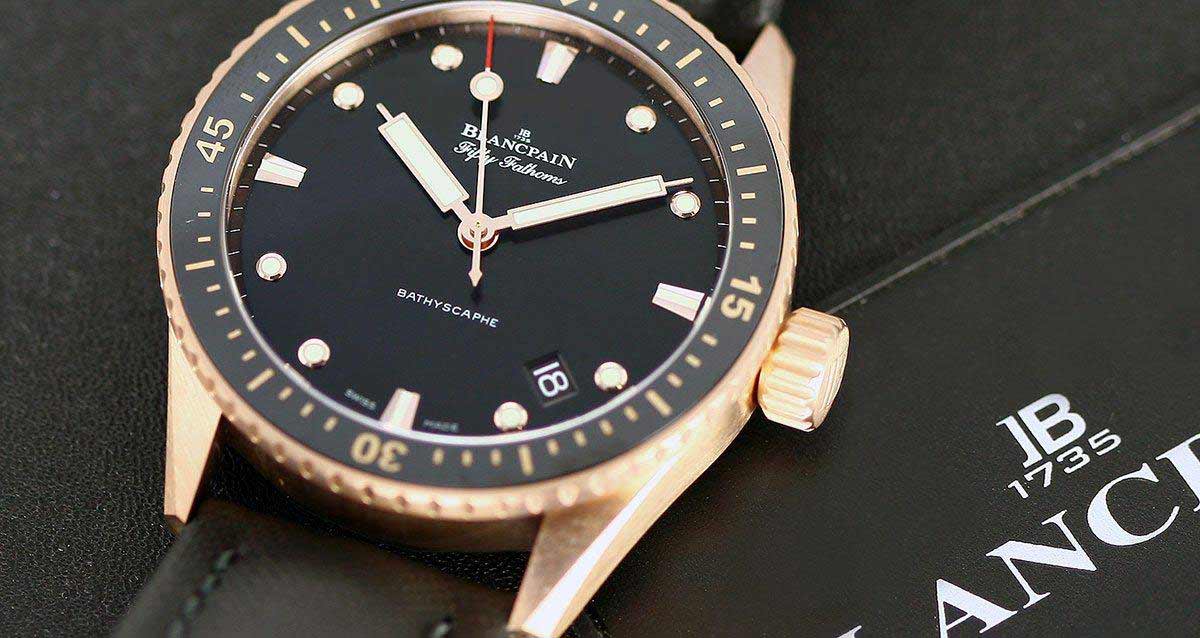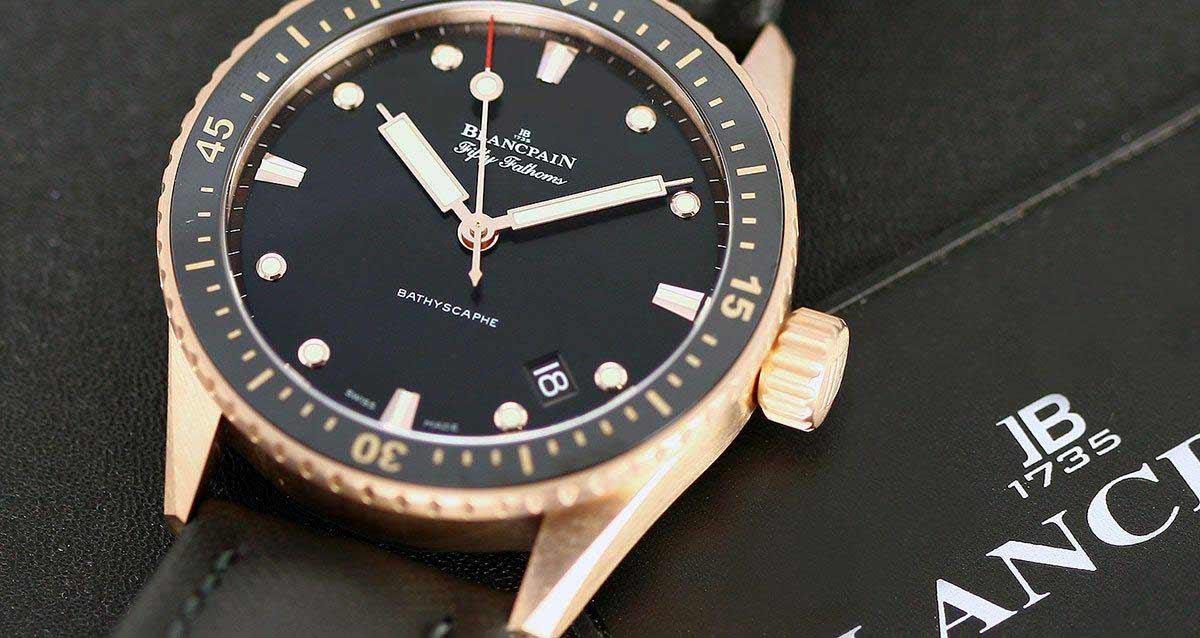 One of the more noteworthy achievements that attributed to the respect this brand deserves is the innovations it made to the tourbillon complication. Blancpain created a flying tourbillon, which is an innovation to the original tourbillon design created by Breguet almost two hundred years earlier. The new and improved version housed the complication in a cage with a ball bearing allowing the wearer to marvel at the tourbillon in full action. Learn more.
In 1846 a Ulysse Nardin opened its manufacture. At the time it was not more than a watch stand, but soon became one of the powerhouses in the watch industry. They create everything from classic minimalist designed series such as the San Marco Classico to the flashy and complicated Hour Striker, Sonata, and El Toro GMT +/- Perpetual Calendar collections. Other modern collections include the Quadrato Dual Time and Dual Time Perpetual. Ulysse Nardin is quite famous for their marine chronometers such as the Maxi Marine Chronometer and their Marine Chronograph, with their marine watches Ulysse Nardin has cornered a segment in timekeeping where they truly shine brighter than the North Star.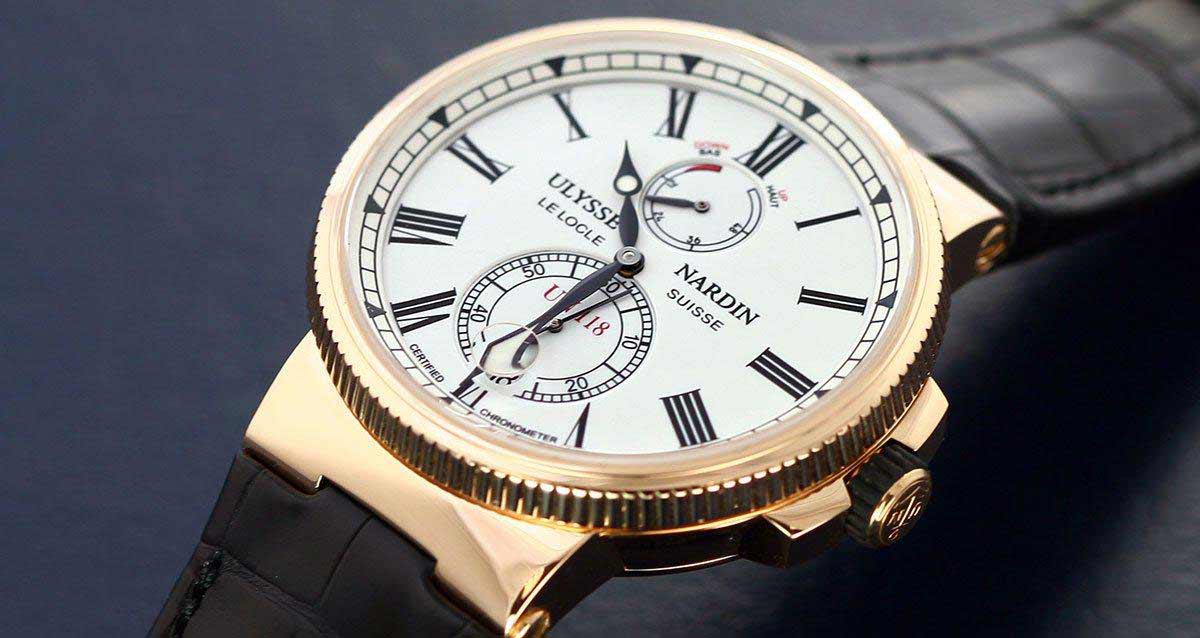 That's not to say that this watchmaker can only produce a high-end marine watch, Ulysse Nardin makes many types of stunning watches including the Caprice (a ladies collection), the unconventionally looking "Freak" series with its carrousel tourbillon complication, and its impressive 7-day power reserve and of course their super high-end Royal Blue Tourbillon, some with a list price of over $1.2 Million giving them a place in Haute Joaillerie and Haute Horlogerie. This is why they were included in the top 5 luxury watch brands. Learn more.
Jaeger-LeCoultre is a Swiss luxury brand of watches that is highly respected by its peers. Many believe it is to be one of the best luxury watch manufacturers and arguably one of the most vertically integrated prestigious watchmakers in the world. One of the reasons for this is that they produce their own movements in-house as well as many of their components in-house. Watchmakers that can produce in-house movements are usually held up on a pedestal and celebrated for their ability to control quality and craftsmanship down to the finest detail. Few manufacturers produce as many components on their own as Jaeger-LeCoultre (affectionately called JLC by watch collectors and watch connoisseurs the world over). For the above reasons, they were put at the sixth position in our top 10 luxury watch brands.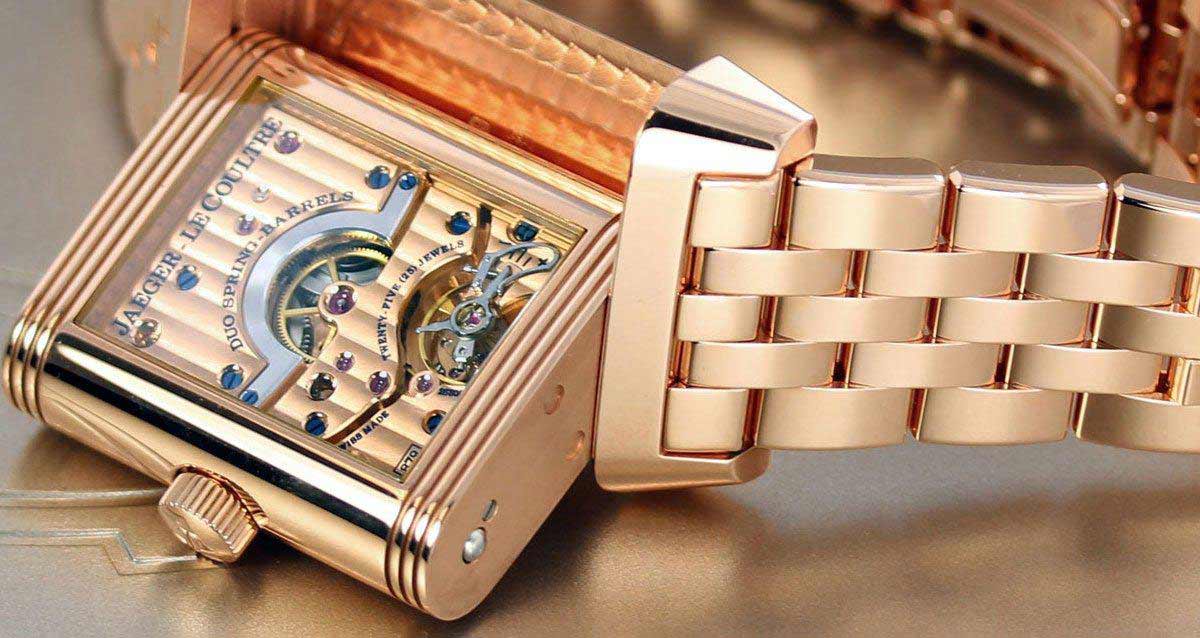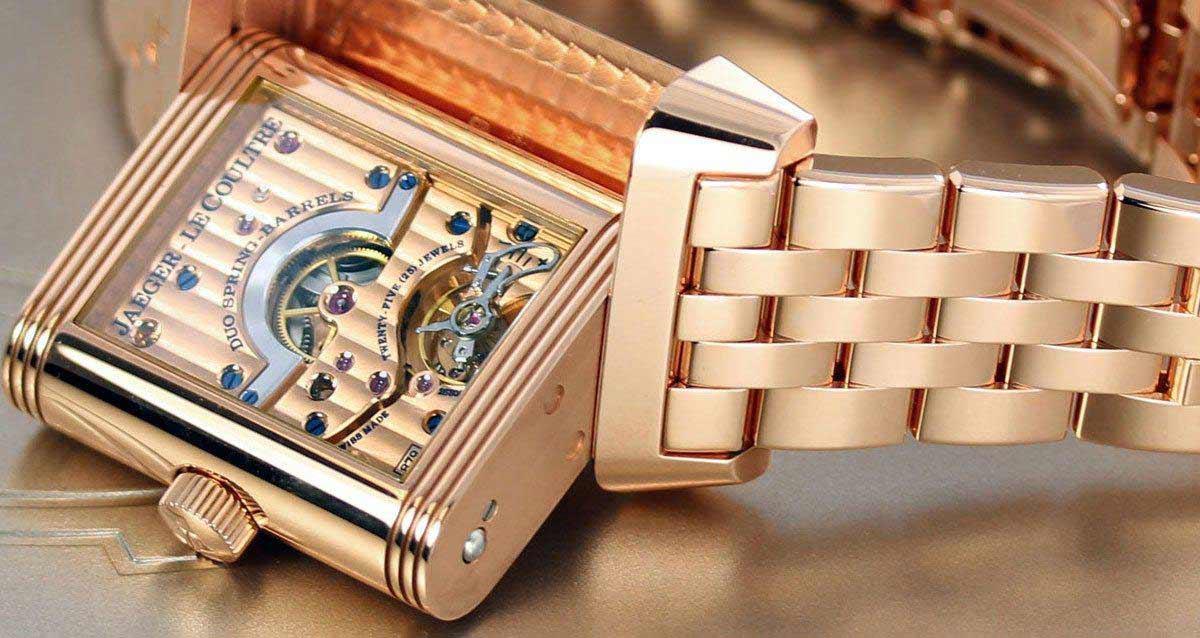 JLC produced many timeless classics such as the Reverso which is a square watch with a unique ability to flip over to protect its face. This iconic collection gave birth to much newer reverse series which include an ultra-thin dual-dialed series called the Grande Reverso Ultra-Thin Duoface. This two-in-one watch series has a dark dial on one side of the case while the flip side of the case has a light-colored dial. Jaeger-LeCoultre also produced many other popular series such as the AMVOX3 Tourbillon, Master Control, the JLC Geophysic, Master Compressor, and Master Ultra-Thin collection which include several models with super-thin perpetual calendars one of which was recently featured in the Marvel film titled Dr. Strange along with a JLC Grande Reverso. In addition to their esteemed luxury watches, Jaeger-LeCoultre produces high-end torsion pendulum clocks called Atmos Clocks which requires no winding. Rather, it gets its energy from atmospheric pressure and temperature, literally air! Learn more.
Omega SA is one of the more popular brands of luxury watches yet, they are not necessarily one of the most expensive watch brands out there compared to many watchmakers mentioned here. They had their Seamaster watches featured in major films throughout the years; films such as say every James Bond movie since Goldeneye featuring Pierce Brosnan and every "007" film that followed featuring Daniel Craig. Most notably famous for their Moonwatch, the Omega Speedmaster Pro which was on the wrist of Buzz Aldrin as he took his first steps on the lunar surface. Having their watches flight-qualified by NASA for a space mission such as Apollo 11 was instrumental in bringing up the prestige of this brand. Omega is, in fact, the 2nd most recognized Swiss watch brand in the world, with approximately 70% international brand recognition. They are owned by a watch conglomerate called Swatch Group.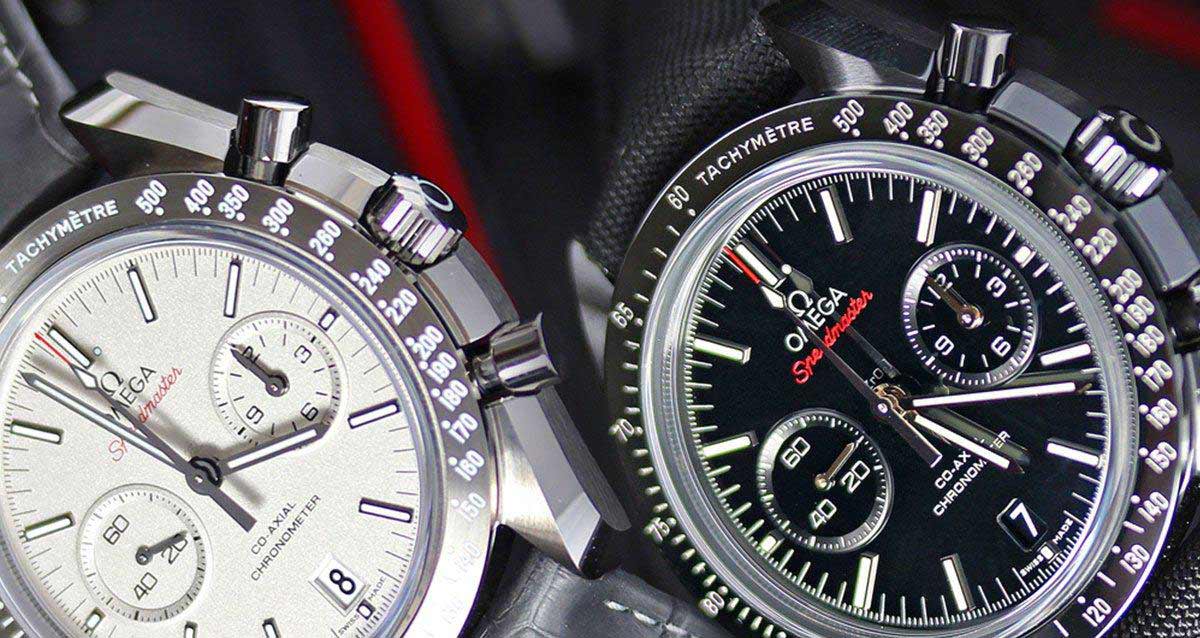 In terms of watchmaking, Omega has made numerous innovations by employing a material that is impervious to electromagnetic interference; the #1 enemy of mechanical watches when it comes to keeping accurate time. While some consider Omega a designer watch brand with their entry-level watches starting at a much lower price point than some of the previously mentioned top watchmaking brands, they actually have watches that run into the six figures price point, specifically the Omega Speedmaster Professional Moonwatch Limited Edition with only 69 pieces worldwide; the number commemorating the year of the moon landing. Any watch that costs over $100,000 could easily be considered a luxury item, by any standards. Learn more.
When it comes to high-end watches, people usually think of Switzerland since Swiss watchmakers make up the bulk of the pack. There are exceptions though. Glashutte Original is a Saxonian / German brand which no surprise here, German engineering is world-famous especially when it comes to mechanical engineering.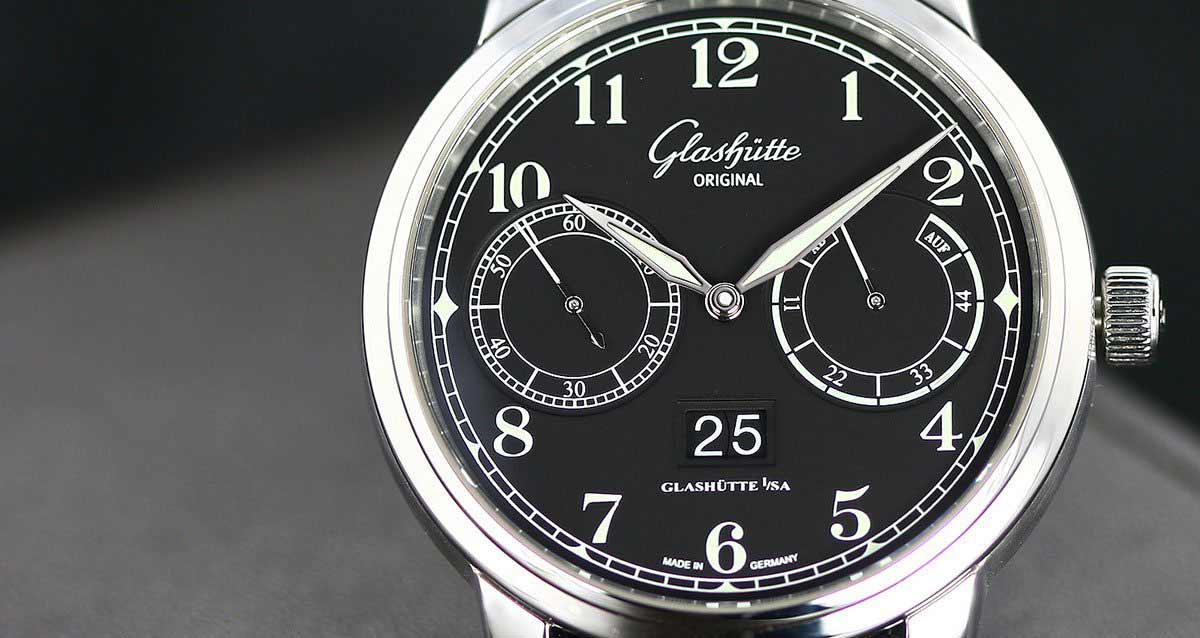 Glashütte Original is one of the few luxury German brands that really stand out. They are arguably one of the most understated in the industry. Their watches have immaculately executed craftsmanship. Their ever-popular Pano series are not just stunning but very well made. They produce many complicated watches including tourbillons, chronographs, perpetual calendars, and more. Some of Glashutte Original's most popular collections include the many Senator watches, The Sixties, Seventies, PanoLunar, PanoGraph, PanoMatic as well as a Lady collection which includes the PanoMaticLunar.  Learn more.
It would be a shame if we didn't mention a brand like Rolex which has the most recognized watch brand in the world with literally 100% brand recognition. But though they are the most famous of all famous watch brands, let's acknowledge them for their watchmaking skills not just for their popularity. Rolex produces some rather amazing watches; and lots of them. It is estimated that their production is approximately 2,000 watches per day. One of the things about this most famous watch brand is that people rant and rave about the fact that they have a higher average resale value than any other watch brand on the market. This can directly be attributed to the fact that Rolex is if not the most, certainly one of the most valuable watch brands in the world.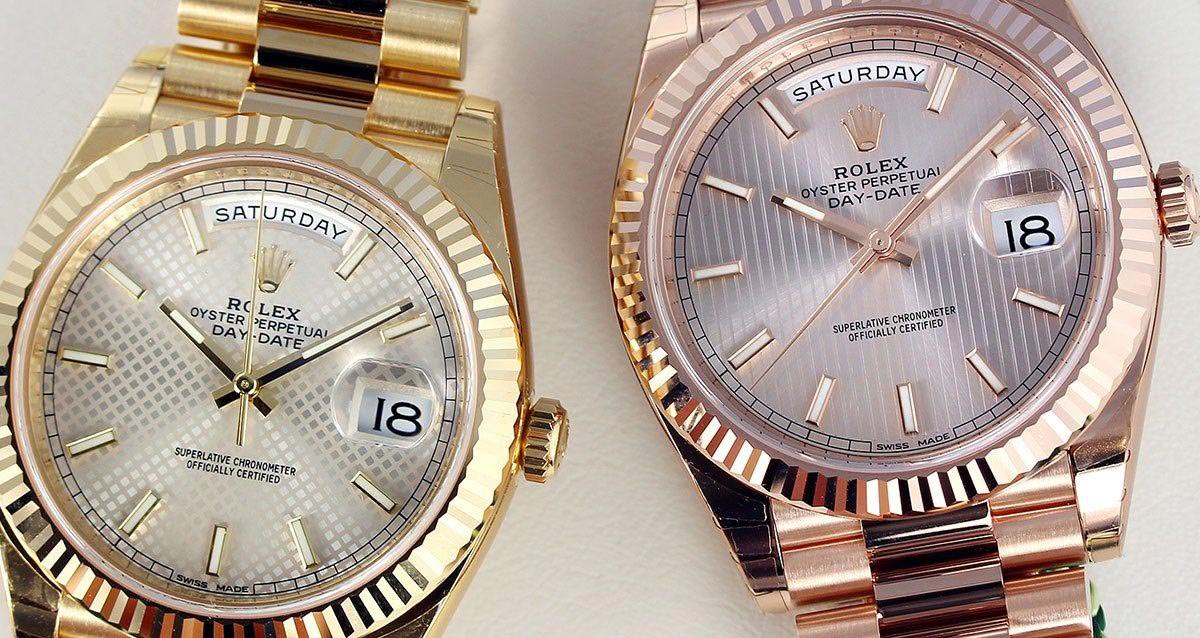 Rolex makes some of the most popular men's watches. Some of their most popular collections include the Daytona, Submariner, GMT Master II, Datejust, Yacht-Master, Yacht-master II, Day-Date, Sky-Dweller, and much more. As an adventurous luxury watch brand that has seen its watches at the highest peak on earth and the lowest abysmal depth of our planet's waters. They also pride themselves on the accuracy of their watches as many of them hold a Superlative Chronometer designation meaning that they have an accuracy of +2/-2 seconds per day. (A regular COSC certified chronometer which is considered an impressive watch movement has an accuracy of +6/-4 seconds/day). Rolex also makes some of the best men's luxury sports watches. Learn more.
A watchmaker that started off as an exquisite clockmaker, Jaquet Droz was the first to open a factory in Geneve, Switzerland, and soon became one of the top 10 watch brands in the world. His mechanical genius produced watches that embedded some of the wisdom used in generating their exceptional grandfather clocks and featured many watches with automata and what separates them from other high-end watchmaking brands is that they are considered a more refined brand for those with only the most exquisite taste. The company's founder traveled the world and produced masterpieces that were each uniquely inspired by the regions that were visited. Often found in France, Jaquet Droz presented Queen Marie-Antoinette of France with his watches. His pieces were often found in royal courts throughout the civilized world. The Emporer in Beijing of the Qing dynasty was marveled by his work and set up offices to import these fascinating mechanical works of art.
What made Jaquet Droz so unique was his ability to combine his art with precision micromechanics and produce timepieces that were both mechanically complicated and as aesthetically pleasing as fine art. With models such as those found in the La Chaux De Fonds Complications Collection which featured watches such as the Quantieme Perpetual Eclipse, the Rattrapante, and the Chronograph Monopusher this luxury watch brand is known for producing elegantly designed complexly engineered masterpieces. Jaquet Droz has many popular collections which include the Grande Seconde, Petite Heure Minute, Les Ateliers D'Arts, Grande Seconde SW, Lady 8, Grande Heuer, and Astrale Collections. Learn more.
As one of the oldest watchmakers in existence, Breguet has earned their respect both in Switzerland and the rest of the world of watchmaking. Throughout the years, Breguet has been credited with numerous innovations and praised for the horological genius that brought about its fame making them one of the most noteworthy watchmakers. Breguet's founding father, Abraham-Louis Breguet was attributed to innovating the rotor system that is used in automatic (self-winding) mechanical watches that are loved by so many today. He also invented the tourbillon which is one of the most coveted complications in the industry. Having one in your watch (see image below) is a major sign of a watch's prestige so just imagine the prestige as a watchmaker for having invented it.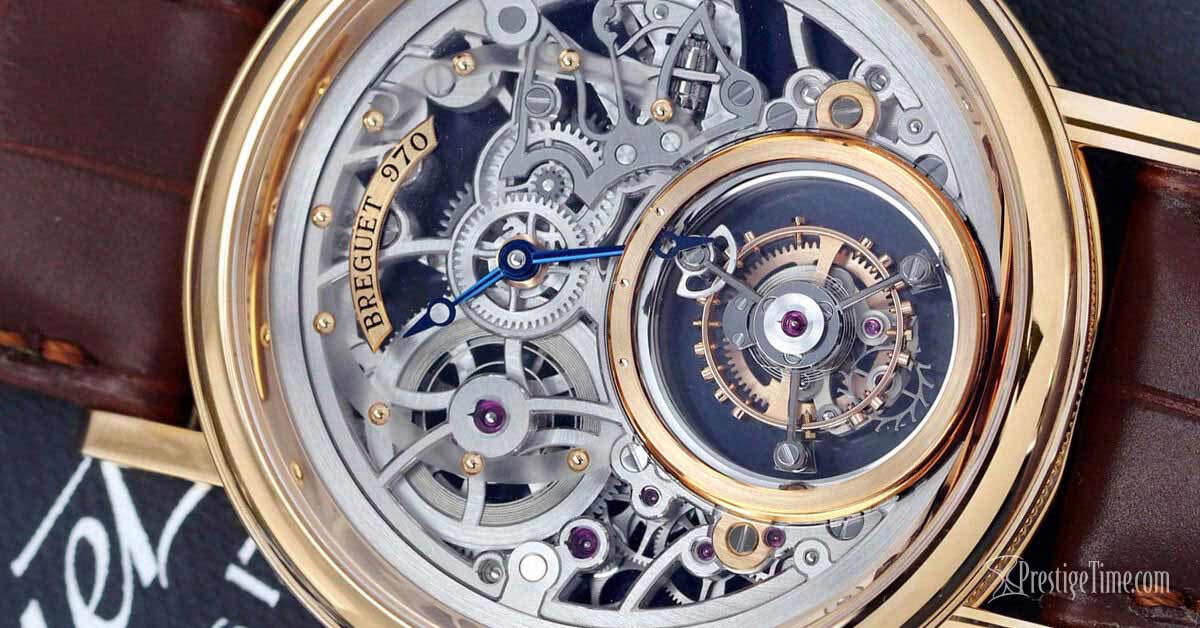 Having such talent naturally attracts the right type of clientele and over the years, Breguet watches have donned the wrists of aristocrats and the social elite around the world. Many Breguet watches have their signature "coined edge" which can easily be spotted along the side of the case. Their many collections include top-shelf luxury watches for both men and women. Some of the more popular collections include the Breguet Marine, the famous Reine de Naples, Breguet Grand Complications,  the Type XX, Type XXI, and Type XXII collections, the Heritage collection, the Tradition, and of course, the Breguet Classique. Learn more.
A famous watch brand lineup without IWC would be a sin. Being one of those old luxury watch brands that date back to 1869, IWC was the first watchmaker to use the lightweight metal titanium in this age-old craft and is most likely best known for the Portuguese collection of watches which is now known as the IWC Portugieser. IWC is innovative and sets out to outperform themselves and others with every watch they make. They are a luxury watch company that takes horology seriously producing mechanically complex watches which include tourbillons, minute repeaters, moon phase, and chronograph complications.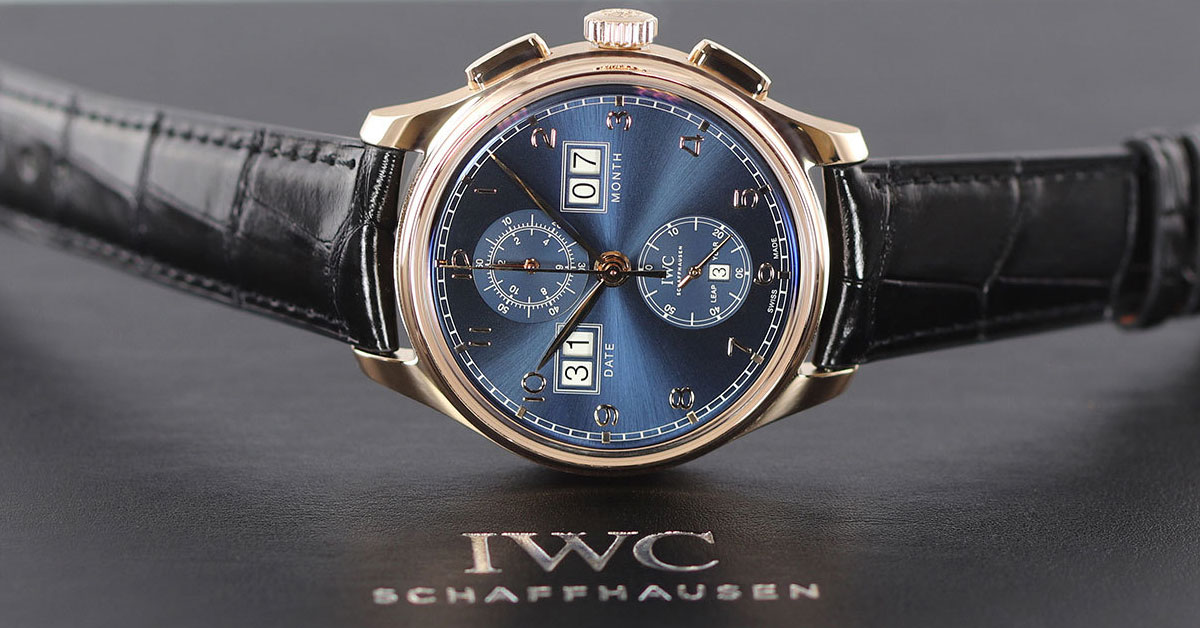 IWC is also known for some impressive and trendy limited edition watches such as the IWC Pilot Chronograph Le Petit Prince. Their watches have an interesting history and in many cases a fascinating backstory that brings their watches to life. IWC crafts breathtaking mechanical movements that are finished to perfection. While their watches are mainly made for everyday wear they do have certain models that are likely to become prized possessions for any watch collectors. Learn more.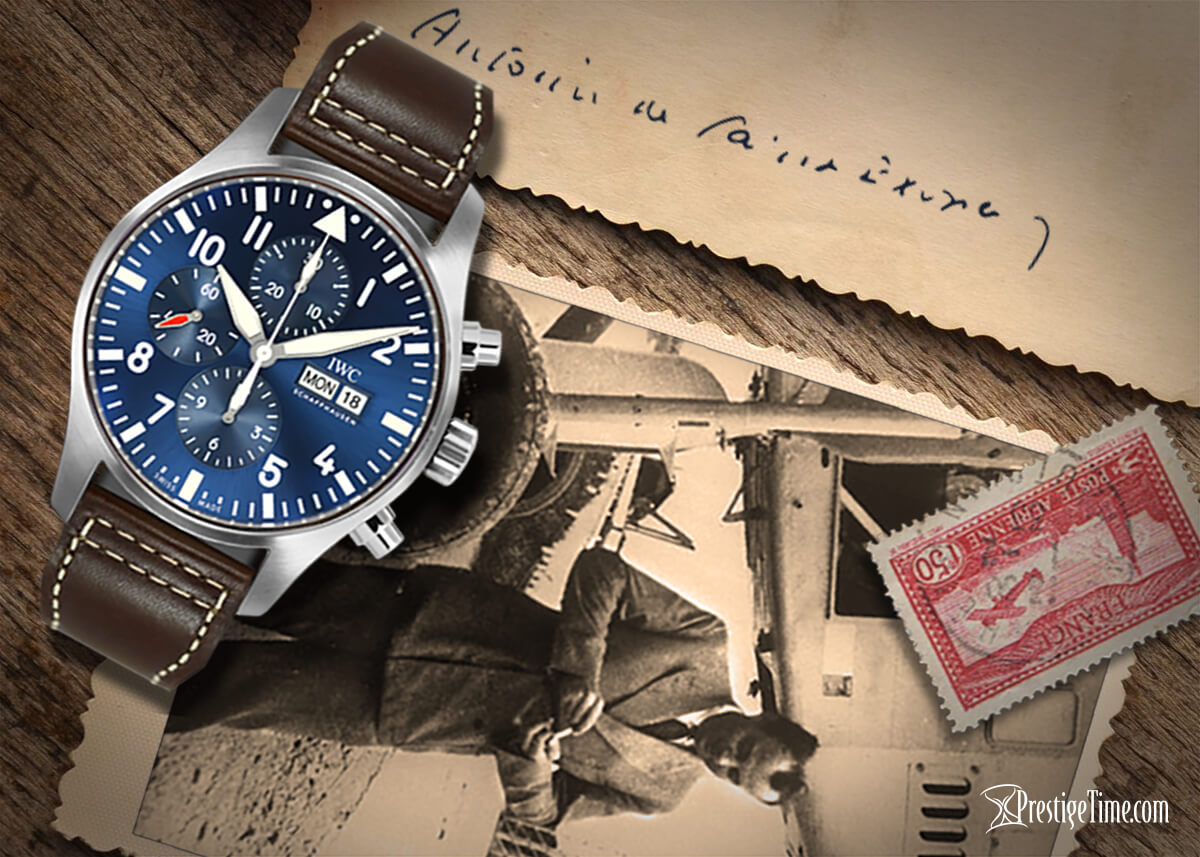 This watchmaker is one of the more popular brands that has been sensationalized ever since the brand's acquisition by fashion conglomerate LVMH, but their history starts long before that happened. With many watches of their gaining international acclaim such as the iconically square-shaped Monaco that was featured in major films and worn by Hollywood hot-shots. All fashion-world achievements aside, let's focus on the horological trophies that they have accomplished. Such as a high-complication tourbillon-chronograph Chronometer featured below known as the 02T. Their various collections are a good mix of classic watches and racing-themed chronographs, to water-resistant sports models. This watchmaker has been on the up-and-up constantly outdoing themself, and thus, definitely worth mentioning in this list. For answers to some of the most commonly asked questions about this brand, click here. 
Many might ask a question like "What are Good Watch Brands?"  "What is The Best Watch Brand?" or "What is a good watch brand for a man?". Well, that really depends on the type of watch you are looking for. There are many great brands out there. Many are the best at a certain type of watch and some are very good at many types of watches but not necessarily the best at any one particular type. Some watch brands are preferred over others when it's the type of watch that you want to keep in the family as an heirloom because they hold their value the best. Other companies are known for dive watches and make the best diver watches or even the best chronograph watches.
Some brands such as the trinity mentioned at the beginning of this article are considered to be the most luxurious watch brands. That is at least they are the top 3 watch brands when it comes to Swiss watchmakers. There are many fancy watch brands out there and let's be frank, most of them come with Swiss watch brand names. That said, many would argue that a German brand called A Lange & Söhne is the most distinguished watch brand and possibly better than any of the three best Swiss watchmakers in the trinity or at the very least on par with Patek Philippe. Why were they not in the top 5 watch brands on this list? Possibly because they are in a league of their own. They are one of the most respected watch brands ever to exist. Many other watchmakers should probably be mentioned in this article including Girard Perregaux, Roger Dubuis, Arnold & Son, Richard Mille, Officine Panerai, BVLGARI, and many more. However, we're trying to keep this concise.
It's a challenging subject to discuss watch brand ranking when many watches have a specific purpose that they were designed for. A good example of this would be a brand like Breitling who makes excellent watches for professionals, specifically aeronautical professionals. They make very popular men's watches and are definitely considered to be one of the nice watch brands to own. They would certainly be ranked high up on a top list for professionals. However, not everyone is a pilot or an astronaut which is why we didn't include them in the top 10 watch brand list.... perhaps if we did a top 20 watch brand list or top 100 list they would have been prominently displayed.