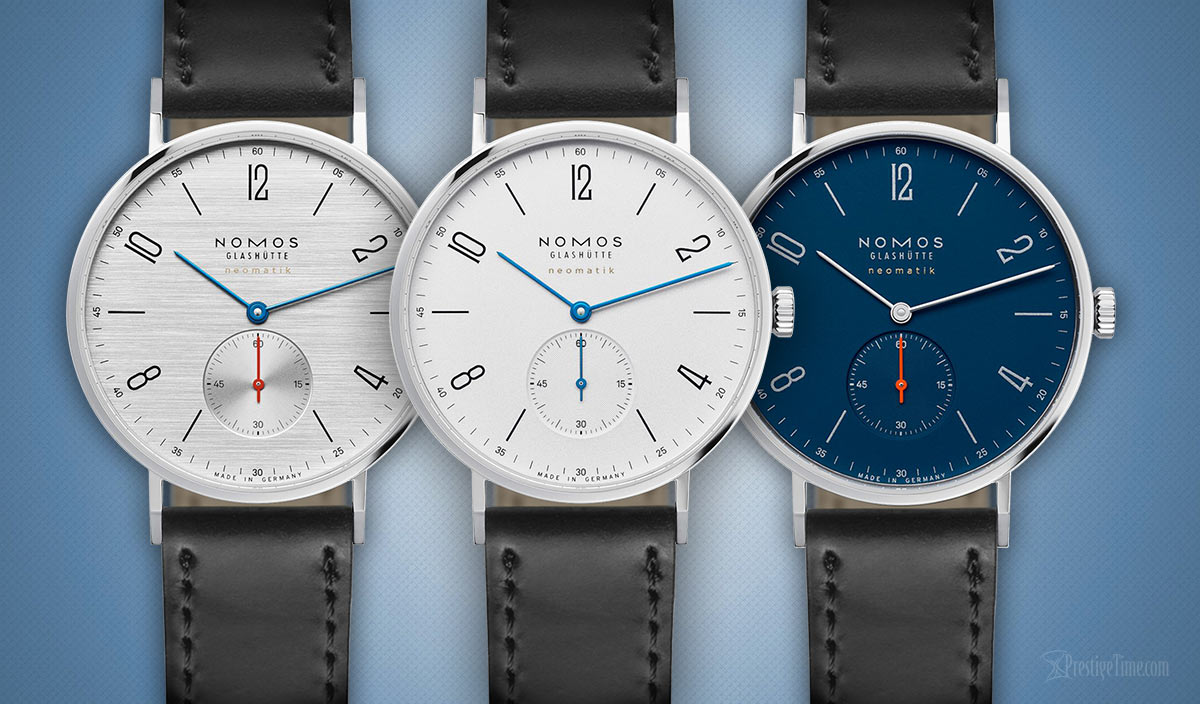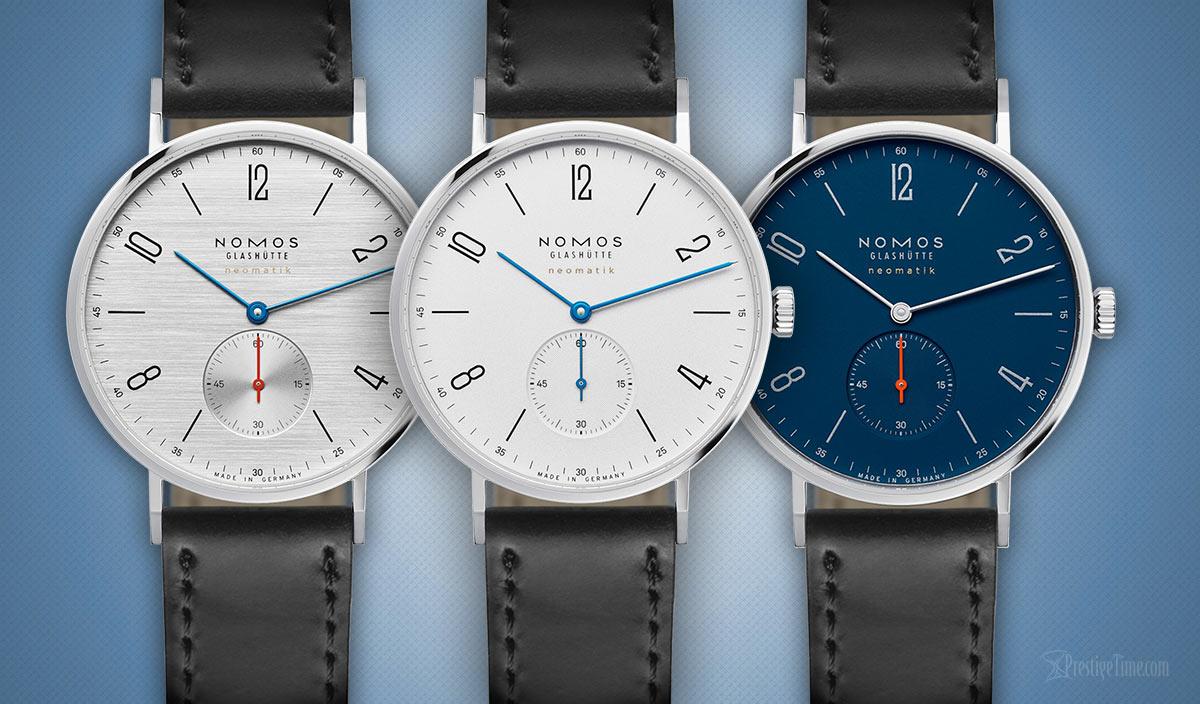 Nomos Tangente Neomatik 39 Review
From the low-profile polished steel case to the slender hands, the Nomos Glashutte Tangente Neomatic 39 is scaling this German watchmaker's existing popularity by pushing forward with their already impressive hand-crafted calibers.
Let's discuss three new NOMOS watches today in great detail ...all the way down to the soup and nuts. So get ready for a review of the Nomos Tangente Neomatik 39 like no other and be prepared to learn about the new revolutionary DUW 3001 self-winding movement which powers Nomos Glashutte these watches.
What makes the Tangente Neomatik so different from all the other watches in the Nomos Tangente series? Aside for the fact that any Tangent watch without the word "neomatic" printed on the dial is a manual hand-wound watch? These Neomatic watches use the new DUW 3001 automatic movement with a rotor implemented into that same tight space in the watch case that Nomos is famous for. After introducing The following three reference numbers constitute the new Nomos Neomatik 39 watches. They are (above image from left to right) References:  141 (the Tangente Neomatik 39 Silvercut with the textured gray dial), 140 (White dial), & 142 (Nachtblau / Blue dial).
Nomos is known for their minimalist Bauhaus style design with highly legible but easy on the eyes printed numerals. Couple this look with their high-quality hand-stitched Horween Genuine Shell Cordovan "remborde" leather straps and you have a winner regardless of which dial color you prefer.
Similarities Between These Models
Slender polished hands with a long minute hand that sweeps almost until the very edge of the dial.
Polished Steel Case with a dimension of 38.5mm x 7.2mm.
The watch weighs only 52 grams making it very comfortable to wear.
Sapphire crystal that has anti-reflective coating on the inside of the glass to prevent the coating from being scratched.
Water resistant to 50m / 5atm which they say is enough for showering.
Sapphire crystal comprised of two parts on the back of case allows you to watch the automatic DUW-3001 movement in motion.
The Nomos Glashutte DUW-3001 movement uses a 3/4 plate with Glashutte ribbed polishing & and NOMOS Perlage finishing, blued screws typical of watches made in this Saxony region especially those with the name "neomatik".
Differences Between These Models
Nomos reference# 141 ( Tangente Neomatik 39 Silvercut)
Dial: Textured Silvercut Dial, Rhodium plated and with a brushed finish and black printed numerals, hour markers and indexes.
Sub-Dial: Silver sunray subdial with black printed numerals and seconds track.
Hands: Tempered Blue Hour & Minute Hands and Red Small Second Hand.
Branding: Black Printed Branding with "neomatik" printed in lowercase beneath logo in an almost golden hue.
---
Dial: Galvanized White Silver-Plated Dial with black printed numerals, hour markers and indexes.
Sub-Dial: Galvanized White Silver-Plated Dial with black printed numerals, hour markers and indexes.
Hands: Same Blue Hour, Minutes hands as the 141 with a matching Small Seconds Hand.
Branding: Black Printed Branding with "neomatik" printed in lowercase beneath logo in an almost golden hue.
---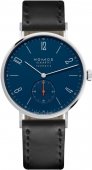 Nomos reference# 142 (Tangente Neomatik 39 Midnight Blue)
Dial: Nachtblau Blue Dial with printed numerals, hour markers and indexes.
Sub-Dial: Midnight Blue Small Seconds Sub-Dial with printed numerals, hour markers, and indexes.
Hands: Polished Steel Hour, Minutes Hands with a Neon Orange hand for Seconds on the sub-register.
Branding: White Printed Branding with "neomatik" printed in lowercase beneath logo in an almost golden hue.

Introducing The Caliber DUW 3001 Automatic Movement
The 10th in the line of the in-house calibers that Nomos Glashütte has produced. While being a tenth child may have its own challenges, being the tenth caliber comes with even higher expectations.
At an incredibly thin 3.2mm in height, this 27 jewel movement has a power reserve of up to 43 hours. Despite its low-profile, the DUW3001 is remarkably accurate. The genius behind the new caliber design is Theodor Prenzel, he explains how this automatic caliber beat the odds despite its small stature.
A Revolutionary Design
Since an automatic movement is a multi-layered mechanical device, it is built upwards and as a result, a design engineer is challenged with the limited amount of space to fit in all the necessary components. Prenzel created a design which managed to fit all the components in a 1mm space between the baseplate and the 3/4 plate above it all the while cutting the expected deviations in half so not only is the caliber super slim, it's highly precise.
Freedom & Flexibility
One of the advantages that NOMOS has is that they produce almost all their components completely in-house which gives the designers freedom to think outside the box. Whereas most luxury watchmakers build up a movement from a raw, pre-fab ébauche movement, NOMOS has more flexibility with their engineering. It allows them to roll up their sleeves and make something truly unique and special.
They have the flexibility of experimenting with various materials to achieve the ultimate precision possible and stay well below the normal tolerances of deviation. As a result, they've concocted a custom stainless steel allow which let them achieve the high precision they were looking for in the DUW-3001.

Accuracy & Precision of the DUW-3001
One of the ways to create a highly efficient movement is to lower the friction. This would maximize the energy efficiency. Their design flexibility and ingenuity allowed the engineering team to achieve a mind-blowing 94.2% energy efficiency by experimenting with the number of teeth used in the gears and the various angles and configurations of the gear train.
While a 20% friction loss is the typical deviation for an automatic caliber, the DUW3001 showed only a 5.8% friction loss making it surprisingly efficient.
The NOMOS Swing System
Of course, any NOMOS watch review would not be complete without mentioning the beating heart of their movements, their revolutionary Swing System which guarantees highly precise chronometric function and is capable of achieving a chronometer status if getting a COSC certification wouldn't drive the costs and prices way up.
One of the many things that NOMOS did right was to create a line of highly sought after products such as the Metro Neomatik and the Tangente Neomatic that offer tremendous value. All the while Nomos Glashütte kept production costs down and product pricing within an attainable margin for the average person and not the same segment of the market that shops for an Audemars Piguet, for example.
The new Swing System has a feature that was never seen before on a mechanical watch. This uses a system where the rotor stops turning once the watch is fully wound. By stopping the rotor, it removes the transfer of any unnecessary energy to the system as well as reduce any unwanted wear on the movement.
Prenzel was quick to explain that the rule in watchmaking was always that a caliber can either be accurate or flat or affordable the DUW-3001 is all three which makes this quite revolutionary, to say the least.
|   | | | |
| --- | --- | --- | --- |
| Brand: | Nomos | Nomos | Nomos |
| Series: | Tangente Neomatik 39 | Tangente Neomatik 39 | Tangente Neomatik 39 |
| Model #: | 141 | 142 | 140 |
| Size: | Midsize | Midsize | Midsize |
| Case Material: | Steel | Steel | Steel |
| Dial Color: | Textured Silvercut Dial | "Nachtblau" (Midnight Blue) | White |
| Bracelet/Strap: | cordovan black remborde leather | Leather | Leather |
| Clasp Type: | Tang Buckle | Tang Buckle | Tang Buckle |
| Movement: | Automatic | Automatic | Automatic |
| Crystal: | Scratch Resistant Sapphire | Scratch Resistant Sapphire | Scratch Resistant Sapphire |
| Case Back: | Transparent | Transparent | Transparent |
| Water Resistance: | 5atm / 50m / 164ft | 5atm / 50m / 164ft | 5atm / 50m / 164ft |
| Case Diameter: | 38.5mm | 38.5mm | 38.5mm |
| Case Thickness: | 7.2mm | 7.2mm | 7.2mm |
| Warranty: | Prestige Time 2 Year Warranty | Prestige Time 2 Year Warranty | Prestige Time 2 Year Warranty |
|   | | | |