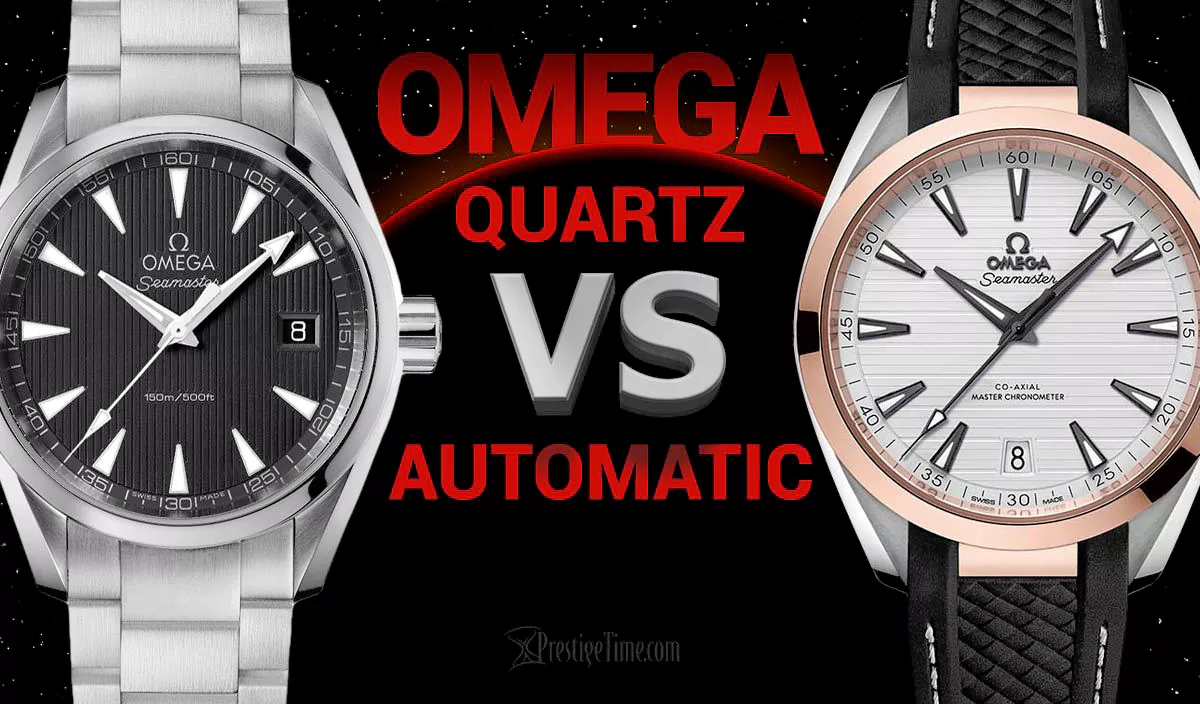 Omega Quartz VS Automatic
Some of the hottest selling watches in the world are Omega watches. There are many models in many collections and series but which is best for you the Quartz or Automatic version?
Before we get into great detail about the differences between the different watches in these collections let's first explain the differences between a quartz watch and an automatic watch. While to some this may seem like a rookie watch-guy topic, it is important to mention the differences. For the sake of keeping it simple, we will not be discussing the aesthetic differences between these collections because there are many different designs. Rather, we will discuss for the most part the differences in the movement and the contrast in pricing between automatic and quartz models and why quartz movements and quartz watches cost less than their mechanical counterparts.
Seamaster | Speedmaster | De Ville | Constellation
An automatic movement is purely mechanical and uses a movement made of springs and gears to power the watch. An automatic caliber which is also called a self-winding movement is wound up when first used, usually via the winding crown, and then is "recharged" via a rotor using the kinetic energy generated as you wear it. The rotor spins as you move your wrist around and in turn, winds the mainspring in the watch's movement keeping it fully charged. There is even a mechanism that disengages the winding gears when the spring is fully wound so that you do not overwind the spring.
QUARTZ MOVEMENT
A quartz watch uses a quartz movement which is powered by a watch battery and a quartz crystal. The battery sends an electric current to the quartz crystal which then creates a vibration or an oscillation as watchmakers call it. Quartz is a crystal that has a high frequency that resonates at 32,768 revolutions per second giving higher accuracy. Quartz watches were first introduced in the late 1960s. This era was the beginning of what the watch industry called the 'quartz crisis'; an era where many traditional watchmakers were feeling threatened by the introduction of the quartz watch.

Watches that are powered by batteries run more accurately than mechanical watches and the cost of manufacturing these new quartz movements were pennies on a dollar compared to mechanical calibers.
Master Co-Axial Chronometer VS Co-Axial Chronometer
Not all mechanical watches are created equal either. One of the terms you will see printed on the dial of Omega watches is "Co-Axial" and "Master Co-Axial" as well as the word "Chronometer" or more recently "Master Chronometer" which is a designation that we will explain a bit further. Let's start with Co-Axial. The Co-Axial escapement (a mechanism that regulates the tension that is released from the mainspring and transfers it to the balance) was introduced a while back and offers the Si14 silicon balance spring which can resist magnetic fields up to 1,000 Gauss. It also allowed for longer periods between maintenance and service calls since it has reduced wear and increased durability and stability.
A Chronometer designation means that a third-party called COSC tested the movement for a minimum accuracy of -4 seconds per day to +6 seconds per day. Although compared to quartz this is a huge difference in deviation but for a mechanical watch, this is considered to be incredibly accurate.
A Master Co-Axial escapement, on the other hand, has the same precision as the Co-Axial but in addition to the same accuracy, it has a higher resistance to magnetism than a standard Co-Axial COSC chronometer. The Master Co-Axial movement first has to get a COSC certificate like the rest of the Co-Axial chronometers but then goes for further testing to verify if it can resist magnetic fields equal to or greater than 15,000 Gauss. Omega claims that most of the servicing they receive during their product's lifetime has to do with a watch movement's magnetization. Therefore, it made sense to tackle this issue head-on.
So why would anyone pay more for a less accurate watch?
When it comes to the very mechanics of a watch, the parts that power it and that make it move, there are huge differences. Many watch enthusiasts choose a mechanical movement such as an automatic/self-winding watch since it has esoteric value due to the small mechanical marvels which make the watch work.
Often looking through the transparent case back on many watches will allow people to witness these gears and springs in action and the whole experience is quite hypnotic. It is possibly the main reason why many "watch-people" start collecting watches in the first place. More work was put into creating it. Same reason some people will opt for hanging up a hand-painted portrait of themselves on the wall instead of a photograph.
With that said, let's proceed with the differences between the mechanical versions and the quartz versions in the various Omega watch collections starting with the Seamaster family of submersible watches.
Omega Seamaster Quartz or Automatic
There are various collections within the Seamaster series. Let's start with the one that actually has Quartz versions... the Omega Aqua Terra series. Let's explain what these are and how they compare. For the sake of simplicity, we will be only covering the watches that are available in both quartz and self-winding versions and are still in production and circulation at the time of writing this comparison. There are many collections that don't have a battery-powered version such as the Omega Seamaster Planet Ocean, for example.
Omega Aqua Terra Quartz or Automatic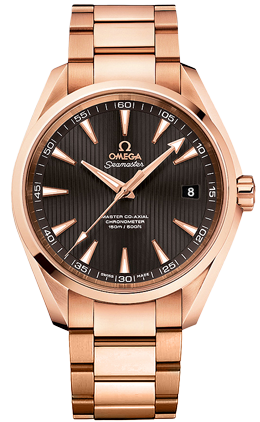 The non-quartz / mechanical watches within these collections are the Omega Aqua Terra Co-Axial and the Omega AquaTerra Master Co-Axial (pictured here in rose gold).
Firstly, you can almost bet that every time there is a quartz version or an automatic (mechanical) version of a watch, the quartz watch will have a lower price. "Why?" you may ask? For starters, it takes less time to make a quartz movement. Mechanical movements such as a self-winding watch or a hand-wound watch typically take many more hours, days, and sometimes years of work to design, create and assemble. Some have the date at the 6 o'clock position and some have it at the 3 o'clock.
The most affordable new AT Quartz watches which include the ladies 30mm and the men's 38.5mm versions have a list price of about $2,750.
The most affordable mechanical version of the Omega AT collection is the Aqua Terra 150m Co-Axial which at the moment is only available in men's sizes between 39mm and 43mm has a list price of around $6,500 with discounted pricing starting at around $3,960.
Omega Speedmaster Quartz or Automatic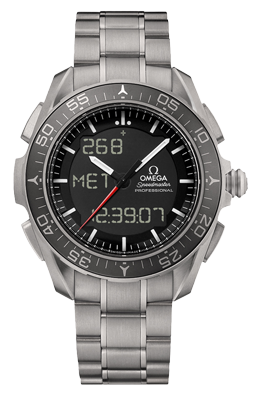 The Omega Speedmaster collection, for the most part, is purely mechanical with either automatic Speedmaster watches or hand-wound/manual wind Speedmaster watches. It is a very iconic watch collection since it was the Omega Speedmaster watch that was the first watch on the moon. Perhaps for that reason of keeping the prestige of the collection at its max, they steered away from producing quartz versions.
However, a few quartz Speedmasters did somehow slip into the mix. These would be the Speedmaster Spacemaster Z-33 Chronograph and the Skywalker X-33. Both with very futuristic nomenclature. These quartz watches don't look anything like the quartz versions in other collections which usually follow some consistent design principles. No sir. These look like something out of a spaceship compared to their standard mechanical Omega Speedmaster automatic models. One look at the watch featured here and you'll understand what I mean. The digital display is more consistent with a Breitling Exospace B55 rather than an Omega.
Omega DeVille Quartz VS Automatic
The Omega DeVille collection can be subdivided into several sub-categories. Some which are exclusively mechanical and some that are either automatic watches or battery-powered quartz models.
Omega DeVille Prestige Quartz VS DeVille Prestige Automatic
Specifically, the DeVille Prestige collection is one such collection containing both Quartz and Automatic watches. One thing you'll notice about the Omega DeVille Prestige watches is that the mechanical self-winding versions all use Omega's Co-Axial escapement in the movement. The DeVille Prestige Automatic is available in both women's sizes ranging from 32.7mm to 36.8mm as well as a men's size at 39.5mm. The list prices for the most affordable automatic DeVille Prestige watch will start at $3,500 with discounted pricing beginning at around $2,500. For the higher-end models which feature a Power Reserve, you can find models beginning at a list price of $4,800 and going up to $22,000 for the higher-end models which feature diamond bezels and precious metals in the case such as 18kt yellow gold and 18kt rose gold.

Omega DeVille Tresor Quartz VS De Ville Tresor Master Co-Axial
The De Ville Tresor is a collection that will take a bit more explaining to truly understand the differences. First, we must explain the difference between the Co-Axial Chronometer and the Master Co-Axial Chronometer or 'Master Chronometer". The Master Co-Axial is a Master chronometer that has higher accuracy and resistance to electromagnetic frequencies that the Omega Co-Axial chronometers. A chronometer designation means that the movement was sent to a third-party testing facility called COSC where they fine-tune the caliber or movement until it reaches a precision with a maximum threshold of deviation of -4 seconds a day to +6 seconds/day at which point they issue a COSC certificate stating that the watch movement is a Chronometer.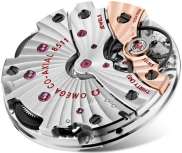 It is important to note that the Omega De Ville Tresor Master Co-Axial is not an automatic watch. It uses the Omega caliber Master 8511 movement which not is self-winding but rather, it is a manual wind watch (also known as a hand-wound watch). This means that the movement has no rotor which spins as you move your wrist and in doing so winds the mainspring in the watch. All winding on the Master Co-Axial is done manually, by hand. For more about the differences between Manual Wind watches and Automatic watches click here.
Omega De Ville Ladymatic Automatic or Quartz
The Omega De Ville Ladymatic uses the Omega 8520 movement which is a certified COSC chronometer and is only available as an automatic watch. There are no Omega De Ville Ladymatic Quartz versions available as of today, only self-winding models of the Omega Ladymatics.
Omega Constellation Quartz VS Automatic
Most of the Omega Constellation watches including the new Omega Constellation Globemaster are all Automatic watches. There are quite a few Omega Constellation Quartz watches though which are mainly in smaller women's sizes and a few mid-sized watches at 35mm.
Omega Constellation Quartz models start at a list price of $2,650 and go up to $40,800 for the higher range models which have use diamond pave dials and precious metal cases. Discounted pricing on the Omega Constellation Quartz watches for the entry-level models and up to $31,416 for the most expensive models mentioned earlier.
Omega Constellation Automatic models start at a list price of $4,400 for their entry-level models and list prices go up to $45,500 for their higher-end models. Discounted pricing on the Omega Constellation Automatic watches begins at $2,860 for the more affordable models and goes all the way up to $35,035 on their most expensive models.