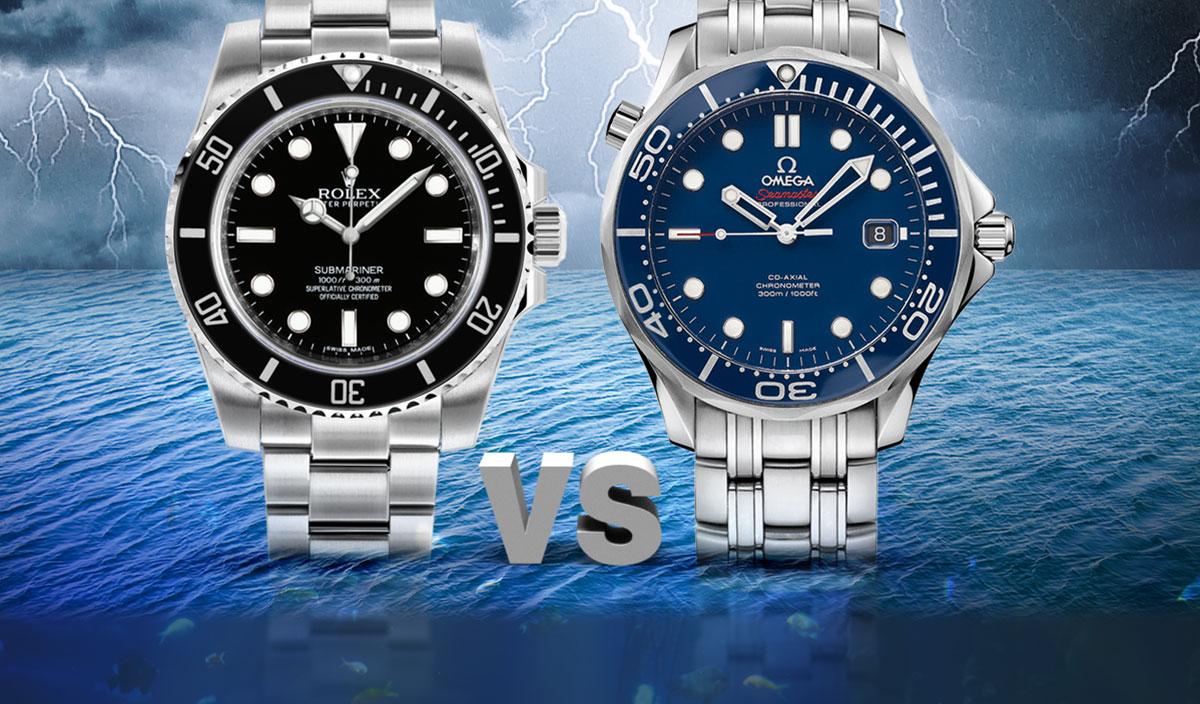 Omega Seamaster VS Rolex Submariner
Which one of these diving watches is better?
There is a time when professional divers look at their equipment and decide it's time for an upgrade. Whenever one is putting their life at risk, one has to weigh the benefits of investing in some heavy duty gear.
A diving watch is no exception and there are many watches for divers on the market that are worth a look. This article will weigh the pros and cons of choosing from two luxury watch brands that produce the most popular diving watches.
For the sake of simplicity, let's benchmark the Omega Seamaster VS Rolex Submariner. NOTE: These are both excellent watches but let's see which one is the best watch for you.
As you can see from the above picture, the Omega Seamaster and the Rolex Submariner are both great looking divers watchesand have a place on your wrist when you're dressed up or dressed down.
For your convenience, you can examine any of these collections in a new window by clicking on the buttons below otherwise proceed with the comparison.
Take the Omega Seamaster watch for example. It comes from a well-respected and long-establishedSwiss watchmaker whose name is up there with the likes of brands like Rolex. These two brands are often head to head with their latest diver's watches.
While both brands produce movements that are dependable and built to be rock-solid, the Omega Seamaster is said to be more legible underwater with more luminous fill but has a slightly lower power reserve if compared to the Submariner.
In addition, it is more affordable. At about only half the price, there is a substantial price difference between the Omega Seamaster Professional 300m and the Rolex Submariner.
PLEASE NOTE: A new Seamaster Diver 300m series has been released since this article was originally written. To see how this new 2018 series (called the Omega Seamaster Diver 300m Co-Axial Master Chronometer) compares to the Seamaster Diver 300m Co-Axial discussed in this article, click here.
You'll notice the Seamaster featured here has a date window but the Submariner doesn't. That's because the Sub in the above image is Rolex reference 114060. There are several models of Rolex Subs that have the date function and their trademark Cyclopse magnifyer lense.
There are some that prefer the appearance of Omega's date windows since they find the Cyclopse magnifyer a bit distracting but then again, there are those who absolutely love it. You have to decide for yourself.
PROS
Functionality

An excellent choice for a diver's watch and is used by diving professionals around the world

Legibility

More legible under dark conditions

Helium Escape Valve

This watch features a helium release valve which is helpful when a diver resurfaces and needs to manually release any helium build up which under normal above-water pressure conditions can cause the watch crystal to pop-off.

Style Options

The Seamaster is a large collection with many different style options

Price

It is about half the price of a Rolex Submariner
CONS
Brand Recognized

The Omega is a very prestigious brand with approximately 70% brand recognition worldwide but doesn't have the same nearly 100% worldwide recognition as Rolex. 70% is still incredible, though.

Resale Value

The Omega brand generally has a lower resale value but this largely depends on the watch

Accuracy & Precision

The movement is not as accurate than a Superlative Chronometer

Bezel

Some say that the bezel on the Seamaster is not as easy to rotate as the "Cerachrom" ceramic bezel on the Rolex Submariner

Anti-Reflective Coating

The A.R. coating on the Seamaster is on the outside of the crystal whereas, on the Rolex Submariner, the anti-reflective coating is on the inside which keeps it from being scratched off.
In terms of prestige, the Rolex brand is bar none, the most recognizable brand out there with almost 100% brand recognition worldwide while Omega watches is closer to 70%.
So as far as which watch is a bigger status symbol, one would have to say that the Omega Seamaster watches fall a little short. Nonetheless, the Omega Seamaster is an excellent watch from a very prestigious brand that also has great value but as a result of the difference in brand recognition, there is about a 30% loss in the resale value and street value on the Omega Seamaster compared to the Rolex Submariner.
Aside from being a COSC certified superlative chronometer, and having a slightly better power reserve, the fluted bezel on the Submariner according to some, has a better grip than the bezel on the Omega Seamaster so there are also some practical advantages to the Rolex Submariner versus the Omega Seamaster.
The model you see here is the Rolex Oyster Perpetual Submariner reference 114060 which has no date function. The Seamaster featured here does. For about a thousand more, you can opt for the Rolex Oyster Perpetual Submariner Date models starting with 116610, 116613, 116618 and 116619 that do have the date function with a Cyclopse magnifyer lense.
PROS
Resale Value

Rolex watches generally has a higher resale value than Omega

watches but this is not a blanket statement it often depends on the watch

Brand Prestige

Rolex has more brand recall and is a slightly more internationally recognized brand than Omega.

Precision & Accuracy

The Rolex Superlative Chronometer designation means that the precision of the movement is first tested by COSC, and after the movement receives a COSC certification with an impressive accuracy and precision of -4/+6 seconds per day.

The movement is then returned to Rolex. Further testing is then conducted by Rolex, in-house while in the watch case until an accuracy of -2/+2 seconds per day is achieved.

However, there are those that believe that only a third party

should be responsible for chronometric designations

.

Bezel

Some say the "Cherachrom" ceramic bezel on the Submariner is much easier to rotate than the bezel on the Omega Seamaster

Anti-Reflective Coating

The Rolex Submariner, the anti-reflective coating is on the inside which keeps it from being scratched off whereas the A.R. coating on the Seamaster is on the outside of the crystal which can more easily get scratched off over time.
CONS
Style Options

Not nearly as many style options as the Seamaster Diver series shown here

Price Tag

Higher price tag
There are many reasons to choose either one of these diver's watches. The big question would be that if one is going to have to ask themselves before making a purchase is: "Which features are more valuable to me and also meets my unique needs as a diver?"
You

need to be the judge of that.
Here is a side by side comparison of the Omega Seamaster VS Rolex Submariner specifications, features and more.
Brand

Omega

Rolex

Series

Seamaster Diver 300m Co-Axial Automatic 41mm

Oyster Perpetual Submariner

Model #
212.30.41.20.01.003
114060
Size
Mens
Mens
Case Material
Stainless Steel
Stainless Steel
Dial Color
Black
Black
Bracelet/Strap
Stainless Steel
Stainless Steel
Clasp
Push Button Folding Clasp
Folding Clasp with Safety Latch
Movement

Omega Caliber 2500 d

Uses the new Co-Axial Escapement which contributes to the durability and the precision of the watch as well as how frequent it would require routine maintenance.
Co-Axial escapement has less friction and reduces the need for lubricants
COSC certified chronometer with an impressive -4/+6 seconds per day precision.

Rolex Caliber 3130

The Rolex Caliber 3130 is a Superlative Chronometer. This means that is has passed COSC testing for a standard chronometer designation which provides an accuracy of -4/+6 seconds per day. The movement is then returned to Rolex where it is installed in a watch case and tested further to ensure a minimum accuracy of -2/+2 seconds per day.

Movement Type
Automatic / Chronometer
Automatic / Chronometer
Power Reserve
48 hours
48 hours
Jewels in Movement
27 Jewels
31 Jewels
VPH
25,200
28,800
Bezel

Brushed Steel with Black Ceramic Fill
Satin finished steel numbers and indexes
Uni-Directional / Rotating

Polished Steel with a Highly Durable Black "Cerachrom" Bezel insert.
Scratch and corrosion resistant
Unaffected by UV rays and won't fade
Rimmed with ribbed edge for enhanced grip
Uni-Directional / Rotating

Crystal
Scratch Resistant Sapphire
Scratch Resistant Sapphire
Case Back
Solid
Solid
Water Resistant
300m/1000ft
300m/1000ft
Case Diameter
41mm
40mm
Case Thickness
13mm
12.5mm
Warranty
Prestige Time 3 Year Warranty
Prestige Time 5 Year Warranty
If you enjoyed this comparison and feel that others would enjoy it too, please like and share it.
Most importantly, let us know your thoughts in the comments below. Thanks!