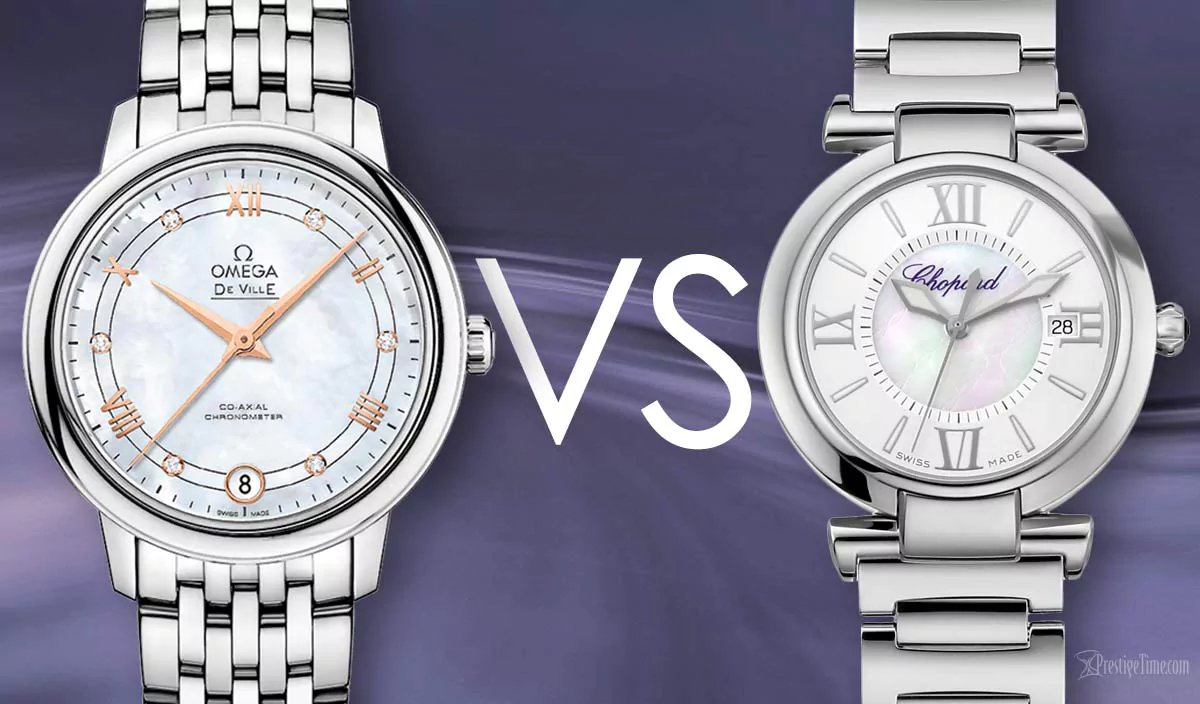 Omega VS Chopard: Which is the Best?
Let's compare two of the top five most recognized Swiss watch brands.
There are always those that are uncertain about which watch to get. There are literally millions of watches available and it can be quite cumbersome trying to figure out which is the perfect brand and perfect model for you as an individual. Even more so if you're trying to buy a watch for someone else.
We are often asked about the differences between the different manufacturers and even more so, the differences between their various high-end wristwatches. Often we'll get a call with someone saying something along the lines of: "Should I buy an Omega or a Chopard watch?".
Well, that depends entirely on several things. Namely, you need to identify your priorities that you expect from your watch as well as your overall purchase. If you're even asking a question such as "Should I buy a Chopard or an Omega watch?" then is safe to assume that you possibly haven't given much thought to many motivating factors when buying a watch such as:
So let's try to address these common concerns. Afterwards you can be judge them yourself from a more informed and educated perspective.
Who makes better watches, Omega or Chopard?
Omega has made numerous innovations in watchmaking over the years and has really propelled mechanical watches way forward in terms of combatting the number one enemy of mechanical watches which is electromagnetic frequencies which magnetizes the movement and causes it to lose precision.
Both Chopard and Omega are highly skilled watchmakers and are capable of creating watches with high complications such as a tourbillon watch and a perpetual calendar watch. However, the majority of Omega's and Chopard's watches are more mainstream timepieces, such as Omega's diver's watches which have excellent water resistance and more common classic watches with date functions. Both brands have sporty watches with chronographs and such.
One thing I did notice is that Chopard has a greater proportion of Quartz watches than mechanical compared to Omega. Although Quartz watches are more accurate than mechanical watches, Omega manufactures more precise and more accurate mechanical watches than Chopard. Their Master Chronometers are quite impressive, mechanically speaking. It seems that Omega is making the move up-market with other brands such as Rolex who exclusively produce mechanical watches which don't run on batteries but rather springs and gears.
Water Resistance
This is one of those areas where Omega Seamaster collection really shines. They are heavily invested in underwater watches such as the popular Seamaster Diver 300M and for those that wish to go really deep the Omega Planet Ocean 600m Co-Axial. Even so, there are those that are not satisfied with nearly reaching the bottom of the sea and they want to throw a party on the seabed itself, for those, there is the Omega Seamaster ProPlof 1200m which has 4,000 feet of water resistance. As much as I hate to say this, on most of their watches, Chopard's water resistance pales in comparison to Omega's water resistance.

Resale Value
While there is no set rule on resale value Omega will usually fetch a higher resale value but there are many variables at play such when pricing a preowned watch for resale. Things such as:
The condition that the watch is in
Does it come with all the original documents
Does it come with the original box
The series, collection and model number
How rare is that particular series, collection and model?
Is it a limited edition, a special edition or numbered edition?
While you can't broad brush paint a rule that one brand has a higher resale value over the other you can say that certain models of Chopard watches may get a higher resale value than certain models of Omega. However, most of the time it's the other way around.
Brand Prestige
According to DLG (Digital Luxury Group: Creators of the World Watch Report, the leading watch-industry report since 2005) Omega is classified a Prestigious Brand, whereas Chopard is categorized as a Jewellery Brand.
So what exactly is the difference between these two classes of watch brands? Let's use an example: Omega places diamonds on the bezels of many of their watches, right? Would you ever call Omega a jeweler though? No, they are a watchmaker first and are never considered a jeweler. Chopard is a high end Jeweller first, but also happens to make great watches. It's not just a public brand perspective that puts Omega in a different category than Chopard it also has plenty to do with the art of watchmaking.
Brand Recognition
According to Interbrand's report on Luxury watch brands (available at bestswissbrands.com) Omega is the 2nd most recognized Swiss watch brand in the world. Only Rolex holds the highest recognition with almost 100% brand recall and Omega has closer to 70% recall. Chopard is the 4th most recognized brand which means that more strangers will say something like "Hey, nice Omega watch there!" vs "Is that a Chopard watch?". This also has its effect on the brand's average resale value.
Chopard VS Omega Prices
The most affordable Chopard watch has a list price of $4,390 whereas Omega's most affordable watch is prices at a manufacturer's suggested retail price of $2,400. Both of the aforementioned watches are women's watches, one is the Chopard Imperiale Quartz 28mm and the other is the Omega Seamaster 300m Ladies watch.
In terms of men's watches, you can find an Omega Aqua Terra Quartz 38.5mm at around a $2,750 list price whereas the men's Chopard Mille Miglia Automatic starts at a $5,000 MSRP. Of course the latter is a mechanical watch which usually would cost more whereas the Omega mentioned is a Quartz model so best to compare apples with apples. The most affordable mechanical Omega watch for men would probably be the Omega De Ville Prestige Co-Axial 39.5mm which starts at a $3,500 retail price.
Popular Collections
OMEGA
CHOPARD
Which brand has more Iconic watches?
This is an easy one. Omega has a few that are quite noteworthy. Namely the Speedmaster Professional, also known as the Moonwatch since it was the first watch to ever be worn on the moon. In addition, there has been an Omega Seamaster in every James Bond movie since 007 Goldeneye.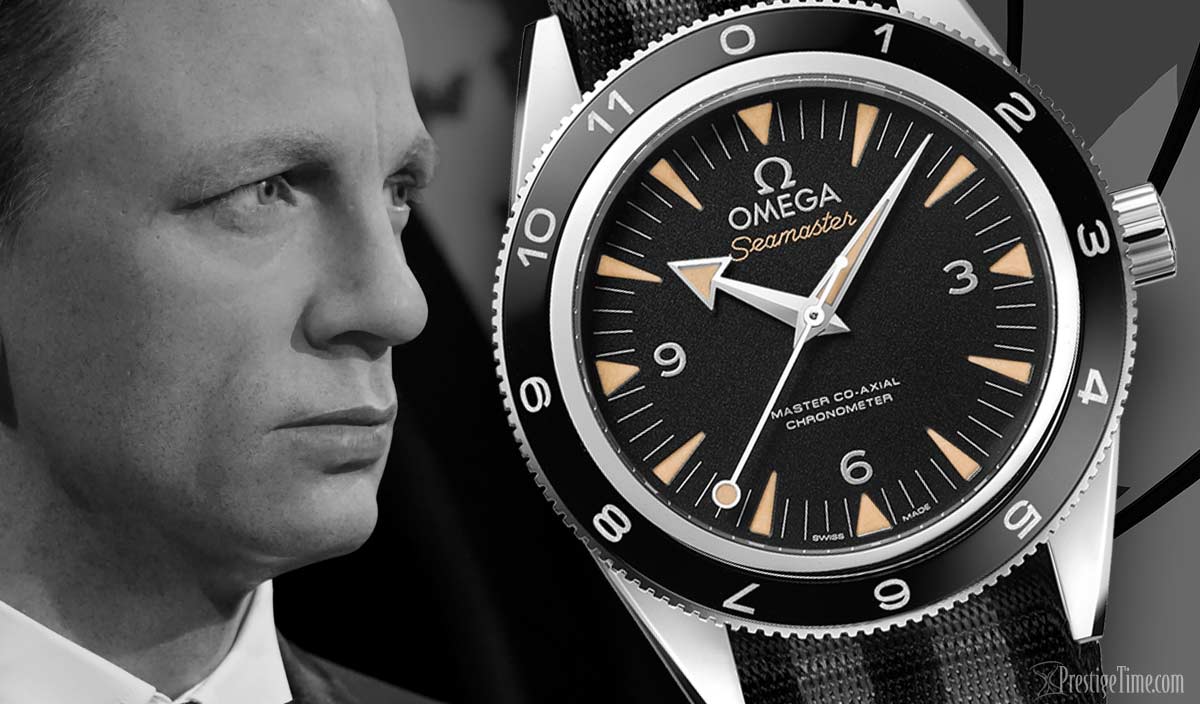 Who has a better warranty Omega or Chopard?
Omega, since the introduction of their Co-Axial escapement, has recently been upping their game in terms of longevity between servicing and offer a 5-year warranty. Chopard offers only a 2-year warranty.
Conclusion:
Everyone has different needs and expectations during a watch purchase and some are more interested in specific features over a specific brand. Your best bet is to identify these features that you find most valuable and shop for a watch with these features because the reality is there are many brands that can fulfill those needs. If you already have identified the features you wanted and found them in a watch or a few watches from either Omega or Chopard, then you have all these other considerations mentioned in the article to help you decide which is right for you. Although, sometimes it just comes down to the looks. You may find a watch that doesn't offer the best warranty but it a really hot looking watch that you really love, then go for it! You need to be the judge in the end.
So, that being said, which brand of watches is best for YOU?