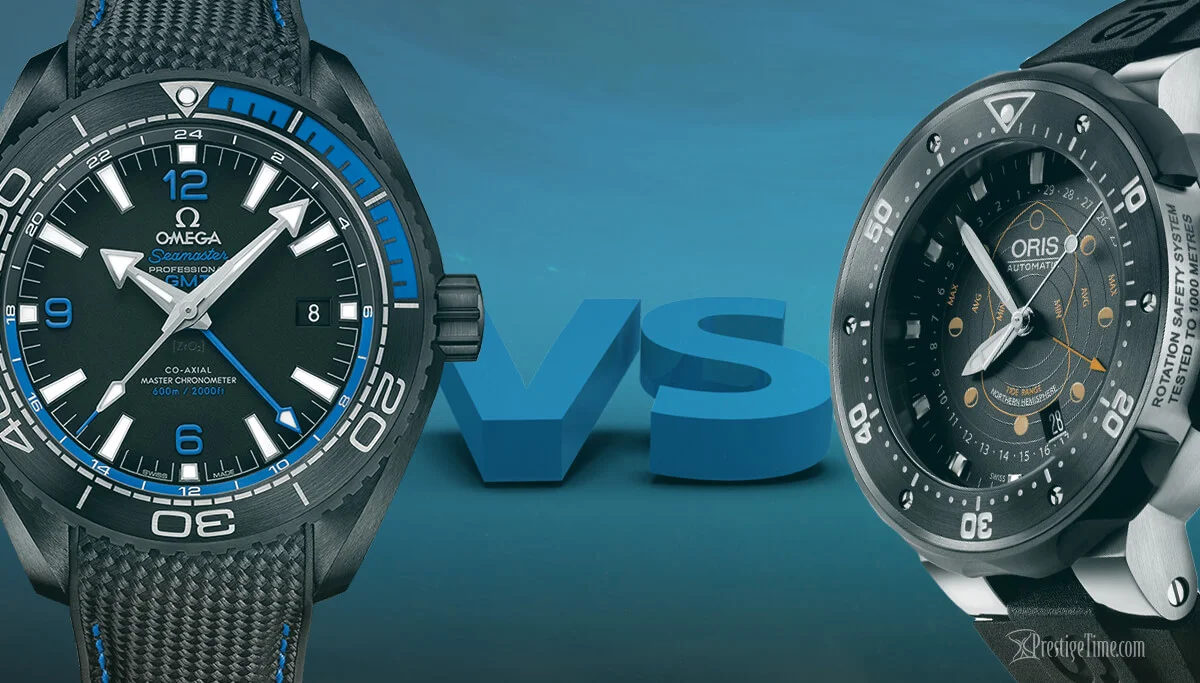 Omega VS Oris Watches
These two luxury watch brands are often considered and compared to one another. Today we will do an in-depth analysis of both brands to help clarify the questions of those looking to purchase either an Omega or Oris watch. Is Oris better than Omega? Read more to find out!
Omega and Oris are both popular Swiss-made watch brands and they are often considered when someone is looking to buy their first proper watch. Let's analyze these two brands on many levels to give you the tools to determine if Oris or Omega is the right brand for you.
When people are in search of a luxury watch and ask me: "What is better, Omega or Oris watches?" I often answer them with a question; "What do you mean by better?". The question is sometimes clear yet sometimes, it draws out a look of confusion. This is possibly a sign that they are new to the world of luxury watches. If that is the case I will explain.
'Better' can mean many things to many people:  Better accuracy… Better brand reputation... Better warranty… Better Resale Value…Better features, Better design, Better value for your money...Better craftsmanship and so on. You can't just say 'this is better than that' without understanding 1) the context of the question and 2) the motive behind the question itself. Today I will answer this in every context that I've experienced to date.
PRICING
Which watch brand is more affordable, Omega, or Oris?  An entry-level Oris watch such as the men's Artelier Date 40mm starts at about $1,650 (MSRP). A women's Oris watch such as the Oris Pointer Date 36mm starts at about $1,750 (MSRP). Click here for special discounted pricing on Oris watches.
How much is the cheapest Omega watch? Entry-level Omega watches start at about $2,550 for ladies Omega watches. Men's Omega watches are more expensive than women's watches and start at an MSRP of about $3,350 for the Omega De Ville Prestige Co-Axial. More popular models such as the Men's Seamaster 300m start at an MSRP of $5,100. Click here for special discounted pricing on Omega watches. 
VALUE
Which watch brand offers more value for the money, Oris, or Omega? This is a different type of question that needs its own context clarified. To open up this subject I'll say that You can get a well-made mechanical watch from Oris for significantly less than an Omega (but probably not for free). However, the value of the watch can be measured by more than just what comes in the box. There are many variables that either add or take away from the value of the watch.
A good example of what I mean by this is how Oris has a two-year warranty but any Omega watch with their Co-Axial escapement has a 5-year warranty period. That extra warranty period could be worth the extra money.
On the other hand, Oris also offers lots of value in the sense that you can get a whole lot more watch for your money. So, is Oris worth the money? A good example would be the Oris Artelier Complication Model #: 01 781 7729 4031-07 8 21 79.  This is a feature-rich men's mechanical watch that offers a GMT/Dual Time Zone, Moonphase, and Day/Date. All this for an MSRP of $2,450. Omega doesn't offer complicated watches at even a comparable price point.
RESALE VALUE
Which brand has better resale value, Omega or Oris? Although most people don't even think of selling any product at the time of purchase (other than perhaps a vehicle) this is something to consider and for many reasons. Omega would deliver a higher average resale value. When someone buys a luxury watch for the first time, they often are looking to either start a collection or are looking for something nice that can be held in the family and passed down from generation to generation. While these two brands are not at the same level as some of the most prestigious watch brands such as Patek Philippe, or A. Lange & Sohne which come at a much higher price point, it's still a good place to start.
BRAND RECOGNITION
Which brand is more famous, Omega or Oris? This is an area where Omega reigns over Oris. Of all the Swiss-made watch brands, Omega is only second to Rolex when it comes to international brand recognition. Oris is a privately held company and is not owned by an international watch conglomerate like Omega watches. So, you can expect more people to notice your watch on your wrist and possibly throw a compliment your way, and possibly even size you up in terms of social class.
INNOVATION & CRAFTSMANSHIP
Between Omega and Oris, which has better craftsmanship? Omega has been at the forefront of innovation in modern watchmaking and has made the most progress in terms of fighting the number one enemy of a mechanical timepiece; electromagnetism.  EMF (electromagnetic frequencies) are the most common and most dangerous things for an analog watch.
No other mechanical watch offers the level of magnetic resistance the way Omega does. Not even Rolex. Furthermore, Omega is the only brand that has achieved the Master Chronometer designation from METAS as well as the certification from COSC.  Both METAS and COSC are 3rd party testing facilities for mechanical movements. These designations mean that the watch will offer superior accuracy, it was tested for the expected water-resistance and especially resistance to the negative effects of magnetic fields.
MECHANICAL MOVEMENTS
Omega and Oris both make mechanical watches. Oris only uses mechanical calibers in their watches but Omega offers both mechanical as well as battery-powered Quartz movements.
BRAND PRESTIGE
Which brand is more prestigious, Oris, or Omega? The prestige of these brands has a lot to do with the marketing of the brand, its brand positioning as well as the history of the brand. Omega is an older and more established brand. In fact, when Oris first opened its doors for business, Omega was already an established company and have been on the up-and-up ever since.
WATER RESISTANCE
Which is more water-resistant, Oris, or Omega watches? This is an area where Omega again reigns over Oris.  While Oris has their own diving watches which are excellent in their own right, what sets Omega apart from Oris when it comes to submersible watches is the level of water resistance. Two watches that can be compared for water resistance are the Oris Aquis vs Omega Seamaster.
While Oris Diving watches such the ones found in the Oris Aquis collection offer ample water resistance for some light scuba-diving, they are limited to a water resistance of between 100m and 1000m and are equipped for extreme deep-sea diving expeditions but still come up a bit short to the Omega Seamaster PloProf with its 1200 meters/4000 feet of water resistance.
There are a few models of Oris diving watches that have up to 1,000 feet of water resistance but for that extra 200m, you would have to pay 3 times more for the Omega PloProf 1200m.
If you enjoyed this comparison and feel that others would enjoy it too, please like and share it. Thanks!