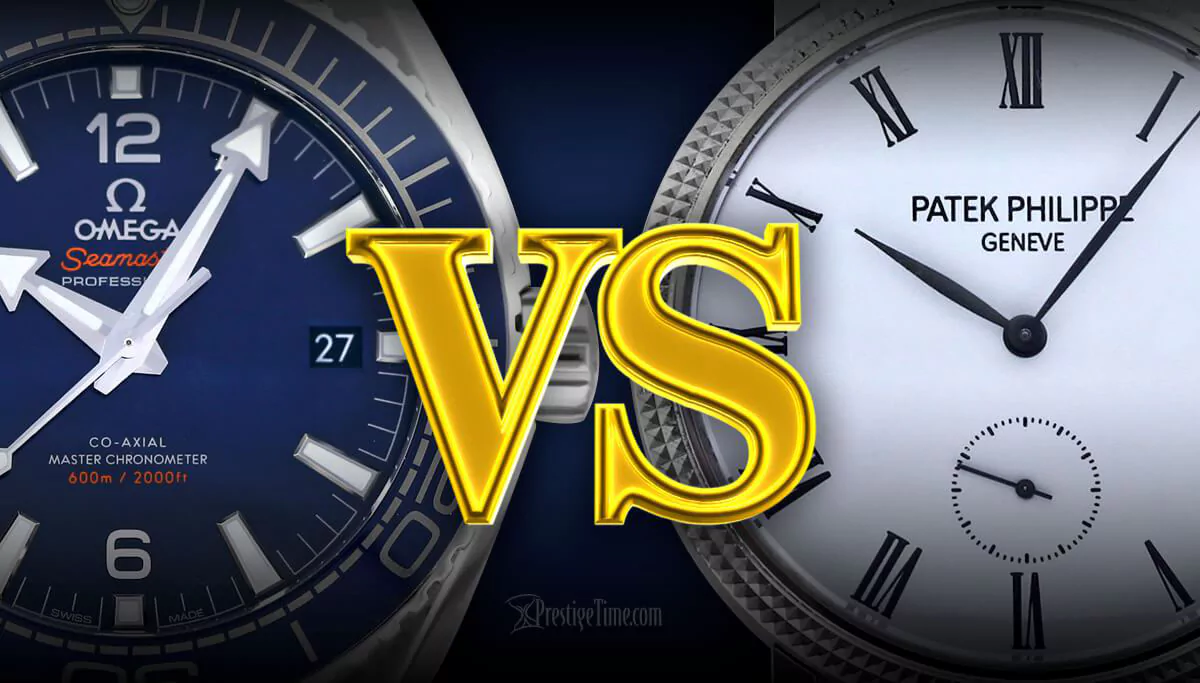 Omega VS Patek Philippe
There are many that would say that these are completely incomparable brands. However, the best way to phrase the question is: "Which brand is best for what?" Let's dive in and get right to it, shall we?
A Detailed Comparison & Review
Many of us have seen the ads for each of these brands and perhaps is aroused a bit of curiosity. Maybe you even asked yourself something like: "What's the difference between them? Don't both watches tell time? When someone asks me "Which is better...?" Let's try and understand the context, and the underlying questions behind these inquiries. We are going to compare these two brands from many perspectives. We will talk about: 
pricing | resale value |  brand recognition | durability | water-resistance | horology | supply & demand | warranty 
BRAND RECOGNITION & PRESTIGE
Omega is the more widely-known brand since they are also a more widely advertised and lower-market brand.  Much of their success was attributed to the Speedmaster "Moonwatch", the watch worn by NASA astronaut Buzz Aldrin as he walked the lunar surface with Neil Armstrong in 1969.
They have a few wristwatches that gained international acclaim and iconic status. Another example worth mentioning is the Seamaster Diver 300m which was featured in every James Bond movie since Pierce Brosnan took the role in "007 Golden-eye" in the 1990s.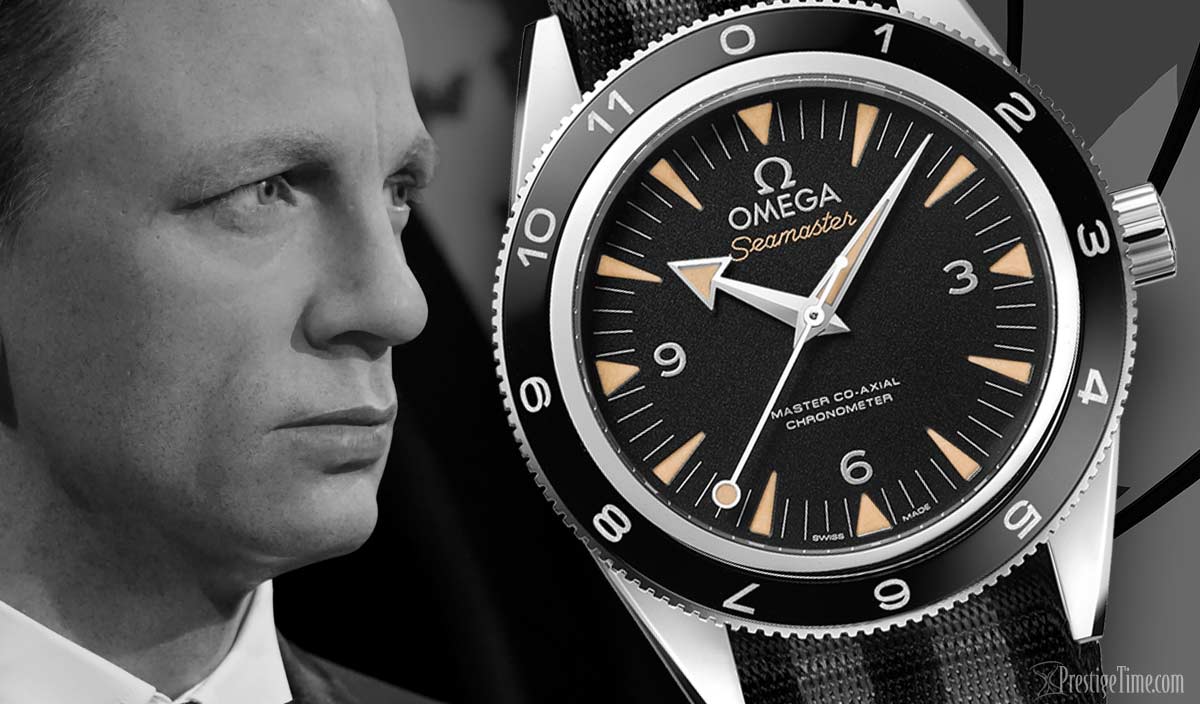 Patek Philippe, on the other hand, is arguably the most prestigious luxury watch brand in the world today. They quite literally invented the wristwatch, although Cartier, a highly fashionable watchmaker and jeweler of the high-society elite, was the one that made the wristwatch more widely-accepted and even fashionable.
The top three most valuable Swiss watch brands are the following and in the following order:
Rolex (valued at 7.38 Billion CHF)
Omega (valued at 3.677 Billion CHF)
Patek Philippe (valued at 1.885 Billion CHF)
*Sources & Citations: Interbrand Report:: https://www.rankingthebrands.com/PDF/Interbrand Best Swiss Brands 2016.pdf - Interbrand is a brand valuation agency that ranks the top 50 Swiss Brands (which include many luxury watchmakers).
PATEK PHILIPPE: This brand has been around for a very long time and has one-of-a-kind recognition. This brand would impress a watchmaker whereas an Omega would more likely impress your average layman. It is a top-tier brand, the Rolls Royce of watchmakers if you will.
OMEGA: Also an excellent watchmaker, but would be compared (in terms of car brands like above) to a high-end German sports car such as Porsche in the sense that it is a sportier brand with incredible precision.
COMPARE PRICES
Patek Philippe is most certainly the more expensive brand in this comparison. This leads us to the next important question.
Is it worth it to buy a Patek Philippe? You may find that spending 5-figures on an Omega watch will get you more features than if you spent that same amount on a Patek but you won't get the prestige of the more expensive brand, nor will you get the longevity in the resale value.
MEN'S WATCHES
The most affordable men's sized watch from Patek Philippe today is from the legendary Calatrava series; their most classic watch. There is a growing trend in which watches are being made larger and this is a mid-sized men's watch. The smallest Calatrava has a 36mm case which will look somewhat small on a thick wrist. It is powered by a beautifully finished mechanical movement and comes with a hefty price tag of about $19,700 USD.
An entry-level men's Omega watch is a mid-sized Omega Constellation Quartz 35mm which doesn't use a mechanical movement but rather a less-expensive yet, more precise battery-powered movement. If you are only interested in a mechanical watch such as a self-winding COSC certified Chronometer the Omega De Ville Prestige has the lowest MSRP and will sell at a list price of around $3,600.
IMPORTANT NOTE: Larger sized men's Patek Philippe watches will run you a few thousand dollars more for an entry-level model and Patek Philippe hasn't quite jumped on the bandwagon of using big or significantly larger case sizes like many other brands have been doing for the last few years.
WOMEN'S WATCHES
The most affordable Patek Philippe women's watches have a retail price upwards of $12,000 USD and this is the Patek Philippe Twenty-4 and these are using Quartz movements which are battery-powered.
The most affordable Omega women's watch today is the Omega De Ville Prestige 27.4mm with a retail price of $2,400 USD and this is also a women's watch with a Quartz movement.
Use the buttons below to shop these two brands:
RESALE VALUE
If you intend to hold onto a watch for a long time or hand it down to your heir one day, the Patek Philippe watch is most certainly the one you would want to choose. On average, if you choose to sell a pre-owned Patek watch, it will fetch you more in the long term and is known to have a higher percentage of watch models that appreciate over time.
The resale value of a previously owned watch depends on so many variables which include but are not limited to: The condition that the watch is in, the warranty duration that remains on the watch (if applicable), whether or not it comes with all original packaging and documents (including warranty card), the actual model of the watch itself (i.e. is it an iconic watch), supply and demand of not just the brand but the model, and many other factors.
IMPORTANT NOTE: You should never under any circumstances consider a watch as an investment such as SEC-regulated securities (i.e. a mutual fund, REIT, government-issued bonds, etc.) paint an answer to this with a broad brush. Watches are like cars in the sense that as soon as you use them, they already lost a portion of their value. 
However, in general, and on average Patek Philippe will have a higher resale value and in most cases is only second to Rolex in this respect. Of course, I need to re-emphasize that it depends on the model and other variables.
DURABILITY
This depends a lot on the model but in general, I see more watch enthusiasts using an Omega sports model such as the Omega Seamaster as a "beater watch".
This can be for several reasons but most likely because in the worst-case scenario, if the watch experiences a very heavy shock and is "totaled", at least it wasn't the Patek Philippe. Personally, I would never put a Patek to the test. Even if it could withstand that type of shock, I would be a real idiot to try and find out the hard way!
This fine spring is a tightly wound coil and powers the watch by releasing its tension through a series of regulators and gears. In traditional watchmaking this spring is made of very fine metal and just like someone who drops a $50,000 Patek, it will get all bent out of shape.
In all seriousness though, Omega has introduced their Si14 silicon balance springs into their watches a while back and it is made of a material that is highly-resilient when experiencing a shock.
WATCHMAKING KNOW-HOW
A watchmaker's brilliance is usually measured by a few things such as how many complications* they can fit into one watch. Another thing that makes a huge difference is craftsmanship such as the attention they pay to every minute detail in crafting one and the level of perfection detailing and finishing its various plates and components. All things evolve, and the following will help you distinguish the differences between them.
HOW GOOD IS A PATEK PHILIPPE?
Patek Philippe has introduced so many impressive horological innovations throughout its rich history and has even been attributed to the coveted reputation of "The maker of the most-complicated wristwatch" in honor of the brand's 175th birthday a few years ago; the Grandmaster Chime). Clearly, this is a very limited edition made for a museum and less for one's wrist.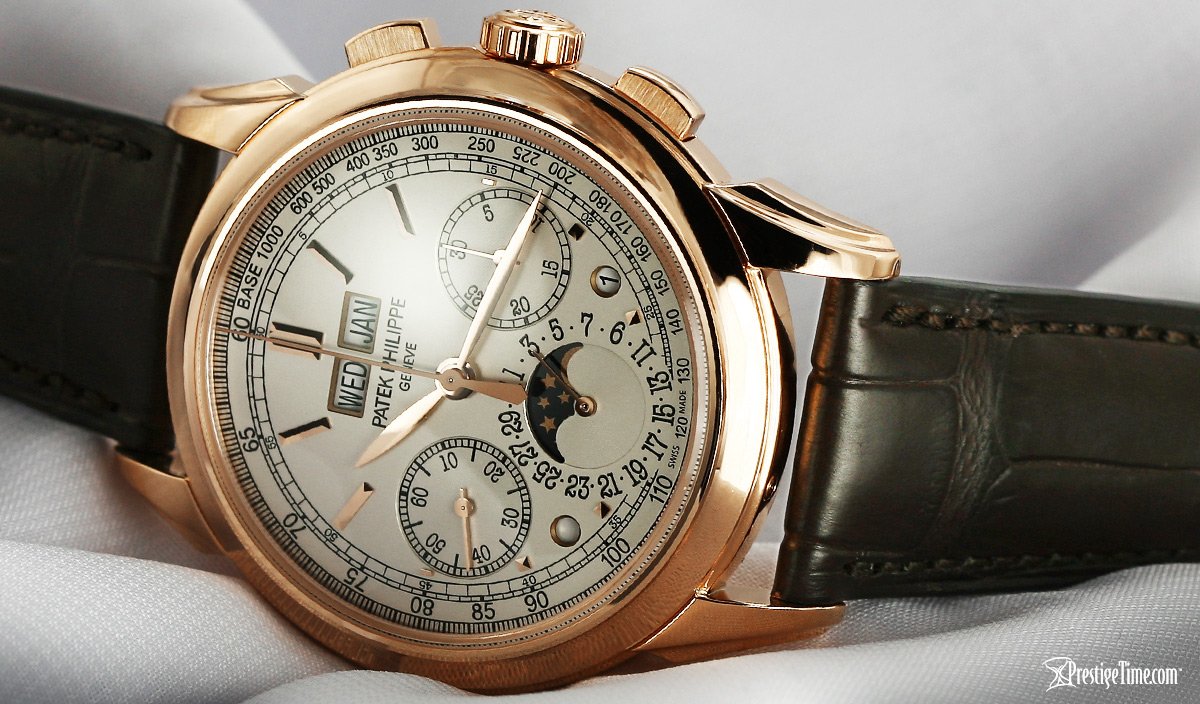 *A 'complication' is a watchmaking term for a mechanical feature that does more than just tell you information like the time or the day of the month. A good example would be a Chronograph which is a stopwatch function. These watches typically have a couple of extra pusher-buttons on the side of the case which are used to start, stop, and reset the stopwatch. A few more good examples would be a Moonphase, Perpetual Calendar, Alarm, GMT/Dual-Time Zone. Depicted in the above image is a Patek Philippe watch with two complications, a Perpetual Calendar, and a Chronograph.
Patek Philippe's most complicated wristwatch, the Patek Philippe Grandmaster Chime reference # 6300G featured 20 complications and contained over 1,500 components. Vacheron Constantin's (Les Cabinotiers Celestia Astronomical Grand Complication 3600) has 23 complications! These types of super-high-end top-of-the-top-shelf watches are a special edition or a highly limited edition. These are usually never seen on a wrist and are often museum pieces for people to gawk and marvel at the ingenuity of the master watchmakers who made them.
HOW GOOD IS AN OMEGA WATCH?
Omega watches can't hold a candle in terms of high-horology watches with high-complications such as the Patek Philippe 6300G mentioned earlier. However, these high-horology watches are usually collector pieces and are not necessarily the types of watches one would wear every day. 
One thing that Omega does better than any other watchmaker in terms of craftsmanship and watchmaking innovation is a more practical and pragmatic approach to horological innovation. These are the types of watches you would want to wear every day. One that aggressively combats the enemy #1 of all mechanical watches; EMF or Electromagnetic Frequencies.
These are the magnetic waves that are emitted from so many things we use each day including and not limited to electronics, gadgets, cell phones, household appliances, TVs, computer monitors, etc. Basically, everything! Unless you live in the Amazon rainforest, you and your wristwatch are most likely exposed to them.
Yes, coming into contact with EMFs are unavoidable and wreak havoc on a mechanical caliber. However, Omega has thus far made more progress and developed more innovative ways of fighting these dangerous magnetic frequencies and have better EMF resistance than any other brand. Specifically, with the use of a magnetic resistant (and shock resistant) material, silicone in their mechanical movements.
WATER-RESISTANCE
Here's another area where you would want to consider an Omega watch instead of a Patek Philippe. In terms of professional diving watches that are usually the most water-resistant, Omega, with their many different watches in the Seamaster collection has cornered themselves a nice segment of the market where they can truly be appreciated. Some great examples would be the popular Planet Ocean 600M or even the less water-resistant yet very popular Seamaster 300M, both of which are more waterproof than Patek Philippe's equivalent; the Aquanaut which only provides 120m of water resistance and is far too precious to take the plunge and chance losing it.
When it comes to sports watches Omega seems to be ahead of the curve compared to Patek Philippe. Probably because a Patek is just a different type of watch. A Patek watch is less of a utilitarian/tool watch and more of a classic refined dress watch for the classiest and most dapper of ladies and gentlemen. Anyone who owned a Patek would see this as a different class of watch. Omega, on the other hand, has some professional diving watches which have features tailor-made for diving professionals such as Helium escape valves and much higher water resistance. See the image below:
You could most likely do some light swimming or snorkeling with an Aquanaut without having to worry about water leaking into the case (ABSOLUTELY NO HOT SHOWERS THOUGH!). Any seriously professional diving would require a heavy-duty diving watch. Omega's PloProf 1200m would be an excellent choice. Otherwise just about anything in the Seamaster collection should suffice and would offer more water resistance than a Patek.
ACCURACY & PRECISION
Another fine example of how Omega can shine in such a competitive niche: Omega has made quantum leaps in advancing the precision and accuracy of their watches. Many of the newer models now come with the words Master-Coaxial Chronometer or Master Chronometer. These are significantly more precise than even COSC certified Chronometers since they go through more testing by yet another 3rd party laboratory called METAS...this is after the movement already receiving a COSC certificate and the standard Chronometer designation.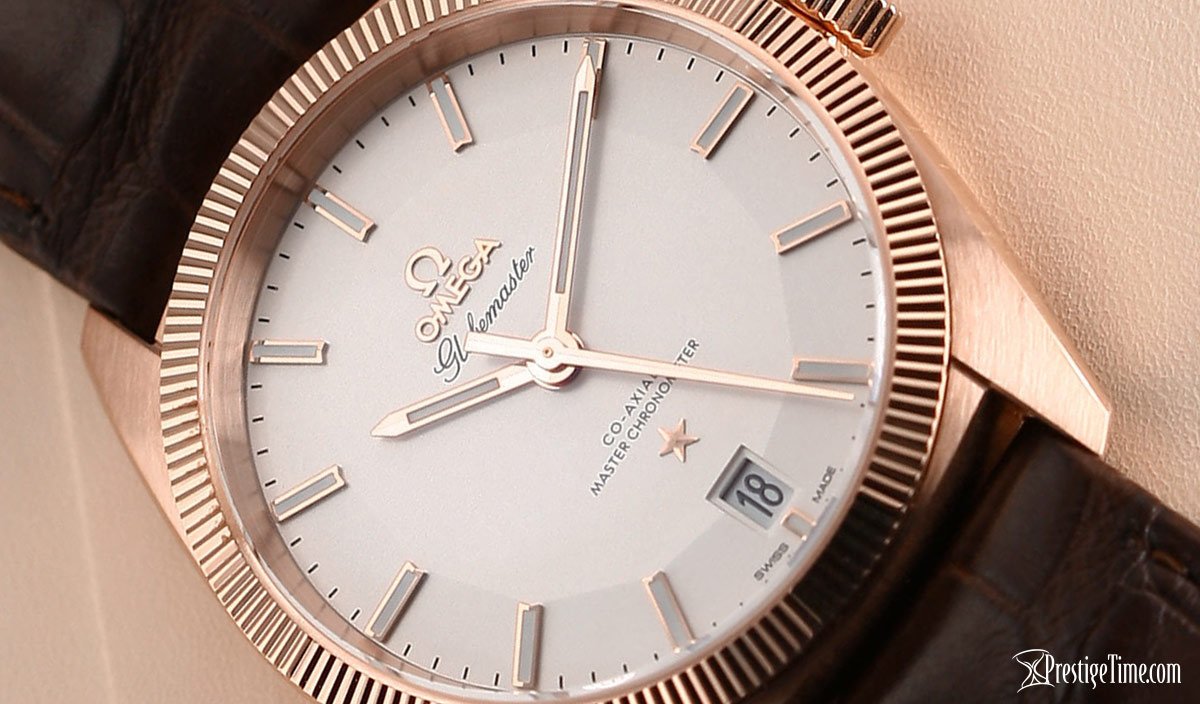 The first Master Chronometer was found in the Omega Constellation Globemaster. A truly stunning classic watch with a pie-pan dial that you can't miss and a lovely fluted bezel. Read more about it here.
Patek Philippe watches are also highly accurate compared to many luxury watch brands but don't fall within the specs of a Master Chronometer. Nor does it fall within the specs of a $10 battery-powered Quartz watch. This is ironic but the truth is that mechanical watches are used less for telling time and more for telling people that you've made it. It's a statement on your wrist, a testament to your social class and financial status. 
SUPPLY & DEMAND
There are some who wait months and sometimes even years to purchase certain top-shelf models of a Patek Philippe. Their output is less than their demand and this helps to keep the brand as exclusive as it is today.
What I mean by this is that Patek doesn't produce nearly as many different watch models like Omega, and Patek doesn't release even remotely close to the number of watches each year as Omega puts on the open market. This helps Patek keep the value of each item high (where frankly, it belongs, for absolutely exquisite and prestigious brands such as Patek). The demand generated by them holding back this much just adds to the exclusivity of the entire brand just as DeBeers withholds releasing the countless amount of diamonds in their vaults because in doing so they would lose a lot of their value. It's an example of supply and demand working at its best. 
WARRANTY
Patek Philippe has a 2-year warranty that covers service for manufacturer defects and in the case of a Quartz watch like the Twenty-4, a battery replacement.
In 2018 Omega has extended its warranty period to 5 years on all their watches which covers the same types of service as Patek. They also claim that this new revolutionary proprietary Co-Axial escapement provides longer intervals between servicing.
Use the buttons below to shop or browse the watches from these two brands: