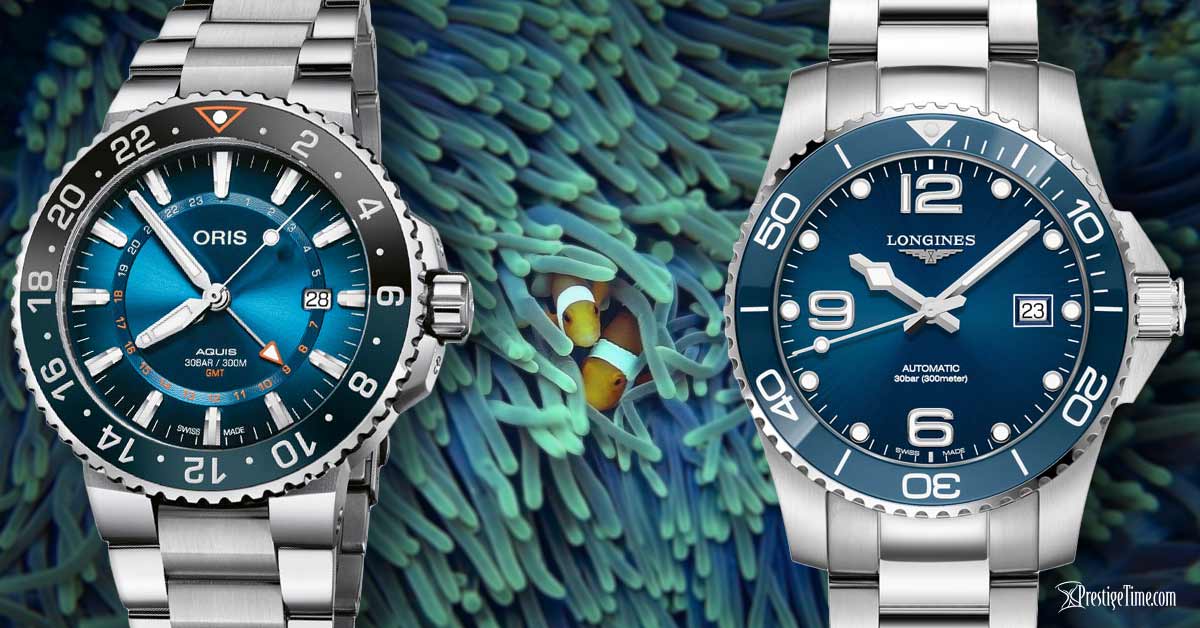 Oris Aquis VS Longines Hydroconquest | Which is Best?
Two very popular and affordably priced luxury diver watches go head to head in this spare-nothing comparison.
Two very popular diver's watches from two respected Swiss watchmakers on the more affordable side of luxury. The Longines Hydroconquest and the Oris Aquis watches have been gracing the wrists of diving enthusiasts and dive professionals for quite some time now. Today we will do an in-depth comparison of these two collections to see how they measure up to one another.
In terms of size, both Longines and Oris have a wide range of case sizes in each of these collections. I would venture to say that Oris caters from mid-sized 36.5mm case sizes up to large 48mm cases. Longines has Hydroconquest ladies' watches starting at a tiny 29mm case size, to mid-size and going all the way up to a large 44mm men's size.
STYLE
There is a very different look between these two dive watch collections. The Aquis will either have index hour markers or diamond hour markers. The Oris Aquis has a very round case with shorter lugs giving it an appearance of a more classic dive watch like the Fifty Fathoms from Blancpain.
The Longines Hydroconquest used longer tapered lugs which integrates the look of the case seamlessly with the bracelet. The Hydroconquest will use a combination of luminous numerals with index and dot hour markers. It has a very distinct look. Let's discuss the thing that gets most people to opt for a diving watch aside from the sporty look which is water-resistant.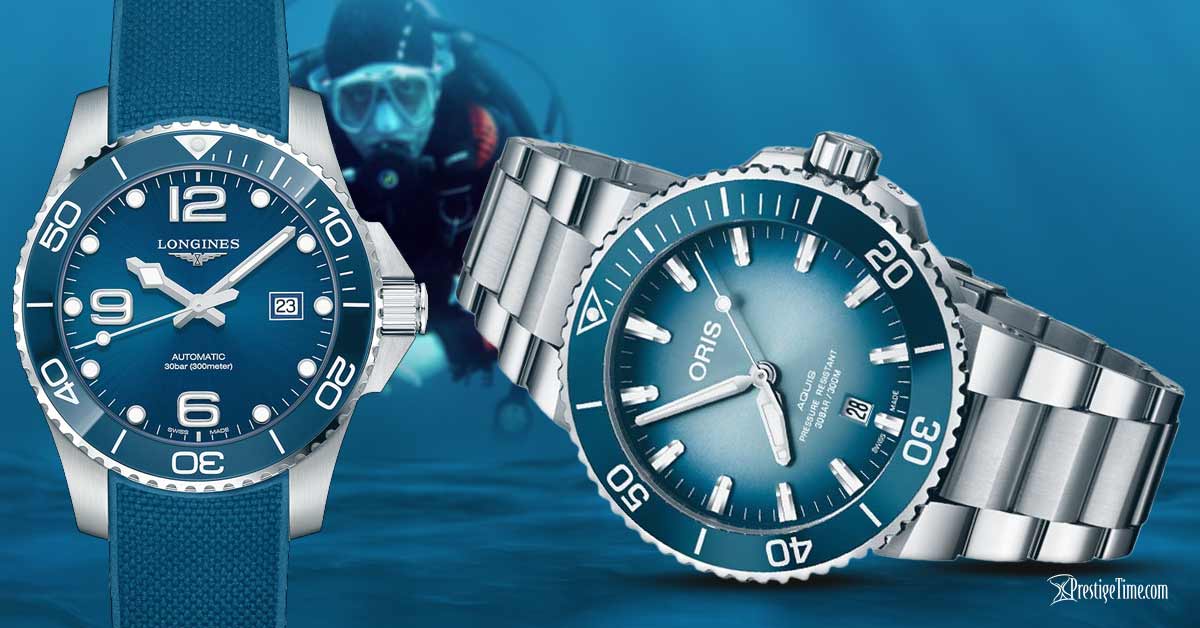 WATER RESISTANCE
Oris and Longines dive watches both have screw-down winding crowns and offer a bare minimum 300m/1000ft water resistance rating. This is the minimum amount needed to do some board diving and scuba diving. It's important to note that this does NOT mean you can dive to 1000 feet without compromising the watch movement inside the case. For serious diving, you should always go with a higher water resistance rating such as 500m/1650ft and up such as the Oris ProDiver.
Some watches in the various collections will have this higher rating so it is good practice to check the specs for each watch carefully to fully understand what type of water resistance you can expect from your dive watch regardless if it is an Oris or a Longines diving watch. Learn more about water resistance by clicking here.
SPECIAL FEATURES
One thing that you won't find on either of these dive watches yet is a helium escape valve which can be found on some diver watches from higher-end luxury watch brands. Not that it is necessary to have a helium escape valve if you are just doing some regular diving. These valves are needed when using a diving bell to go to some great depths.
However, in the past, Oris has introduced some special features for divers, including a patented depth gauge found in a series called the Aquis Depth Gauge Chronograph which had since been discontinued.
BRAND RECOGNITION
Longines is a very popular Swiss watch brand and can pull rank over Oris in this department. There is a good chance that more people will recognize the watch on your wrist when wearing a Longines. However, Oris is still a major watch brand, just not as internationally recognized as Longines.
SELECTION
In terms of the overall selection. You will find a significantly larger number of different Oris Aquis watches compared to Longines Hydroconquest watches. However, one thing that Oris doesn't have in their collection is Quartz watches. They strictly manufacture mechanically powered watches with spring-wound movement. Longines, on the other hand, offers both Automatic (self-winding) watches as well as Quartz (battery-powered) watches in their collection. See the links below for different sizes and options.
Oris Aquis Collections
Longines Hydroconquest Automatic Collections
Longines Hydroconquest Quartz Collections