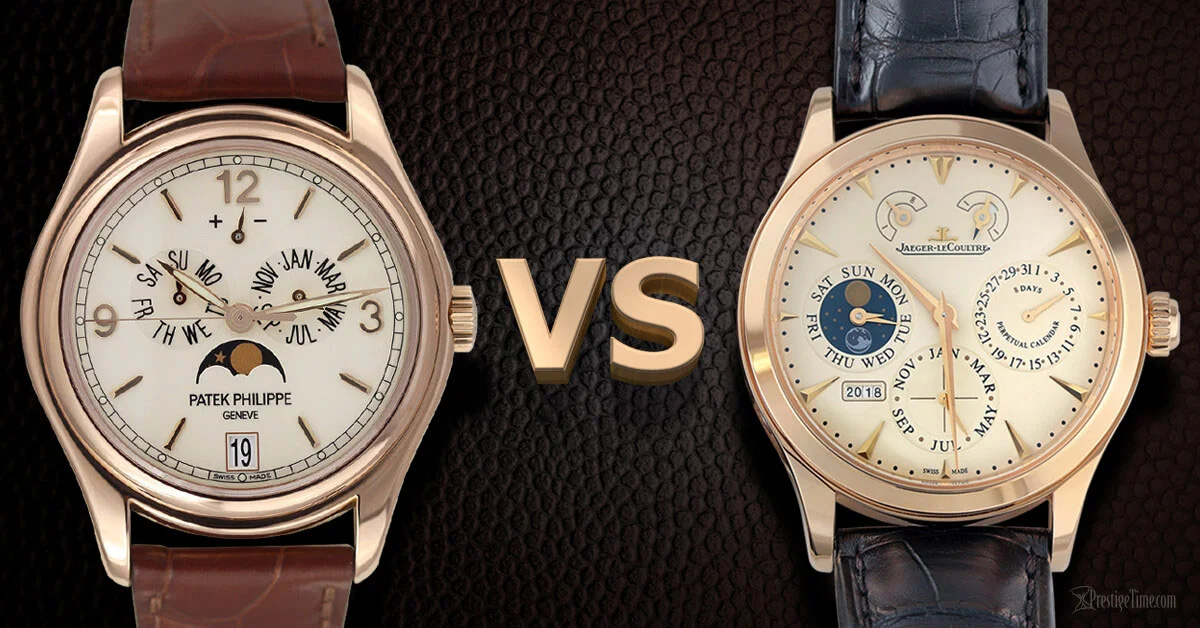 Patek Philippe VS Jaeger LeCoultre
Let's put two high horology brands head-to-head and see which of these two brands is the best for you.
We are sometimes asked a question along the lines of "Is JLC on the same level as Patek Philippe?".  This is not an uncommon type of comparison and for several reasons. Let's jump into an in-depth comparison of Jaeger LeCoultre VS Patek Philippe and see what they have in common and what makes each brand unique and special.
We are going to be comparing these two brands on many levels such as brand recognition & prestige, horology, craftsmanship, history, price, accuracy, and more. Click on any of the links below to jump to a specific section.
Accuracy  |  Brand |  Craftsmanship  |  History |  Price  |  Horology
Accuracy
Patek Philippe and Jaeger LeCoultre are both very strict with their testing and regulation. They take their watchmaking very seriously and have certain things about their testing procedures that are a cut above most watchmakers.
Patek has great movements but just as it is known that Patek Philippe takes their finishing to the next level, Jaeger LeCoultre takes their testing to the next level to even stricter standards than Patek Philippe. Their 1000-hour control test lasts longer than the testing Patek Philippe performs and is arguably the strictest testing in the business. The 1000 Hours Control symbol on a JLC case back (below) is a testament to these highest standards of testing.

Brand
Is Jaeger LeCoultre a good brand?  
It is. In fact, JLC is an excellent high-end Swiss watch brand. While most people don't always associate top of the line watch brands with JLC as they are affectionately known in the watch community, this is mainly because of their marketing and not because of anything else.
Is Patek Philippe a good brand?
Patek Philippe, as a company, has carved out a special place for its brand in the luxury watch market and has become a household name. When people think of a super high-end watch, Patek is often the first name to come to mind followed by brands like Audemars Piguet and Vacheron Constantin who together make up the "holy trinity" of watchmaking. Other brands like Breguet and A Lange & Sohne are also often associated with luxury watches.
Which brand is more popular, Jaeger LeCoultre or Patek Philippe?
So where does JLC stand in terms of rank and international recognition? According to a recent top 50 Swiss Brands list by Interbrand*:
Patek Philippe is the 15th most recognized Swiss brand in the world and the 3rd most recognized Swiss watch brand in the world. According to this report, their brand valuation is at approximately $1.8 billion.
Jaeger LeCoultre is the 36th most recognized Swiss brand in the world and in terms of most recognized Swiss watch brands, JLC is the 12th most recognized swiss watch brand with a brand value of about $673 million.
*Source: Most Valuable Swiss Brands by Interbrand.
Mind you, not all these companies on this top 50 list are watch brands. The Swiss are also famous for their other two big exports which are banking and chocolate. If you consider how many Swiss watch companies there are in the world, it is quite an achievement just to be on this list. It's important to note that this list doesn't rank the best Swiss watches in the world but rather the most recognized Swiss brands.
Jaeger LeCoultre has been proactively pushing their brand further upmarket by raising its brand awareness to mainstream media. They have even had their watches featured in blockbuster films such as Marvel's Dr. Strange and another recent film, a Netflix production called Anon. Patek has always been strong on the marketing front and the likelihood of JLC surpassing Patek as a brand soon is slim.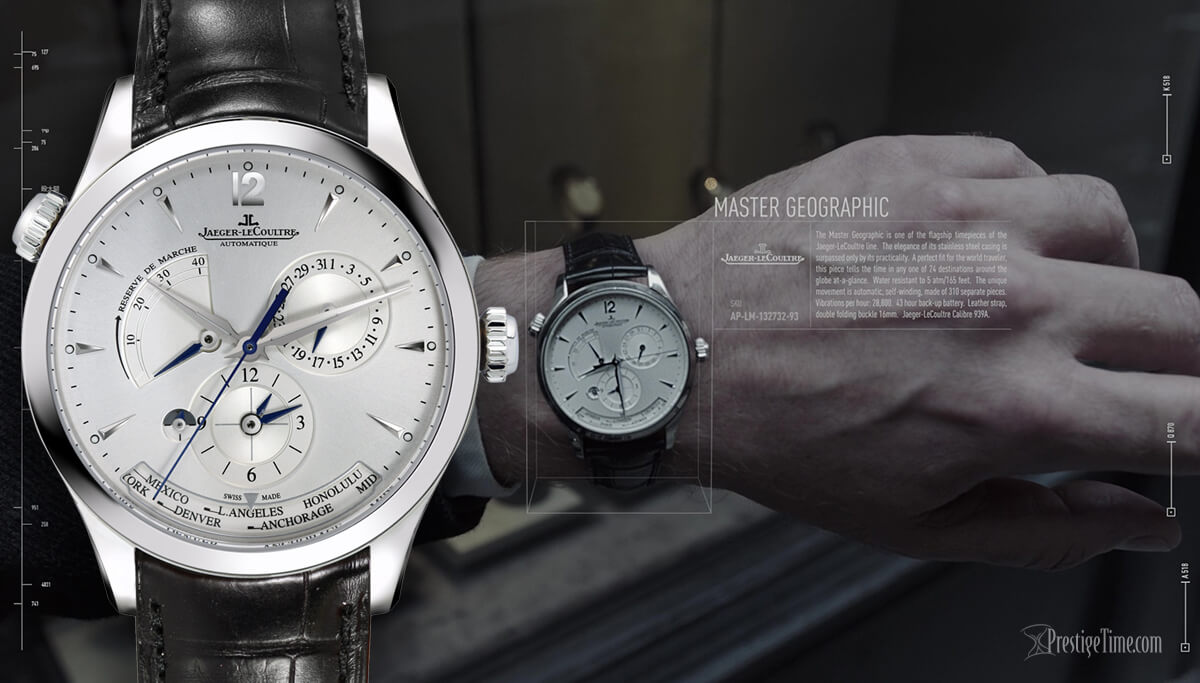 Craftsmanship
In terms of craftsmanship, both Jaeger-LeCoultre and Patek Philippe are excellent at it. Many believe that Patek Philippe takes their finishing to a slightly higher level of perfection than JLC and that can be expected from a brand that charges nearly double that of JLC for an entry-level watch.
Click on any of the thumbnail images below for a full-blown example of the level of craftsmanship and finishing on their calibers.
History
Both JLC and Patek are old brands that are rich with watchmaking history. Both brands have contributed generously to the art of traditional watchmaking through their inventiveness and numerous innovations over the many years in the business and are considered historically significant brands.
Patek Philippe dates way back to 1839 in Geneva where it was founded and Jaeger LeCoultre dates back to 1833 in Le Sentier Switzerland. Jaeger LeCoultre was founded by Antoine LeCoultre and is currently owned by a luxury conglomerate called the Richmont group. Patek Philippe was founded by Antoni Patek, Adrien Philippe, and Franciszek Czapek. It is currently owned by the Stern family and has been in the Stern family since 1932.
JLC isn't just a watch brand but has been a manufacturer of high-end watch movements for other brands. Their calibers are made entirely in-house making them one of the few manufactures that can make a watch movement from start to finish. JLC has been a supplier of high-quality calibers to some of the most prestigious brands in the business including Vacheron Constantin, Cartier, and yes, even Patek Philippe. Perhaps this is why many horologists and watch enthusiasts refer to JLC as a "Watchmaker's Watchmaker" since they provide the best of the best with watch calibers.
Horology
Naturally, with high horology/high complications comes a high price and it should come as no surprise that the watches in the high-end price section of this article are not necessarily sports watches or gold watches but are also in many cases highly complicated watches.
Both Patek Philippe and Jaeger LeCoultre create high horology watches. Patek is probably more famous for it since they have created some super-high complication watches such as the famous Patek Philippe Supercomplication "Henry Graves" pocket watch which sold for about $24 million and had 24 complications… that works out to about $1 million per complication! Or the Caliber 89 which had an outstanding 33 complications.
Jaeger LeCoultre had the Hybris Mechanica collection which contains their top-shelf watches with all sorts of combinations of horological complications such as minute repeaters, perpetual calendars, tourbillons, Gyrotourbillons, Spherotourbillons, and so on.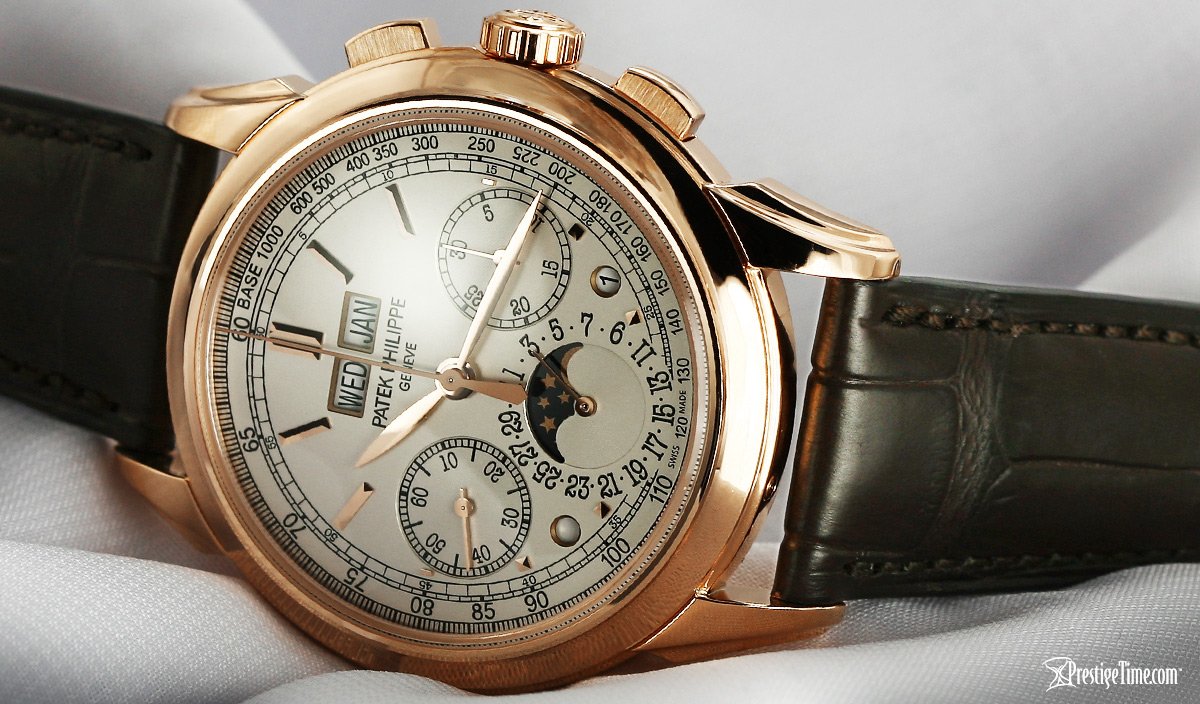 Price
Both Patek Philippe and Jaeger LeCoultre are expensive watches to buy. However, Patek Philippe is the more expensive of the two. As mentioned earlier in this post, a new entry-level Patek will cost significantly more than a JLC. For example, you can buy up a ladies JLC Reverso for an MSRP of just above $4k whereas a Ladies Patek Philippe Twenty-4 retails for just above $12k.
The most expensive Patek Philippe wristwatch ever sold was actually a very limited edition stainless steel model with reference #1518 and it sold in 2015 for 11,002,000 Swiss francs which at the time was about $11,136,642 USD 
The most expensive Jaeger LeCoultre watch ever sold was the JLC Hybris Mechanica Grande Sonnerie which sold for $2.5 million, but there is also a priceless Jaeger LeCoultre watch/bracelet which contained 576 diamonds and was gifted to Queen Elizabeth II on the celebration of her 60 years of reign.
Browse JLC Watches      Browse Patek Watches