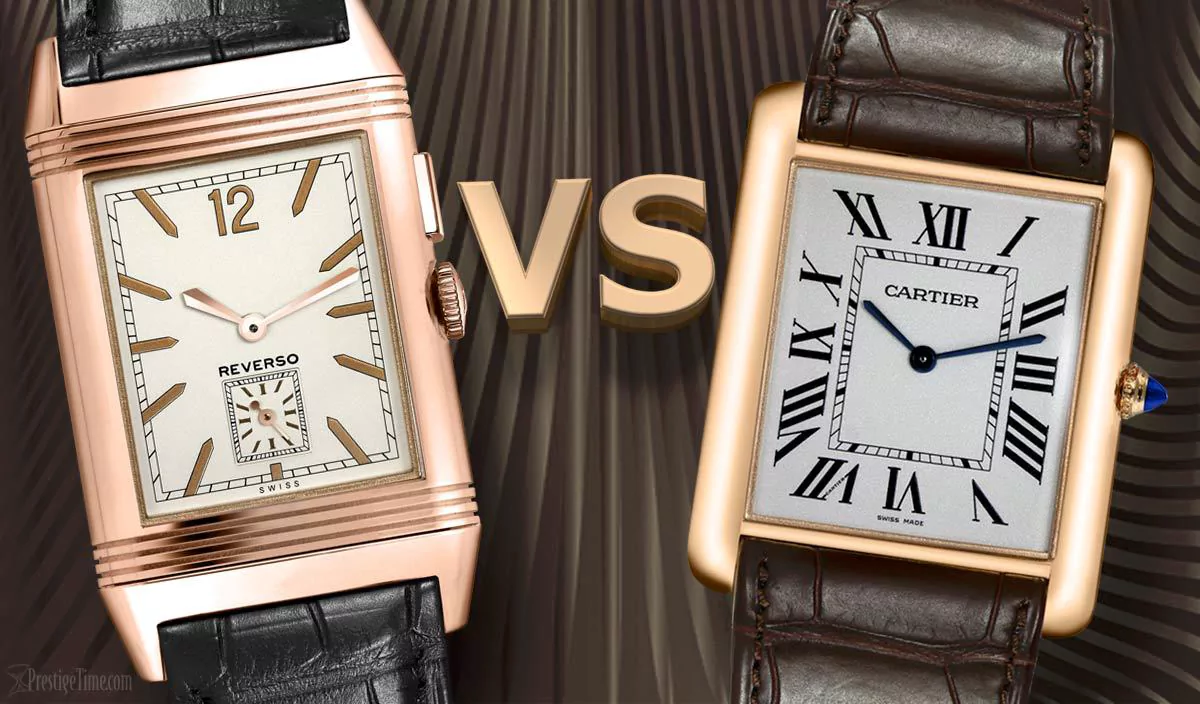 Jaeger-LeCoultre Reverso VS Cartier Tank
Both are iconic rectangular luxury watches. But which one is better?
To best answer this question we have to get a good understanding of how these two iconic Swiss watches came to be. To begin, both of these watchmakers are historically well-respected and well-established brands. More people recognize the Cartier brand since as a jeweler, they are considered a super high-end fashion brand with over 200 ritzy stores in over 125 different countries. However, the Jaeger-LeCoultre brand is to this day still considered a luxury watch brand that specializes in "Haute Horlogerie", the French term that the industry uses for high horology. They are both highly respected brands and there are many different series of Tanks and quite a few of series of Reversos as well.
Cartier Tank
Cartier was the watchmaker to popularize the wristwatch at the turn of the 20th century and the Tank series was known to be inspired by the rectangular shape of the World War One Renault tanks. By the 1920's everyone was wearing them. Cartier has expanded the Tank collection ever since with several series of Tank watches such as the Tank Francaise, Tank Anglaise, Tank Solo, Tank Americaine Tank Louis, and Tank MC. Some of Cartier's most popular watches can be found within these series.
PROS
Legibility

Generally a Tank watch is more legible and their dials and numerals have a higher contrast under dark conditions.

Style Options

There is a large assortment of watches for men and women in the various Tank collections with many different style options.

Price

The price of a Cartier Tank watch starts at about half of the price of a Reverso

Bracelet Options

Both the Tanks and the Reversos have many strap options but the Tanks uniquely have a two-tone bracelet option.
CONS
Brand Prestige

The Cartier brand is not as prestigious as Jaeger-LeCoultre. Cartier is considered a jewelry brand while JLC is a high horology brand.

Resale Value

Watches from Cartier generally have a lower resale value than those from Jaeger-LeCoultre. Of course like every brand this is not a blanket statement and depends on the watch.

Design Differences

The Cartier watch has a single dial whereas many of the Reverso watches have an innovative reversible case with two dials.
Jaeger-LeCoultre Reverso
Jaeger-LeCoultre was a highly respected Swiss watchmaker from Valley de Joux, Switzerland, and has the stripes to prove it with numerous innovations in watchmaking under their belt. About ten years after the rectangular Cartier Tank watches were already popular, Jaeger-LeCoultre, or JLC as they are affectionately known, decided that it was time to do it justice with the new and innovative JLC Reverso collection. This series was intended to allow polo players to have an extra layer of protection to their watches by having a reversible case with a solid back so that when struck, protected the watch and minimized any damage. The Jaeger-LeCoultre Reverso collection has since expanded and caters to more than polo players with some of the newer models such as the Reverso Duoface collection featuring a reversible case with two completely different dials…a two for one special of sorts such as the watch below which is the case's reverse side.
PROS
Durability

The Reverso originated as an innovative design allowing polo players to cover the dial of their watches and protect the crystal by flipping over the reversible case.

Brand Prestige

The Jaeger-LeCoultre brand is a prestigious brand known for making its own movements, numerous innovations in horology, and more.

Resale Value

One of the byproducts of being a more prestigious brand is their products generally have a higher resale value.

Design Differences

The Reverso collections have a unique reversible case and there are actually many innovative models that have a second dial on the reverse side of the case.
CONS
Legibility

Generally a Reverso watch is not as legible under dark conditions as a Tank watch.

Style Options

There is a large assortment of Reverso watches for men and women with many style options. However, it is a slightly smaller collection compared to Tank watches.

Price

The price of a JLC Reverso watch starts at about double the price of a Tank.

Bracelet Options

Both the Tanks and the Reversos have many strap colors and options but the Reverso doesn't come in a two-tone bracelet as of yet.
Let us compare two similar-looking rectangular watches from each collection to get an idea of how they size up against one another.
In one corner we have the Cartier Tank Louis Cartier w1560017 which has an 18kt rose gold case and a dark brown leather band. It the other corner is the 18kt rose gold Jaeger-LeCoultre Grande Reverso Ultra Thin Duoface which comes on a black leather strap.
The most common difference between the JLC Reverso and the Cartier Tank is the geometry. The Tank's rectangular shape is noticeably wider in proportion to its height when compared to the JLC Reverso. This is a result of the JLC having a greater distance between the very top of the dial to the end of the lug.  You will also notice that the corners on the rectangular shaped case of the Cartier Tank are more rounded than the Reverso. The 5.1mm case of the Cartier w1560017 is noticeably thinner than the 9.4mm which includes the watch carriage and case or 7.8mm for the case of the JLC itself because, with the Grande Reverso Ultra Thin Duoface, you literally have two watches in one. JLC also uses a push-button on the side of the watch that allows you to adjust the time by one-hour increments with the push of a button. Let's do a side by side comparison of both watches to see their specifications.
Side By Side Comparison of the Jaeger-LeCoultre Reverso VS Cartier Tank Louis Cartier
Have a Question About a Watch? Call us at 1-800-470-2343 or 1-845-357-8300
 
Brand:

Cartier

Jaeger-LeCoultre

Series:

Tank Louis Cartier

Grande

Reverso

Ultra Thin Duoface
Model #:
w1560017
3782520
Size:
Men's
Men's
Case Material:
18kt Rose Gold
18kt Rose Gold
Dial Color:
Silver
Black & Silver
Bracelet/Strap:
Brown Alligator/Crocodile Leather
Black Alligator/Crocodile Leather
Clasp Type:
Tang Buckle
Tang Buckle
Movement Type:
Manual Wind
Manual Wind
Movement Name:
Caliber 43MC / Base Piaget 430P
Caliber 854/1
Number of Jewels
18
21
Number of Components:
131
180
Power Reserve:
36 Hours
45 Hours
Crystal:
Mineral Crystal
Scratch Resistant Sapphire
Case Back:
Solid
Solid
Water Resistance:
20m/65.6ft
30m/99ft
Case Diameter:
34.92mm
46.8mm
Case Thickness:
5.1mm
9.4mm
Complications:
None
GMT Time Zone
Warranty:
Prestige Time 2 Year Warranty
Prestige Time 2 Year Warranty
If you enjoyed this comparison and feel that others would enjoy it too, please like and share it. Thanks!