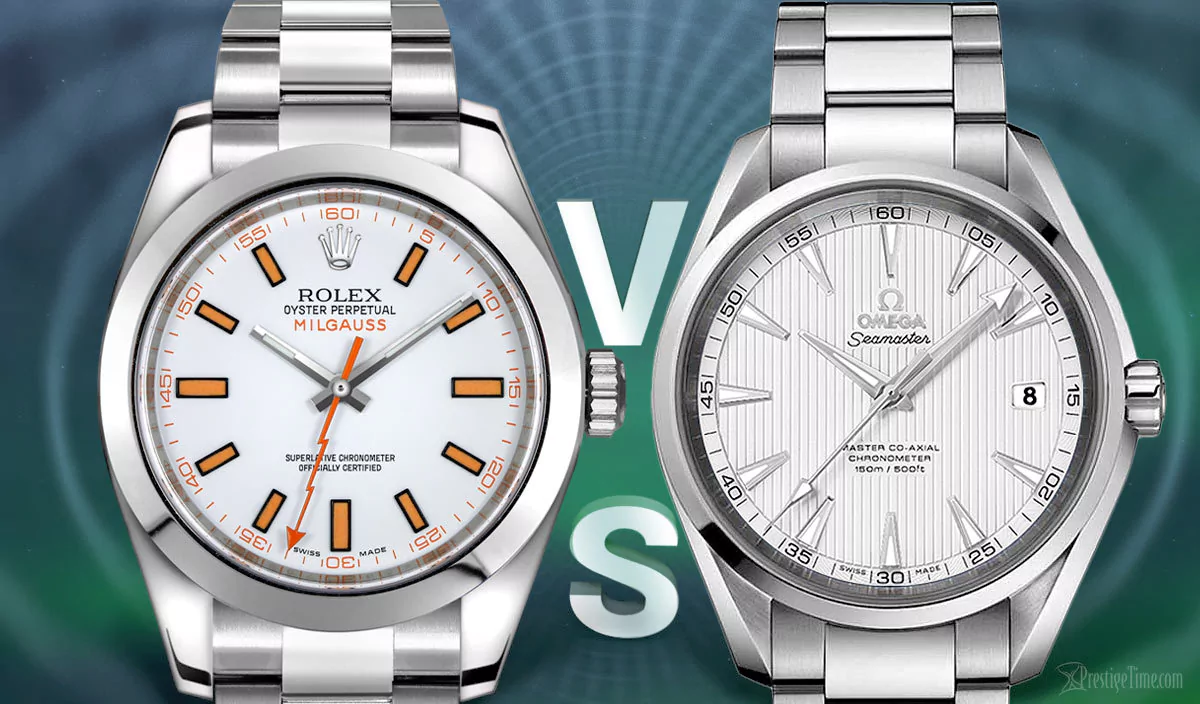 Rolex Milgauss VS Omega Aqua Terra. Which One is Better?
Two antimagnetic luxury watches that deserve to have their praises sung.
Now is a time where magnetic fields are everywhere. In this day and age, we spend most of our days working on electronic devices. Every electronic device we use emits an EMF. Electromagnetic frequencies not only affect us as biological entities, they also affect mechanical devices and can interfere with other electronic devices. There are two luxury watches that stand up to said frequencies using new and innovative materials. and we would like to conduct an in-depth comparison. Today we will pin the Rolex Milgauss VS the Omega Aqua Terra Master Co-Axial.
It's therefore incumbent upon the luxury watch experts at Prestige Time to put in an educated and informed opinion based on facts and based on experience with both of these magnetic resistant watches. Once we present all the facts, we will encourage you to compare them properly and in detail before making your decision. Shall we begin?

Rolex Milgauss
The name used for this series seems a bit odd compared to other Rolex series names. The nomenclature of the Milgauss is a fusion of "Mille" which is French for a thousand and "Gauss", an increment used to measure the intensity of electromagnetic magnetic fields. Rolex prides itself on the fact that the Milgauss can resist EMFs of up to 1,000 Gauss. This is done by utilizing an anti-magnetic alloy in a protective metal shield that goes around the watch movement. The case back is emblazoned with the letter B with an arrow above it which is the symbol for magnetic flux density used by scientists. 
One component that is particularly sensitive to magnetic interference in mechanical watches is the coiled spring known as the hairspring, which controls the oscillation of the balance. The Rolex caliber 3131 movement features the innovative and shock resistant, blue Parachrom Bleu hairspring which can stare-down a magnetic field with both eyes shut thanks to it being comprised of an oxide coated, niobium-zirconium alloy making it completely impervious to magnetism. In addition to the hairspring, the escape wheel and pallet fork are also made of antimagnetic material. The Milgauss has water resistance up to 100m/330ft. Of course, one of the most recognizable features of the Rolex Milgauss is the lightning bolt-shaped second hand. The power reserve on this automatic COSC certified chronometer is approx. 48 hours. The two newest models of the Milgauss have been redesigned. One has a green dial and the other has an electric blue dial, possibly to symbolize technology. The previous model that had a black or white dial had been taken out of production but can sometimes be found on the preowned market if you give a good look.

Omega Aqua Terra
The Omega version of the anti-magnetic luxury watch is quite impressive. Besides having a date window, luminous second hands, and the Aqua Terra having a significantly lower price tag than the Rolex Milgauss, the power reserve is impressive at approximately 60 hours thanks to the two-barrel Omega caliber 8500, a 39 jewel movement which beats at 25,200 VpH. Omega also uses an innovative mainspring, their new silicon, the "Si 14" balance spring (maybe because Silicon has an atomic number of 14) which gives the movement greater resistance to shock, magnetic interference, and other environmental disturbances.
Omega has started outfitting their watch movements with the new and improved Master Co-Axial escapements which can resist magnetic fields up to 15,000 Gauss. So in terms of magnetic resistance, a great issue that negatively affects mechanical watches, the Omega Aqua Terra Master Co-Axial eclipses the EMF resistance of the Milgauss with 15 times the amount of electromagnetic resistance than its closest rival.  This is thanks to its METAS certified Master Chronometer designation. Aside from the difference in resell value, for the money, the Omega seems to outshine the Milgauss in terms of magnetic resistance as well as water resistance with up to 150m/500ft.
---
Pricing:
A new Rolex Milgauss has a list price of $7,650, high demand and low supply can account for the volatile effect on the market price of Rolex Milgauss watches. Oftentimes they will even sell for above retail price. You can find a used Rolex Milgauss for $5,200 when lucky. While the price of even a pre-owned Milgauss is at least $1,000 more than a brand new Omega Aqua Terra, the resell value of a Rolex is usually higher.
---
Conclusion
There is no denying that in terms of brand recognition, the Rolex brand is the top of the food chain, they are the single most recognizable watch brand out there with almost 100% brand recognition worldwide while Omega watches is closer to 70%.  They are also some of the most sought-after pre-owned watches. However, when comparing two watches, you need to isolate what features are more important to you and weigh those against the rest of the specifications.  For some, it may be the upfront price, for some, it's the resell price or warranty duration. For some, it's the prestige of the brand and for some others, it's all about what's under the 'hood'. For your convenience, we've created a table to compare them side by side.
|   | | |
| --- | --- | --- |
| Brand: | Omega | Rolex |
| Series: | Aqua Terra 150m Master Co-Axial 41.5mm | Milgauss 40mm |
| Model #: | 231.10.42.21.02.003 | 116400 White |
| Size: | Mens | Mens |
| Case Material: | Stainless Steel | Stainless Steel |
| Dial Color: | Silver | White |
| Bracelet/Strap: | Stainless Steel | Stainless Steel |
| Clasp Type: | Push Button Folding Clasp | Deployant Buckle |
| Movement type: | Automatic COSC Certified Chronometer | Automatic COSC Certified Chronometer |
| Movement: | Omega Calibre 8500 | Rolex Calibre 3131 |
| Number of Barrels: | 2 | 1 |
| Special Components: | Omega's "Si 14" Silicon mainspring, Omega's Master Co-Axial Escapement  | Rolex's "Parachrom" hairspring, antimagnetic protective shield |
| Bezel: | Fixed | Fixed |
| Crystal: | Scratch Resistant Sapphire | Scratch Resistant Sapphire |
| Case Back: | Transparent | Solid |
| Water Resistance: | 150m/500ft | 100m/330ft |
| Case Diameter: | 41.5mm | 40mm |
| Case Thickness: | 13.2mm | 13.5mm |
| Magnetic Resistance: | Up to 15,000 Gauss | Up to 1,000 Gauss |
| Warranty: | Prestige Time 4 Year Warranty | Prestige Time 5 Year Warranty |
|   | | |
Not sure if either one of these collections is the right one for you?
Have a Question About a Watch? Call us at 1-800-470-2343 or 1-845-357-8300
If you enjoyed this comparison and feel that others would enjoy it too, please like and share it and feel free to follow us on Facebook and Instagram! Thanks!