Rolex Presidents Day-Date Review
What exactly makes this watch series so presidential? Let's get up close with the Rolex Presidents Day-Date and find out!
You may be asking yourself, how did Rolex manage to improve an already perfect watch? There's this expression that goes "If it ain't' broke, don't fix it". Thankfully Rolex didn't have to wait for something to be broken before improving on what is already considered a workhorse. Their watches are reliable, stylish, and highly popular so let's see from where this series emerged and to where it has evolved.
Back in 1956, the Rolex Oyster Perpetual Day-Date with its easy-to-spot President bracelet was seen on the wrists of world leaders, CEO's presidents, and other top-level dignitaries giving it the Rolex 'President' title that it carries to this day. As with all Rolex Day-Date President watches released since then, the unique Rolex bracelet remained consistent but with several innovations to the watch cases, materials used, dials, designs, and mechanical movements. Standard features can be expected such as the day of the week which is displayed in a semi-circular fashion at the 12 o'clock position, the date or day display shows the day of the month in an aperture that is displayed at the 3 o'clock position, and features a magnifying cyclops lens. 

A patented blue Parachrom hairspring can be found in this watch giving it 10 times the shock protection than a regular hairspring. In addition to being water-resistant thanks to its oyster case that has a patented system involving screwing down the bezel, the case back, and the winding crown against the middle case, a patented Twinlock double waterproofness system is built into the screw-in winding crown. This system has two sealed areas when the crown is screwed down properly. One in the tube of the crown and another in the crown itself! The same system is found on their famous Air King watches.
While this system is highly secure in and of itself, another even more secure waterproofing system called the Triplock can be found on the more sea-friendly watches Rolex has in their Yacht-Master collection. Rolex sports watches, including the Cosmograph Daytona which is not necessarily made for diving, typically have excellent water resistance and use the Triplock system.
The reason why the watches in the Presidents Day-Date series don't feature a Triplock system is quite possibly because they are categorically dressy watches and not sporty watches. The kind you would wear with a 3 piece suit instead of a bathing suit with the sea-dweller watches or a pilot's suit like with the Air-King or Sky-Dweller. What the official Rolex position exactly is on this engineering decision is unknown but, it appears that this is the most logical reason. For many looking for a gold Rolex among many of their men's watches, this is the go-to collection.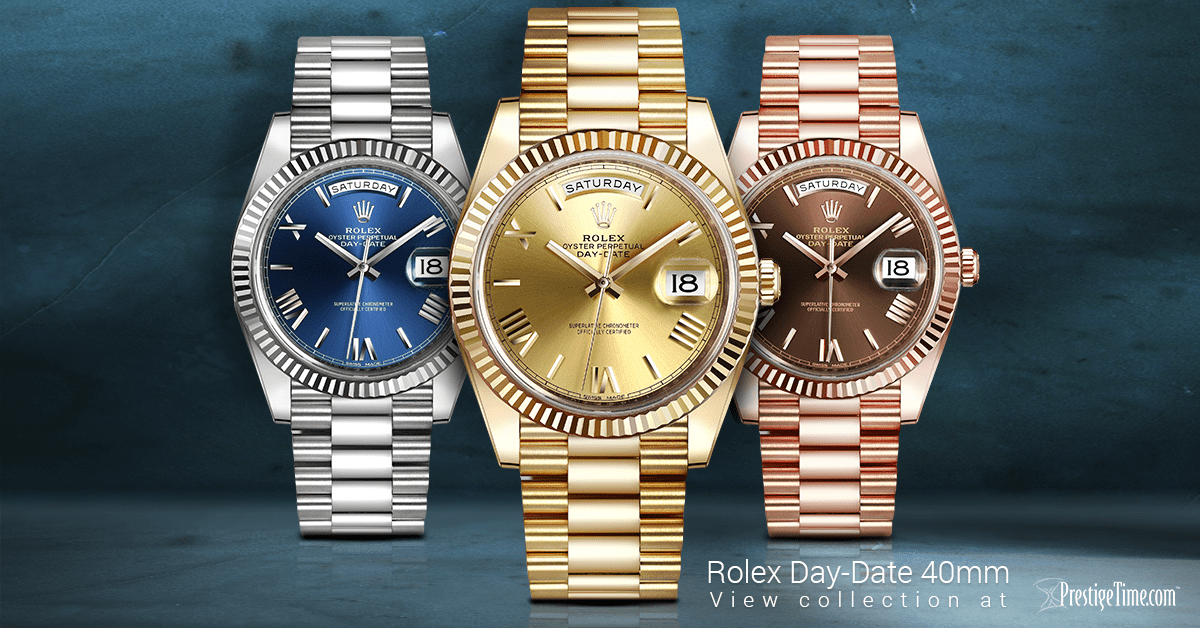 Rolex has also added a defense mechanism to fend off unwanted EMF signals which can disrupt the mechanics of a watch with their latest innovation in anti-magnetic materials. The nickel-phosphorous Rolex "Chronergy" escapement is one of the latest patents from Rolex which keeps the magnetic fields from generating interference which can affect the accuracy of the watch.
Most recently at the 2015 BaselWorld Rolex booth, four new additions to the Presidents Day-Date family were unveiled. The newest additions have taken the design and attention to detail to even greater heights. Each of the 4 new additions can be found in several materials including Rolex's very own alloy, Everose gold with its unique hue of rose gold that can only be found on Rolex watches. In addition, they can be bought in 950 platinum, 18kt white gold, and 18kt yellow gold. As with all Rolex Day-Date watches, the functions of the Day-Date include hours, minutes, second, day, and date.
Traditionally a sunray dial can be found on these watches but Rolex decided to kick the dial designs up a few notches by applying motifs by laser. These new motifs now add textures and patterns to an already beautiful sunray dial. In addition to the new designs, Rolex has released a few new dial colors to the equation which include Ice Blue, Silver, Sundust, Champagne, and Meteorite... yes a piece of an actual meteorite.
While the aesthetical changes to this series are quite obvious and beautiful, there are a few internal upgrades as well. The Oyster Perpetual Day-Date 40 now houses the new in-house movement, the caliber 3255 which is a brand new innovation to this superlative chronometer giving it a 70-hour power reserve. With the Rolex President Day-Date, the best just keeps getting better. This COSC certified and Rolex in-house certified movement has exceptional precision and is among some of the most accurate of all mechanical (non-quartz) movements on the market. After receiving its chronometer designation from COSC, the caliber is sent back to Rolex where it is adjusted to a minimum accuracy of (-2/+2 seconds per day) which is even higher than COSC specs (-4/+6 seconds per day).  
Not sure if this collection is the right one for you? Use the links below to browse all Rolex watches.