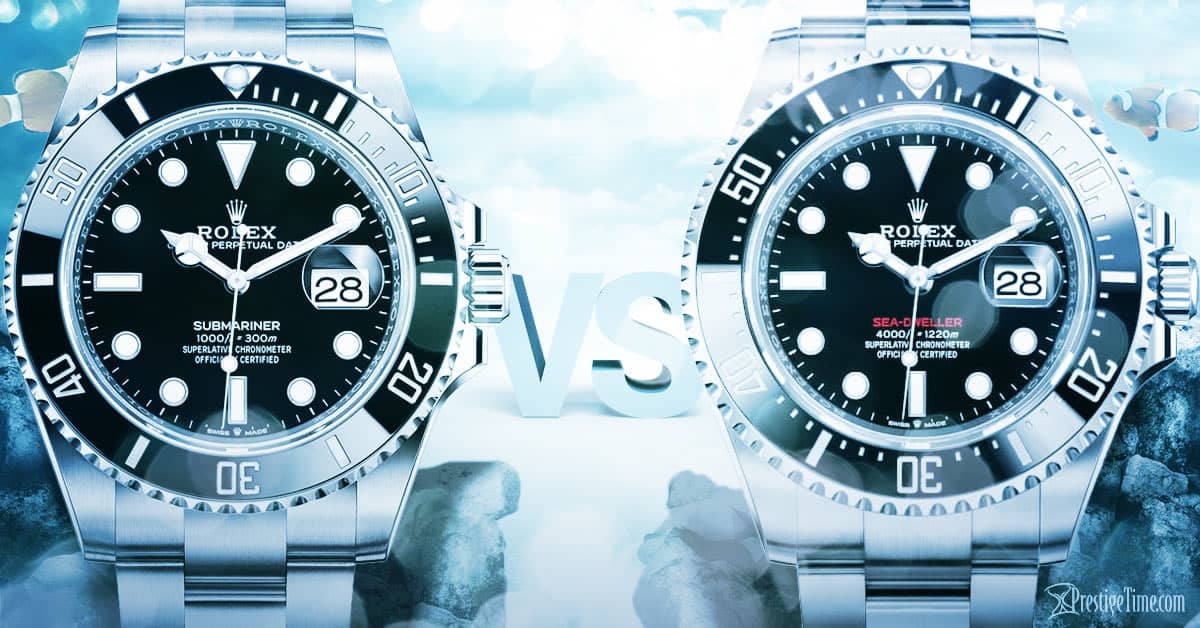 Rolex Sea Dweller VS Rolex Submariner: Which diver watch is better?
Use this comprehensive comparison to find out which one of these two Rolex diver watches is best for you.
Rolex Sea-Dweller VS Rolex Submariner
We are often asked questions about the various different diver watches from the most popular luxury watch brands as well as the differences between the different diver watches within a single brand. Our various Rolex dive watch comparisons are made to enable you to make an educated and informed purchase decision about a watch by putting the information in an easy to read format.
Divers are always looking for better equipment. It can be the difference between a successful dive and a catastrophic dive. In some cases having better equipment means you have a better chance of coming out alive. Rolex makes several dive watches that are great for diving. Their oyster cases lock down like a mini-submarine hatch and are pretty much born to take the plunge.
The two diver watches that we will compare today are the Sea-Dweller 43mm / Rolex Sea-Dweller 4000 VS the Rolex Submariner Date and the newer Submariner 41mm. At first glance or to the untrained eye these watches look almost identical with very few yet subtle aesthetic differences. As we compare the Rolex Submariner VS Sea-Dweller in greater detail you will find that they are quite different. Below is a summary of the things that these two watches have in common and the pros and cons describing the features that make each one unique. For your convenience, you can use the buttons below to view the two collections now. Otherwise, proceed with the comparison below.
What is the difference between Rolex Sea-Dweller and Submariner?
Common Features
Both of these Rolex watches use the 31-jewel, Rolex Calibre 3135 movement that shows the hour, minutes, seconds, and has a window showing the day of the month.
Both the Submariner Date and the Sea-Dweller 4000 have an approx. 50-hour power reserve. The Sea-Dweller 43mm has a 70-hour power reserve.
Black "Cerachrom" bezel insert which is made of a hardened ceramic that is very durable and resistant to scratches. In addition, Cerachrom has great anti-corrosion properties and won't color fade when exposed to UV rays for long periods of time.
Polished stainless steel-rimmed bezel with a ribbed edge for a sure grip. 
Patented "Triplock" crown locks the crown down the Oyster case making it as tight as a submarine hatch. This is a feature exclusively found on a Rolex watch.
Bracelet fitted with the patented Glidelock Extension System buckle - a secure deploying style with adjustments in 2mm increments to a total of 20mm without the need for tools.
What is better Sea-Dweller or Submariner?

Rolex Sea-Dweller 4000
Is a Rolex Sea-Dweller a good investment? The most impressive feature of the Rolex Sea-Dweller 4000 and the newer 43mm Sea-Dweller deep dive watch is the difference in Water Resistance when compared to the Rolex Submariner the Sea-Dweller is far more water-resistant. Aside from better diving depth, it would have been nice for the SD to have a helium escape valve but the watch looks far better without one. While serious deep diving calls for a minimum of 1650 feet and up of water resistance, the Rolex SD 4000 boasts a whopping four thousand feet of resistance. Now that's deep! See the pros & cons.
A few people have contacted us and asked us: "Is Rolex Sea-Dweller discontinued?" The answer is that to this day, no. However, the older model of the Rolex watch loved by divers known as the Sea-Dweller 4000 has since been replaced with the newer and larger Sea-Dweller 43mm.
PROS
Water Resistance

Higher water-resistance of 4000ft / 1220m

Precious Material Used

Matte platinum-coated numbers & graduation indexes

Visibility

Long lasting blue luminous material

Bezel

The Sea Dweller 4000 features a full 60 seconds on the second track located on the bezel itself whereas the Submariner has only 15 seconds printed on the bezel between the 12 o'clock and 3 o'clock position
CONS
Price Tag

Slightly higher price tag. 

Material Options 

Only available in a stainless steel case. 

Case Thickness 

This watch has a thicker case 

Rolex Submariner Date
The one aesthetic difference that stands out the most is the Cyclops magnifier over the date of the Submariner while the Rolex Sea-Dweller 4000 is lacking one. However, the newer Rolex Sea-Dweller 43mm does have a cyclops magnifier over the date window. For some people, this may be a deal-breaker since the date magnifier is one of the most widely used and distinct features found on most Rolex watches. There is also the functional value of the magnifier. Luckily, Rolex has added the Cyclops lens to the new Sea-Dweller 43mm.
At Baselworld 2017, Rolex introduced a new 50th Anniversary edition, a new and larger 43mm Single Red Oyster Perpetual Sea-Dweller Reference # 126600 which now includes a Cyclops magnifier just like the Sub and has the name Sea-Dweller in red on the dial. This new version uses the Rolex Calibre 3235 movement which has an impressive power reserve of up to 70 hours. It also has the highly legible Chromalit display, a practical feature for an adventure to the abysmal subaquatic depths commonly explored by diving professionals.
Another plus side of the submariner series is that there are many more models in several materials such as steel, white gold, yellow gold, and two-tone. They also have more color combinations compared to the SD 4000 and SD 43mm which is only available at the time of writing this in stainless steel with a black dial and black Cherachrom bezel insert as well as a two-tone steel and yellow gold option. See Pros and Cons:
PROS
Price Tag

Slightly lower price tag 

Date Magnifier

Has the cyclops date magnifier 

Case Thickness 

This watch has a case that is less thick 

Styles 

More choices of colors & materials 
CONS
Water Resistance 

The Submariner only has 1000 feet / 300 meters of water resistance which is a quarter the depth of that of the Sea-Dweller which has 4000 feet / 1220 meters of water resistance 

Bezel 

Only a partial minute and second track is displayed on the bezel 

Power Reserve 

The Rolex Submariner Date has a shorter power reserve duration than the Rolex Sea-Dweller 43mm which has come to replace the older Sea-Dweller 4000 models 
What is a Rolex Sea-Dweller worth?
|   | | | |
| --- | --- | --- | --- |
| Brand: | Rolex | Rolex | Rolex |
| Series: | Oyster Perpetual Submariner 41mm | Sea-Dweller 4000 | Sea-Dweller 43mm |
| Model #: | 126610LN | 116600 | 126600 |
| Status: | Available | Discontinued | Available |
| Size: | Men's | Men's | Men's |
| Case Material: | Stainless Steel | Stainless Steel | Stainless Steel |
| Dial Color: | Black | Black | Black |
| Bracelet/Strap: | Stainless Steel | Stainless Steel | Stainless Steel |
| Clasp Type: | Rolex Folding Oysterlock Safety Clasp | Folding Clasp With Safety Latch | Rolex Folding Oysterlock Safety Clasp |
| Movement: | Automatic | Automatic | Automatic |
| Bezel: | Uni-Directional Rotating | Uni-Directional Rotating | Uni-Directional Rotating |
| Crystal: | Sapphire Crystal | Sapphire Crystal | Sapphire Crystal |
| Case Back: | Solid | Solid | Solid |
| Water Resistance: | 300m/1000ft | 4000ft/1220m | 4000ft/1220m |
| Case Diameter: | 41mm | 40mm | 43mm |
| Power Reserve: | 70 Hours | 50 Hours | 70 Hours |
|   | ADD TO CART |   | Add to Cart |
Did you enjoy this comparison? Check out another one of our comparisons
What is the difference between the Rolex Deep Sea and Sea-Dweller? See our comparison below.
Rolex Deepsea VS Rolex Sea-Dweller
Omega Seamaster VS Rolex Submariner
Rolex Yacht-Master VS Rolex Yachtmaster II
Rolex Datejust VS Rolex Datejust II
Omega Planet Ocean VS Omega Seamaster
Not sure if either one of these collections is the right one for you?
If you enjoyed this comparison and feel that others would enjoy it too, please like and share it. Thanks!