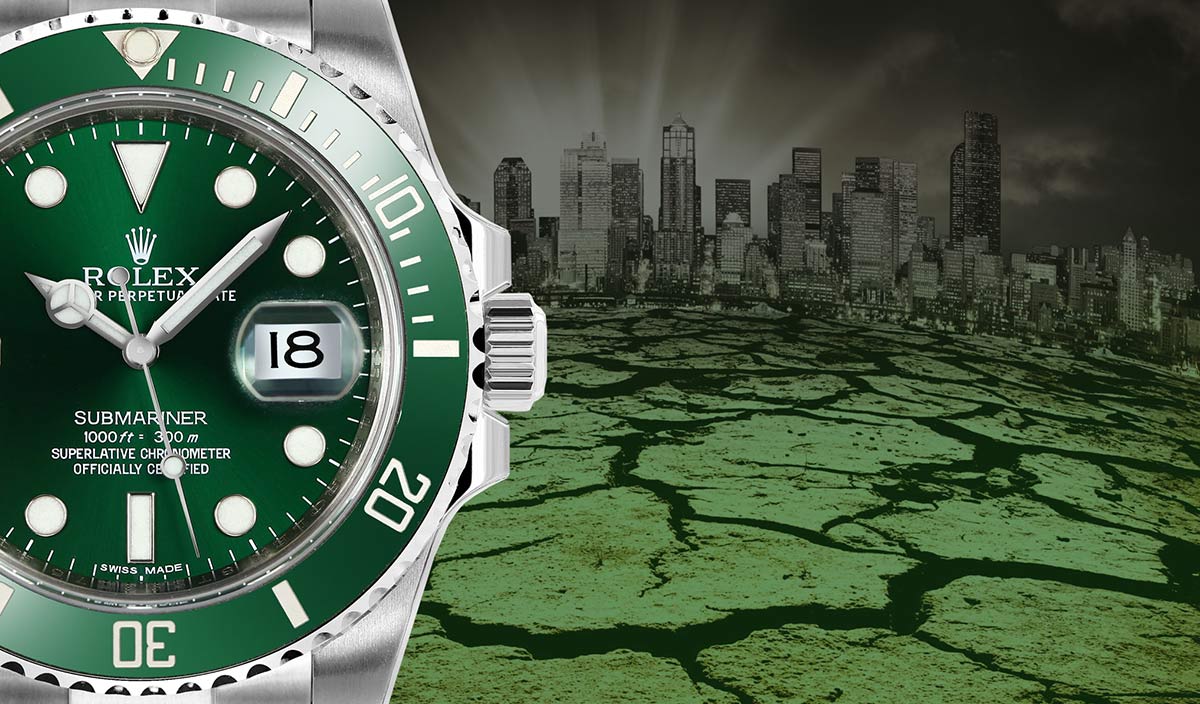 Rolex Submariner Hulk Review
The green Submariner known as "The Hulk" comes with a powerful message for all of us.

Rolex decided to take a make it or break it long shot by reinventing their most classic Submariner watch. Today, the Rolex watch reference 116610LV, also known as the Hulk for its green bezel and green dial hue is among many of the must-haves that the brand has to offer and is favored both by collectors and fashion trendsetters.
All things great have an interesting beginning and the Rolex Hulk watch is no different. When the green Submariner was first introduced, Rolex aficionados weren't shy about stating their skepticism towards the launch of the new look. Most Rolex fans took a while to warm up to it but this green Rolex watch soon thereafter captured their eyes and their hearts. 
Why a Green Rolex Watch?
Most people tend to go for the model with the black dial but forget that branding plays a big part in product design and more importantly, people haven't always realized that green is the Rolex brand color (green and gold). It was only a matter of time before they would produce a Rolex watch that is green. While most of their watches are monochromatic or in the gold spectrum, the Hulk watch was a chance for them to step outside of the norm and do something truly iconic. The green sunray dial is another opportunity for Rolex to express their creativity in a color that is truly reflective of their brand image. 

What about its value as a collection piece?
Just to give some context. Many collectors never expected Rolex to do another production for the Rolex 116610LV. The controversy about the new look had many feeling edgy about the green Rolex Submariner. Was it going to be an epic failure? Once people got over their mixed feelings about the new look, the green Submariner just took off and became a hit. How much is a Rolex Hulk worth? Well, when the watch was first introduced, it had a boutique price tag of approximately $8,900 US dollars (7,850 euros). At that time a previously worn model of the Submariner Hulk watch was auctioned off with a final hammer price of 5,500 euros or $6,244 USD. Is Rolex Hulk rare? Will the Rolex Submariner Hulk be discontinued? As of now it has been taken out of production and will only become rarer and rarer as years go by.
Is the Rolex Submariner Hulk a good investment? However, when accompanied by its original box and all the original documents, at Christie's auction house in Geneva lot #422 (Oct. 11th, 2014) as well as Christie's in HK, Nov 26th, 2014, the price shot up to 20,000 euros or $22,726 USD.
The Strength of The Hulk
With its all mechanical in-house caliber 3135, this COSC certified chronometer has a 48-hour power reserve, a Parachrom hairspring made of niobium and zirconium with its paramagnetic properties, and with its 40mm oyster case it can handle the pressure with up to 300 meters of water resistance. The Hulk has numerous technological innovations such as its patented Triplock locking system which secures the movement and locks the 904L stainless steel Oyster case with a screw-down crown just like the hatch on a submarine.
The materials used are on a whole other level than most watches. From the corrosion-resistant 904L steel to the Cerachrom ceramic bezel that is highly resistant to scratches and discoloration caused by exposure to UV rays. Then there is the bracelet, the stainless steel Oyster bracelet, the folding Oysterlock safety clasp with their Glidelock tool-free extension system allowing up to a 20mm extension to the bracelet size in 2mm increments for comfortable wear on the wrist. Last but not least the signature cathedral luminous hands that glow in the dark found on some of the most popular and best Rolex watches.
The Rolex model# 116610LV is proof that sticking to your instincts can pay off. Not bending to critics for being slightly different has its rewards. The Rolex Hulk is the embodiment of inner and outer strength.