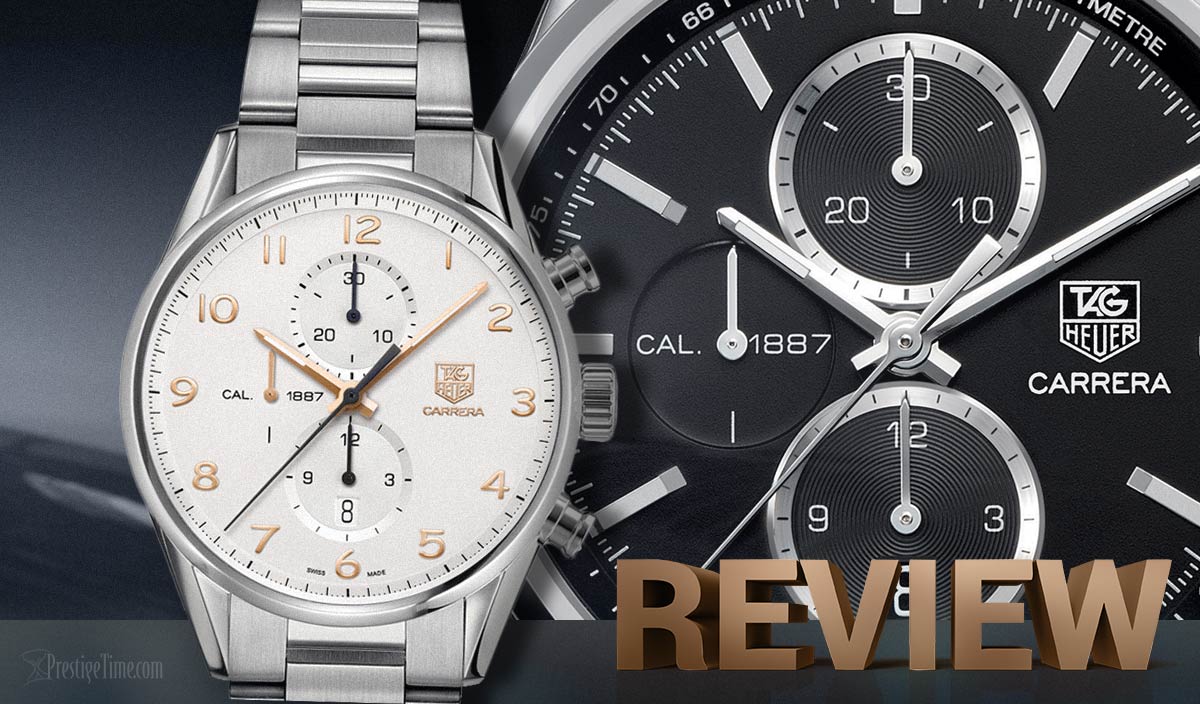 TAG Heuer Carrera 1887 Review
A historically significant and highly accurate chronograph.
People are often somewhat overloaded when looking to buy a new Tag Heuer Carrera watch. There are several series available with many very different looking Carrera watches available in each series. While each of the different Carrera collections is special in its own way, some have more historical importance. Our blog covered quite a few of the TAG Carreras in the past most recently with the new TAG Heuer Carrera Heuer 01 Skeleton watch which uses the new Heuer 01 movement but let's take this series back in time a bit when the TAG was making headlines with their first in-house movement  …the TAG Heuer Calibre 1887. Let's take a look at what makes the 1887 tick.
The 41mm Carrera 1887 brought about a beautiful limited and numbered edition watch the TAG Heuer 41mm Carrera Mercedes SLR 300 (Model #: car2112.fc6267 shown below)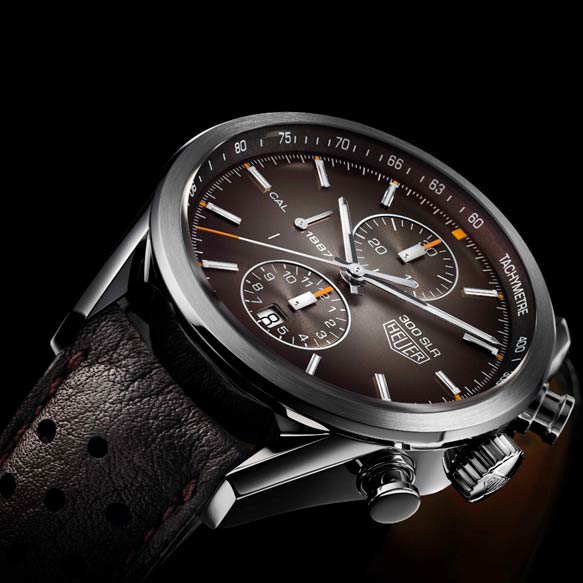 As the trend for Carrera watches is growing larger so are the watches themselves. TAG Heuer's design team also picked up on the growing demand for rose gold in watchmaking and accented many of their Carrera models with rose gold giving each of them a very classy look.
While some models of the Carrera caliber 1887 Automatic Chronograph 43mm were later discontinued leaving room for some newer models, TAG Heuer fans around the world still have lots of love for the Caliber 1887, TAG's 1st in-house mechanical movement.
The TAG Heuer Carrera 1887 Chronograph uses what many would consider a historical movement. The 39 jewel high beat movement offers excellent precision which tests results that rival C.O.S.C. certified chronometers. So why wouldn't they go the extra mile to get officially certified by COSC? TAG Heuer simply didn't think that the added expense was worth the trouble. They could keep the 1887 at a more competitive price and still have all the benefits as a COSC certified chronometer and be attainable to more people. It turns out that TAG outfitted many chronographs with their 1887 movement over the years.
The beauty of this movement didn't just end with the chronometric precision; TAG Heuer used Côtes de Genève finishing on the movement itself making it as beautiful to look at through the transparent case back (on most models) as the watches themselves.
There was much debate in the horology community a while back over if the caliber 1887 was, in fact, made 100% in-house. The debate began when a post on WatchUSeek (a discussion forum for watch enthusiasts) mentioned that it's basically the same as a Seiko caliber. Another website, Calibre11 (a TAG Heuer fan website) published article addressing this concern, ironing out any details of this allegation. Of all people to comment on this was former CEO of TAG Heuer himself (now CEO of BVLGARI) Jean-Christophe Babin. Hearing information from an insider is always more credible. Babin writes in his comment that the 1997-1999 Seiko patent was granted to TAG to be used in their own movement.
TAG Heuer started with that base and completely re-engineered and redeveloped all core components and made each of them in Switzerland either by the TAG Heuer in their subsidiary, the Cortech factory or by a top Swiss supplier such as Nivarox. The 320 part caliber is then put together entirely in TAG Heuer's manufacture in La Chaux-de-Fonds. The dimensions of the movement are very different from the original SII (Seiko Instruments Inc) patent. In fact, nineteen out of the twenty component suppliers are Swiss and the only connection that it has to SII is that they still supply some "nuts & bolts" components such as levers, pins, and screws but no major horological parts.
That's not to say that there aren't movement manufacturers that use non-Swiss components. Most of them do but the things that make it a Swiss Made caliber are all made in Switzerland, re-engineered by TAG and assembled 100% by TAG Heuer.
---