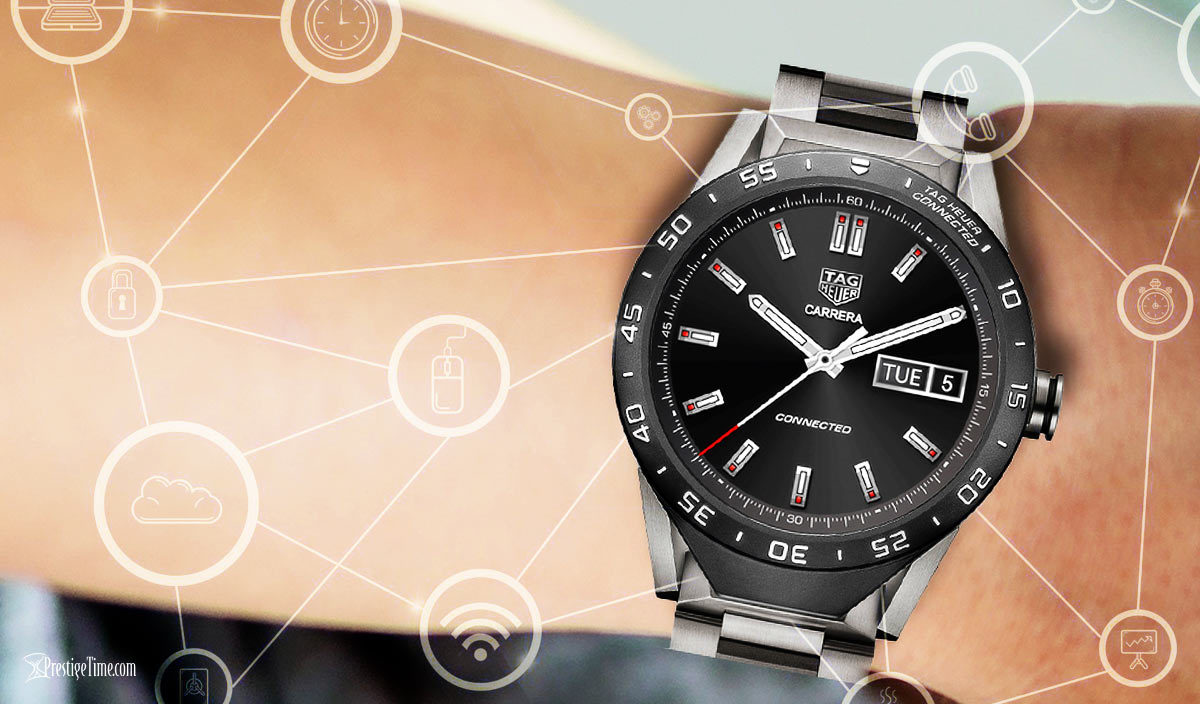 TAG Heuer Connected Smartwatch Review
Staying connected in style with the all-new TAG Heuer smartwatch.
TAG Heuer is a luxury brand that has been producing an incredible amount of luxury watches over the years. With the new uptick in high-end smartwatches flooding the markets, TAG made a move to grab the most coveted spot in the wearable tech market by producing the most luxurious smartwatch that there is. Enter the TAG Heuer Connected smartwatch, a device that was made to keep your wrist looking top-notch and high-tech through a strategic partnership with Google and Intel. It doesn't matter if you plan on using this watch for everyday wear, for fitness, sports, you will likely find features on this watch that you won't get on many other watches including the Apple watch. Features include GPS, heart rate sensor, compass, accelerometer, gyroscope, and possibly your favorite app optimized for wearable tech display. The TAG Heuer Android Wear watch has excellent battery life and is also available on a rubber strap, stainless steel bracelet, or leather strap.
TAG Heuer made a digital timepiece with the brains of a smartwatch and the looks of a high-end mechanical luxury watch offering consumers literally the best of both worlds. To sweeten the deal TAG Heuer also allows you to trade in your Connected smartwatch after 2 years towards a new mechanical TAG Heuer Carrera watch. 
What are the different color options of the TAG Heuer Connected?
The Connected smart watch shown here is the model # sar8a80.bf0605 which features a metal bracelet. Other models have leather straps available in gray, and brown leather. There are also many models of the Connected watch which have rubber watch bands that come in many colors including black, white red, blue, green, yellow, orange.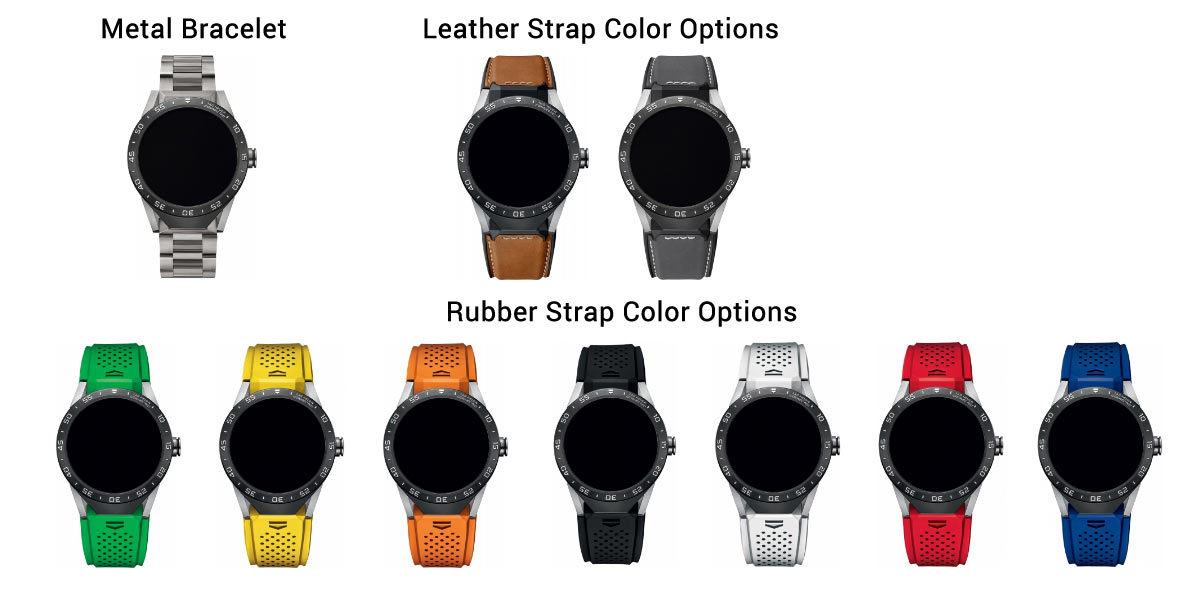 Unboxing The TAG Heuer Connected
Unboxing any watch is always an exhilarating experience and a smartwatch from a luxury watch brand such as TAG Heuer is no different. Click on the play button on the video below to view the unboxing of the TAG Heuer Connected courtesy of Droid Life.
What is the Screen resolution of the TAG Heuer Connected?
The dial is round and 1.5" across and has a 360 pixel x 360 pixel resolution with a pixel density of 240ppi (pixels per inch), a typical computer monitor uses a 72 ppi density so you can expect the TAG Heuer screen to be extra sharp with a pixel density of over three times that of a regular digital monitor.
Is the TAG Heuer Connected it made of plastic or metal?
The case is made of a lightweight metal, titanium with titanium lugs single pusher. The bezel is made of a sandblasted and then carbide coated titanium and is resistant to fingerprints. You'll also find three-dimensional raised numerals on the bezel along with the words "TAG Heuer Conneted" in silver lacquer.
How fast is TAG's Connected smart watch?
Under the hood, you'll find a 1.6GHz Intel dual-core processor capable of delivery lighting fast processing speeds and 1GB of system memory with 4 GB of storage memory. The watch is compatible with Android 4.3 OS and higher as well as iOS 8.2 and higher.
What special features does of the TAG Heuer Connected smartwatch offer?
The Connected offers gyroscopic and tilt detection, it has a microphone which lets you use "OK Google" for searching as well as speech to text typing.
What happens if of the TAG Heuer Connected gets wet?
TAG Heuer thought about this too. The Watch features IP67 splash proof water resistance and can handle being immersed in water up to 1 meter deep for up to 30 minutes.
How long does the battery last on of the TAG Heuer Connected?
The TAG Heuer Connected smartwatch is powered by a 410nAh battery which under typical use will last for a minimum of 25 hours. The watch comes with a charging cradle, a USB cable, and a wall plug to recharge the battery.
How are the reviews for the TAG Heuer Connected ?
Click on the video below to see a review of the TAG Heuer Connected Smartwatch. Courtesy of the guys at ABTW.
Comments & Questions
We would love to hear from you. Please leave any comments or questions below and remember to like and share this page.