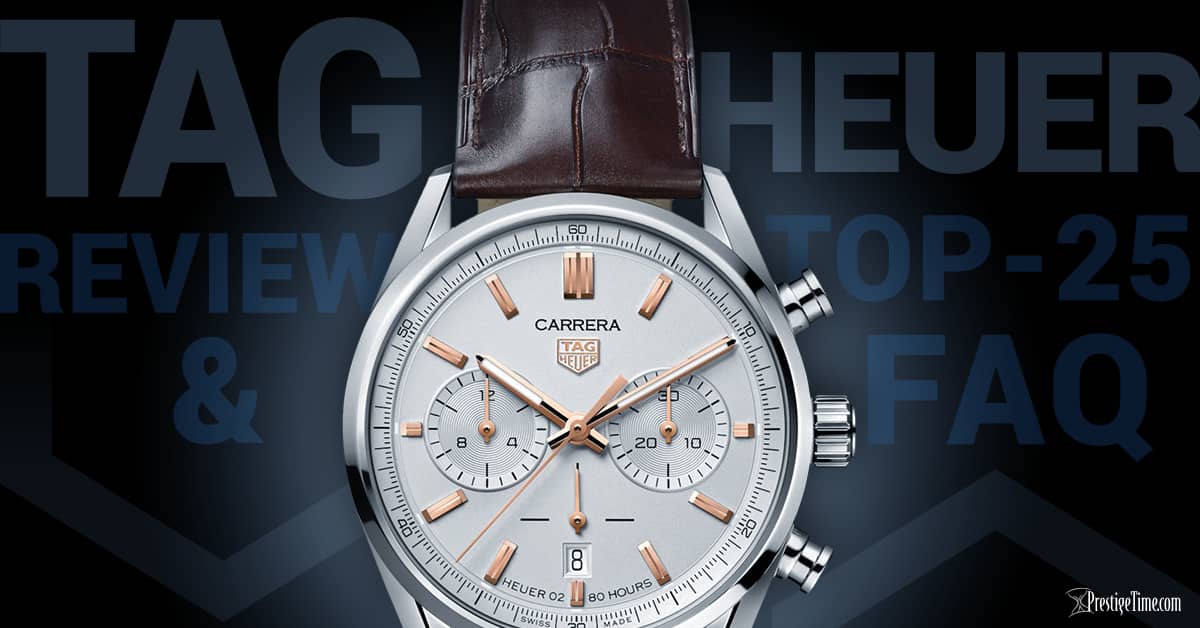 TAG Heuer Review & Top-25 FAQ
Let's take a very close-up look and provide the ultimate TAG Heuer review. We'll answer the Top 25 most frequently asked questions about this watchmaker and their many watches.
We are often asked all sorts of questions about TAG Heuer watches and thought it would benefit people to have a clear and to the point article on the topic of TAG Heuer. Here will address and answer the most common questions about TAG Heuer and provide you with a fair and honest review of the brand and their many watches.
TAG Heuer Review & Top-25 FAQ
Are Tag Heuer watches good?
TAG Heuer manufactures some great watches and is especially famous for their precision chronographs. History has shown that this fact has won them many prestigious partnerships over the years, especially with professional motor racing teams and championships wherein which Tag Heuer is now a household name.
Are Tag Heuer watches luxury?
The answer really depends on who you ask. To some, spending more than a hundred dollars on a watch is a luxury but many in watch collecting circles would say that TAG Heuer is a lower market luxury brand. They have some watches that retail for as low as around $1000 dollars as well as high complication watches such as the Carrera Calibre Heuer 02 T Tourbillon Chronograph in rose gold that retails for around $26,650. While to some, a $26,000 and up watch may be affordable, but to the common folk, that would certainly be considered a luxurious watch.
Are Tag Heuer watches automatic?
Many of their watches are automatic also known as self-winding watches. However, not all of their watches are automatic.
Are Tag Heuer watches quartz?
Many of their more affordably priced watches are powered by quartz movements (which are battery-powered). However, there are also many models that are powered by mechanically powered movements such as their automatic watches.
Are Tag Heuer quartz watches good?
TAG Heuer makes some great watches. They are stylish, precise, and very popular. Many of their mechanical watches have a COSC certification that comes with the Chronometer designation; a testament to their superior performance and accuracy.
TAG also has a long list of brand ambassadors that includes actors Chris Hemsworth and Patrick Dempsey, and many sports figures. You can also add partnership agreements with Aston Martin & Red Bull's Formula 1 team and have earned them the title of the team's Official Watch, Official Timekeeper, and Team Performance Partner until 2021. This relationship with Formula 1 dates way back to the 1950s and is very on-brand with their motto of #DontCrackUnderPressure. The partnerships don't stop there! TAG Heuer has been involved with many other motorsports events such as the famous Indy 500, World Touring Car Championship/WTCC, FIM Endurance World Championship, and MXGP Motocross championships, to name a few.
Can you overwind a Tag Heuer?
According to TAG Heuer's website's FAQ page "You can't overwind an automatic watch." The reason for this is that there is a mechanism built into automatic movements that will disengage the winding gears when fully wound. Click here for answers to the most common questions about automatic watches.
Can Tag Heuer Connected work with iPhone?
TAG Heuer Connected smartwatches run on Android software but the newer versions of the operating system inside the watch can work with both Android and Apple iOS devices. See the manufacturer's specs to find out if your particular Connected model is compatible with the version of iOS on your iPhone.
Can I sell my Tag Heuer watch?
Yes, you can sell your TAG Heuer watch. If the watch was worn on your wrist, you can expect it to fetch you less than what was originally paid. This is the nature of preowned TAG Heuer timepieces. Watches in perfect condition that come with all original documents and boxes, tags and such are likely to fetch you a higher percentage of what was originally paid when selling it on the preowned market. To see if your watch is something that we can sell or trade-in towards another watch, click here.
Can Tag Heuer watches be engraved?
Yes, they are engravable and in fact, many people do get their TAG watches engraved especially when gifting them to others. However, the amount of engraving that can be done on a TAG watch will depend entirely on the amount of engravable space on the case back.
Some models already have branding, model numbers, and other inscriptions or logos engraved on the center of the case back and therefore one would need to look for free space wherein which to engrave any new inscriptions. Watches with sapphire case backs, for example, would need to be engraved elsewhere such as on the edge of the case back that screws down and holds the transparent case back in place.
How much is a Tag Heuer Formula 1 watch?
TAG Heuer's collection of Formula 1 watches have an entry-level MSRP of around $1150 but can be purchased for a discounted price on-site like prestigetime.com. This collection includes F1 watches for men as well as Formula 1 watches for women. Some of their higher-end models of Formula 1 watches cost a few thousand dollars more. In general, the quartz models are more affordably priced than the automatic models. Similarly, the models for ladies with diamond-encrusted bezel rings or diamond hour markers cost more than models without diamonds. Even so, their automatic models as well as their diamond models are still affordably priced when compared with other brand name Swiss watchmakers that have wristwatches with similar features.
How do you check Tag Heuer authenticity?
According to TAG Heuer's website, the presence of a model number and serial number is not enough for the watch to be authentic. They have a few additional security features in place that helps them to identify an authentic TAG Heuer watch. While to the naked eye of the uninitiated, some may even look identical on the outside, on the inside they can be completely different than the real thing.
How to check Tag Heuer serial number?
Each TAG Heuer watch has a reference number (model #) and a serial number engraved on its case back. If the watch has a transparent case back such as a sapphire case back, it will be engraved on the edge of the case back.
How are Tag Heuer watches made?
TAG Heuer's watchmaking workshop is in Chevenez, Switzerland, and their factory is in La Chaux-de-Fonds, Switzerland. Therefore, TAG Heuer watches are Swiss-Made watches and have the words Swiss Made written somewhere on the watch (usually on the dial or on the case back or both).  There is one exception though; their smartwatches. TAG Heuer Connected smartwatches do not sport the words Swiss-Made. The reason for this is that these electronic devices use computer chips from Intel inside the watch which are made outside of Switzerland. Even so, the case and buckles on the TAG Connected watches are still made in Switzerland.
How is Tag Heuer pronounced?
TAG HEUER is pronounced as (/ˌtæɡ ˈhɔɪ. ər/ TAG HOY-ər) (click the link to hear a recording or click here to hear how to pronounce many other watchmaker's names) 
What Tag Heuer watch is the most popular?
While TAG Heuer has many popular collections such as the Aquaracer which is popular with divers, and the Carrera which is also widely popular, the watches in the Formula 1 collection seem to be the best sellers. This is probably attributed to the fact that they are more affordably priced and therefore more accessible. For a Top-20 most popular TAG Heuer watch list, click here.
What Tag Heuer do I have?
You can often find out which watch exact you have by looking up the reference number engraved on the back of the watch. Additionally, the collection name can also be found on the watch. (i.e. Carrera, Formula 1, Link, Aquaracer, Monaco, Autavia, Etc.)
What is Tag Heuer Calibre 5 movement?
The Calibre 5 is one of TAG Heuer's popular self-winding (automatic) non-in-house movements. It has a high frequency of 28,800 VPH (4Hz) and some variants of the Calibre 5 have a COSC certificate and earned the designation of Chronometer for its high precision of -4/+6 seconds per day, and for its reliability. Most variants are ébauche movement meaning they are modularly based on other movements; namely the ETA2824 or the Sellita SW200. Read our great review on the Calibre 5 Day-Date.
Where is Tag Heuer from?
Originally, TAG Heuer began in 1860 as Uhrenmanufaktur Heuer AG in St-Imier, Switzerland. TAG Group purchased the majority of the company shares in 1985 and formed TAG Heuer. They are now headquartered in La Chaux-de-Fonds, Switzerland where their factory is located. They also have a watchmaking workshop in Chevenez, located in the Jura mountains of Switzerland.
Which Tag Heuer watches are COSC certified?
As mentioned earlier, some Calibre 5 movements are COSC certified, the automatic HEUER 02T is also a COSC certified Chronometer with a chronograph and tourbillon complication! TAG seems to arbitrarily choose which models get certified by COSC and which don't. There isn't any single collection that we can broad-brush paint as a collection of Chronometers that come with COSC certificates. The best thing is to look at the specs of each model to see if it either says Chronometer or COSC certified. This is a big selling point, so it is also usually found inscribed on either on the dial, the case back, or both.
Which Tag Heuer watch is best?
This question can mean many things. Certain TAG Heuer watches will be best for people with certain needs. For example: if you are looking for a chronograph watch (with a stopwatch function) then a certain watch may be best for you but not necessarily the best for a diving professional that is looking for a watch with extra water resistance. See our list of popular TAG Heuer watches. Many are popular for a reason or to satisfy a certain type of consumer need. For a watch collector who loves horology, the TAG Heuer Carrera Heuer 02T Tourbillon Chronometer Chronograph may be the best for a watch collection since it has high complications that are not usually found within a certain price point and therefore provides tremendous value.
Which Tag Heuer Calibre is best?
There are many different opinions on this. The Calibre HEUER 02T is a very impressive high complication caliber with many impressive features. These include a chronograph/stopwatch function, GMT/dual-time zone function, and a tourbillon. Additionally, it features a COSC certificate and comes with the prestigious Chronometer designation for its impressive accuracy and reliability.
Will Tag Heuer increase in value?
Like most consumer products, watches lose value the moment you wear them. The rare exceptions are so few and far between that it's safe to say a resounding no. Very few brands hold their value very well, and even fewer have watches that actually appreciate in value.
Who owns Tag Heuer?
TAG Heuer is owned by an international conglomerate called LVMH (Louis Vuitton Moet Hennessy). The CEO of TAG Heuer is a great watchmaker by the name of Jean-Claude Biver.
Why is Tag Heuer expensive?
Compared to one that is used to paying a small amount of money on a watch, TAG Heuer may be considered expensive. However, in the luxury Swiss watch market, TAG Heuer is in fact a very affordable brand compared to watches from more upper market luxury brands with similar features. Many would call TAG Heuer a value-added luxury brand very similar to watchmakers like Oris and Longines.
Why is Tag Heuer good?
TAG Heuer is good for many reasons. They make many types of great watches, they are a recognized brand, they are stylish, and many are also sporty. They offer great value for the features they provide. They make very precise chronographs, and manufacture everything from affordable quartz watches to affordably priced highly complicated watches.
Use the links below to browse the various collections of TAG Heuer watches.