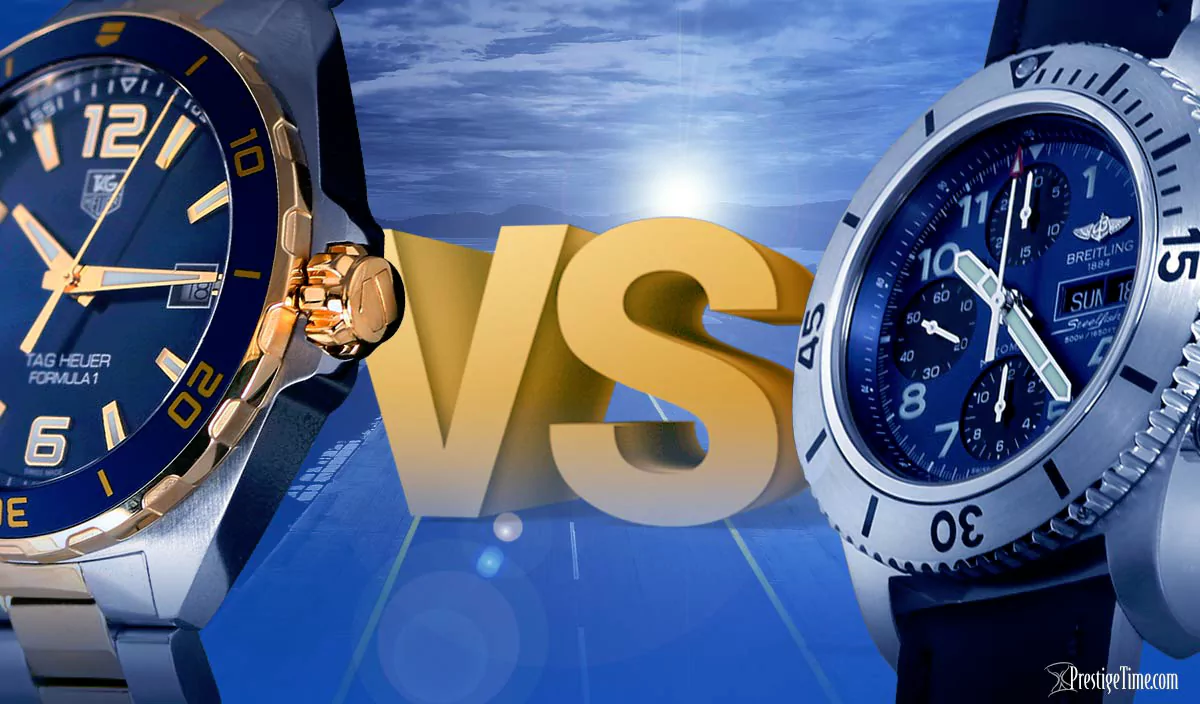 TAG Heuer VS Breitling
People often ask us "Which brand is better, TAG Heuer or Breitling?" Let's compare and benchmark TAG Heuer VS Breitling to find out which is best, shall we?
There are several ways to answer this question. In order to answer it best for you, one needs to understand where the question is coming from. For example, when we compare TAG or Breitling:
As you can see from the above, the question of "Which is best?" can be coming from many angles. Click on any of the above questions to jump to an answer for that particular question.
Which brand is more prestigious?
To your average layman, TAG Heuer is at the same level as Breitling in terms of prestige. However, that is not necessarily the opinion shared by every serious horophile and watch geek out there. Most well-versed watch collectors would say that Breitling is a more respected and prestigious watchmaker and hold Breitling as a brand, to a higher standard than TAG Heuer. There are always those collectors that would swear by Breitling but still own a TAG Monaco or a Carrera Heuer 01 in his or her collection.
Many collectors would argue that TAG Heuer needs to swim more up-market to be at the same level as Breitling. TAG Heuer has recently made moves to do so with the introduction of the Carrera Caliber Heuer 02T Tourbillon, hailed as the most affordable tourbillon watch from a respected brand. It's certainly a great start. Let's see where that takes them. Perhaps they will roll out some other high complication watches to attain an even more prestigious status than they have now.
Who makes more popular watches?
Considering that entry-level TAG Heuer watch prices are often considered fashion watches and they also start at a much more attainable price point and you are going to see about 600% more people wearing them compared to Breitling. Both brands produce many popular watches though. Here is a list of the most popular watches from each brand:
BREITLING
The Most Popular & Best-Selling Breitling Watches:
TAG HEUER
The Most Popular & Best-Selling TAG Heuer Watches:
Which watches have better accuracy?
COSC certified chronometers are the highest designation given to mechanical watch movements for accuracy and dependability. The accuracy of a watch has to be -4/+6 seconds per day in order to achieve COSC standards that will award it the Chronometer designation.  A number of TAG Heuer watches movements (or calibers as they are called in the industry) that are COSC certified chronometers.
However, the TAG Heuer watches that have not received the COSC chronometer designation are still tested rigorously to ensure very high standards of accuracy for a mechanical timepiece.
While there are a few TAG Heuer watches that are COSC Certified Chronometers, there are actually very few Breitling watches that are not certified Chronometers. In fact, many of their Quartz watches are COSC certified Quartz Chronometers and use a Breitling SuperQuartz™ caliber such as the 74. Quartz movements can be found in any battery-powered / non-mechanical watch. It is rare to see a COSC certified Quartz Chronometer and they have to be super-accurate to achieve this status.
So to answer the question of "Which is more accurate, Breitling or Tag Heuer?": Breitling watches are usually more accurate and reliable than Tag Heuer watches since, for the most part, they are all COSC certified chronometers. In fact, even Breitling's quartz watches are an unusual breed of higher quality quartz movements known as a COSC certified quartz movement and are more accurate than TAG Heuer quartz movements.
Which brand makes more iconic watches?
The Most Iconic TAG Heuer Watches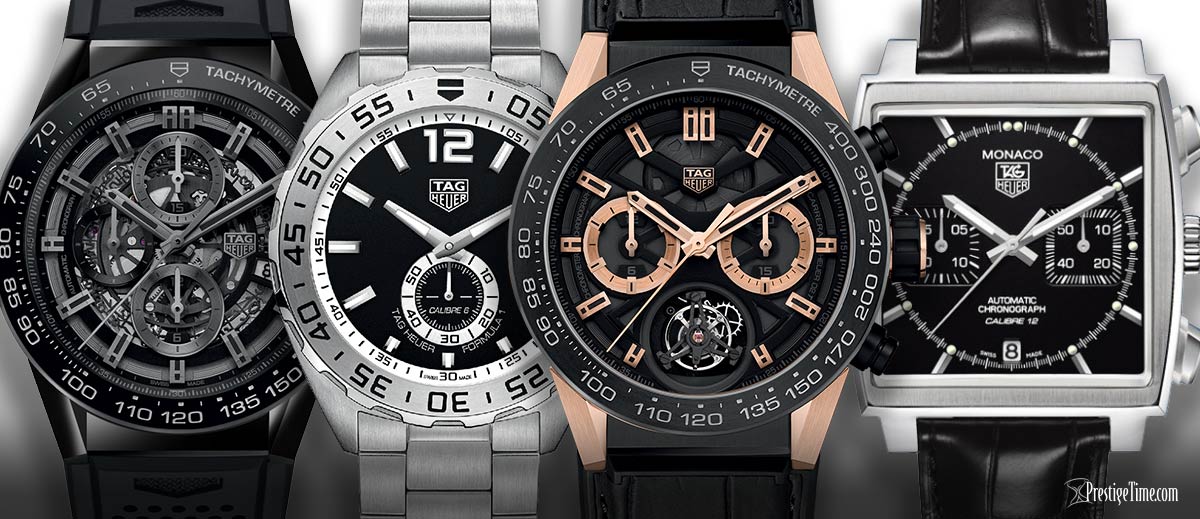 Arguably the most iconic watch from TAG Heuer is the Autavia which was a chronograph that was released in 1962. It was loved by motorsport racing and watch collectors alike. Thankfully, it's making a comeback this year with a 55th-anniversary edition. TAG Heuer conducted a poll and over 50k users on the web voted to bring back the Autavia worn by Formula 1 racing speedster Jochen Rindt was known as the Autavia Rindt.
Another very Iconic TAG Heuer is the TAG Heuer Monaco chronograph, especially the Steve McQueen edition which was worn by the daredevil Hollywood bad-boy, Steve McQueen. Some may even say that these two are considered tied at 1st place for the most iconic TAG Heuer watch. The TAG Carrera is another very iconic TAG Heuer watch. Over the last half a century it has become one of their most vast and best-selling collections with watches such as the sporty Heuer 01 Chronograph and the more classic-looking Calibre 5 Date.
Motor racing is the lifeblood of TAG Heuer watches and their iconic watches are almost always tied to motorsports. However, the same way TAG Heuer claimed the raceway, Breitling owns the skies with their iconic aviation watches.
The Most Iconic Breitling Watches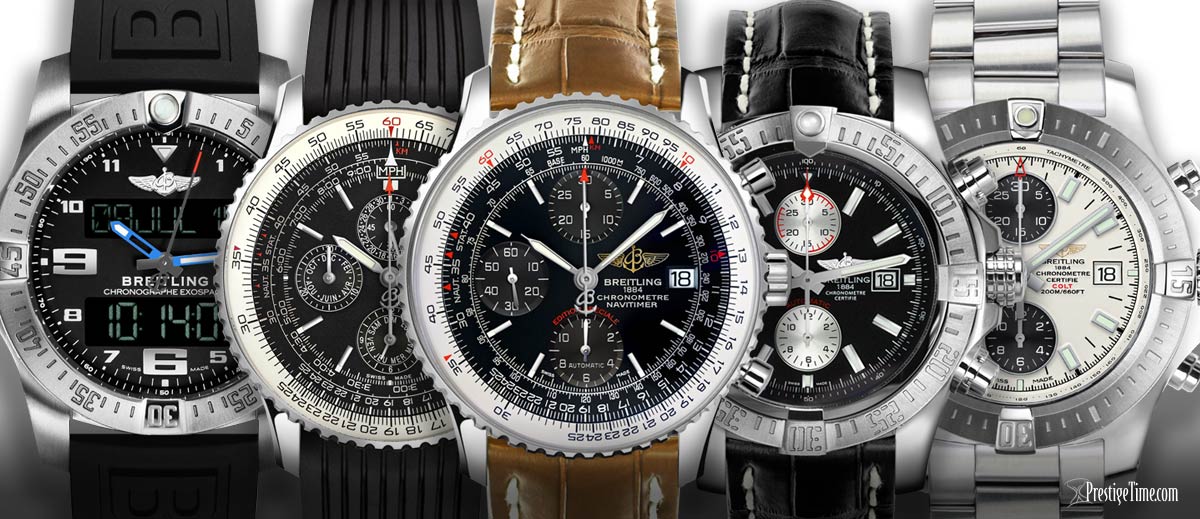 In 1952, the cult classic, Breitling Navitimer was introduced and was made originally for pilots and aeronauts. What made the watch so unique was that it had a slide-rule bezel that pilots would use to calculate miles per minute, ground speed, how much fuel they were using, and other flight metrics. What probably made this watch so iconic though is that in 1962, astronaut Scott Carpenter wore one on his wrist when he orbited earth.
Another iconic Breitling watch is the Chronomat. This chronograph made its debut in 1941 and was probably the inspiration for the Navitimer in the sense that it had a circular slide rule, which was patented by the watchmaker (patent # 217012) in 1940. The chronograph allowed mathematical equations and measurements to be made using the bezel. Many consider this to be the seed from which the Navitimer grew.
More recently, in 1995, Breitling made another great leap with the introduction of the Breitling Emergency collection. This series had safety as their primary focus and was geared towards safety and security such as rescue missions. The new iconic Breitling watch housed micro-transmitter which was used as a homing beacon. It gives off a 1/4 of a second impulse every 2.25 seconds which can extend from a flat terrain up to 100 miles. It can also reach plane flying overhead at up to 19,685 feet / 6,000 meters. If the distress signal is triggered, it can last up to two days on the twin lithium batteries that power it.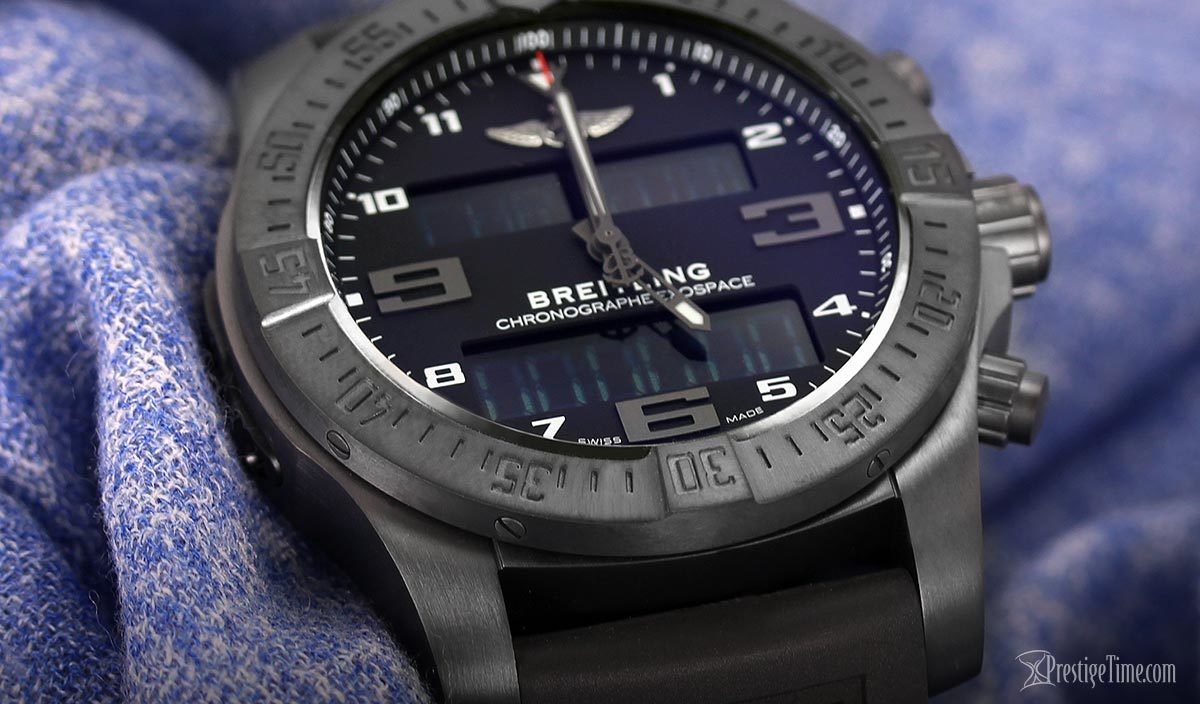 Another iconic pilot's watch from Breitling is the new Exospace B55 smartwatch made just for pilots. It has smartphone-enabled smart features which transmit critical flight data and metrics as well as UTC time correction. Some other impressive features include a Digital perpetual calendar, flyback chronograph, electronic tachymeter, GMT / 2nd-time zone, 7 daily alarms, Mission elapsed times, battery end-of-life meter, flight take-off, and landing time logs. It also can detect the angle that the watch is held and turn on the digital screen automatically when the watch is held at a 35% tilt, the angle people use to check their wristwatches. This watch runs on a thermo-compensated SuperQuartz movement which is also COSC certified.
So to the answer "Who has more iconic watches, Breitling or TAG Heuer?": They both have many iconic watches. Breitling has iconic pilot watches and TAG Heuer has many iconic racing watches. Depends on what you're into.
What is more expensive, a Breitling or a TAG Heuer watch?
Let's begin with entry-level watches from each brand. You can pick up a new entry-level TAG Heuer watch at full list price for about $1150. A new entry-level Breitling watch at the full MSRP is almost double that. So Breitling in general starts at a higher price. On the higher end of TAG Heuer, you can find the new Carrera Caliber Heuer 02T Tourbillon Chronograph with a list price of between $9,500 and $24,500, depending on the model. On the higher end of Breitling, you will find the Breitling for Bentley B06 which has a list price of $34,165 to $53,300 depending on the model.
So which is more expensive? : Breitling
What has a better resale value?
A Breitling watch will, in general, fetch a higher resell value than a TAG Heuer. Of course, you can't just paint this answer with a broad brush since there are certain models from each brand that are considered collector pieces and have a higher than average resale value due to their rarity and/or iconic status. So it really needs to be judged on a model-to-model basis. That being said, in general, you will get more money back when selling your Breitling watch somewhere down the road than if you decide to sell your TAG watch.
Which Has a Better Warranty?
Breitling watches will come with a 5-year warranty, significantly more than the 2-year TAG Heuer warranty. These warranties typically cover manufacturing defects, and battery replacements, if applicable. Certain things that are not covered by the warranty are damage to the crystals that cover the dial or the case back, straps regardless of the material it's made of, wear and tear water damage caused by submerging the watch to a depth of water which is deeper than the recommended depth limit, and physical shock. 
Who makes more complicated watches?
While both brands tend to make watches with high mechanical complications such as a tourbillon, Breitling watches, in general, are more "feature-rich" and are considered better at watchmaking. They also have many proprietary features made just for pilots, which is not something that TAG is known for.
On the one hand, TAG Heuer is known for its outstanding Chronographs. The Carrera collection is possibly one of the most well-known, and respected chronographs ever made. It is often compared with the likes of the Rolex Cosmograph Daytona and or even the Zenith El Primero. While a chronograph is a very intricate type of mechanism that involves a skilled watchmaker to create, it's not considered as impressive of a complication like a tourbillon or perpetual calendar which are known as high complications. Breitling, on the other hand, has many watches with high complications.  
So to answer your question, "Who makes more complicated watches, Breitling or TAG Heuer?": Breitling does.
Which is a better brand?
In the top 50 most valuable Swiss brands, (among them are companies like Nestle, Nescafe, Logitech, Rolex, and about a dozen Swiss banks) about 25% of these companies are watchmakers.
TAG Heuer is listed as the 34th most famous Swiss brand, making them the 12th most recognized Swiss watch brand in the world. They also have an estimated brand value in 2016 of 764,000,000 CHF.  
Breitling is listed as the 15th most famous Swiss watch brand in the world and is just slightly behind TAG in the top 50 Swiss brands at position 41. Breitling's estimated brand value of 359,000,000 CHF, which is less than half the brand value compared to TAG Heuer.
So to answer "Who is a better brand TAG Heuer or Breitling?":  TAG Heuer is a more internationally recognized brand and has over twice the brand value according to Interbrand, an agency that measures brand awareness and brand value of Swiss companies and brands. [ https://www.rankingthebrands.com/PDF/Interbrand%20Best%20Swiss%20Brands%202016.pdf/de/ ]
If you enjoyed this comparison and feel that others would enjoy it too, please like and share it. Thanks!