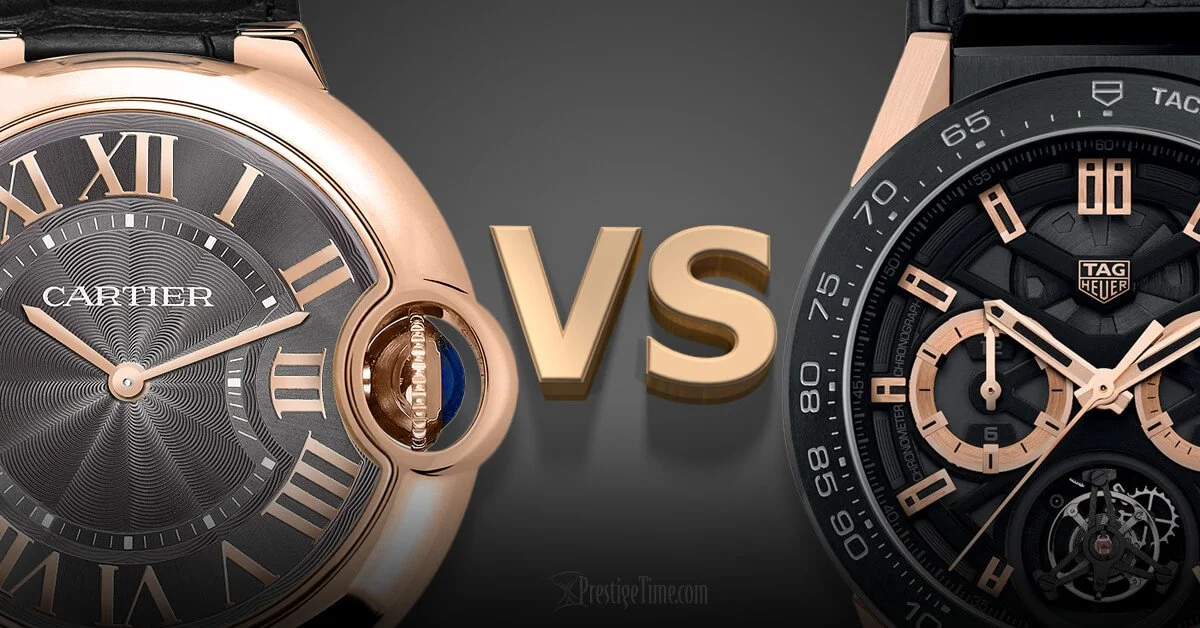 Cartier VS TAG Heuer
These two brands are often compared and benchmarked when one is considering a luxury watch. Today we will help to explain how Cartier and Tag Heuer compare to one another on many levels.
Is TAG Heuer better than Cartier?
We are often asked this question and there are many ways in which this question can be interpreted. Click on any question to jump to the answer section for that question. Alternatively, you can use one of the buttons below to browse the collections from each brand.
That said, let's address each of these questions to give you a better picture of how you can compare Cartier VS TAG Heuer watches to see which is the best option for you and your unique needs.
TAG Heuer is one of the top 50 Swiss brands according to Interbrand, an agency that evaluates the best Swiss brands in the world.
Cartier is not on this list of Top-50 Swiss brands because by definition Cartier is a French brand and world-class master jeweler that also happens to make Swiss-made watches. Forbes recently listed Cartier as one of the world's top brands whereas TAG Heuer, on the other hand, is only one of Switzerland's top brands.
Some of the most accurate mechanical watches in the world are known as Chronometers. A Chronometer is one of the highest designation given to a watch known for incredible accuracy, the designation is given to the watch movement by a 3rd party lab called COSC that performs the rigorous testing to ensure its precision. Cartier watches don't have this designation but you will find a few TAG Heuer watches that do. Typically these are the models that tourbillon complications such as the recently introduced TAG Heuer Carrera Calibre Heuer 02T Tourbillon. This means that this mechanical watch is accurate within an acceptable deviation of -4/+6 seconds per day.
When we talk about price here, we're going to start with an entry-level watch from each brand.
The cheapest TAG Heuer watch costs much less than the least expensive Cartier watch. This has a lot to do with the prestige of the brand but also has much to do with the types of watches these two brands offer. TAG Heuer has many very affordable sporty watches which typically use less costly materials and Cartier has more refined, classy watches and jewelry watches and is a more upper-market brand.
You can, therefore, pick up an entry-level TAG watch at a more affordable price than that of a Cartier.
Both of these brands have great craftsmanship but the difference between the two is that TAG Heuer tends to have a higher percentage of sports watches which are usually built tougher than classic watches. Not that any watch is meant to take a beating but the sports models do have a more rugged design and are therefore more resistant to being knocked around. 
IMPORTANT NOTE: A watch is made of many tiny parts and it is best not to bang it around at all.
Cartier watches, on the other hand, are more refined, classic watches and typically don't offer rugged designs and any and all the added durability that comes along with it.
Just like the retail price, the average resale value of a Cartier will usually exceed that of a TAG Heuer. Of course, you cannot paint this answer with a broad brush. There will always be certain models from each brand that will fetch you a higher percentage of what you originally paid for it if and when you choose to sell it. However, on average a Cartier has a higher resale value and holds its value better than a TAG Heuer.
IMPORTANT NOTE: There are many factors and variables that get calculated into the value of a pre-owned watch.
Some examples are: The condition the watch is in; if it is still using all the original parts; if it is still under warranty; if it comes with the original packaging; if it comes with the original documents (especially if it comes with the warranty paperwork and any proof that it was serviced by the manufacturer etc). There are other factors too, such as if the watch is an iconic watch or a very rare model such as a limited or numbered edition, or even a model that accidentally had a production flaw which is even rarer. I'm sure by now you get the picture.
Cartier Diving Watches
Cartier has a series of diver's watches and these can be found in the 'Calibre de Cartier' collection. These Calibre de Cartier Diver watches are powered by an automatic in-house movement called the Cartier Calibre 1904 MC. They are available on a variety of bands and have several color options from stainless steel to ADLC to 18kt rose gold. You can also find them on rubber straps and stainless-steel bracelets or two-tone steel & rose gold bracelets. This collection offers 300m/1000ft of water resistance. See our page on water resistance to understand what the water resistance rating on a watch really means.
TAG Heuer Diving Watches
Let's talk about TAG Heuer diving watches AKA the TAG Aquaracer collection. The watches in this collection are very well priced compared to Cartier but it is very important to note that most of them are using battery-powered quartz movements but some use mechanical movements such as TAG Heuer's Calibre 16 movement and typically offer 300m/1000ft of water-resistance.
However, within this collection, there is a sub-series which offers better water resistance than the Cartier Diver watches. It has 500m/1650ft of water resistance and a Helium escape valve for serious divers. Similar to Cartier, it uses a self-winding, purely mechanical movement.
Important distinction: The TAG Heuer Calibre 5 movement that is powering these TAG Heuer watches are not made in-house movements like the movements in the Cartier Diver watches. Rather, they are based on an ébauche (3rd party) movement called the ETA 2824-2. Mind you, ETA makes excellent movements but watch collectors often like to brag about everything being made in-house, it simply adds to its prestige.
If you enjoyed this comparison and feel that others would enjoy it too, please like and share it. Thanks!