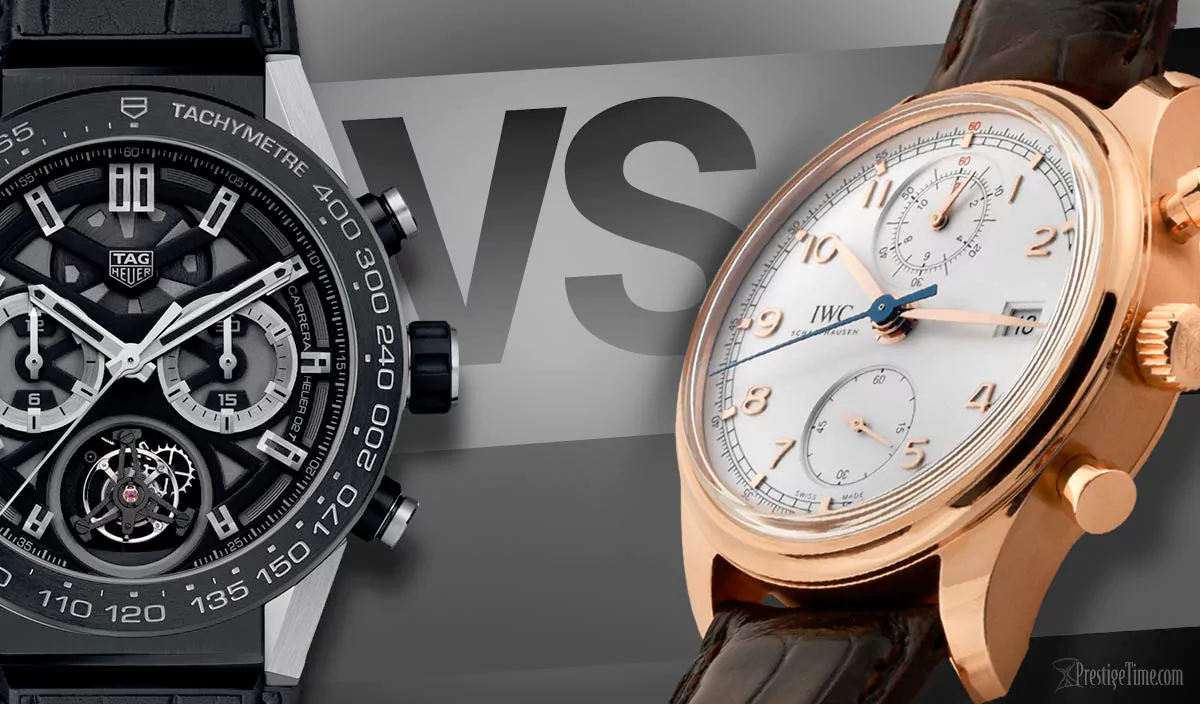 TAG Heuer VS IWC Schaffhausen
Two famous Swiss watch brands are head to head, and we're here to help you decide. Which is the best; TAG Heuer or IWC?
So, what exactly are the similarities and differences between these two high-end Swiss watch brands? How do the watches themselves differ from one another in terms of quality, cost, and resale value?

What Are The Similarities Between TAG Heuer and IWC?
Both watch brands are highly popular and well recognized by collectors
Both TAG Heuer and IWC watches are considered to be high-quality watches
Both brands offer a great selection of classic as well as sporty watches
Both watchmakers have some iconic watches and some limited and/or special editions
Both IWC and TAG Heuer manufacture watches for men as well as women
Both watchmakers produce great chronographs and other high complications
What makes TAG Heuer watches different from IWC?
TAG Heuer doesn't offer as many high complication models as IWC. That's not to say they only make chronographs. Their Twin Time Calibre 7 series offers a GMT / Dual Time complication but in general, TAG Heuer is famous for producing their high-quality chronographs and produce many great racing watches.  Most recently, TAG released the new TAG Heuer 02T Tourbillon Chronograph 45mm watches. These are possibly some of their highest complication watches recently produced in the last 3 years. They are priced between $15,900 - $20,200 and look absolutely amazing with the designs inspired by their Carrera Heuer 01 Skeleton watches, which are flying off the shelf.
TAG Heuer creates both quartz watches as well as mechanical watches.  IWC only manufactures mechanical timepieces. What also makes TAG Heuer very different from IWC is that they were a pioneer in the luxury smartwatch segment with one of the hottest selling luxury wearable tech device, the TAG Heuer Connected smartwatch. The second generation of the TAG Heuer Connected was recently released and is a modular version of the original Connected watch. TAG Heuer called the Connected Modular 45 collection. IWC's version of a smartwatch was limited to a module on the strap called the IWC Connect similar to the Montblanc e-Strap. Whereas TAG Heuer used strategic partnerships with Google and Intel to design theirs.
TAG Heuer Prices & Resale Value
An entry-level TAG Heuer wristwatch such as the Formula 1 Quartz 41mm starts at a list price of $1,000 some of their higher-end models such as the new TAG Heuer Carrera Calibre Heuer 02T Tourbillon Chronograph has a list price of nearly $16k. As a whole, this brand has watches that are competitively priced and relatively attainable to most people. IWC watches, on the other hand, start and end at a whole different price point. They are considered to be a more prestigious brand than TAG which is a more mainstream (and dare we say trendy) fashion brand of watches.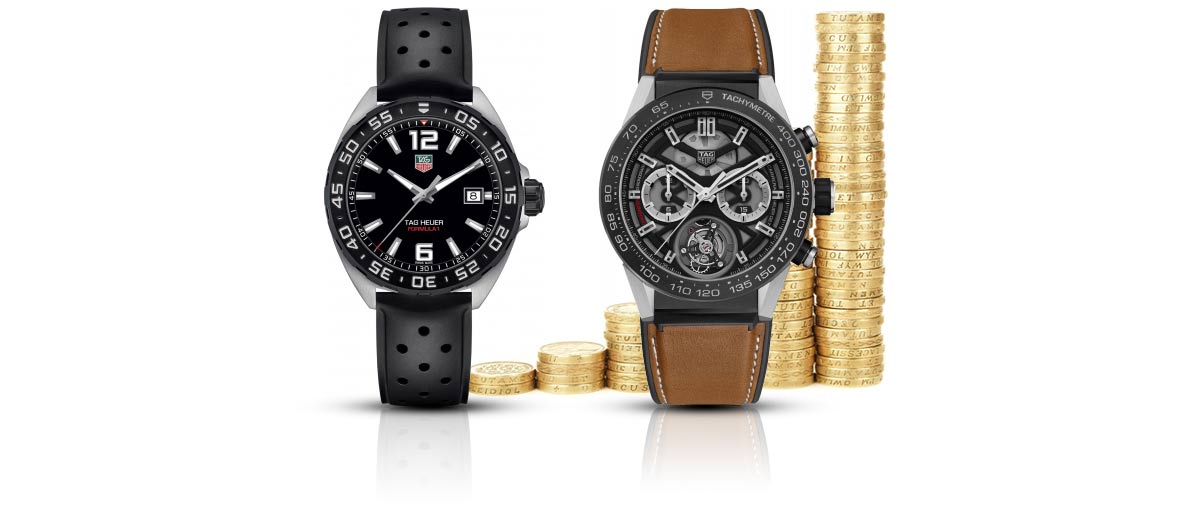 As a result, compared to IWC, you may not get as much of a percentage of your original investment back if you choose to sell your TAG Heuer watch. That's not to say that their watches are not high-quality watches. They definitely are well-made watches... they're just in a different league of watchmaking than IWC. Of course, it also depends on the model of the watch itself, the condition it's in and if it's still under the manufacturer's warranty or not. Having the original documentation and box that it came with also affect the resell value so there are several variables in play.
TAG Heuer's Unique Collections
TAG Heuer has many popular series such as the many series in the Carrera collection (Calibre Heuer 01, Heuer 02, Calibre 5, Calibre 16, Calibre 1887, to name a few) Formula 1, Monaco, Aquaracer and a few ionic watches such as the Monaco Steve McQueen edition. One of their most popular mechanical watch collections would be the Carrera Calibre Heuer 01 series which has many stunning skeleton watches. (See video below)
Browse Popular Collections
What makes IWC watches different from TAG Heuer?
IWC is famous for creating pilot watches whereas TAG is known for its racing watches. They both make high-quality chronographs but IWC Schaffhausen is considered amongst collectors to be a more refined brand with designs that lean towards the side of a timeless classic look, even on their more sporty watches. IWC also doesn't have as large a selection of women's watches when compared to TAG Heuer.
IWC focuses on mechanical watches and doesn't produce quartz watches. IWC is also known for developing some high complication watches such as the limited and numbered Portuguese Grande Complication collection which comes in solid platinum with a small price tag of about a quarter-million dollars.
Warranty
TAG Heuer offers a 2-year warranty on their watches which is pretty standard length for a warranty period in the luxury watch industry...until recently. As of Nov 19th, 2019,  IWC announced that they will be extending the warranty period from 2 years to 8 years when registering IWC's international limited warranty online in the MY IWC program.  They also honor this extended warranty period on any watch bought within the past two years. 
IWC Schaffhausen Prices & Resale Value
An entry-level IWC watch has a higher price than an entry-level TAG Heuer and the least expensive IWC watches, at an MSRP of $3,950; are nearly a 400% difference in price. Their higher-end watches are also in the 6 figure range such as the Portuguese Grande Complication mentioned earlier. You can wind up paying an MSRP of $283,000 for a top-of-the-line high complication IWC timepiece which will feature several complications all working together such as a chronograph, perpetual calendar, moon phase, and minute repeater found on model # IW377401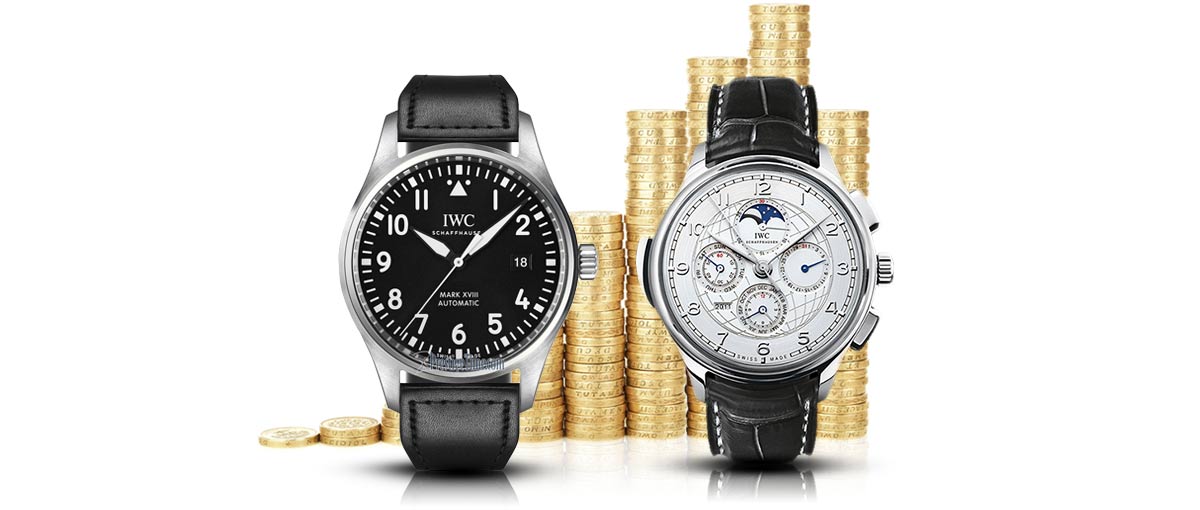 For a watchmaker, this type of work and craftsmanship adds prestige to the brand. This positively affects the resale value of IWC watches and compared to TAG Heuer watches, you can expect to get a higher percentage of money back if you ever choose to sell an IWC Schaffhausen watch. Most watchmakers and watch collectors are of the opinion that IWC is a more skilled watchmaker catering to a different market segment than TAG Heuer, although TAG Heuer is making some small moves into this segment it may be quite some time before we see the unveiling of a TAG Heuer Grande Complication series.
IWC's Unique Collections
IWC has quite a few very popular collections including among them are the many Pilot's watches, the Aquatimer collection, Portugieser/Portuguese series, Ingenieur, Da Vinci collection, and Portofino. They are also known for some great limited editions such as the Petit Prince Pilot watch and special editions and tribute watches such as the Top Gun Pilot Watches.
Browse Popular Collections
TAG Heuer and IWC are some of the most recognized luxury Swiss watch brands in the world. In fact, some say that they are almost on par in terms of actual brand popularity and brand value.
According to a 2016 report by Interbrand, an agency that evaluates the top Swiss brands and monitors their brand value and global brand recognition, these two brands are pretty much neck and neck.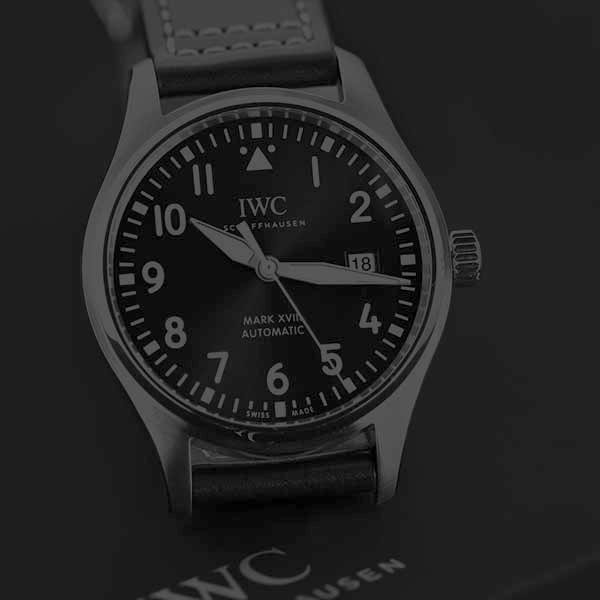 Considering how many Swiss watchmakers there are, this is a tremendous achievement for both brands. Plus, what's 15 million Swiss Francs between friends, eh?
If you enjoyed this comparison and feel that others would enjoy it too, please like and share it. Thanks!